Twenty-Fifth Quadrennial Convention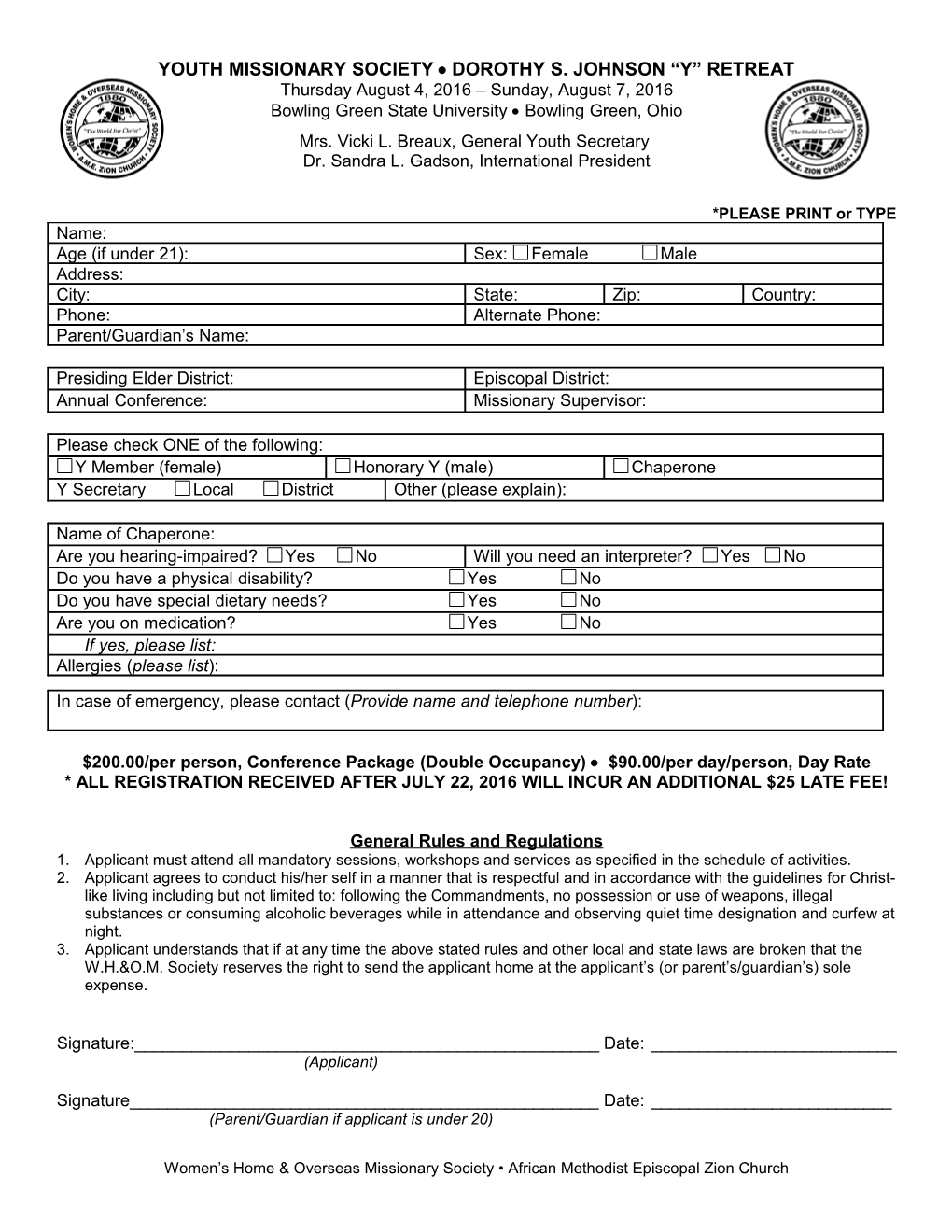 YOUTH MISSIONARY SOCIETYDOROTHY S. JOHNSON "Y" RETREAT

ThursdayAugust 4, 2016 – Sunday, August 7, 2016

Bowling Green State UniversityBowling Green, Ohio

Mrs. Vicki L. Breaux, General Youth Secretary

Dr. Sandra L. Gadson, International President

*PLEASE PRINT or TYPE

Name:
Age (if under 21): / Sex: Female Male
Address:
City: / State: / Zip: / Country:
Phone: / Alternate Phone:
Parent/Guardian's Name:
Presiding Elder District: / Episcopal District:
Annual Conference: / Missionary Supervisor:
Please check ONE of the following:
Y Member (female) / Honorary Y (male) / Chaperone
Y Secretary Local District / Other (please explain):
Name of Chaperone:
Are you hearing-impaired? Yes No / Will you need an interpreter? Yes No
Do you have a physical disability? Yes No
Do youhave special dietary needs? Yes No
Are you on medication? Yes No
If yes, please list:
Allergies (please list):
In case of emergency, please contact (Provide name and telephone number):


$200.00/per person, Conference Package (Double Occupancy)  $90.00/per day/person, Day Rate

* ALL REGISTRATION RECEIVED AFTER JULY 22, 2016 WILL INCUR AN ADDITIONAL $25 LATE FEE!

General Rules and Regulations
Applicant must attend all mandatory sessions, workshops and services as specified in the schedule of activities.
Applicant agrees to conduct his/her self in a manner that is respectful and in accordance with the guidelines for Christ-like living including but not limited to: following the Commandments, no possession or use of weapons, illegal substances or consuming alcoholic beverages while in attendance and observing quiet time designation and curfew at night.
Applicant understands that if at any time the above stated rules and other local and state laws are broken that the W.H.&O.M. Society reserves the right to send the applicant home at the applicant's (or parent's/guardian's) sole expense.
Signature:______Date:______
(Applicant)
Signature______Date:______
(Parent/Guardian if applicant is under 20)
REGISTRATION INFORMATION:
Includes workshop materials, customized conference ID cards, complimentary on-campus parking passes, free wireless internet services, access to all scheduled events in addition to the following:
$200.00/per person, Conference Package(Double Occupancy)

Three (3) nights: air-conditioned suites, each including two beds (with fresh linens and towels), two desks, two dressers and a semi-private bathroom inside each suite
Seven (7) meals: Friday and Saturday breakfast, lunch and dinner; and Sunday breakfast
SINGLE OCCUPANCY ROOM – Additional $25.00 per night

Centennial Residence Hall Request – Please list Roommates:
$90.00/per day/person, Day Rate(Please check day(s) you plan to attend.) Friday Saturday

Three (3) meals: breakfast, lunch and dinner
TOTAL AMOUNT ENCLOSED:
* ALL REGISTRATION RECEIVED AFTER JULY 22, 2016 WILL INCUR AN ADDITIONAL $25 LATE FEE!
Mail completed form and payment (made payable to W.H.&O.M. Society) to:
Women's Home and Overseas Missionary Society- Youth Retreat
Mrs. Rosetta Dunham, Executive Director
P.O. Box 26846
Charlotte, NC 28221-6846
Bowling Green State University Centennial Residence Hall
Women's Home & Overseas Missionary Society • African Methodist Episcopal Zion Church