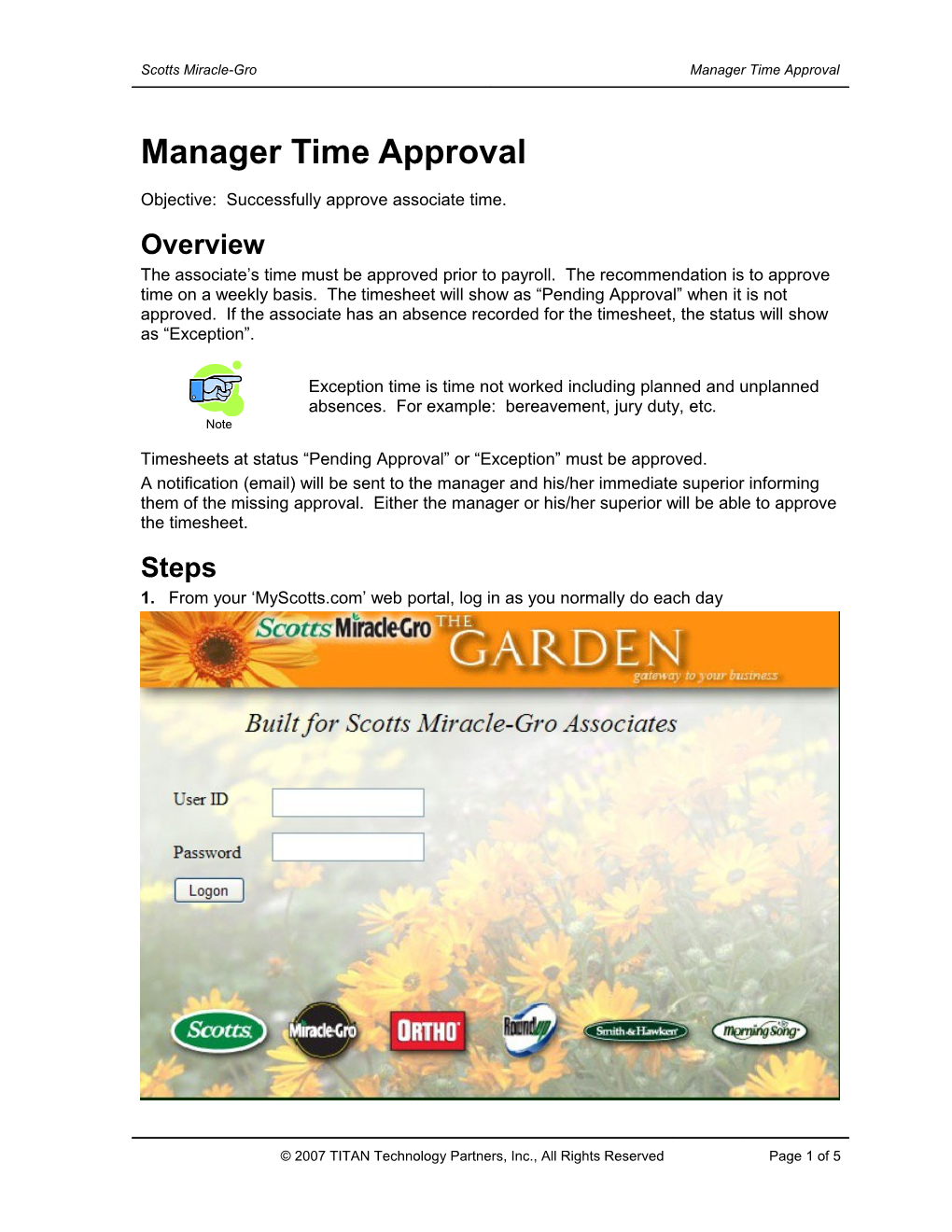 Scotts Miracle-Gro / Manager Time Approval


Manager Time Approval

Objective: Successfully approve associate time.
Overview
The associate's time must be approved prior to payroll. The recommendation is to approve time on a weekly basis. The timesheet will show as "Pending Approval" when it is not approved. If the associate has an absence recorded for the timesheet, the status will show as "Exception".


Note / Exception time is time not worked including planned and unplanned absences. For example: bereavement, jury duty, etc.


Timesheets at status "Pending Approval" or "Exception" must be approved.

A notification (email) will be sent to the manager and his/her immediate superior informing them of the missing approval. Either the manager or his/her superior will be able to approve the timesheet.
Steps
1.From your 'MyScotts.com' web portal, log in as you normally do each day
2.Click on the "Time Management" Link on your home screen in the Quick Links section
Working Time - SAP NetWeaver Portal - Windows Internet Explorer
3.Click
Working Time - SAP NetWeaver Portal - Windows Internet Explorer

Business Rule / Corporate and Consumer Services associates will record clock-in and clock-out times at the start and end of work and at the start and end of meal breaks/other clock-in/out activities via the Web Clock.

Business Rule / The associate must identify any errors.
Non-WebClock Associates can correct any errors identified prior to approval
Once time has been approved, the associate should notify the manager of any changes
WebClock Associates will need to advise the manager of any errors prior to or after approval for the manager to change
The manager will correct any errors on the timesheet and is required to record a reason code
The manager will enter any unplanned absences as necessary

Business Rule / Salaried non-exempt Corporate and Consumer Services associates will record their time in ESS on a daily basis. If an associate returns to work after a period of absence, the associate is required to record their non-ODM unplanned absence prior to the end of the current pay period.


Note:Absences that were requested via ESS and approved by the manager do not need to be manually recorded (e.g. vacation and personal day leave requests).


Business Rule / Salaried Exempt Change Implications: Only exceptions to the normal working day will be captured (examples: jury duty and bereavement). Absences that were requested via ESS and approved by the manager do not need to be manually recorded (e.g. vacation and personal day leave requests). The associate will review the timesheet and can correct any errors prior to submitting for approval.


4.Click

Note:The status is now set to 'approved' and the Approve button is grayed out. If you want to 'unapprove,' you may press the Unapprove button.

5.Click

6.Click
SAP NetWeaver Portal -- Webpage Dialog
7.Click


Note / You have completed this task.
© 2007 TITAN Technology Partners, Inc., All Rights Reserved / Page 1 of 5