Maybank GO Ahead.Challenge2012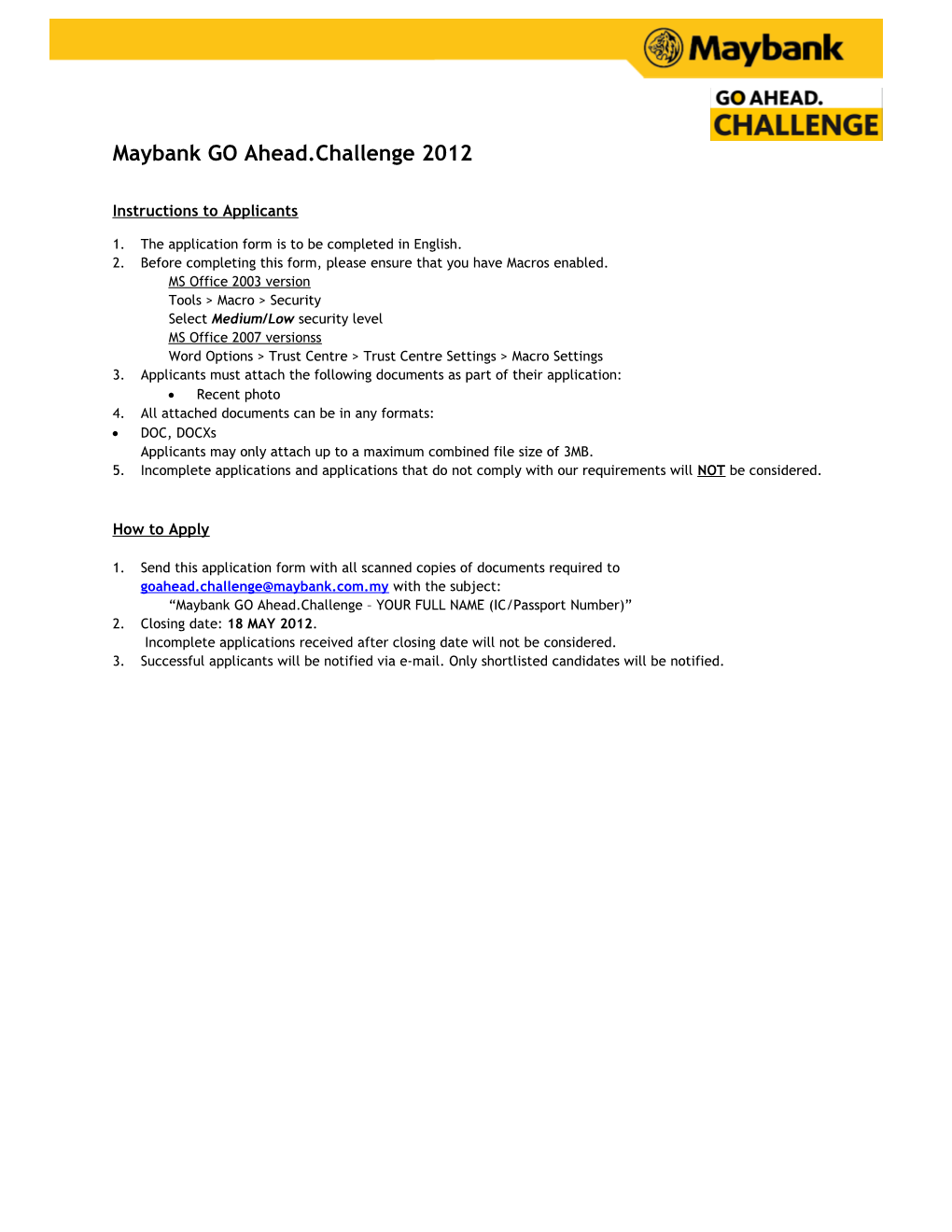 Maybank GO Ahead.Challenge2012
Instructions to Applicants
The application form is to be completed in English.
Before completing this form, please ensure that you have Macros enabled.
MS Office 2003 version
Tools > Macro > Security
Select Medium/Low security level
MS Office 2007 versionss
Word Options > Trust Centre > Trust Centre Settings > Macro Settings
Applicants must attach the following documents as part of their application:
All attached documents can be in any formats:
Applicants may only attach up to a maximum combined file size of 3MB.
Incomplete applications and applications that do not comply withour requirements will NOT be considered.
How to Apply
Send this application form with all scanned copies of documents required to with the subject:
"Maybank GO Ahead.Challenge – YOUR FULL NAME (IC/Passport Number)"
Closing date:18 MAY 2012.
Incomplete applications received afterclosing date will not be considered.
Successful applicants will be notified via e-mail. Only shortlisted candidates will be notified.

Personal Details
Full Name :
IdentificationCard No. (Malaysia) or
Passport No. (Foreign): / Date of Birth:
Sex: / MaleFemale / Ethnicity:
Citizenship: / Religion:
House Tel No.: / Mobile Tel No.:
E-Mail Address: / Country:
Permanent Address:
Postcode: / State:
Correspondence Address:
(if different from above)
Postcode: / State:
s
Academic Qualifications
Level / Name of School / Country / Education Field / CGPA or Equivalent Grade / Year
(Completed)
University
Others
Co-Curricular Activities
Most recent activities in which you assumed leadership position(s)
Year / Position Held / Society / Club / Activity / Institution
Most recent academic awards & commendations received
Year / Awards/Commendations Received
Family Particulars
Full Name / Relationship / Age
FatherMotherBrotherSisterHusbandWifeChildGuardianOthers
FatherMotherBrotherSisterHusbandWifeChildGuardianOthers
FatherMotherBrotherSisterHusbandWifeChildGuardianOthers
FatherMotherBrotherSisterHusbandWifeChildGuardianOthers
FatherMotherBrotherSisterHusbandWifeChildGuardianOthers
FatherMotherBrotherSisterHusbandWifeChildGuardianOthers
FatherMotherBrotherSisterHusbandWifeChildGuardianOthers
FatherMotherBrotherSisterHusbandWifeChildGuardianOthers
FatherMotherBrotherSisterHusbandWifeChildGuardianOthers
YouTube Video Submission


Please prepare a short YouTube video (1-2mins) on "Brief background on yourself and why you want to join Maybank GO Ahead.Challenge?"

YouTubeVideo Link:
Declaration
Have you ever been convicted by a Court of Law of any country? NoYes
If yes, please give brief details:
Are you or any of your family members suffering / have suffered from any medical conditions (mental and physical) which requires regular or prolonged medical treatment? NoYes
If yes, please give full details:
Please list if you have relatives working in Maybank Group:
Name of Relative / Relationship / Personnel No. / Branch / Department
I hereby declare that the information provided in this application form is true and correct and I authorise and consent to Maybank obtaining official records, if necessary, from any educational institution attended by me. I understand that any provision of inaccurate or false information or omission of information will render this application invalid and that, if admitted on the basis of such information, I can be required to withdraw from the challenge/competition.Maybank Group reserves the right to publish participants' particulars, images and videos with regards to Maybank GO Ahead.Challenge
By clicking this checkbox, I have read and agree to the above declaration. I also understand that I will be required to sign a copy of my application form if I am shortlisted for interview with Maybank.
______
Signature of Applicant
Date: ______