You Will Be Placed Pending a Background Check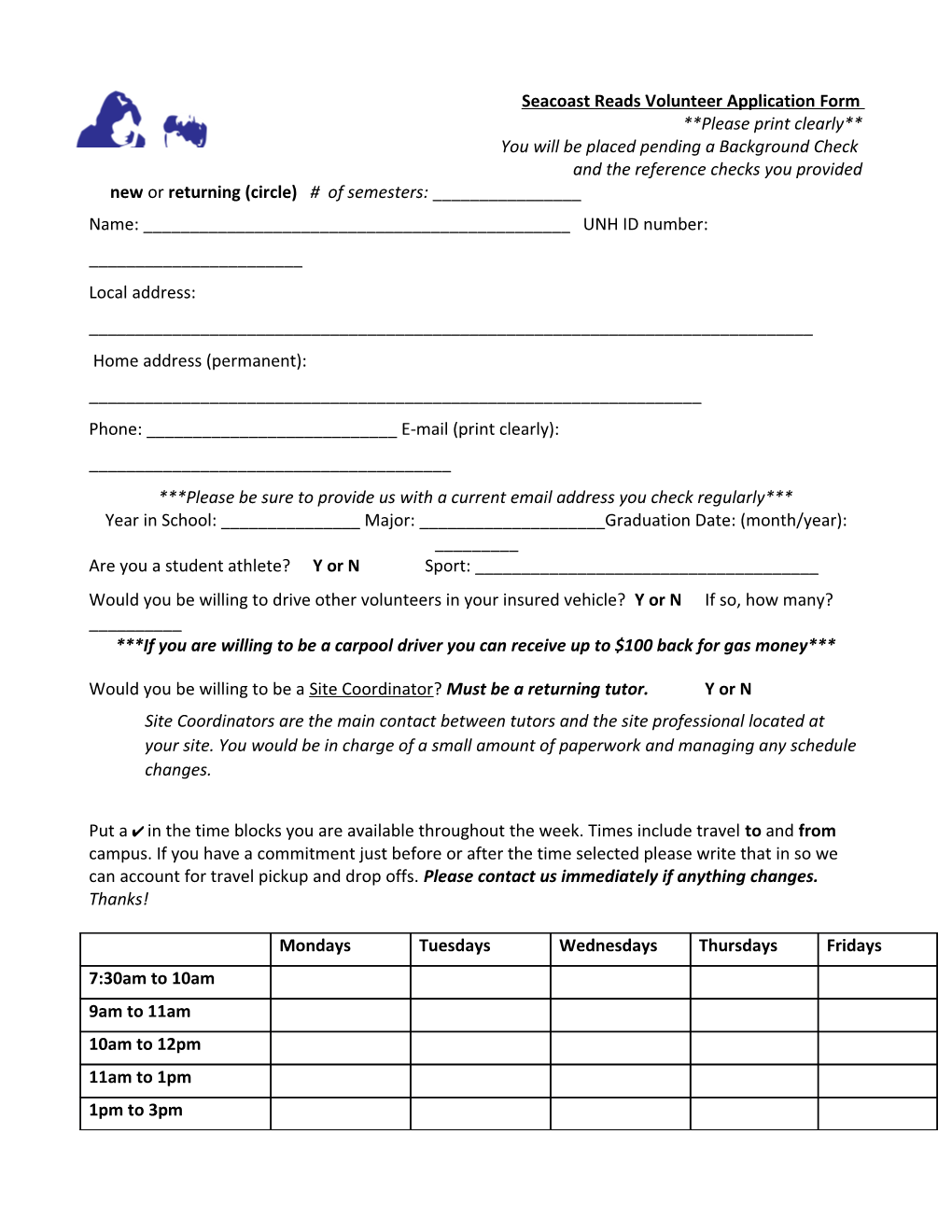 Seacoast Reads Volunteer Application Form

**Please print clearly**

You will be placed pending a Background Check

and the reference checks you provided

newor returning (circle) # of semesters:______

Name: ______UNH ID number: ______

Local address: ______

Home address (permanent): ______

Phone: ______E-mail (print clearly): ______

***Please be sure to provide us with a current email address you check regularly***

Year in School: ______Major: ______Graduation Date: (month/year): ______

Are you a student athlete?Y or NSport: ______

Would you be willing to drive other volunteers in your insured vehicle? Y or N If so, how many?______

***If you are willing to be a carpool driver you can receive up to $100 back for gas money***

Would you be willing to be a Site Coordinator? Must be a returning tutor.Y or N

Site Coordinators are the main contact between tutors and the site professional located at your site. You would be in charge of a small amount of paperwork and managing any schedule changes.

Put a ✔in the time blocks you are available throughout the week. Times include travel to and from campus. If you have a commitment just before or after the time selected please write that in so we can account for travel pickup and drop offs.Please contact us immediately if anything changes. Thanks!

Mondays / Tuesdays / Wednesdays / Thursdays / Fridays
7:30am to 10am
9am to 11am
10am to 12pm
11am to 1pm
1pm to 3pm
2:30pm to 4:30pm
4pm to 6pm


Do you have a preference for a particular site placement? Please list below.

______
Training Dates Choose One date and time you are available. ALL TUTORS SELECT ONE.

Date 1: Tues. Sep. 26, 5:10-6:30pm Date 2:Thurs. Sep. 28, 5:10-6:30pm

Grade Level Please indicate the grade level you would prefer to work with. K-4 or 5-9 or No preference

ReferencesNEW TUTORS ONLY. Please provide two professional references (e.g., former employers, hall directors, professors, etc.). Please do not list roommates, family members, or friends.

1. ______

NamePhone #Relationship to you

______

Company nameAddressEmail (required)

2. ______

NamePhone #Relationship to you

______

Company nameAddressEmail (required)

Personal StatementNEW TUTORS ONLY. Why are you interested in working with Seacoast Reads? List some personal experiences, skills, educational training, and/or community activities that tell us about yourself (attach an additional sheet if necessary).

______

______

______

______

______

______

______

How did you hear about us? ______

Background Information (circle yes or no).
I am in good standing with the university and agree to permit Seacoast Reads to
verify this through my academic and judicial records.yesno
I am willing to provide documentation of automobile liability coverage if applicable.yesno
I am willing to submit to a police background check if required.yesno