Swagarea Cancer Operational Group (COG) -Terms of Reference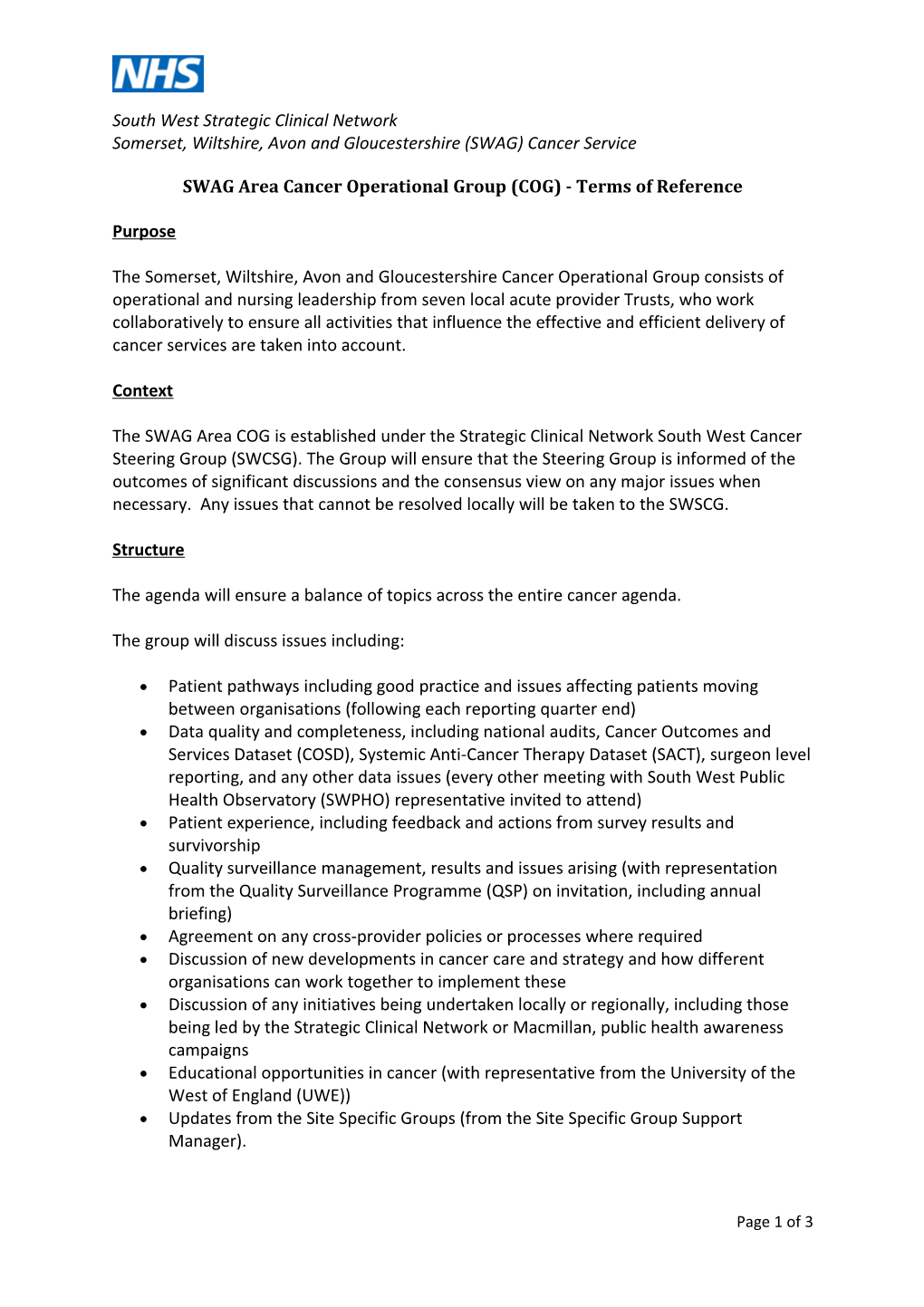 South West Strategic Clinical Network
Somerset, Wiltshire, Avon and Gloucestershire (SWAG) Cancer Service
SWAGArea Cancer Operational Group (COG) -Terms of Reference
Purpose
The Somerset, Wiltshire, Avon and Gloucestershire Cancer Operational Groupconsists of operational and nursing leadership from seven local acute provider Trusts, who work collaboratively to ensure all activities that influence the effective and efficientdelivery of cancer services are taken into account.
Context
The SWAG AreaCOGis established under theStrategic Clinical Network South West Cancer Steering Group (SWCSG).The Group will ensure that the Steering Group is informed of the outcomes of significant discussions and the consensus view on any major issues when necessary. Any issues that cannot be resolved locally will be taken to the SWSCG.
Structure
The agenda will ensure a balance of topics across the entire cancer agenda.
The group will discuss issues including:
Patient pathways including good practice and issues affecting patients moving between organisations (following each reporting quarter end)
Data quality and completeness, including national audits, Cancer Outcomes and Services Dataset (COSD), Systemic Anti-Cancer Therapy Dataset (SACT), surgeon level reporting, and any other data issues (every other meeting with South West Public Health Observatory (SWPHO) representative invited to attend)
Patient experience, including feedback and actions from survey results and survivorship
Quality surveillance management, results and issues arising (with representation from the Quality Surveillance Programme (QSP) on invitation, including annual briefing)
Agreement on any cross-provider policies or processes where required
Discussion of new developments in cancer care and strategy and how different organisations can work together to implement these
Discussion of any initiatives being undertaken locally or regionally, including those being led by the Strategic Clinical Network or Macmillan, public health awareness campaigns
Educational opportunities in cancer (with representative from the University of the West of England (UWE))
Updates from the Site Specific Groups (from the Site Specific Group Support Manager).
Responsibilities
To provide an opportunity for nursing and management leads in provider organisations to meet together, in a semi-formal environment, to discuss issues affecting the network area, collaborate and support each other in providing the best services for patients
To work to ensure patients passing between organisations have smooth pathways
To form consensus views on major issues that can be fed back to the provider Trusts and/or Strategic Clinical Network
To provide a forum for external guests to communicate issues to Trust representatives, such as the National Cancer Patient Registry (NCPR), the SWPHO and the QSP
To collectively manage and mentor the Site Specific Group (SSG) support posts.
Membership
South West Strategic Clinical Network Cancer Network Manager
Gloucestershire Hospitals NHS FT Lead Cancer Nurse
Gloucestershire Hospitals NHS FT Cancer Manager
Taunton and Somerset Hospital NHS FT Lead Cancer Nurse
Taunton and Somerset Hospital NHS FT Cancer Manager
North Bristol NHS Trust Lead Cancer Nurse
North Bristol NHS Trust Cancer Manager
Royal United Hospital Bath NHS FT Lead Cancer Nurse
Royal United Hospital Bath NHF FT Cancer Manager
University Hospitals Bristol NHS FT Lead Cancer Nurse
University Hospitals Bristol NHS FT Cancer Manager
Weston Area Health NHS Trust Lead Cancer Nurse
Weston Area Health NHS Trust Cancer Manager
Yeovil District Hospital NHS FT Lead Cancer Nurse
Yeovil District Hospital NHS FT Cancer Manager
Site Specific Group Support Manager
Site Specific Group Administrative Coordinator.
Associate Members
University of the West of England Lead Lecturer in Cancer Care
Somerset Cancer Register Commercial Manager
Somerset Cancer Register Analyst Manager
Data Liaison Manager, Public Health England.

Additional attendees may be co-opted as necessary.
Quoracy
The meeting will be quorate when at least one member from each Trust is present. The meeting may convenewhen at least four out of the seven Trusts are represented, but any decisions must be validated by the non-represented Trusts via email prior to implementation.
Accountability
The Group will report to the Strategic Clinical Network South West Cancer Steering Group,or the Provider Cancer Lead and Medical Directors by exception, as required by the issues currently being discussed.
Management
The meeting will be chaired by the hosting Cancer Manager. The Chair will be responsible for preparing an agenda,in consultation with members of the Group via email, with administrative support from the SSG Support Service, andfor inviting any external guests/agreeing requests from external guests to attend. The agenda will be circulated a week ahead of the meeting.
Notes and action points will be taken by the SSG Administrative Coordinator and circulated via email.
Each Trust will host one meeting per annum. The Trust members are responsible for booking a meeting room and for providing refreshments.
Frequency
The SWAG AreaCancer Operational Group will meet once every two months.
Revised: November 2013
Agreed: 5th December 2013
Next review: November 2014
Revised: June 2016
Agreed: 15th June 2016
Next review: August 2017
Page 1 of 3