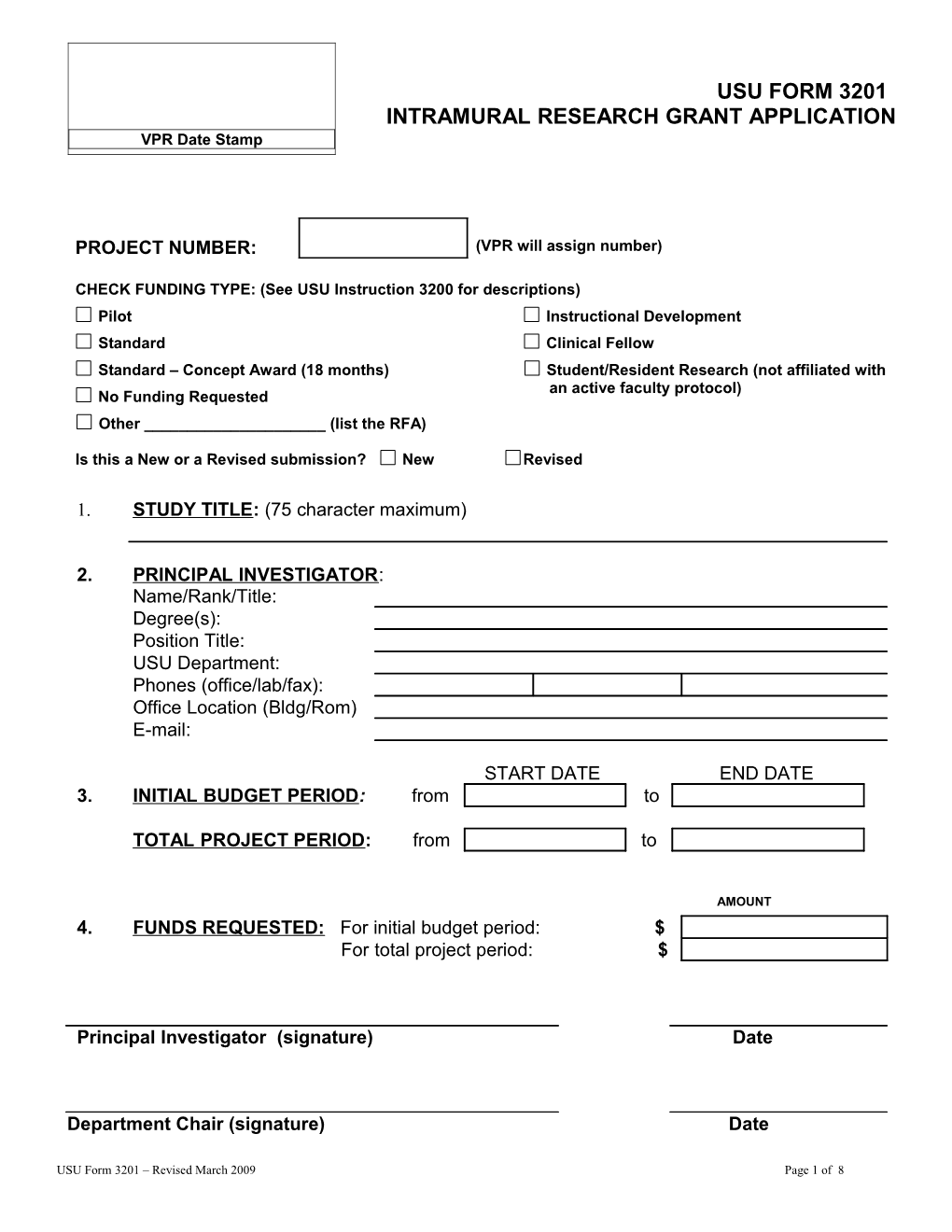 VPR Date Stamp

USU FORM 3201

INTRAMURAL RESEARCH GRANT APPLICATION

PROJECT NUMBER: / (VPR will assign number)


CHECK FUNDING TYPE: (See USU Instruction 3200 for descriptions)

USU Form 3201 – Revised March 2009Page 1 of 8

Pilot

Standard

Standard – Concept Award (18 months)

No Funding Requested

Other ______(list the RFA)

Instructional Development

Clinical Fellow

Student/Resident Research (not affiliated with

an active faculty protocol)

USU Form 3201 – Revised March 2009Page 1 of 8

Is this a New or a Revised submission? New Revised
STUDY TITLE: (75 character maximum)

2.PRINCIPAL INVESTIGATOR:
Name/Rank/Title:
Degree(s):
Position Title:
USU Department:
Phones (office/lab/fax):
Office Location (Bldg/Rom)
E-mail:
START DATE END DATE
3.INITIAL BUDGET PERIOD: from / to
TOTAL PROJECT PERIOD:from / to
AMOUNT
4.FUNDS REQUESTED: For initial budget period: $
For total project period: $
Principal Investigator (signature) / Date


Department Chair (signature) Date

Principal Investigator:
Study Title:


5. TECHNICAL ABSTRACT:

State broad, long-term objectives and specific aims. Make reference to the health-relatedness of the project. Describe the experimental design and methods concisely. This abstract is meant to serve as a succinct and accurate description of proposed work when separated from the applications. DO NOT EXCEED 25 LINES OF TEXT (12 POINT FONT).

Principal Investigator:
Study Title:


6.SHORT ABSTRACT IN LAYPERSON'S TERMS:

In one paragraph, state broad, long-term objectives and specific aims in layperson's terms. Do not copy & paste your technical abstract. DO NOT EXCEED 25 LINES OF TEXT (12 POINT FONT).

7. BUDGET SECTION:
Personnel
Full Name (Including P.I.) / USUHS
Billet No. / Role in Project / Percent
Effort on
Project / Salary &
Fringe
Compensation
a.
b.
c.
d.
e.
Subtotal of Personnel $
Supplies (detail required) Cost
a.
b.
c.
d.
e.
Subtotal of Supplies $
Equipment (Unit cost must be less than $5,000) Cost
a.
b.
Subtotal of Equipment $
Other Expenses (contracts, mission-essential travel, BIC and LAM charges and publication costs)
Cost
a.
b.
c.
d.
e.
Subtotal of Other Expenses $
TOTAL BUDGET (this year) $
8. BUDGET SUMMARY:
YEAR 01 / YEAR 02 /
YEAR 03
Personnel
Supplies
Equipment
Other

Total
9.PERSONNEL ROLES:
Describe the specific functions of all study personnel, whether funded from this project or not. This description should match the work proposed in the Research Plan section.
.
10. BUDGET JUSTIFICATION:
Justify request in each category of your budget (Section 7 above). For each category itemize and justify any significant increases or decreases over the first budget period in any category. Describe the need and purpose for the equipment requested in the budget.
Supplies:
Equipment:
Travel:
Other:
OTHER RESEARCH SUPPORT:
List all of your pending or active research projects in which you are the Principal Investigator. Indicate whether there is any scientific and/or budgetary overlap for each project. VPR can provide you with a list of your projects in our database. Indicate "none" if you have no other grants or contracts, funding or pending.

VPR
Project Number / Project Information / Status / Overlap / % Effort
Sponsor:
Title:
Project Dates:
Sponsor:
Title:
Project Dates:
Sponsor:
Title:
Project Dates:
Sponsor:
Title:
Project Dates:
Sponsor:
Title:
Project Dates:
Sponsor:
Title:
Project Dates:


For each pending project with overlap, describe what adjustments will be made if the pending proposal is funded. Indicate "none" if you have no overlaps.

12. PRINCIPAL INVESTIGATOR'S BIOGRAPHICAL SKETCH: (Use 12 –Point font)

EDUCATION
Institution and Location / Degree / Year
Conferred / Field of Study
a.
b.
c.
d.
e.
f.
RESEARCH AND PROFESSIONAL EXPERIENCE
Previous employment, experience, and honors. Include present membership(s) on any Federal Government public advisory committees. List the titles and complete references to all publications during the past three years and earlier publications pertinent to this application. DO NOT EXCEED TWO PAGES (12 point font)


13.RESEARCH PLAN DO NOT EXCEED 10 PAGES (use 12 point font and the section headers below)

Section A.Specific Aims

Section B.Background

Section C.Progress/Preliminary Studies

Section D.Experimental Design and Data Analysis

Section E.References

USU Form 3201 – Revised March 2009Page 1 of 8