Photo/Video Consent Form Guidelines for Curious Minds Project Leads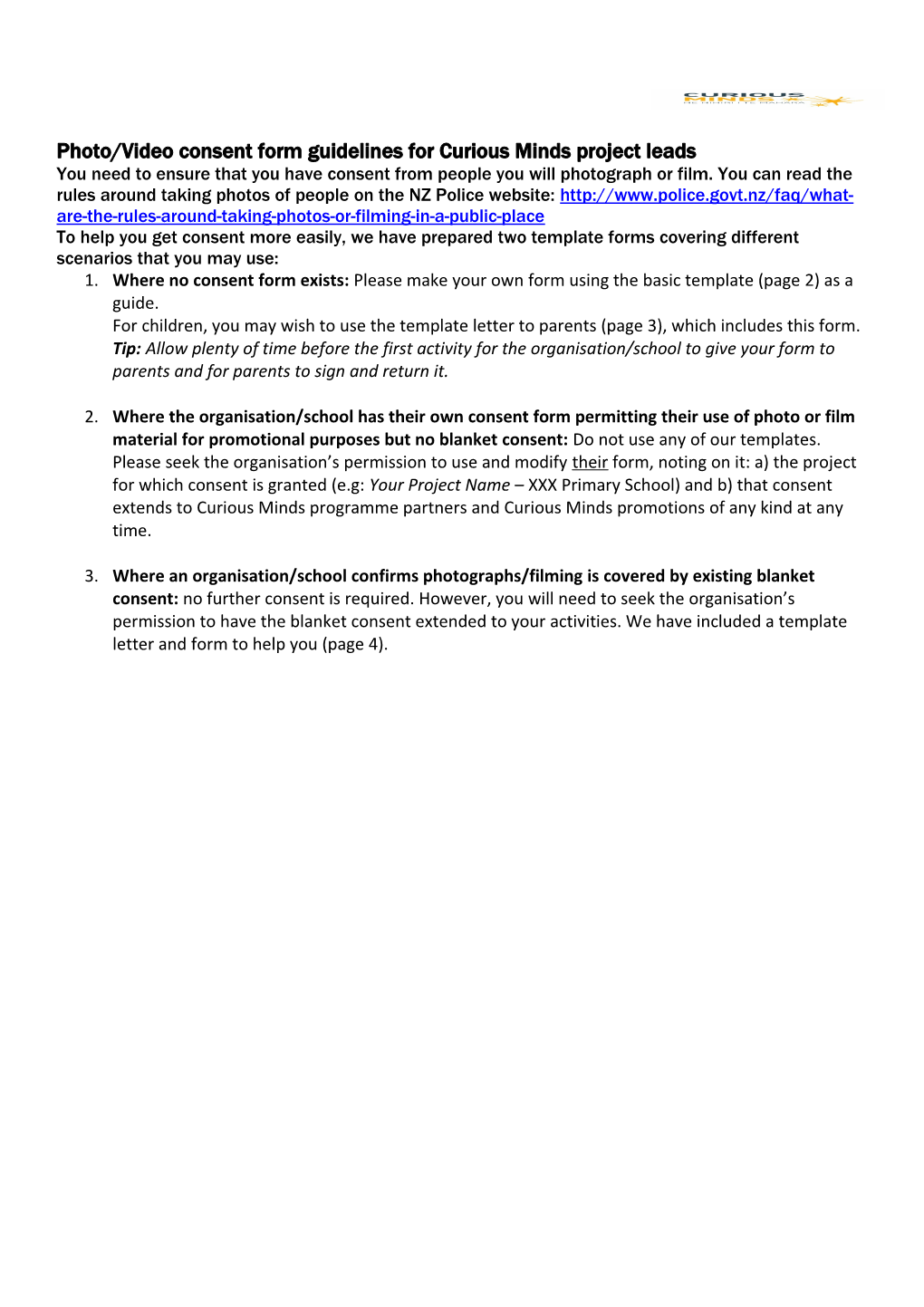 Photo/Video consent form guidelines for Curious Minds project leads
You need to ensure that you have consent from people you will photograph or film. You can read the rules around taking photos of people on the NZ Police website:
To help you get consent more easily, we have prepared two template forms covering different scenarios that you mayuse:
Where no consent form exists:Please make your own form using the basic template (page 2) as a guide.
For children, you may wish to use the template letter to parents (page 3), which includes this form. Tip:Allow plenty of time before the first activity for the organisation/school to give your form to parents and for parents to sign and return it.

Where the organisation/school has their own consent form permitting their use of photo or film material for promotional purposes but no blanket consent: Do not use any of our templates. Please seek the organisation's permission to use and modify their form, noting on it: a) the project for which consent is granted (e.g: Your Project Name – XXX Primary School) and b) that consent extends to Curious Minds programme partners and Curious Minds promotions of any kind at any time.

Where an organisation/school confirms photographs/filming is covered by existing blanket consent: no further consent is required. However, you will need to seek the organisation's permission to have the blanket consent extended to your activities. We have included a template letter and form to help you (page 4).
PHOTOGRAPHY / FILM CONSENT FORM

By signing this form, you agree that pictures or videos of you or people you are responsible for can be used to promote the Curious Minds programme.

I, ______consent to being photographed or filmed by Curious Minds programme partners.

I, ______give my consent to Curious Minds programme partners to photograph or film the following child/children under the age of 18, legally in my care:

______

______

I understand photographs and/or film may be used by Curious Minds programme partners including the project organiser, MBIE (the Ministry of Business, Innovation and Employment) and the Ministry of Education, for promotional purposes of any kind at any time in the future. Images may be cropped, altered, transformed or reproduced in any way and may be combined with other works or text.

I release Curious Minds' partners from any claims and demands in connection with the photographs and/or film.

Signed: ______Date: ______

Contact details:

ADDRESS:
PHONE:
EMAIL ADDRESS:


[DATE]

Kia ora,

Your child is part of a group of students taking part in a science project as part of their learning this year, funded by the Curious Minds initiative from the NZ Government.

The aim of the project is to make science interesting and fun, and to hopefully spark an interest in STEM (Science, Technology, Engineering and Math) subjects in your child as they progress through the school system.

During the project, we'd love to take photos of the activities that your child will be doing and share these with others. There is a permission form below for you to allow us to do this.By signing this form, you agree that pictures or videos of your child can be used to promote the Curious Minds programme.

Ask your child for more information: this is going to be a great project!

Thank you so much for your help,

[NAME OF ORGANISER]


------

PHOTOGRAPHY / FILM CONSENT FORM

I, ______give my consent to Curious Mind programme partners to photograph or film the following child/children under the age of 18, legally in my care:

______

______

I understand photographs and/or film may be used by Curious Minds programme partners, including the project organiser, MBIE (the Ministry of Business, Innovation and Employment) and the Ministry of Education and the Office of the Prime Minister's Chief Science Advisor, for promotional purposes of any kind at any time in the future. Images may be cropped, altered, transformed or reproduced in any way and may be combined with other works or text.

I release Curious Minds' partners from any claims and demands in connection with the photographs and/or film.

Signed: ______Date: ______

Contact details:


ADDRESS:
PHONE:
EMAIL ADDRESS:


[DATE]

Kia ora,

As you know, a subset of your school is taking part in a science project this year, funded by Unlocking Curious Minds under the Curious Minds suite of programmes from the NZ Government.

The aim of the project is to make science interesting and fun, and to hopefully spark an interest in STEM (Science, Technology, Engineering and Math) subjects in your students as they progress through the school system.

During the project, we'd love to take photos of the students on their journey, and due to your school having an existing blanket consent, we ask your permission to do this.By signing this form, you agree that pictures or videos of your students can be used to promote the Curious Minds programme.

Thank you so much for your help,

[NAME OF ORGANISER]

------

PHOTOGRAPHY/FILM CONSENT from an EXISTING SCHOOL-WIDE BLANKET CONSENT

I, ______give my consent to Curious Minds programme partners to photograph or film the students from my school as part of the funded project they are involved in.

I understand photographs and/or film may be used by Curious Minds programme partners, including the project organiser, MBIE (the Ministry of Business, Innovation and Employment) and the Ministry of Education and the Office of the Prime Minister's Chief Science Advisor, for promotional purposes of any kind at any time in the future. Images may be cropped, altered, transformed or reproduced in any way and may be combined with other works or text.

I release Curious Minds' partners from any claims and demands in connection with the photographs and/or film.

Signed: ______Date: ______

Contact details:

SCHOOL NAME:
ADDRESS:
PHONE:
EMAIL ADDRESS:


1