Parker J. Palmercourage to Lead Award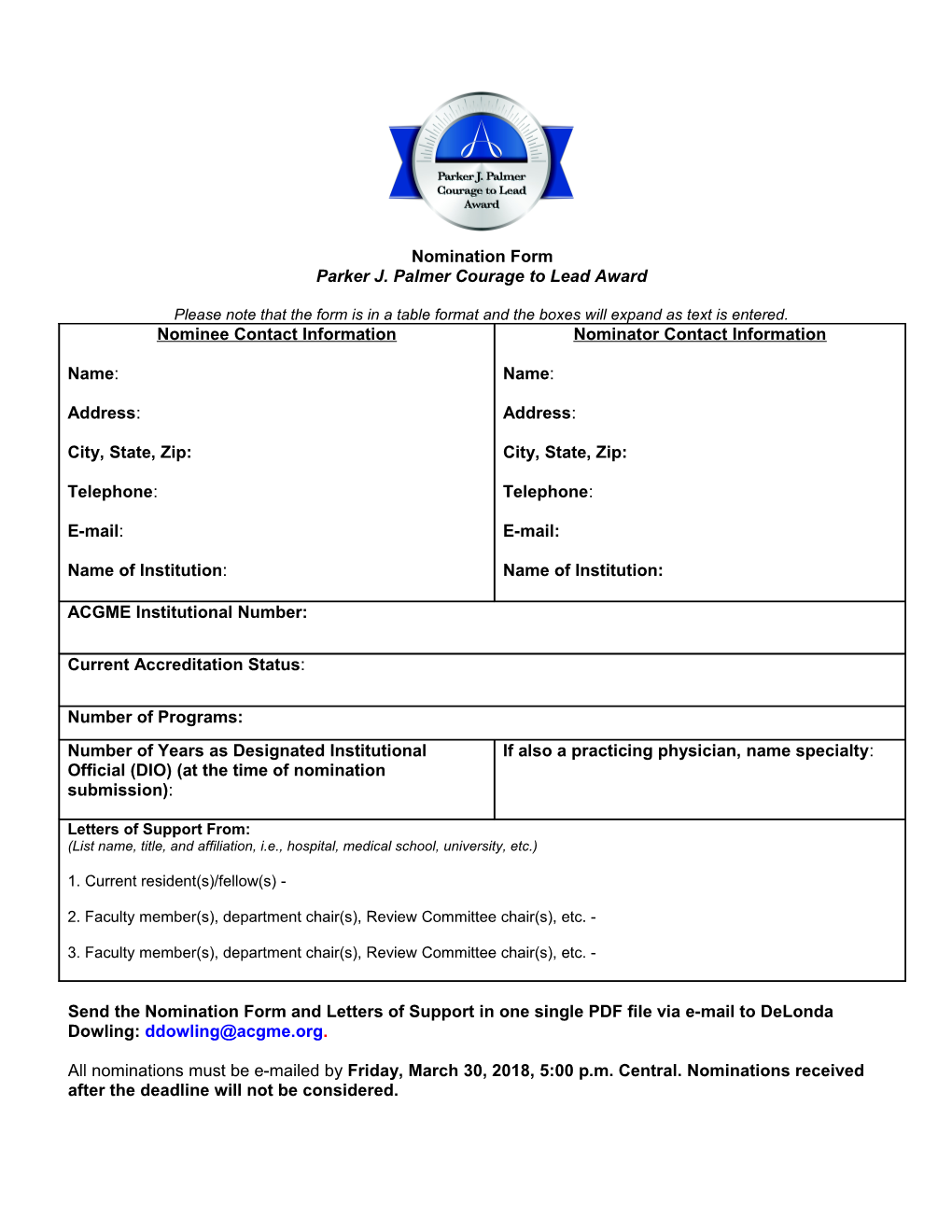 Nomination Form

Parker J. PalmerCourage to Lead Award

Please note that the form is in a table format and the boxes will expand as text is entered.

Nominee Contact Information
Name:
Address:
City, State, Zip:
Telephone:
E-mail:

Name of Institution:
/ Nominator Contact Information
Name:
Address:
City, State, Zip:
Telephone:
E-mail:
Name of Institution:
ACGME Institutional Number:
Current Accreditation Status:
Number of Programs:
Number of Years as Designated Institutional Official (DIO) (at the time of nomination submission): / If also a practicing physician, name specialty:

Letters of Support From:
(List name, title, and affiliation, i.e., hospital, medical school, university, etc.)
1.Current resident(s)/fellow(s) -
2. Faculty member(s), department chair(s), Review Committee chair(s), etc. -
3. Faculty member(s), department chair(s), Review Committee chair(s), etc. -


Send the Nomination Form and Letters of Support in one single PDF file via e-mail to DeLonda Dowling: .

All nominations must be e-mailed byFriday, March 30, 2018, 5:00 p.m. Central. Nominations received after the deadline will not be considered.

Checklist for Nomination Materials

Eligibility Requirements

The DIO must work in an institution with continued accreditation

The DIO must have at least five years of experience as a current DIO at the time of application submission

Criteria for Selection

DIOs must:

Meet eligibility requirements

Demonstrate excellence in eachof the following areas:
mentoring, developing, and supporting new and experienced program directors
providing residents/fellows with career, life balance, and well-being resources
improving performance and innovation in the learning environment
strategic resource management
strong leadership, values, and principles
maintaining high-quality physician educators by focusing on faculty development
promoting strong collaborative interdisciplinary and interprofessional activities
integral use of reflection as part of the education improvement process
leads annual institution-wide assessment activities, as well as CLER site visits and Self-Studies
Nomination Instructions
Three components are required for nomination:
A completed nomination form
Three signedletters of support (each letter is limited to 500 words or less)
A current curriculum vitae
About the Letters of Support
Letters should be addressed to ACGME Awards Committee
One of the letters must be from a current resident/fellow
The two other letters may be from faculty members, department chairs, other institutional representatives, including the dean or CEO, Review Committee members, etc.
Comments from a group, e.g., faculty members, residents, etc., should be compiled into one "group letter";we will not accept more than three letters of support for each nominee
Letters should state the reasons for the nominee's selection and include a brief summary of how the nominee fulfillseach of the criterion outlined above, including significant contributions to graduate medical education.
Letters should articulatethe nominee's "courage to lead" in a variety of circumstances