Nclbschool Rewards Grant Application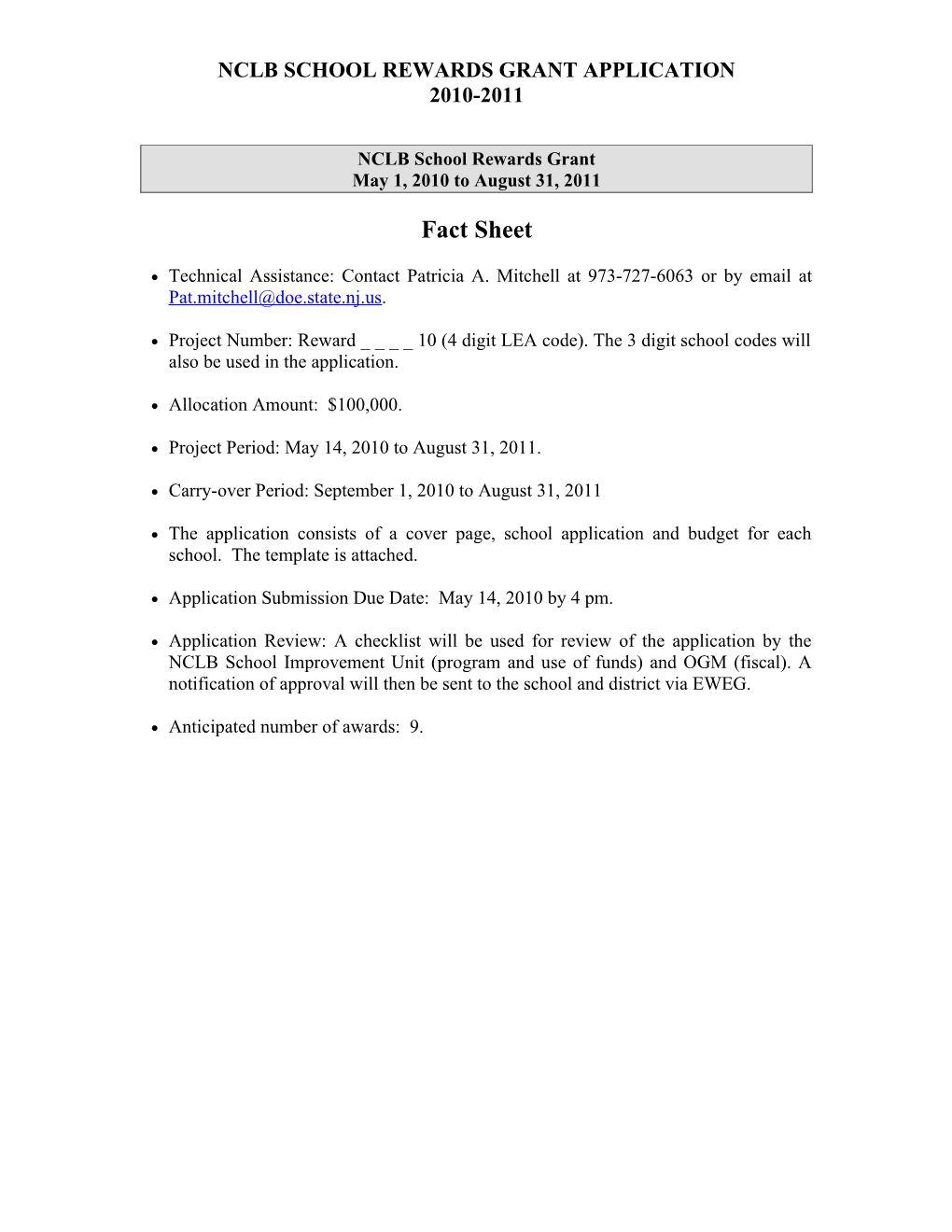 NCLBSCHOOL REWARDS GRANT APPLICATION
2010-2011
NCLBSchool Rewards Grant
May 1, 2010 to August 31, 2011
Fact Sheet
Technical Assistance: Contact Patricia A. Mitchell at 973-727-6063 or by email at .
Project Number: Reward _ _ _ _ 10 (4 digit LEA code). The 3 digit school codes will also be used in the application.
Allocation Amount: $100,000.
Project Period: May 14, 2010 to August 31, 2011.
Carry-over Period: September 1, 2010 to August 31, 2011
The application consists of a cover page, school application and budget for each school. The template is attached.
Application Submission Due Date: May 14, 2010 by 4 pm.
Application Review: A checklist will be used for review of the application by the NCLB School Improvement Unit (program and use of funds) and OGM (fiscal). A notification of approval will then be sent to the school and district via EWEG.
Anticipated number of awards: 9.
2009-2010NCLB SCHOOL REWARDS GRANT
TERMS AND CONDITIONS
The following criteria were used to determine this award*:
Previously identified as a school in need of improvement.
Participation in a CAPA visit and benchmark meetings.
Evidence of implementation of CAPA recommendations.
Made AYP for two consecutive years and exited improvement status.
ASSURANCES
Participate in effective practice case study project—includes a school visit by a team of NJDOE staff to gather information on effective practices.
Present the effective practice(s) on June 11, 2010.
Permit observation of the effective practice by other schools.
Participate in peer review training.
Act as a peer reviewer for two Title I schools in need of improvement.
USE OF FUNDS

PERMITTED / NOT PERMITTED
Benefit classroom instruction / Construction
Improve the school culture / Facilities
Increase parental involvement / Furniture
Participate in leadership network / Out-of-state travel
Professional development for leaders and administrators
Professional development for teachers
Increase inclusive classrooms
Additional learning opportunities for students
Travel/stipends for presentations, peer review training and peer review
Other effective practices:


Note: Excel Budget sheets do not show the TPAF/FICA combined rate. The NCLB application/amendment is programmed to calculate the combined rate at 20%. When completing the Excel sheets or the budget information in the application/amendment, it will not match the budget information on the Excel sheets for TPAF/FICA Benefits.

*Awards for this grant program cannot be provided to schools that are removed from status due to an AYP re-start.

Electronic Web-Enabled Grant (EWEG) Instructions for:

School Rewards Grant
To apply, please access the FY 2010 NCLB application through the EWEG system at and complete all required information in the NCLB Title I SIA Part A section of the application.
If your district's FY 2010 NCLB application does not have final NJDOE approval at the time of application for these funds, revisions may be made directly to the application. Upon the reopening of the district's consolidated application, go to the "Navigation" drop-down menu in the upper right-hand corner of the screen and select "NCLB Title I SIA Part A." Please contact the EWEG Help Desk at if you need assistance with reopening your application. The entire SIA Part A section of the NCLB application must be completed and the revised application resubmitted.
If your district's FY 2010 NCLB application has been fully approved (labeled as "Final Approved"), you must make the application revisions through the NCLB Amendment process. On the "Application Select"screen, click the button labeled "Create Amendment." When the amendment is opened, go to the "Navigation" drop-down menu in the upper right-hand corner of the screen, select "NCLBTitle I SIA Part A" and complete theentire SIA Part A section of the application. When you have completed the revisions, the application must be resubmitted.
Additional Instructions– "School Rewards Grant"
In addition to the steps listed above for EWEG, schools must also complete the attached "School Rewards Grant" application. These funds must be used to sustain and support effective practices and activities identified in the school's last Title I Unified Plan and your CAPA prioritized recommendations. Please name the file that is uploaded to the NCLB Application or Amendment "School Rewards Grant" and include the school name and date in the file name.
School level budget pages in Excel must also be completed identifying how the School Reward Grant allocation is budgeted for all schools receiving this award. Budget Detail pages and a Budget Summary are available as an Excel program at the following location: Complete the Excel budget pages for each school and upload the file to the NCLB Application on EWEG via the Title I Unified Plan upload tab. These budget pages are in addition to the School Reward Grant application.
The "School Rewards Grant" application and Excel budget pages must also be submitted to Pat Mitchell via email at: .

DISTRICT and School Information
District: / District Code: / (ADD DISTRICT CODE)
REWARD _ _ _ _ -10
Chief School Administrator:
Chief School Administrator's Email:
Contact Person:
Office Address:
Phone Number For District Contact Person:
Fax Number For Contact Person:
E-Mail Address Of Contact Person:
school information
School Name: / School Code:
School Type:  Elementary  Middle  Secondary
Current Grade Levels:
School Address:
School Phone Number: / Fax:
Principal:
Principal's E-Mail:


NCLBSCHOOL REWARDS GRANT APPLICATION

2010-2011

2010-2011 Program Plan

1. Effective Practices (From the list below, select and describe the main practices that contributed to increasing student achievement at your school. Additional effective practices may be added.

Effective Practices / Name of Effective Practice(s) / Description
Discussions among schools regarding curriculum standards and articulation across grade levels
Teachers collaborate to review student work
Varied and differentiated instructional strategies
Families and communities active partners, regular communication
Students who are falling behind receive instructional assistance
Staff development aligned with student performance goals and PDPs
Evaluations and PDPs effectively used
Leadership team's planning process involving collecting, managing and analyzing data
Other

Leadership
How did the principal and leadership team in the school effect change or demonstrate skills as a change agent and in what areas?
(Examples: high leveldemonstration of respect for staff; high visibility and accessibility for staff and parents; focusing on students and making it possible for teaching and learning to occur; implanting the idea that all students can learn.)
Description of Proposed Program
Provide a description of the proposed program you intend to implement or continue. Describe the activities that will be implemented. Include background information about the program, the name of any professional development providers, workshops, participants, etc. The proposed program should be consistent with the goals, indicators of success, action plan and budget.
Scientifically Research Based Practices (Provide the scientific research that supports the proposed/continued practice that will be implemented using grant funds.)
Implementation of CAPA Recommendations and Statewide System of Support (Provide a brief description of how the implementation of CAPA recommendations and assistance from the Statewide System of Support supported the school's academic achievement.)
Action Plan
Provide an action plan for each scientifically-based research practice that will be implemented/continued. Include the name of the practice, a SMART goal, indicators of success and the steps to accomplish the implementation.

Name of Practice:
SMART Goal:
Indicators of Success:
Description of Action Plan Steps / Persons Involved / Resources
Needed / Due Date - Timeline


NCLBSCHOOL REWARDS GRANT APPLICATION

2010-2011
STATEMENT OF ASSURANCES
As the duly authorized chief school administrator/chief executive officer of the applicant agency, I am aware that submission to the Department of Education of the accompanying application constitutes the creation of a public document, and I certify that the applicant:
Agrees to participate in the effective practice case study project which includes a school visit by a team of DOE staff to gather information; present the effective practice; agree to permit observation of the effective practice by other schools; peer review training and conducting two peer reviews for Title I schools in need of improvement.
______

Name of School Signature: Principal

______

Name of LEA Signature: Chief School Administrator

______

Date

NCLBSCHOOL REWARDS GRANT APPLICATION

2010-2011

BUDGET DETAIL FORM A

Personal Services - Salaries

Function & Object Codes 100-100 and 200-100

SIA R ______-10 / School Name: ______
LEA:
NOTES: Copy this form. Complete all columns. Use multiple lines for a single entry if necessary.
FUNCTION & OBJECT CODE / POSITION/NAME / COST CALCULATION
For full-time positions: total annual salary x percent of time to the grant project = total
For part-time positions: rate ($) per hour x number of hours
per week x number of weeks per year = total / GRANT REQUEST AMOUNT


NCLBSCHOOL REWARDS GRANT APPLICATION

2010-2011

BUDGET DETAIL FORM B

Personal Services – Employee Benefits

Function & Object Code 200-200

SIA R ______-10 / School Name: ______
LEA:
NOTES: Copy this form. Complete all columns. Use multiple lines for a single entry if necessary.
POSITION/NAME / GRANT REQUESTED SALARY AMOUNT / FICA
7.65% / TPAF
------% / PERS
------% / WRKR'S
COMP
------% / UNEMPLY.
------% / DISABIL.
------% / HEALTH
------% / OTHER
SPECIFY:
______
------% / TOTAL % OF
BENEFITS / GRANT
REQUEST AMOUNT (BENEFITS ONLY)


BUDGET DETAIL FORM C

Purchased Professional and Technical Services

Function & Object Codes 100-300 and 200-300

SIA R ______-10 / School Name: ______
LEA:
NOTES: Copy this form. Complete all columns. Use multiple lines for a single entry if necessary.
FUNCTION & OBJECT CODE / DESCRIPTION/PURPOSE / RATE:
HOURLY, DAILY, FLAT FEE / TIME
REQUIRED / GRANT REQUEST AMOUNT


BUDGET DETAIL FORM D

Supplies and Materials

Function & Object Codes 100-600 and 200-600

SIA R ______-10 / School Name: ______
APPLICANT (LEAD) AGENCY:
NOTES: Copy this form. Complete all columns. Use multiple lines for a single entry if necessary.
FUNCTION & OBJECT CODE / ITEM DESCRIPTION / UNIT COST
(UC) / QUANTITY
(Q) / GRANT REQUEST AMOUNT
(GR)


BUDGET DETAIL FORM E

Equipment

Function & Object Codes 400-731 and 400-732

SIA R ______-10 / School Name: ______
APPLICANT (LEAD) AGENCY:
NOTES: Copy this form. Complete all columns. Use multiple lines for a single entry if necessary.
FUNCTION & OBJECT CODE / ITEM DESCRIPTION / UNIT COST
(UC) / QUANTITY
(Q) / GRANT REQUEST AMOUNT
(GR)


BUDGET DETAIL FORM F

Other Purchased Services, Other Objects, Purchased Property Services, Travel, Indirect Costs, Buildings

Function & Object Codes 100-500, 100-800, 200-400, 200-500, 200-580, 200-800, 200-860, 400-720

SIA R ______-10 / School Name: ______
APPLICANT (LEAD) AGENCY:
NOTES: Copy this form. Complete all columns. Use multiple lines for a single entry if necessary.
FUNCTION & OBJECT CODE / DESCRIPTION/COST CALCULATION / GRANT REQUEST AMOUNT


NCLBSCHOOL REWARDS GRANT APPLICATION

2010-2011

SCHOOL BUDGET SUMMARY

LEA: Award ______-10

School Name:______School Code: ______

BUDGET CATEGORY / FUNCTION & OBJECT CODE / FEDERAL GRANT FUNDS REQUESTED
INSTRUCTION
Personal Services - Salaries / 100-100
Purchased Professional & Technical Services / 100-300
Other Purchased Services / 100-500
Supplies and Materials / 100-600
Other Objects / 100-800
SUBTOTAL - INSTRUCTION
SUPPORT SERVICES
Personal Services - Salaries / 200-100
Personal Services – Employee Benefits / 200-200
Purchased Professional & Technical Services / 200-300
Subgrant Cost Summary / 200-320
Purchased Property Services / 200-400
Other Purchased Services / 200-500
Travel / 200-580
Supplies and Materials / 200-600
Other Objects / 200-800
Indirect Costs / 200-860
SUBTOTAL - SUPPORT SERVICES
Buildings / 400-720
Instructional Equipment / 400-731
Noninstructional Equipment / 400-732
SUBTOTAL - FACILITIES
TOTAL COST


______

Business Administrator/Chief Fiscal OfficerDate