Department Name: University Information Technology Services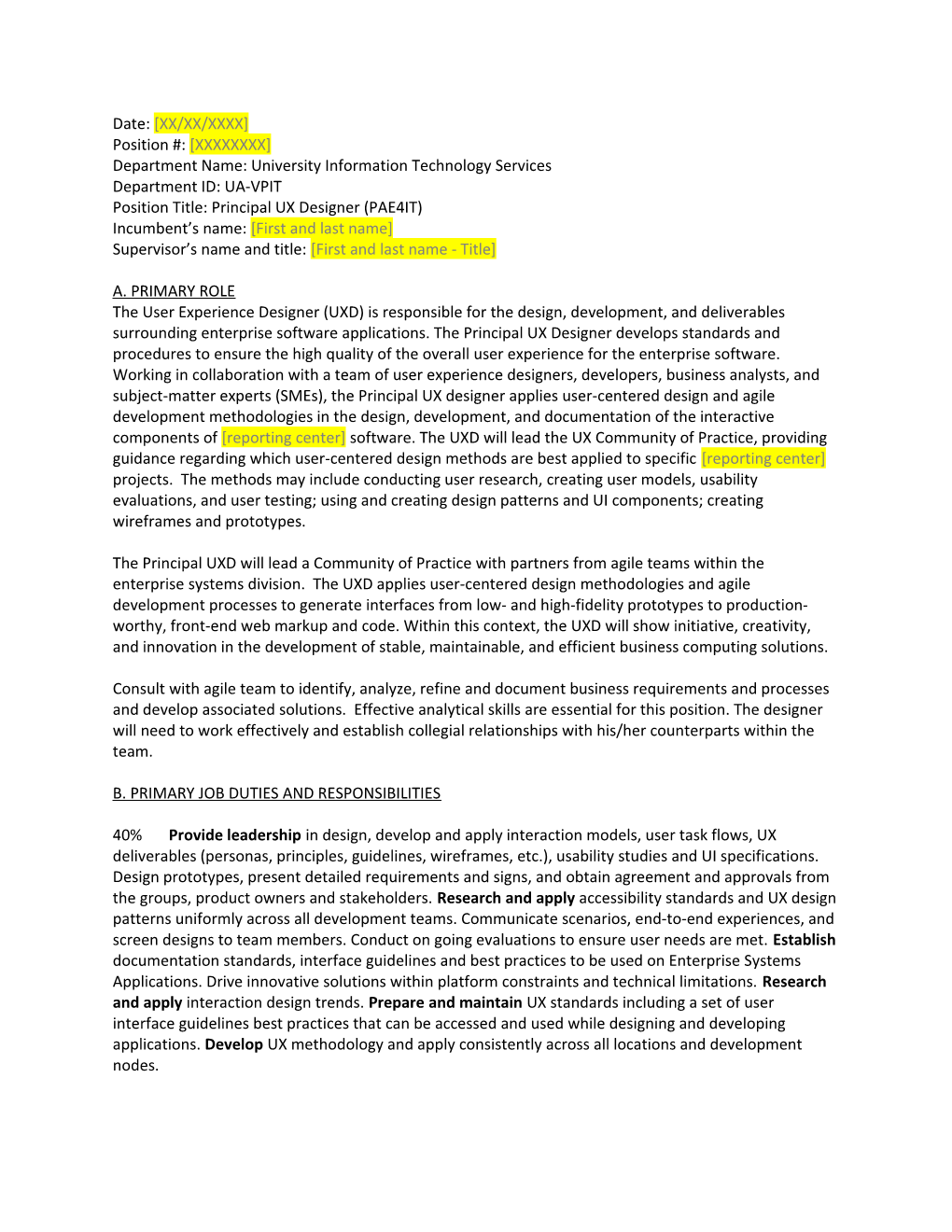 Date:[XX/XX/XXXX]
Position #:[XXXXXXXX]
Department Name: University Information Technology Services
Department ID: UA-VPIT
Position Title: Principal UX Designer (PAE4IT)
Incumbent's name: [First and last name]
Supervisor's name and title:[First and last name - Title]
A. PRIMARY ROLE
The User Experience Designer (UXD) is responsible for the design, development, and deliverables surrounding enterprise software applications. The Principal UX Designer develops standards and procedures to ensure the high quality of the overall user experience for the enterprise software. Working in collaboration with a team of user experience designers, developers, business analysts, and subject-matter experts (SMEs),the Principal UX designer applies user-centered design and agile development methodologies in the design, development, and documentation of the interactive components of [reporting center]software. The UXD will lead the UX Community of Practice, providing guidance regarding which user-centered design methods are best applied to specific [reporting center]projects. The methods may include conducting user research, creating user models, usability evaluations, and user testing; using and creating design patterns and UI components; creating wireframes and prototypes.
The Principal UXD will lead a Community of Practice with partners from agile teams within the enterprise systems division. The UXD applies user-centered design methodologies and agile development processes to generate interfaces from low- and high-fidelity prototypes to production-worthy, front-end web markup and code. Within this context, the UXD will show initiative, creativity, and innovation in the development of stable, maintainable, and efficient business computing solutions.

Consult with agile team to identify, analyze, refine and document business requirements and processes and develop associatedsolutions. Effective analytical skills are essential for this position. The designer will need to work effectively and establish collegial relationships with his/her counterparts within the team.
B. PRIMARY JOB DUTIES AND RESPONSIBILITIES
40% Provide leadership in design, develop and apply interaction models, user task flows, UX deliverables (personas, principles, guidelines, wireframes, etc.), usability studies and UI specifications. Design prototypes, present detailed requirements and signs, and obtain agreement and approvals from the groups, product owners and stakeholders. Research and apply accessibility standards and UX design patterns uniformly across all development teams. Communicate scenarios, end-to-end experiences, and screen designs to team members. Conduct on going evaluations to ensure user needs are met.Establish documentation standards, interface guidelines and best practices to be used on Enterprise Systems Applications.Drive innovative solutions within platform constraints and technical limitations. Research and apply interaction design trends.Prepare and maintain UX standards including a set of user interface guidelines best practices that can be accessed and used while designing and developing applications.Develop UX methodology and apply consistently across all locations and development nodes.
40% Lead the Community of Practices to facilitate collaboration by UX designers across teams on proper design methodologies to achieve consistent application standards. Communicate feedback regarding UX deliverables developed by teams (personas, principles, guidelines, wireframes, etc.). In collaboration with [reporting center]Architects, ensure the User Experience design meet the needs of the user community and fits with the UI technical architecture. Consult with teams to identify, analyze, refine and document business requirements and process to develop associated solutions.

15% Perform Primary studies, conceptual design, and system design as needed. Prepare estimate of resource requirements in terms of time (story points) for the design work.Work to identify areas of improvement throughout the development process.
5% Other duties as assigned
** OVPIT/UITS Emergency and Continuity may require participation in resource planning and documentation, incident management, incident management exercises, and acquiring certification or other emergency preparedness or action procedures. **
C. QUALIFICATIONS
Minimum education:
Bachelor's degree in a computer related field. Combinations of relevant education and experience may be considered. Master's degree is desirable.
Minimum experience:
At least five (5) years of human computer interaction experience with a variety of user-centered design research methodologies (IE: experiment design, contextual inquiry, interviewing and observation, usability testing, focus groups, surveys, expert evaluation, and Web data analytics) including at least two (2) years of experience leading a team of interaction designers and user researchers.
Experience working in higher education student systems and analyzing complex problems and producing concrete, actionable solutions preferred.
Required knowledge, skills and abilities:
Qualified applicants will have a strong understanding of interface design and visual design principles as they pertain to web-based applications, sites, and systems, including translating user research findings into functional requirements and developing functional specifications.
Extensive experience with HTML, CSS, JavaScript, or visual design software is desired.
Understanding of the major browsers (Firefox, Internet Explorer, Safari, etc.) and creating sites/systems to work with varying browser capabilities.
Knowledge of and experience with good user-centered design methods is required and experience with usability evaluations is preferred.
Experience with a variety of research methodologies, including experiment design, contextual inquiry, interviewing and observation, usability testing, focus groups, surveys, expert evaluation, or Web data analytics (e.g., conversion analysis).
Familiarity with accessibility best practices.
Position requires excellent oral, written and listening skills, ability to interpret complex requirements and communicate with customers from both technical and non-technical backgrounds. Demonstrated analytical and problem solving skills to take business requirements and abstract them into specifications. Effective time management skills with an ability to deliver consistently high quality work even in the face of changing priorities. Excellent interpersonal and communication skills necessary for working collaboratively and strategically within a diverse environment.
Equipment utilized:
Mac and PC computers and associated software, printers, copy machines, and general office.
D. LEVEL OF DECISION MAKING
High level of independent decision-making required with established standards and procedures. Work independently with very little guidance, seeking functional, technical, and managerial input when needed. Help cross-functional teams and clients make critical decisions on the use of IT in their business processes. Actively participate in agile team meeting discussions of the deliverables, resources, and technical issues. Evaluate and recommend technology solutions for the functional clients and UITS.
The position will be responsible for establishing UX standards and procedures. The position will be required to participate on a cross-functional team on medium to large projects/assignments. The principal designer will lead the Enterprise Student Systems UX Community of Practice (CoP). The CoP provides an opportunity to collaborate with other UX staff on design tasks, and encourage designs to adhere to standards. Position will have to perform full range of standard level work that typically requires interpreting, more complex, less clearly-defined issues. The position will have to identify problems and possible solutions and take appropriate action to resolve. The position will have to analyze complex problems for larger, undefined scope of work and then design a viable solution that meets customers' requirements. The position will require daily decisions and personal initiative. The applicant will need to understand system design and functional requirements, and communicate effectively with other technical team members and stakeholders.
E. SCOPE AND IMPACT
Scope and impact are significant. The employee work in this role will have impact on systems design affecting hundreds of thousands of users at Indiana University (university-wide). Working on software used by students, faculty, and/or staff on all IU campuses, stability, accuracy, and performance of the software are imperative. The incumbent is responsible for participating effectively within a medium to a large team that develops enterprise software for the student service offices and academic units. This position will help to ensure the smooth delivery of services within the team.
The individual must be able to establish priorities, determine compromises when there are competing demands, and work with a variety of IU offices at the University, campus, and department level. This position requires patience and careful attention to the questions being posed, a respect for the individual differences of other universities, IU campuses, and academic programs.
F. DIRECTION PROVIDED TO OTHERS
Individual in this position must work effectively as a team member with representatives of other UITS teams to insure the integrity of a complex and integrated system, interpret problems, and seek mutually satisfactory solutions. Will provide guidance in line with his/her expertise to teams throughout [reporting center]. However, no direct supervisory role.
The individual in this position must work effectively as a member with representatives of other [reporting center]teams to insure the integrity of a complex and integrated system, interpret problems, and seek mutually satisfactory solutions.
The individual in this position may influence design through the development of standards and practices. The individual in this position must work effectively as a team member with representatives within the Enterprise Systems divisions and across the university to insure the integrity of a complex and integrated system, interpret problems, and seek mutually satisfactory solutions.
G. PHYSICAL REQUIREMENTS
Position requires extreme mental concentration, attention to detail, and excellent organizational skills to balance competing demands and priorities in a fast-moving, collegial environment. Must be able to stare at a computer screen particularly for long periods of time. Must be able to perform detailed work (programs, documents or instruments); handle the stress of performing multiple concurrent tasks with constant interruptions.
H. COMPARABLE POSITIONS
Position #Position TitleClassificationDepartment/RC
[XXXXXXXX]Principal UX DesignerPAE4ITUA-VPIT / [RC]
[XXXXXXXX]Principal UX DesignerPAE4ITUA-VPIT / [RC]
[XXXXXXXX]Principal UX DesignerPAE4ITUA-VPIT / [RC]
I. APPROVAL AND ACKNOWLEDGEMENT
Print this document and obtain the employee, immediate supervisor, and next level manager signatures. The hard copy with original signatures is to be kept in the department's files.
Immediate supervisor: acknowledgement that the above is an accurate position description.
Type signature in space below Date
[Manager Signature][Date]
Next level manager: acknowledgement that she/he is in agreement with the above allocation of duties and responsibilities.
Type signature in space below Date
Deb Allmayer for Brad Wheeler [Date]
Employee Acknowledgement:
Type signature in space below Date
[Employee Signature][Date]