Department/Grade Level News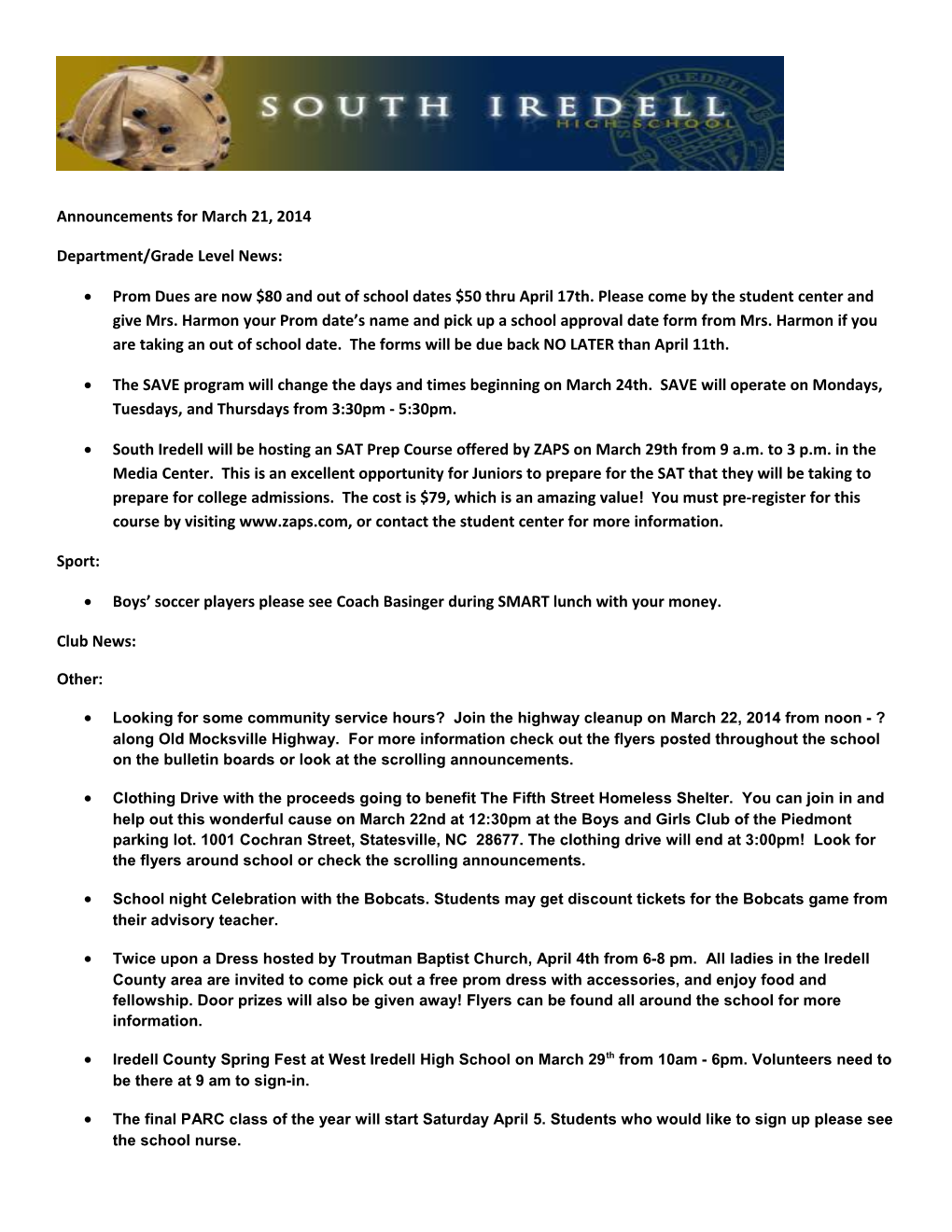 Announcements for March 21, 2014
Department/Grade Level News:
Prom Dues are now $80 and out of school dates $50 thru April 17th.Please come by the student center and give Mrs. Harmon your Prom date's name and pick up a school approval date form from Mrs. Harmon if you are taking an out of school date. The forms will be due back NO LATER than April 11th.
The SAVE program will change the days and times beginning on March 24th. SAVE will operate on Mondays, Tuesdays, and Thursdays from 3:30pm - 5:30pm.
South Iredell will be hosting an SAT Prep Course offered by ZAPS on March 29th from 9 a.m. to 3 p.m. in the Media Center. This is an excellent opportunity for Juniors to prepare for the SAT that they will be taking to prepare for college admissions. The cost is $79, which is an amazing value! You must pre-register for this course by visiting or contact the student center for more information.
Sport:
Boys' soccer players please see Coach Basinger during SMART lunch with your money.
Club News:
Other:
Looking for some community service hours? Join the highway cleanup on March 22, 2014 from noon - ? along Old Mocksville Highway. For more information check out the flyers posted throughout the school on the bulletin boards or look at the scrolling announcements.
Clothing Drive with the proceeds going to benefit The Fifth Street Homeless Shelter. You can join in and help out this wonderful cause on March 22nd at 12:30pm at the Boys and Girls Club of the Piedmont parking lot. 1001 Cochran Street, Statesville, NC 28677. The clothing drive will end at 3:00pm! Look for the flyers around school or check the scrolling announcements.
School night Celebration with the Bobcats.Students may get discount tickets for the Bobcats game from their advisory teacher.
Twice upon a Dress hosted by Troutman Baptist Church, April 4th from 6-8 pm. All ladies in the Iredell County area are invited to come pick out a free prom dress with accessories, and enjoy food and fellowship. Door prizes will also be given away! Flyers can be found all around the school for more information.
Iredell County Spring Fest at West Iredell High School on March 29th from 10am - 6pm. Volunteers need to be there at 9 am to sign-in.
The final PARC class of the year will start Saturday April 5. Students who would like to sign up please see the school nurse.
The media center will be closed on Wednesday, March 26th for all blocks, however it will BE OPEN during SMART lunch.
STUDENT OF THE DAY: