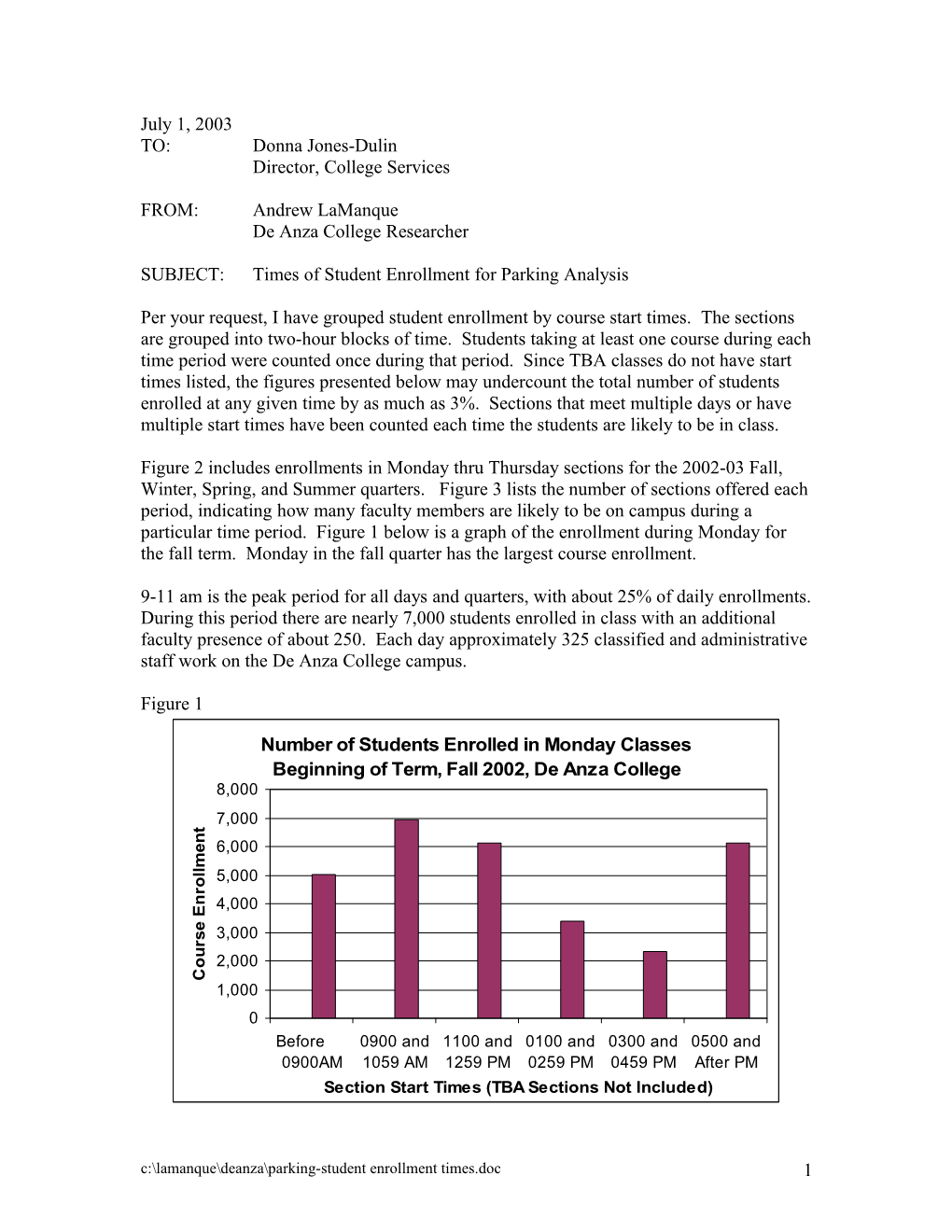 July 1, 2003
TO:Donna Jones-Dulin
Director, College Services
FROM:Andrew LaManque
De Anza College Researcher
SUBJECT:Times of Student Enrollment for Parking Analysis
Per your request, I have grouped student enrollment by course start times. The sections are grouped into two-hour blocks of time. Students taking at least one course during each time period were counted once during that period. Since TBA classes do not have start times listed, the figures presented below may undercount the total number of students enrolled at any given time by as much as 3%. Sections that meet multiple days or have multiple start times have been counted each time the students are likely to be in class.
Figure 2 includes enrollments in Monday thru Thursday sections for the 2002-03 Fall, Winter, Spring, and Summer quarters. Figure 3 lists the number of sections offered each period, indicating how many faculty members are likely to be on campus during a particular time period. Figure 1 below is a graph of the enrollment during Monday for the fall term. Monday in the fall quarter has the largest course enrollment.
9-11 am is the peak period for all days and quarters, with about 25% of daily enrollments. During this period there are nearly 7,000 students enrolled in class with an additional faculty presence of about 250. Each day approximately 325 classified and administrative staff work on the De Anza College campus.
Figure 1
1

c:\lamanque\deanza\parking-student enrollment times.doc

Figure 2

Number of Students Enrolled By Section Start Times
Beginning of Term, De Anza College
Number of Students
Monday / Tuesday / Wednesday / Thursday
Section Start / Duplicated Enrollment / Duplicated Enrollment / Duplicated Enrollment / Duplicated Enrollment
Time Between / 2002F / 2003W / 2003S / 2003M / 2002F / 2003W / 2003S / 2003M / 2002F / 2003W / 2003S / 2003M / 2002F / 2003W / 2003S / 2003M
Before 0900AM / 5,034 / 4,264 / 3,932 / 2,516 / 4,739 / 4,185 / 3,792 / 3,109 / 5,074 / 4,347 / 4,009 / 3,170 / 4,724 / 4,151 / 3,679 / 2,922
0900 and 1059 AM / 6,950 / 6,260 / 6,428 / 3,095 / 6,872 / 6,202 / 6,281 / 3,790 / 6,927 / 6,272 / 6,451 / 4,136 / 6,845 / 6,168 / 6,242 / 3,527
1100 and 1259 PM / 6,134 / 5,590 / 5,570 / 2,024 / 6,066 / 5,596 / 5,321 / 2,819 / 6,243 / 5,621 / 5,658 / 2,799 / 6,176 / 5,591 / 5,310 / 2,570
0100 and 0259 PM / 3,400 / 3,009 / 2,949 / 460 / 3,342 / 2,929 / 3,201 / 422 / 3,447 / 3,104 / 2,985 / 466 / 3,315 / 2,924 / 3,256 / 388
0300 and 0459 PM / 2,346 / 2,123 / 1,986 / 833 / 1,916 / 1,702 / 1,841 / 1,325 / 2,398 / 2,190 / 1,999 / 1,402 / 1,946 / 1,685 / 1,917 / 1,246
0500 and After PM / 6,131 / 4,977 / 5,450 / 3,015 / 5,489 / 4,816 / 4,991 / 3,722 / 5,832 / 4,689 / 4,967 / 3,842 / 5,479 / 4,760 / 4,979 / 3,404
Duplicated Total / 29,995 / 26,223 / 26,315 / 11,943 / 28,424 / 25,430 / 25,427 / 15,187 / 29,921 / 26,223 / 26,069 / 15,815 / 28,485 / 25,279 / 25,383 / 14,057
Percent of Daily Duplicated Enrollment
Monday / Tuesday / Wednesday / Thursday
Section Start / Duplicated Enrollment / Duplicated Enrollment / Duplicated Enrollment / Duplicated Enrollment
Time Between / 2002F / 2003W / 2003S / 2003M / 2002F / 2003W / 2003S / 2003M / 2002F / 2003W / 2003S / 2003M / 2002F / 2003W / 2003S / 2003M
Before 0900AM / 17% / 16% / 15% / 21% / 17% / 16% / 15% / 20% / 17% / 17% / 15% / 20% / 17% / 16% / 14% / 21%
0900 and 1059 AM / 23% / 24% / 24% / 26% / 24% / 24% / 25% / 25% / 23% / 24% / 25% / 26% / 24% / 24% / 25% / 25%
1100 and 1259 PM / 20% / 21% / 21% / 17% / 21% / 22% / 21% / 19% / 21% / 21% / 22% / 18% / 22% / 22% / 21% / 18%
0100 and 0259 PM / 11% / 11% / 11% / 4% / 12% / 12% / 13% / 3% / 12% / 12% / 11% / 3% / 12% / 12% / 13% / 3%
0300 and 0459 PM / 8% / 8% / 8% / 7% / 7% / 7% / 7% / 9% / 8% / 8% / 8% / 9% / 7% / 7% / 8% / 9%
0500 and After PM / 20% / 19% / 21% / 25% / 19% / 19% / 20% / 25% / 19% / 18% / 19% / 24% / 19% / 19% / 20% / 24%
All Sections / 100% / 100% / 100% / 100% / 100% / 100% / 100% / 100% / 100% / 100% / 100% / 100% / 100% / 100% / 100% / 100%


Figure 3

Number of Sections Offered By Section Start Times
Beginning of Term, De Anza College
Number of Sections
Monday / Tuesday / Wednesday / Thursday
Section Start / Number of Course Sections / Number of Course Sections / Number of Course Sections / Number of Course Sections
Time Between / 2002F / 2003W / 2003S / 2003M / 2002F / 2003W / 2003S / 2003M / 2002F / 2003W / 2003S / 2003M / 2002F / 2003W / 2003S / 2003M
Before 0900AM / 172 / 154 / 145 / 84 / 163 / 158 / 140 / 104 / 175 / 162 / 150 / 104 / 156 / 153 / 130 / 97
0900 and 1059 AM / 244 / 229 / 244 / 105 / 243 / 229 / 238 / 126 / 245 / 235 / 246 / 135 / 239 / 225 / 234 / 117
1100 and 1259 PM / 208 / 206 / 206 / 74 / 212 / 217 / 203 / 100 / 215 / 210 / 211 / 100 / 218 / 220 / 205 / 93
0100 and 0259 PM / 118 / 96 / 109 / 20 / 112 / 101 / 111 / 19 / 120 / 103 / 113 / 21 / 109 / 96 / 114 / 18
0300 and 0459 PM / 74 / 68 / 62 / 30 / 65 / 63 / 67 / 44 / 77 / 76 / 65 / 46 / 66 / 61 / 67 / 42
0500 and After PM / 216 / 185 / 199 / 110 / 227 / 203 / 210 / 148 / 219 / 198 / 204 / 144 / 218 / 206 / 208 / 137
Duplicated Total / 1,032 / 938 / 965 / 423 / 1,022 / 971 / 969 / 541 / 1,051 / 984 / 989 / 550 / 1,006 / 961 / 958 / 504
Percent of Daily Section Count
Monday / Tuesday / Wednesday / Thursday
Section Start / Number of Course Sections / Number of Course Sections / Number of Course Sections / Number of Course Sections
Time Between / 2002F / 2003W / 2003S / 2003M / 2002F / 2003W / 2003S / 2003M / 2002F / 2003W / 2003S / 2003M / 2002F / 2003W / 2003S / 2003M
Before 0900AM / 17% / 16% / 15% / 20% / 16% / 16% / 14% / 19% / 17% / 16% / 15% / 19% / 16% / 16% / 14% / 19%
0900 and 1059 AM / 24% / 24% / 25% / 25% / 24% / 24% / 25% / 23% / 23% / 24% / 25% / 25% / 24% / 23% / 24% / 23%
1100 and 1259 PM / 20% / 22% / 21% / 17% / 21% / 22% / 21% / 18% / 20% / 21% / 21% / 18% / 22% / 23% / 21% / 18%
0100 and 0259 PM / 11% / 10% / 11% / 5% / 11% / 10% / 11% / 4% / 11% / 10% / 11% / 4% / 11% / 10% / 12% / 4%
0300 and 0459 PM / 7% / 7% / 6% / 7% / 6% / 6% / 7% / 8% / 7% / 8% / 7% / 8% / 7% / 6% / 7% / 8%
0500 and After PM / 21% / 20% / 21% / 26% / 22% / 21% / 22% / 27% / 21% / 20% / 21% / 26% / 22% / 21% / 22% / 27%
All Sections / 100% / 100% / 100% / 100% / 100% / 100% / 100% / 100% / 100% / 100% / 100% / 100% / 100% / 100% / 100% / 100%


1