Supply Waste Water Works in Region Dd5 with Consumables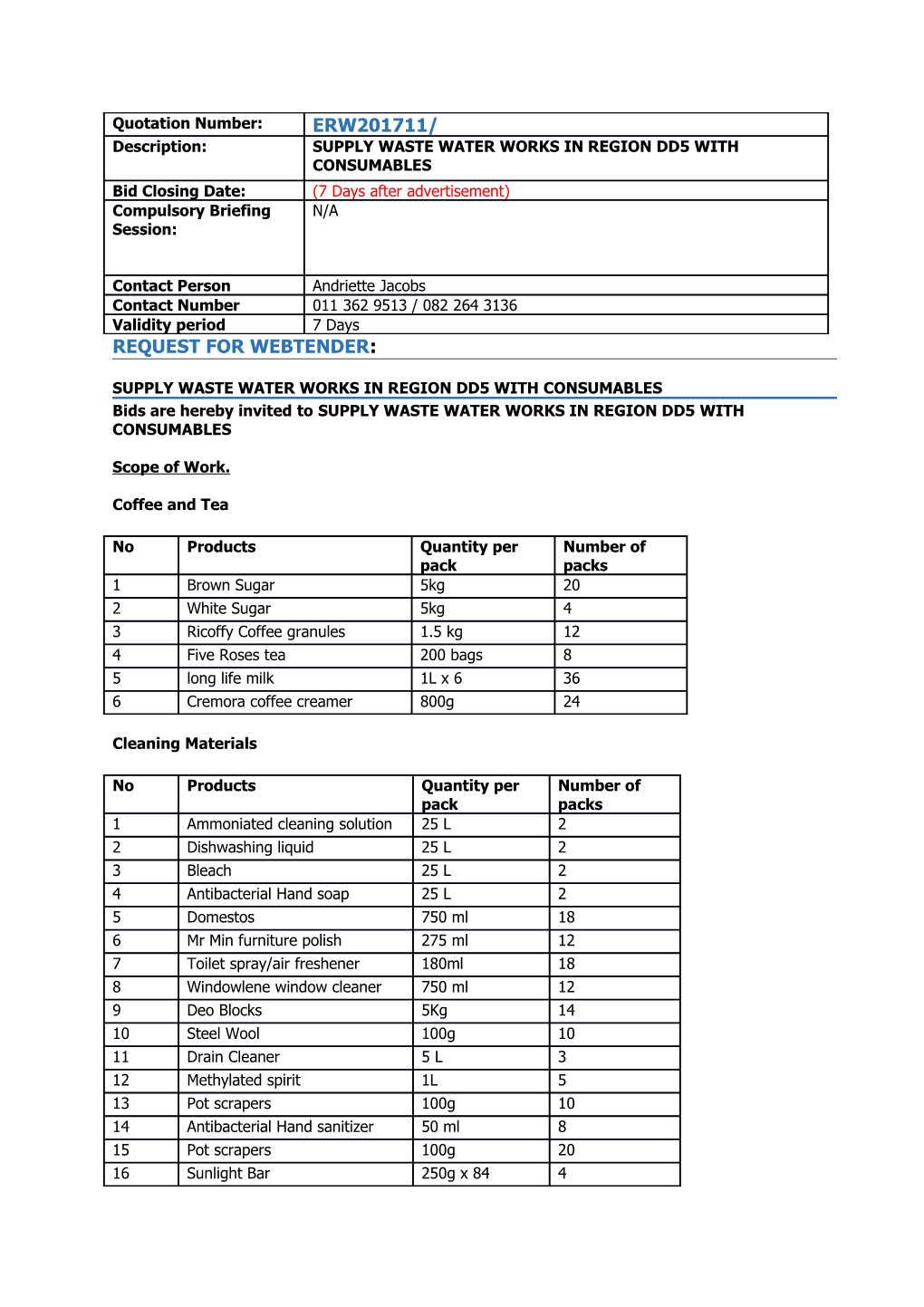 Quotation Number: / ERW201711/
Description: / SUPPLY WASTE WATER WORKS IN REGION DD5 WITH CONSUMABLES
Bid Closing Date: / (7 Days after advertisement)
Compulsory Briefing Session: / N/A
Contact Person / Andriette Jacobs
Contact Number / 011362 9513 / 082264 3136
Validity period / 7 Days


REQUEST FOR WEBTENDER:

SUPPLY WASTE WATER WORKS IN REGION DD5 WITH CONSUMABLES

Bids are hereby invitedtoSUPPLY WASTE WATER WORKS IN REGION DD5 WITH CONSUMABLES

Scope of Work.

Coffee and Tea

No / Products / Quantity per pack / Number of packs
1 / Brown Sugar / 5kg / 20
2 / White Sugar / 5kg / 4
3 / Ricoffy Coffee granules / 1.5 kg / 12
4 / Five Roses tea / 200 bags / 8
5 / long life milk / 1L x 6 / 36
6 / Cremora coffee creamer / 800g / 24


Cleaning Materials

No / Products / Quantity per pack / Number of packs
1 / Ammoniated cleaning solution / 25 L / 2
2 / Dishwashing liquid / 25 L / 2
3 / Bleach / 25 L / 2
4 / Antibacterial Hand soap / 25 L / 2
5 / Domestos / 750 ml / 18
6 / Mr Min furniture polish / 275 ml / 12
7 / Toilet spray/air freshener / 180ml / 18
8 / Windowlene window cleaner / 750 ml / 12
9 / Deo Blocks / 5Kg / 14
10 / Steel Wool / 100g / 10
11 / Drain Cleaner / 5 L / 3
12 / Methylated spirit / 1L / 5
13 / Pot scrapers / 100g / 10
14 / Antibacterial Hand sanitizer / 50 ml / 8
15 / Pot scrapers / 100g / 20
16 / Sunlight Bar / 250g x 84 / 4
17 / Yellow duster / Duster cloth / pack / 8


Cleaning Equipment

No / Products / Quantity per pack / Number of packs
1 / Toilet Bruch set / set / 6
2 / Feather Duster (Long) / 4 m / 4
3 / Mops / 10


Garden Tools

No / Products / Quantity per pack / Number of packs
1 / Plastic Rakes / 24
2 / Telescoping pole for pool cleaning with skimmer scoop / 30
3 / White poly prop broom (Academy code:3161) / 50
4 / Garden spade / 12
5 / Pickaxe / 2
6 / Bow saw / 900mm / 2
7 / Hand pruning shears / 2
8 / Loppers / 2
9 / Hedge pruners ( metal handle) / 3
10 / Rubber hosepipe plus male and female couplings per pipe. / 50m x 25mm / 7
11 / Hay Fork / 3


Cutlery and Crockery

No / Products / Quantity per pack / Number of packs
1 / Cutlery set / 24 pc Renaissance / 4
2 / Coffee Cup and saucer / 40


Plastic Bottles

No / Products / Quantity per pack / Number of packs
1 / 1 litre Dairy Bottles with caps / Packet of 1litre bottle (between 104 and 130 in a packet) / 6
2 / 2 litre Wide mouth HDPE Bottles with caps / 40


Other Consumables

No / Products / Quantity per pack / Number of packs
1 / OMO 250G / 60 per box / 3 boxes
2 / Protex antibacterial soap / Pack of 12/8 per box / 5 boxes
3 / 2 ply twin saver toilet paper / 48 per pack / 10
4 / Super doom odourless / 300ml / 12
5 / Hand lotion (for bathrooms) / 5L / 4
6 / Refuse bags (20 per pack) / 5
7 / Rags assorted / 5Kg / 2
8 / Antibacterial white wipes 20cm x 139 cm 15 per pack alcohol free, dermatologically tested / packs of 15 / 20
9 / Rat poison / 1.5 Kg / 15
10 / Gramoxon weed killer / 25L / 4


General Notes and Requirements
Please note that the Contractor will be responsible for his own safety, transport and delivery to all the different WWCWs in DD5arrangements.
Note that an official order numbers will only be issued to service providers on the ERWAT procurement vendor list. Service providers who wish to apply to be placed on the mentioned list can offload the application document from the ERWAT website on
Note that if you did not quote for all items on the list, you will not be considered.

Specification. / Requested / Offered / Comply to Specification
Documentation /
Tax Clearance Certificate
BBBEE Certificate
Ownership of the company and size enterprise (small, medium, large
Latest Municipal Account
Declaration of Interest (download from our Website)
Letter of good standing
Proof of SABS or equivalent certification on all materials.

Documentary proof of continuous support and capability (Quality assurance) /
Manufacturer document and/or
Appointed agent document and/or
Appointed Sub-contractor document

Delivery period / ASAP


Evaluation Criteria followed to evaluate quotations – Preference points system (PPS) as included in the Preferential Procurement Regulations of:

PPS / Contract value / Formula / Additional Considerations
80/20 / Equal to or above R 30 000.00 and up to R 200 000 / Ps = 80(1-(Pt-P min/P))
Where
Ps = Points scored for price of bid under consideration.
Pt = Rand value of bid under consideration.
P min = Rand value of lowest acceptable bid. / Maximum of 20 points may be awarded for being HDI, subcontracting with an HDI, and/or achieving specified goals.
Above points must be added to points scored for price.
Only bidder with the highest points scored may be selected.


Other Requirements:
Only Good quality products will be accepted.
GENERAL NOTES
Goods offered that DO NOT comply with the specifications will not be accepted. The successful bidder must register on the ERWAT vendors list. Forms to be downloaded from the ERWAT website. Quotation evaluation shall be performed on 80:20 principle (pricing and functionality 80% and BBBEE 20%)
Please note that it is the responsibility of the bidder to insure that his/her quotation/proposal is received by ERWAT's relevant personnel.
Plant Address:Ancor WWCW Ermelo Road, Springs.(26°16′08.45″ S, 28°29′00.15″ E)
Welgedacht WWCW1 Carnation Road, Welgedacht AH, Springs.(26°11′29.18″ S, 28°28′26.86″ E)
Daveyton WWCWHolfontein Rd, Etwawa.(26°08′08.72″ S, 28°27′49.20″ E)
JP Marais WWCWcnr N12 / Kingsway Road.(26°10′13.46″ S, 28°23′49.21″ E)
Herbert Bickley WWCWHeidelberg Road, Maraisdrift, Nigel.(26°26′40.37″ S, 28°26′46.89″ E)
Carl GrundlingVorsterkroon, Nigel (26°23′17.69″ S, 28°28′28.00″ E)
RatandaVaaldam Road, Ratanda (26°34′58.82″ S, 28°18′10.64″ E)
HeidelbergVaaldam Road, Heidelberg (26°32′22.98″ S, 28°19′52.36″ E)
Jan Smuts Wanderers Street Ext, Brakpan (26°13′25.99″ S, 28°22′33.50″ E)
Tshakanesituated south of Tsakane (26°22′31.93″ S, 28°21′58.20″ E)