Student Handbook 2014 - 2015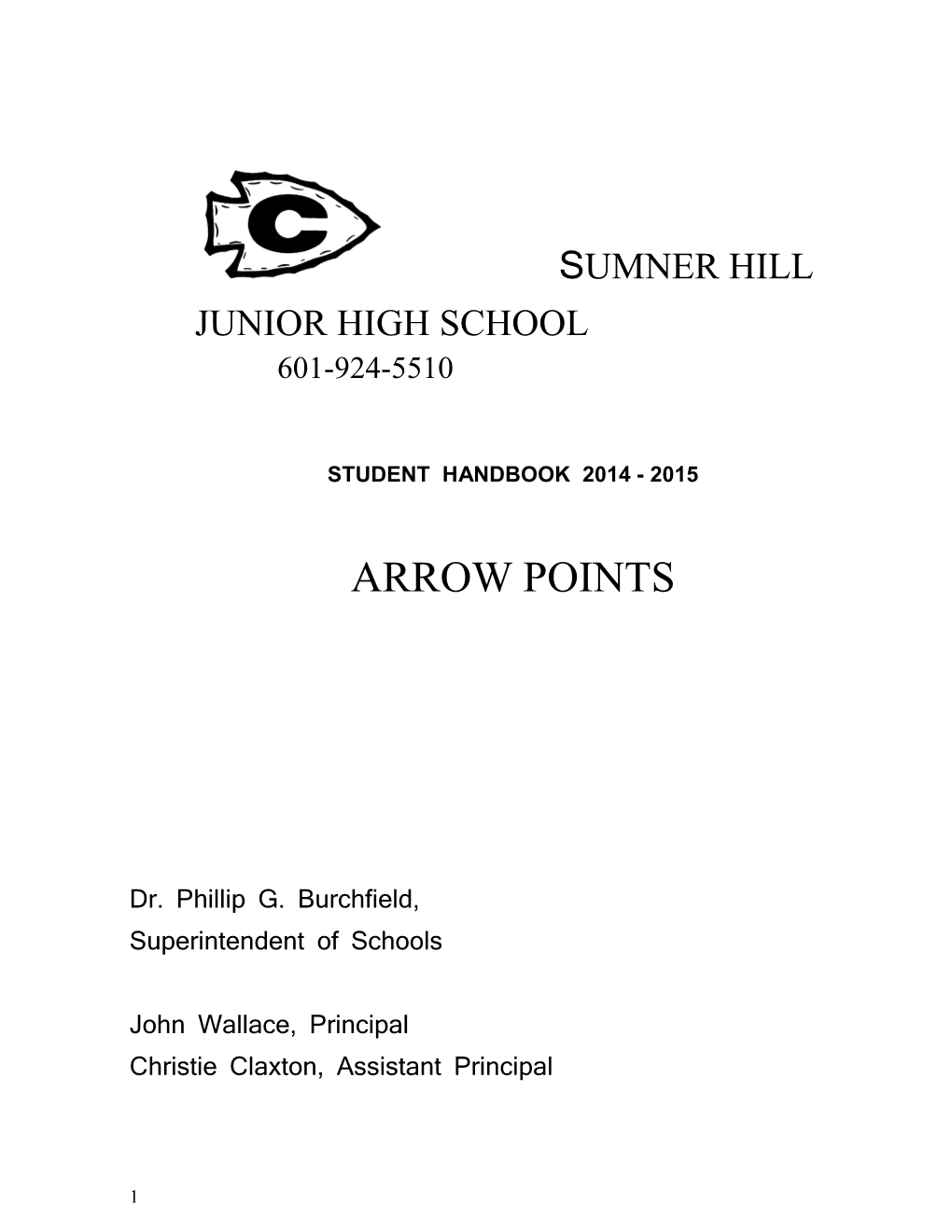 SUMNER HILL

JUNIOR HIGH SCHOOL

601-924-5510


STUDENT HANDBOOK 2014 - 2015

ARROW POINTS

Dr. Phillip G. Burchfield,

Superintendent of Schools

John Wallace, Principal

Christie Claxton, Assistant Principal

Heather Norton, Counselor

Sumner Hill Junior High School

400 WEST NORTHSIDE DRIVE

Clinton, Misissippi 39056-3466

PHONE: (601)924-5510 · FAX (601)924-4182

Dear Parent:

In January 2002, Congress passed the new federal law, the "No Child Left Behind Act of 2001" (NCLB). The purpose of this letter is to inform you about a provision in this new law that requires all districts to notify parents that they have a right to request information regarding the qualifications of their students' classroom teacher. Every district that receives Title I funds must ensure that all teachers teaching in English, reading or language arts, mathematics, science, foreign languages, civic and government, economics, arts, history, and geography are highly qualified.

This letter is to notify you that the Clinton Public School District has provided a copy of teachers' professional qualifications for perusal in each school office. The district's goal is to keep you informed about new requirements that enable us to work as partners in the education of our students. Sumner Hill's goal is to provide excellent customer service to all stakeholders.

Sincerely,

John Wallace, Principal

Sumner Hill Jr. High School

TABLE OF CONTENTS

NCLB Parent Letter ...... ii

Personnel...... 1

Board of Trustees ...... 1

District Administration ...... 1

Sumner Hill Junior High Administration...... 1

Sumner Hill Junior High Faculty ...... 1

Sumner Hill Junior High Staff ...... 2

School Information ...... 3

Mission Statement ...... 3

Beliefs ...... 3

Vision...... 3

Accreditation ...... 3

School Calendar...... 4

Bell Schedules ...... 5

Regular Schedule...... 5

Wednesday Schedule...... 6

Pep Rally Schedule ...... 7

Afternoon Schedule ...... 8

Exam Schedules. . ...... 9

Inclement Weather Delayed Start Schedule ...... 10

General Information. ...... 11

Philosophy...... 11

Notice of Non-Discrimination...... 12

Directory Disclosure...... 12

ELL Notice...... 12

Transfer of Records ...... 12

Asbestos Notice ...... 12

Enrollment Policies...... 13

Residency ...... 13

New Students...... 14

Guardianship...... 14

Affidavits...... 14 Non-Accredited Schools...... 14

Counseling Disclosure ...... 15

Attendance Policies...... . . .15

Absences...... 15

Extended Absences ...... 16

Official Absences ...... 16

Make-Up Work/Excused Absences ...... 17

Make-Up Work/Unexcused Absences ...... 17

Reporting Absences...... 17

Check-Out Procedures...... 18

Tardiness ...... 19

Truancy ...... 20

Code of Conduct and Dress...... 20

Campus/Classroom Security/Order ...... 20

Conduct and Discipline...... 21

Restrictions...... 24

No Open Container Policy...... 25

Safety...... 25

Possession of a Firearm ...... 26

Fights...... 26

Suspension...... 19

Long Term Suspensions and Expulsions...... 27

Drugs/Alcohol Possession...... 27

Medication...... 28

Use of Drug Dog ...... 28

Gangs ...... 29

Bullying/Harassment ...... 29

Tobacco Use/Possession...... 29

Unauthorized Use of Buildings ...... 30

Removal from School Sponsored Events...... 30

Destruction/Defacement of School Property ...... 30

Crimestoppers Telephone Number...... 31

Cheating...... 31

In School Suspension...... 31 Detention ...... 32

Dress Code...... 33

Clinton Athletics Eligibility Rules ...... 35

MHSAA Rules for Contestants ...... 36

Extra-Curricular Interscholastic Activities and Participation36

Field Trips and Extra-Curricular Activities ...... 36

Alternative School Secondary...... 37

General Policies ...... 38

Student Evaluation...... 38

Grading Policy...... 38

Accidents ...... 39

Change of Pupil Address ...... 39

Announcements ...... 39

Pledge of Allegiance...... 39

Bus Regulations ...... 40

Corridor Passes ...... 40

Corridor Traffic...... 40

Student Deliveries...... 40

Emergency Drills...... 41

E-mail Communication...... 41

I.D. Badges ...... 41

Library Guidelines...... 42

Lice...... 43

Lockers ...... 43

Lunch Period Policies ...... 43

Office and Office Procedures...... 44

Telephone Use ...... 44

Out of Bounds ...... 44

Student-Teacher Relationships ...... 44

Student-Substitute Relationships...... 44

Study Periods/Study Hall...... 44

State-Owned Textbooks ...... 45

Visitors on Campus...... 45

Parent-Teacher Association...... 45

Student Drivers ...... 45

Who's Who ...... 46

Clubs and Organizations ...... 46

Ninth Grade Curriculum...... 50

Dropping a Course ...... 51

Dropping an Honors Course ...... 51

Graduation Requirements ...... 51

State Testing Dates ...... 52

Student Fees...... 52

Student Programs...... 52

Awards & Recognition ...... 52

Acceptable Use Policy ...... 55

Internet Protection Act ...... 55

Football Schedule ...... 56

Basketball Schedule ...... 56

Cheerleaders...... 57

What to do When ...... 57

Crisis Hotline Numbers ...... 57

Consent Form ...... 58

1

PERSONNEL - CLINTON PUBLIC SCHOOL DISTRICT

BOARD OF TRUSTEES

Ingrid Williams...... PresidentKenny Lewis...... Vice President

Derek Holmes...... Secretary

Chip Wilbanks ...... Asst.Secretary

Sheila Grogan ...... Member

DISTRICT ADMINISTRATION

Dr. Phil Burchfield...... Superintendent

Tim Martin ...... Assistant Superintendent

Sandy Halliwell...... Business & Finance Director

Sandi Beason ...... Public Relations Director

James Barksdale ...... Supervisor of Maintenance

Terry Harris ...... Supervisor of Transportation

Regina Ducksworth...... Coordinator of Food Services

Dr. Kameron Ball...... Director of Technology

Kim Griffin ...... Testing Coordinator

SUMNER HILL JUNIOR HIGH SCHOOL ADMINISTRATION

John Wallace...... Principal

Christie Claxton...... Assistant Principal

SUMNER HILL FACULTY

Cheri Anglin, Ph.D...... Comprehensive Health

Roxanna Arcement (NBCT)...... Honors World Geography/MS Studies

Jennifer Ard ...... Algebra I/Compensatory Math

Krishna Boone ...... Special Education

Ruth Buck ...... Comprehensive Health/P.E./Coach

Susanne Cameron ...... Spanish I & II

Lynda Collins(NBCT)...... HonorsBiology/Biology I

Joseph Creel ...... Intro to Biology/Biology I

Vanessa Culliver ...... Special Education

Terri Curtis (NBCT) ...... Algebra I/Compensatory Math

Ethan Eubanks ...... Intro to Biology/Biology I

Kathryn Evans...... Honors English/Creative Writing

Megan Geter ...... English I/Reading

Courtney Harris...... Intro to Biology/Biology I

Morgan Harris ...... Algebra/Compensatory Math

Anita Kelly...... World Geography/MS Studies

Les Kelly ...... World Geography/MS Studies/Coach

Rebecca Lancaster ...... Art

Collins Lanyuy ...... French I/English I

Heather Norton(NBCT) ...... Counselor

Kelly Nye...... Honors Geometry

Blake Pennock ...... Freshman Seminar/P.E./Coach

Crystal Robinson EdS...... Freshman Seminar

Robbie Smith-Young. . . . .AlgebraI/CompensatoryMath/Cheerleading

Thomas Tunberg ...... World Geography/MS Studies/Coach

Olivia Willson ...... English I/Journalism

Allene Vinzant ...... English I/Latin I

Chris Young (NBCT) ...... Choir

(NBCT – National Board Certified Teachers)

SUMNER HILL STAFF

Carolyn Johnson...... Secretary

Beth Westover...... Bookkeeper/Secretary

Nicky Jones...... ISS & Detention Monitor

Della Rice ...... Media Specialist

Genise Hurst…...... Cafeteria Manager

School Information:Sumner Hill Jr. High School

400 West Northside Drive

Clinton, MS 39056

Telephone: 601-924-5510

Fax: 601-924-4182

Website: clintonpublicschools.com

To become a member of the Key Communicator Network for the Clinton Public Schools simply e-mail and ask to be added to the list. Anyone can join.

School Motto: Failure is not an option because success is the only option.

Our Mission...

Our mission is to produce successful individuals by guaranteeing challenging learning experiences in a unified, nurturing community committed to excellence.

Our Beliefs:

We believe...

In the pursuit of excellence.

All people are created equal, have value, and are worthy of respect.

A strong supportive family unit is the foundation of society.

Each individual needs the opportunity to succeed.

Openness to change is fundamental to growth.

Dynamic, quality leadership is essential.

Safety and security are basic to achievement.

Education develops the mind, body, and spirit.

Everyone has the capacity to learn.

All behavior has consequences and individuals are accountable for their choices and actions.

Life-long learning enhances the quality of life.

School Vision: The faculty and staff of Sumner Hill Jr. High School believe that each student who enters our doors will leave knowing that he or she was educated in a safe, caring, and innovative learning environment. Within and beyond these doors, success is the only option.

ACCREDITATION

Sumner Hill Junior High School is accredited by the MISSISSIPPI ACCREDITING COMMISSION of the Mississippi State Department of Education and has been assigned "A" Schoolstatus for the 2013-14 school year. Sumner Hill is also accredited by the SOUTHERNASSOCIATION OF COLLEGES AND SCHOOLS.

SCHOOL CALENDAR

2014-2015

1. Faculty Planning and Staff Development...... August1,4-8

2. Sumner Hill Junior High Registration ...... August 6

3. Classes Begin (Dismissal at regular time)...... August11

4. Staff Development (Holiday for students)...... January5

5. Holidays

A. Labor Day...... September1

B. Thanksgiving ...... November 24-28

C. Christmas...... December 22–January 2

D. Martin Luther King ...... January 19

E. Spring Break...... March 9-13

F. Easter ...... April 3-6

6. Back to School Night ...... September X

7. Grading Periods

PROGRESS REPORTS Subject Area Benchmarks

September 4August 25-29

November 6November 17-21

February 26February 23-27

April 9

Subject Area Tests

Algebra I May 5-7

Biology May 12-14

SECONDARY PUPILS - GRADES 9-12

NINE WEEK PERIOD / BEGINS / ENDS / REPORTS CARDS TO PUPILS
First / August 11 / October 10 / October 16
Second / October 13 / December 19 / January 8
Third / January 6 / March 6 / March 19
Fourth / March 16 / May 22 / May 22


8. Final Examinations ...... May 18-22

(Two Examinations - 60% day)...... May 22

9. Clinton High School Graduation...... May 22

REGULAR BELL SCHEDULE

8:30-9:17...... First Period

9:21-10:13 ...... Second Period

10:17-11:04 ...... Third Period

11:08-12:25 ...... Fourth Period

11:08-11:33 ...... First Lunch

11:38-12:03 ...... Second Lunch

12:08-12:33 ...... Third Lunch

12:29-1:16 ...... Fifth Period

1:20-2:07 ...... Sixth Period

2:11-2:58 ...... Seventh Period

3:02-3:49 ...... Eighth Period

3:54-4:24 ...... Detention

WEDNESDAY BELL SCHEDULE

8:30-9:30 ...... Activity Period

9:34-10:13 ...... First Period

10:17-11:01 ...... Second Period

11:05-11:44 ...... Third Period

11:48-12:57 ...... Fourth Period

11:48-12:13 ...... First Lunch

12:18-12:43 ...... Second Lunch

12:48-1:13 ...... Third Lunch

1:01-1:40 ...... Fifth Period

1:44-2:23 ...... Sixth Period

2:27-3:06 ...... Seventh Period

3:10-3:49 ...... Eighth Period

3:54-4:24 ...... Detention

PEP RALLY BELL SCHEDULE

8:30-8:50 ...... Pep Rally

9:00-9:50 ...... First Period

9:54-10:37 ...... Second Period

10:41-11:24 ...... Third Period

11:28-12:41 ...... Fourth Period

11:30-11:55 ...... First Lunch

12:00-12:25 ...... Second Lunch

12:30-12:55 ...... Third Lunch

12:45-1:28 ...... Fifth Period

1:32-2:15 ...... Sixth Period

2:19-3:02 ...... Seventh Period

3:06-3:49 ...... Eighth Period

3:54-4:24 ...... Detention

AFTERNOON ACTIVITY BELL SCHEDULE

8:30-9:13 ...... First Period

9:17-10:05 ...... Second Period

10:09-10:52 ...... Third Period

10:56-12:09 ...... Fourth Period

11:00-11:25 ...... First Lunch

11:30-11:55 ...... Second Lunch

12:00-12:25 ...... Third Lunch

12:13-12:56 ...... Fifth Period

1:00-1:43 ...... Sixth Period

1:47-2:30 ...... Seventh Period

2:34-3:17 ...... Eighth Period

3:21-3:49 ...... Activity Period

3:54-4:24 ...... Detention

2014-2015Semester Exams

CLASSES WILL NOT BE INTERRUPTED FOR EARLY DISMISSALS DURING EXAM TIMES. NO CHECKOUTS WILL BE ALLOWED UNLESS THE STUDENT IS ILL OR THERE IS AN EMERGENCY.

CLASSES WILL NOT BE INTERRUPTED FOR EARLY DISMISSALS DURING EXAM TIMES. NO CHECKOUTS WILL BE ALLOWED UNLESS THE STUDENT IS ILL OR THERE IS AN EMERGENCY.

Inclement Weather Delayed Start of School Schedule

This schedule will be used only when the District Administration feels that roads will clear later in the day.

Clinton Park Elementary, Northside Elementary, and Eastside

Elementary will open at 9:25 a.m.

Lovett Elementary and Clinton Jr. High will open at 9:50 a.m.

Sumner Hill and Clinton High School will open at 10 a.m.

The end of the school day will be at the regular time.

Delayed Start Schedule

10:00 - 10:35 / 1st Period
10:39 - 11:14 / 2nd Period
11:18 – 11:53 / 3rd Period
11:57 - 1:12 / 4th Period
11:57 – 12:22 / 1st Lunch
12:22-12:47 / 2nd Lunch
12:47-1:12 / 3rd Lunch
1:16-1:51 / 5th Period
1:55-2:30 / 6th Period
2:34-3:09 / 7th Period
3:13-3:49 / 8th Period
3:53-4:24 / Detention


GENERAL INFORMATION

PHILOSOPHY

The Board of Trustees and personnel of the Clinton Public Schools are committed to the maxim that "all students can learn." Over the past decade, changes in the community have resulted in an increasingly diverse enrollment. Students exhibit differences in socio-economic, cultural, and family backgrounds; learning capacities and styles; needs and interests. Therefore, we believe the district's fundamental responsibility is to provide a range of academic and extra-curricular opportunities to enable each student to develop intellectually, physically, morally, socially, and emotionally to the maximum of his/her potential. This development is best accomplished as students; educators, parents, and community--individually and collectively--recognize their significant roles in the educational process and commit themselves to fulfilling their specific obligations. The Clinton Public School District strives to provide a safe and orderly school climate, a democratic environment where the rights of all are respected, and clearly defined academic priorities supported by appropriate extra-curricular activities. Finally, the District believes that the curriculum must be continuously evaluated and modified to maintain relevancy to societal changes, to meet a wide range of special needs and abilities, and to reflect the community's quest for excellence in education.

NOTICE OF NON-DISCRIMINATION

The Clinton Public School District complies with all federal and state laws and regulations and does not discriminate on the basis of race, religion, color, national origin or ancestry, sex, gender identity, sexual orientation, age, marriage, veteran status or

disability in employment or in the delivery of educational services. This applies to all educational programs and extracurricular activities. Inquires associated with Title VI, Title IX, and/or accommodations for disabled employees, the public and accessibility of facilities and programs should be directed to Dr. Phillip G. Burchfield, Superintendent at 601-924-7533. Inquires regarding the application of Section 504 of the Rehabilitation Act (concerning students with disabilities who are not eligible for Special Education)/ (Americans with Disability Act should be directed to Mr. Tim Martin, Assistant Superintendent, at 601-924-7533. These individuals may be contacted at the district main office located at 203 Easthaven Drive. The mailing address is P.O. Box 300, Clinton, MS 39060.

DIRECTORY DISCLOSURE

NOTICE TO PARENTS AND STUDENTS

Schools within the Clinton Public School District may disclose "directory" information which shall include: the student's name and address, date and place of birth, major field of study, pictures, participation in officially recognized activities and sports, weight and height of members of athletic teams, dates of attendance, credits and awards received, the most recent previous educational agency or institution attended by the student, and other similar information. Any parent or eligible student who wishes to have any or all of the directory information concerning his or her child or that student withheld must inform the school in writing within ten (10) days from the date that the student receives this notice.

ELL NOTICE

English Language Learners (ELL) are held to the same State-mandated standards as all students. Accommodations and interventions may be provided. ELL students are required to earn Carnegie Credits as set forth in District Policy IHF - "Requirements for Graduation and Grade" and to successfully pass all State Subject-Area Assessments to earn high school diplomas.

TRANSFER OF RECORDS

In accordance with the Privacy Rights of Parents and Students Act, school records will be forwarded on request to a school in which a student seeks or intends to enroll.

ASBESTOS NOTICE

Notice is hereby given to parents, employees, and employee organizations that the Clinton Public School District has had all of its buildings appropriately inspected for asbestos containing materials and a Management Plan for each building developed pursuant to the rules and regulations of the Environmental Protection Agency and the Asbestos Hazard Emergency Response Act; that a copy of the result of said inspections are on file in the Office of the Director of Buildings and Grounds, the Office of the Director of the Career Complex, and in the respective principals of the Clinton Park Elementary, Northside Elementary, Eastside Elementary, Lovett Elementary, Clinton Junior High, Sumner Hill Junior High and Clinton High schools; that copies of all of the aforesaid results of inspections and completed Management Plans for the respective buildings may be read by any and all interested persons in the Office of the Director of Buildings and Grounds, and any and all of the aforesaid principals' offices between the hours of 8:00 A.M. and 3:30 P.M. When school is in session, the results of said inspections and completed Management Plans for all buildings in the District may be read in the Office of the Director of Buildings and Grounds between the hours of 8:00 A.M. and 3:30 P.M. on usual work days. For additional information, call James "Bo" Barksdale, Director of Buildings and Grounds, at 601-924-2100.

ENROLLMENT POLICIES

RESIDENCY

"Residence" for school attendance purposes means that the parent and student must physically reside full time, weekdays, week nights, and weekends, at a place of abode within the boundaries of the Clinton Public School District. The school administrative staff will verify the residence of each student. In order to prove residency, parents will be required to complete a residency registration checklist and provide two proofs of residency as defined on the checklist when first enrolling in the Clinton Public School District.

An Ordinance of the Mayor and Board of Aldermen of the City of Clinton, Mississippi states that it is unlawful to make false statements to law enforcement officials and/or officials and employees of the Clinton Public School System whether orally or in writing. The misdemeanor, upon conviction, shall be punished by imprisonment for not more than ninety(90) days, or by fine not to exceed one thousand dollars ($1,000.00), or by both such fine and imprisonment.

TWO Proofs of Residency (phone and cable bill are not accepted)
One Utility Bill (Gas, Water, or Electric)
Mortgage Document/Property Deed or Apartment/Home Lease (must include All children's names)
NEW STUDENTS
All new students must be accompanied by a custodial parent and provide, along with the residency registration checklist, the following information:
Withdrawal form from previous school
Social Security Card
Parent's Driver License
Long Birth Certificate (must list parent(s) names)
Transcript of credits
Report Card from previous school year
Mississippi Immunization Form 121 (If moving from out of state, you will need to go the health department and pick up the form.)
Custody papers if parent is divorced
Guardianship papers if not living with parents listed on the birth certificate (The superintendent must approve all guardianships)
Two proofs of residency (phone and cable bill not accepted)
One Utility Bill (Gas, Water, or Electric)
Mortgage Document/Property Deed or Apartment/Home Lease (must include ALL children's names)
GUARDIANSHIP
If the student is living with a legal guardian, a certified copy of the Court Decree or petition must be provided declaring the Clinton Public School District to be the resident of the legal guardian of the student, and further declaring that the guardianship was formed for a purpose other than establishing residency for enrollment of the student in the Clinton Public School District.
AFFIDAVITS
If the student is living with an adult other than the parent or legal guardian, the adult must provide a sworn Affidavit stating his/her relationship to the student, and that the student will be living in his/her home full time, and fully explaining the reasons (other than for the purpose of attending school in the Clinton Public School District) for this arrangement, and the Clinton Public School District Board of Trustees or its designee has made the necessary factual determination under II.1 (2) of the State Residency Verification Procedures.
Any student who has an affidavit for residency will be required to verify residency every school year.
NON-ACCREDITED SCHOOLS
If a student is transferring from a non-accredited school or a home-school program, the following accreditation standard will apply: