Sequencing and Comparative Analysis of Major Histocompatibility Complex Class II Region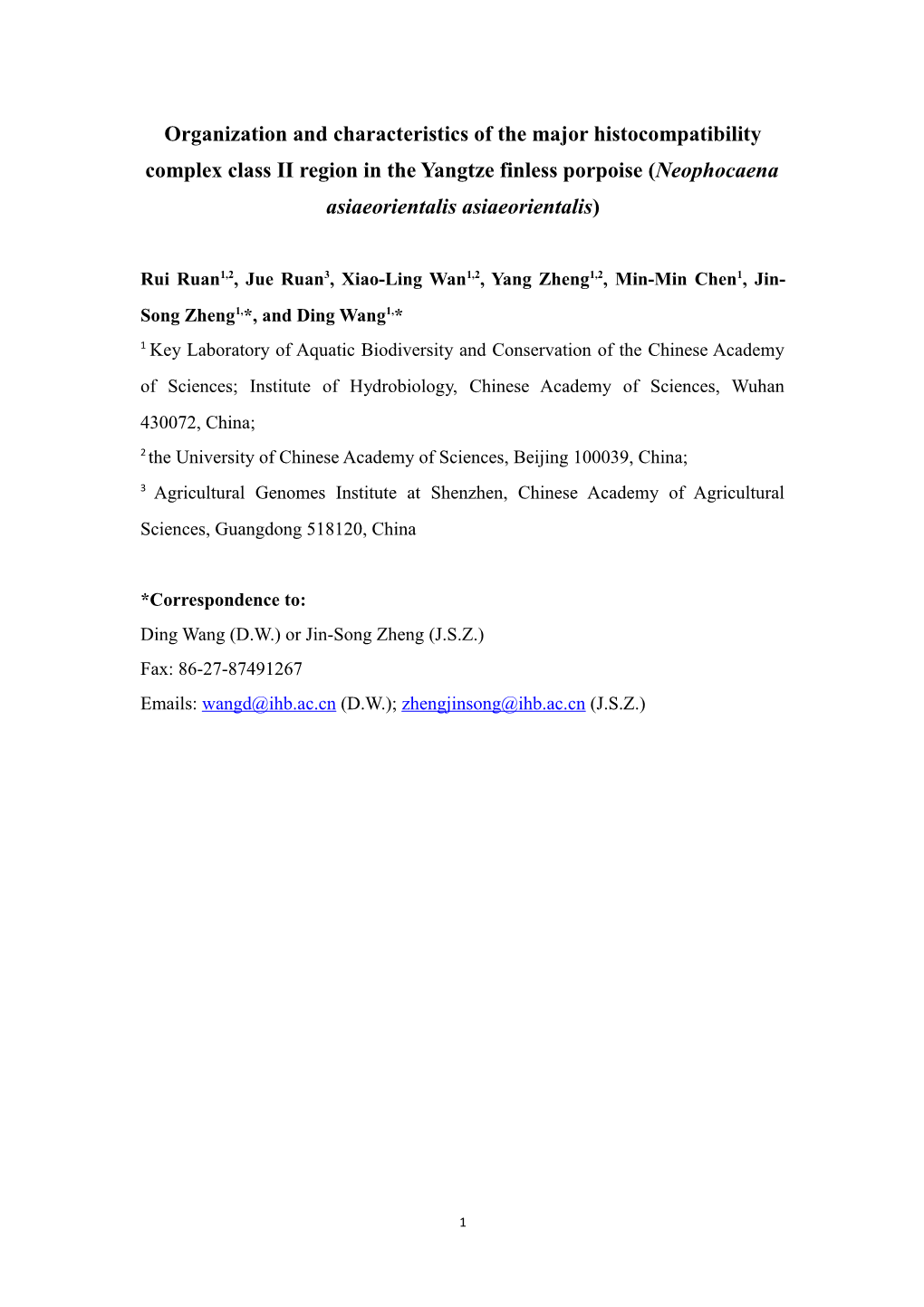 Organization and characteristics of the major histocompatibility complexclass II region in the Yangtze finless porpoise (Neophocaena asiaeorientalis asiaeorientalis)
Rui Ruan1,2, Jue Ruan3, Xiao-Ling Wan1,2, Yang Zheng1,2, Min-Min Chen1, Jin-Song Zheng1,*, and Ding Wang1,*
1Key Laboratory of Aquatic Biodiversity and Conservation of the Chinese Academy of Sciences; Institute of Hydrobiology, Chinese Academy of Sciences, Wuhan 430072, China;
2theUniversity of ChineseAcademy of Sciences, Beijing 100039, China;
3 Agricultural Genomes Institute at Shenzhen, ChineseAcademy of Agricultural Sciences, Guangdong 518120, China
*Correspondence to:
Ding Wang (D.W.) or Jin-Song Zheng (J.S.Z.)
Fax: 86-27-87491267
Emails: (D.W.); (J.S.Z.)
1
Figure S1. Distribution of insert sizes of 147 BAC clones in the Yangtze finless porpoise BAC library. Insert sizes were estimated by electrophoresis with BAC-Tracker Supercoiled DNA Ladder (28-165 kb).About of 5.4% non-insert clones were observed in the process of estimating insert size from 147 BAC clones (8 non-insert clones).
1
Figure S2. Predicted amino acid sequence alignment of Neas-DRB1 and Neas-DRB2. Predicted amino acid alignment of Neas-DRB1 and Neas-DRB2 sequences determined in this study. Neas-DRB2is a pseudogene.Alignment among their predicted protein sequences was generated by MEGA6 and GeneDoc. Dots (.) indicate identity, dashes (-) indicate gaps, asterisk (*) indicates stop codon, and vertical lines (|) indicate exon boundaries.

1

Table S1.Primers used forscreeningthe BAC library to construct the contigs of YFP MHC classII region.

Locus / Size of amplifications (bp) / Primer sequences (5'→3') / Reference
DRA / 189 / AATCATGTGATCCAAGCTGAGTTC
TGTTTGGGGTGTTGTTGGAGCG / Xu, et al. 2007
DMA / 442 / GGACTGCCCATGAAGGTA
GGAACTAAGGACCAATAAAG / This study
588H3-T7 / 604 / TTGAGGATGGATGGGATT
TGAGCCTGAGAACCGAGT / This study
612G6-T7 / 387 / CAGTATGAATGCCTAATCTC
CTCCACCTCAACAAACAC / This study
612G6-RP1 / 534 / CCCCAAGCATAGGTGAGA
ATGCCAGGAAGTCCACTC / This study
951A10-T7 / 791 / CCCAGATACCCAAACCAT
TGTCGCCTTCAACATAACAT / This study


The primers for DMA locus, amplifying 442 bp including part of the first intron, were designed based on the DMA DNA sequence of bottlenose dolphin (Tursiops truncatus) (GenBank accession number: NW_004207240) by using Primer Premier 5.0. To confirm its effectiveness, the DMA primers were used to perform PCR with the Yangtze finless porpoise genomic DNA as template, and then the amplified product was cloned and sequenced,finallythe sequence was identified by BLAST in NCBI database.

Xu S, Sun P, Zhou K, Yang G. Sequence variability at three MHC loci of finless porpoises (Neophocaena phocaenoides). Immunogenetics59: 581-592 (2007).

1

Table S2. PCR primers of eight MHC class II genes used to detect their expression.

Locus name / Primer sequences / Length
(bp) / Including complete CDS / Annealing temperature
(°C)
DRA / F:CAATACAGGAAGGAGCAA
R:TCTACTGACCCTCATCGA / 1118 / Yes / 51
DRB / F:CTTGCCTGCTCCCCTCAC
R:TTCCGGATTTCCAGGTCA / 1030 / Yes / 55
DQA / F:GTGGAATACGCCAGTGAT
R:GGATGGTCCTGAACAGAG / 1006 / Yes / 53
DQB / F:TACTTCTTCCTTTGTTCTC
R:GGTTACAATGTGCTTCTC / 1113 / Yes / 51
DMA / F:ATGGATCATGAGCTGAGC
R:GGTAGGATGTGAGAAACTTG / 862 / Yes / 53
DMB / F:GGACAGGATTCCCCGTGT
R:TCCGCCAGCTGATCAAAC / 758 / No / 54
DOA / F:TAAAGCACCAGGGGACAA
R:ATCCCATTCAAAGTCAGCAC / 896 / Yes / 53
DOB / F:AATGGGTTCTAGCTGGGTT
R:GGAGGAAGAAGGGCACAA / 1010 / Yes / 53


1

Table S3. GenBank accession numbers of the MHC class II sequences from human, cattle, sheep, pig, horse, dog and catused for comparative genomic analysis.

Species name / MHC name / GenBank accession number
Human (Homo sapiens) / HLA II / NT_007592
Cattle (Bostaurus) / BoLAIIa
BoLAIIb / BoLAIIa: AC_000180
BoLAIIb: AY957499
Sheep (Ovisaries) / OLAIIa
OLAIIb / OLAIIa: NW_004080183
OLAIIb: FJ985855, FJ985860,FJ985871
Pig (Susscrofa) / SLAII / BX323846, BX088590, BX323833, BX324144, BX640585
Horse (Equus caballus) / ELA II / NW_001867389
Dog (Canisfamiliaris) / DLAII / AJ630362, AJ630363, AJ630364, AJ630365, AJ630366
Cat (Feliscatus) / FLAII / EU153401


1

Table S4. GenBank accession numbers of the MHC class II genes from cattle, sheep and pigused to construct phylogenetic trees.

/ Human (Homo sapiens) / Cattle (Bos taurus) / Sheep (Ovis aries) / Pig (Sus scrofa)
DRA / NM_019111 / NM_001012677 / NM_001280717 / NM_001113706
DRB / DRB1: NM_001243965
DRB3: NM_022555
DRB4: NM_021983
DRB5: NM_002125 / DRB1: XM_005200976
DRB2: XM_582099
DRB3: NM_001012680 / DRB1: NM_001280698
DRB2: XM_004018737
DRB3: XM_004019248 / DRB1: NM_001113695
DQA / DQA1: NM_002122
DQA2: NM_020056 / DQA: XM_003587692
DQA1: NM_001013601
DQA2: NM_001012681
DQA5: NM_001012675 / DQA1: NM_001159759
DQA2: XM_004018908
DQA3: XM_004018909
DQA4: XM_004018907 / DQA1: NM_001130224
DQB / DQB1: NM_002123
DQB2: NM_001300790 / DQB1: NM_001080923
DQB2: NM_001012676
DQB3: NM_001034668 / DQB1: EU176819
DQB2: EU176819
DQB3: XM_004019247 / DQB1: NM_001113694
DMA / NM_006120 / NM_001012674 / XM_004019167 / NM_001004039
DMB / NM_002118 / NM_001040481 / XM_004018740 / NM_001113707
DOA / NM_002119 / NM_001205920 / XM_004018742 / NM_001185143
DOB / NM_002120 / NM_001013600 / XM_004018738 / NM_001114064


1

Table S5. Sequences of MHC class II genes usedto calculate the dN/dSratios.

Species / DRA / DRB / DQA / DQB / DMA / DMB / DOA / DOB
Common bottlenose dolphin
(Tursiops truncates) / XM_004325137 / EF017817 / XM_004317915 / NM_001280608 / NW_004207240 / XM_004326007 / XM_004328684 / XM_004328309
Indo-Pacific bottlenose dolphin (Tursiops aduncus) / EF017818 / EF017816
Killer whale (Orcinus orca) / XM_004285623 / XM_004285622 / XM_004285618 / NW_004438672 / XM_004267759 / XM_004267810 / XM_004267755 / XM_004267811
Yangtze River dolphin
(Lipotes vexillifer) / XM_007459506 / XM_007451935 / NW_006778796 / XM_007460810 / XM_007460809 / XM_007460812 / XM_007460803
Sperm whale
(Physeter catodon) / XM_007118596 / XM_007123824 / XM_007123823 / NW_006713540 / XM_007107873 / XM_007107866 / XM_007107887
Minke whale
(Balaenoptera acutorostrata) / XM_007193888 / XM_007186920 / XM_007186925 / XM_007186913 / NW_006728570
Human
(Homo sapiens) / NM_019111 / NM_001243965
NM_022555
NM_021983
NM_002125 / NM_002122
NM_020056 / NM_002123 / NM_006120 / NM_002118 / NM_002119 / NM_002120
Cattle
(Bos taurus) / NM_001012677 / NM_001012680 / XM_003587692
NM_001013601
NM_001012675 / NM_001080923
NM_001012676
NM_001034668 / NM_001012674 / NM_001040481 / NM_001205920 / NM_001013600
Sheep
(Ovis aries) / NM_001280717 / NM_001280698 / NM_001159759
XM_004018908
XM_004018909
XM_004018907 / EU176819
EU176819 / XM_004019167 / XM_004018740 / XM_004018742 / XM_004018738
Pig
(Sus scrofa) / NM_001113706 / NM_001113695 / NM_001130224 / NM_001113694 / NM_001004039 / NM_001113707 / NM_001185143 / NM_001114064


1

Table S6. dN/dS ratios calculated for exon 2 andthe rest of classicalMHCclassII genes in mammals and in cetaceans (seven cetacean species). The mammals include human, cattle, sheep, pig and seven cetacean species. The seven cetacean species include the Yangtze finless porpoise, common bottlenose dolphin, Indo-Pacific bottlenose dolphin, killer whale, Yangtze River dolphin, sperm whale, and Minke whale. Detailed sample information is provided in Table S5. The bold text indicates that the dN/dS ratio was significantly greater than 1.

Loci / Mammals / Cetaceans
dN/dS / P-Value / dN/dS / P-Value
DQA / Exon 2 / 0.589 / 0.012 / 0.674 / 0.227
The rest / 0.415 / 1.74E-7 / 0.5 / 0.05
DQB / Exon 2 / 0.811 / 0.228 / 2.288 / 6.17E-4
The rest / 0.428 / 1.61E-5 / 0.9 / 0.401
DRA / Exon 2 / 0.556 / 0.023 / 0.912 / 0.430
The rest / 0.474 / 4.72E-5 / 0.4 / 5.57E-3
DRB / Exon 2 / 0.740 / 0.106 / 1.417 / 0.166
The rest / 0.478 / 9.54E-5 / 0.387 / 0.042


1