Request Form for Family Placement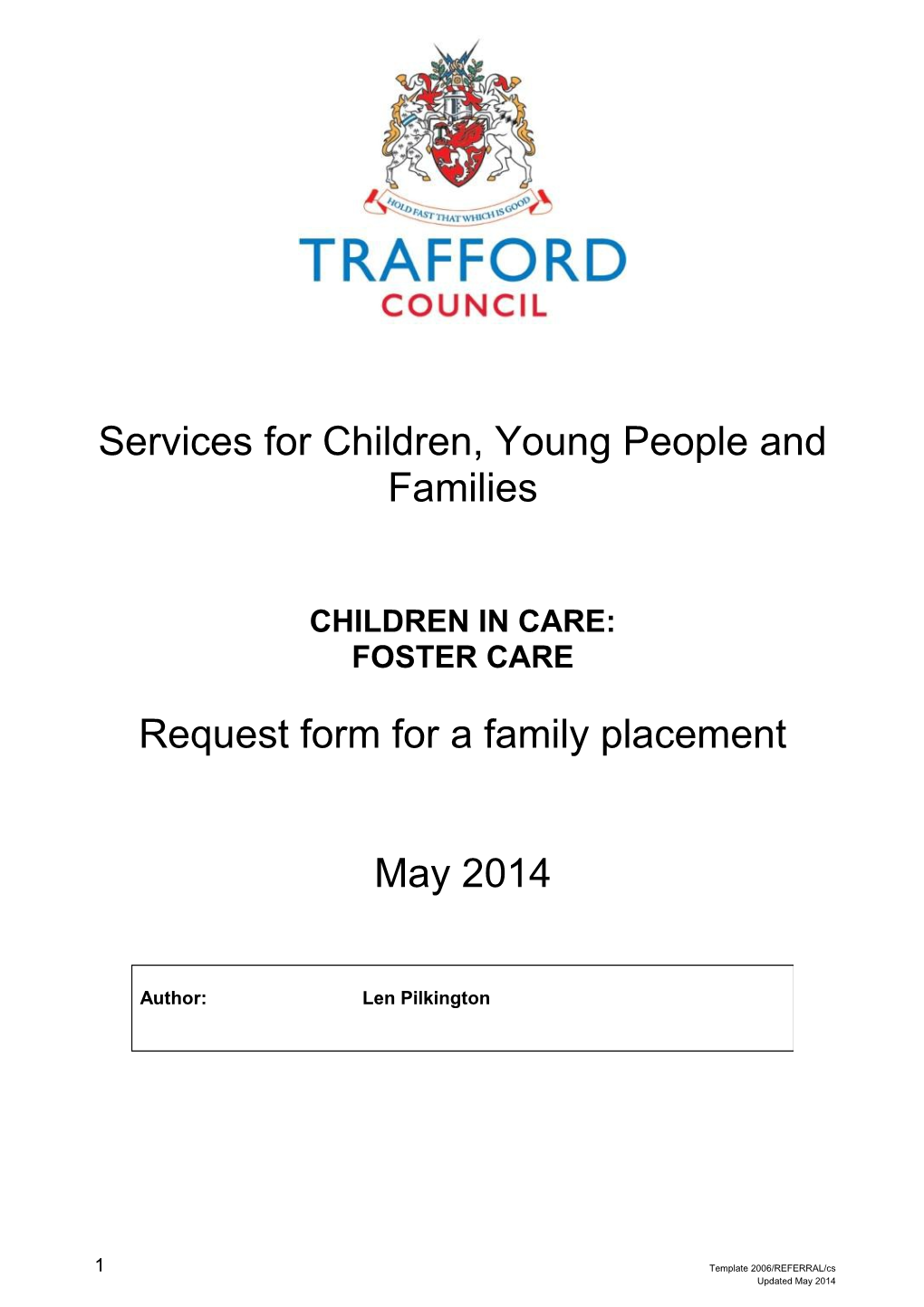 Services for Children, Young People and Families

CHILDREN IN CARE:

FOSTER CARE

Request form for a family placement

May 2014

Author: Len Pilkington


REQUEST FORM FOR FAMILY PLACEMENT

DATE OF REFERRAL: / CLIENT INDEX NO.
CHILD/REN'S NAMES / DOB / ETHNIC ORIGIN / GENDER:
1) / F / M
2) / F / M
3) / F / M
4) / F / M
5) / F / M
6) / F / M
HOW ACCOMMODATED/ LEGAL STATUS? / RELIGION:
CURRENT CARE PLAN
CURRENT ADDRESS OF CHILD:
POST CODE:
TELEPHONE NO:
ADDRESS IF DIFFERENT FROM ABOVE
POST CODE:

DESCRIBE THE CHILD'S PERSONAL QUALITIES/PERSONALITY(SENSE OF HUMOUR, ESTEEM, SELF-IDENTITY,CONFIDENCE,SELF-CARE SKILLS ETC)
DETAILS OF INTERESTS OF THE CHILD/REN AND HOW THESE ARE SUPPORTED.
(ACADEMIC ABILITIES, HOBBIES, SPORTING ACHIEVEMENTS ETC)
PARENT/ PERSON WITH PARENTAL RESPONSIBILITY:
NAME:
ADDRESS:
TEL NO:
PARENT/ PERSON WITH PARENTAL RESPONSIBILITY:
NAME:
ADDRESS:
TEL NO:
SIBLINGS
Name / D.O.B / Address if different from above
1)
2)
3)
4)
5)
6)
TYPE OF PLACEMENT NEEDED:
TEMPORARY / PERMANENT / SHORT BREAK / ADOPTION
REASONS FOR PLACEMENT AND ESTIMATED LENGTH OF PLACEMENT
OBJECTIVES OF PLACEMENT
CHILD PROTECTION REGISTER
IS THE CHILD/SIBLING SUBJECT TO A CHILD PROTECTION PLAN? / YES / NO
HAS THE CHILD/SIBLING BEEN SUBJECT TO A CHILD PROTECTION PLAN?(ANY ADDITIONAL INFORMATION) / YES / NO
IDENTIFIED NEEDS OF CHILD/REN:

CURRENTSchool OR nursery PROVISION including days AND HOURS of attendance. ANY ADDITIONAL INFORMAtION? (E.G. AT RISK OF EXCLUSION, DOING WELL ETC)?
Identified medical needS AND regular appointmentS.
(INCLUDE TRANSPORT ARRANGEMENTS AND ANY FORTHCOMING ASSESSMENTS)
current CONTACT/TRANSPORT ARRANGEMENTS withFAMILY
aRE THERE ANY SPECIFIC RELIGIOUS/CULTURAL
REQUIREMENTS?DETAILS: / YES / NO

aRE THERE ANY SPECIAL DIETARY REQUIREMENTS?DETAILS:
/ YES / NO

DETAILS OF significant RELATIONSHIPS AND HOW CHILD/REN RELATES TO THEIR CARER/S.
DETAILS OF ROUTINES THAT NEED TO BE CONSIDERED/SUPPORTED

ADDITIONAL INFORMATION:

DETAILS OF ANY OTHER PROFESSIONALS INVOLVED(INCLUDE REASONS)
IS THERE A Specific area REQUIRED FOR PLACEMENT?
(e.g. in Trafford, out of area ETC) / NO / YES

Reason(s) for ANY restrictions with regard to placement area.
Details of any behaviourS that MAY influence placementchoices (e.g.
sexualised behaviours, substance misuse, ABSCONDING ).
ANY OTHER RELEVANT INFORMATION?
DETAILS/DATE OF OTHER PANEL
SOCIAL WORKER / EXT. NO
TEAM MANAGER / EXT. NO


1Template 2006/REFERRAL/cs

Updated May 2014

RISK ASSESSMENT FORM (HS3)

Service Area: CYPS / Division/Section: Fostering Service / Name of Child: / D.O.B:
Task Description: Risk assessment of Looked after child with Foster carers / Name of Social Worker:
Signature:
Date:

Task/Activity
Details / Hazards/Risks Identified / Persons at Risk /
Control Measures
/ Is this Adequate
YES / NO / Further Control Measures to be Taken (If existing controls are inadequate)


1Template 2006/REFERRAL/cs

Updated May 2014