Person Specification and Selection Criteria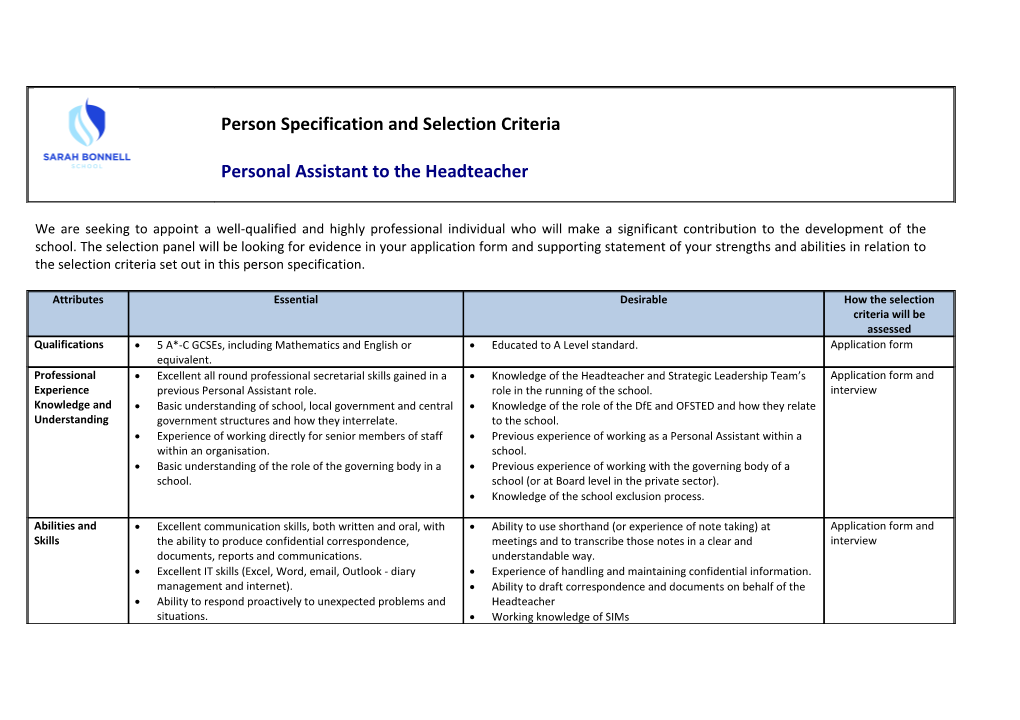 /
Person Specification and Selection Criteria
Personal Assistant to the Headteacher
We are seeking to appoint a well-qualified and highly professional individual who will make a significant contribution to the development of the school. The selection panel will be looking for evidence in your application form and supporting statement of your strengths and abilities in relation to the selection criteria set out in this person specification.

Attributes / Essential / Desirable / How the selection criteria will be assessed
Qualifications /
5 A*-C GCSEs, including Mathematics and English or equivalent.
/
Educated to A Level standard.
/ Application form
Professional Experience Knowledge and Understanding /
Excellent all round professional secretarial skills gained in a previous Personal Assistant role.
Basic understanding of school, local government and central government structures and how they interrelate.
Experience of working directly for senior members of staff within an organisation.
Basic understanding of the role of the governing body in a school.
/
Knowledge of the Headteacher and Strategic Leadership Team's role in the running of the school.
Knowledge of the role of the DfE and OFSTED and how they relate to the school.
Previous experience of working as a Personal Assistant within a school.
Previous experience of working with the governing body of a school (or at Board level in the private sector).
Knowledge of the school exclusion process.
/ Application form and interview
Abilities and Skills /
Excellent communication skills, both written and oral, with the ability to produce confidential correspondence, documents, reports and communications.
Excellent IT skills (Excel, Word, email, Outlook - diary management and internet).
Ability to respond proactively to unexpected problems and situations.
Ability to demonstrate initiative.
Ability to maintain efficient record-keeping systems.
Ability to identify work priorities and manage own workload to meet deadlines whilst ensuring that lower priority work is kept up to date.
Ability to relate well to children and adults.
Ability to diarise deadlines and ensure that they are met by the Headteachers and other members of the Strategic Leadership Team.
/
Ability to use shorthand (or experience of note taking) at meetings and to transcribe those notes in a clear and understandable way.
Experience of handling and maintaining confidential information.
Ability to draft correspondence and documents on behalf of the Headteacher
Working knowledge of SIMs
Experience of special events planning
Experience of setting agendas for meetings and collating supporting documentation as well as diarising any actions and ensuring that they are completed within agreed deadlines.
Experience of working unsupervised and using knowledge and judgement to refer appropriate matters to relevant parties.
/ Application form and interview
Personal Qualities /
Ability to present a confident and professional manner at all times.
Excellent interpersonal and communication skills.
Ability to work effectively under pressure.
A flexible and positive approach to work.
Knowledge of, and commitment to, Equal Opportunities.
Maintenance of confidentiality.
Willingness to undertake relevant training.
Ability to build and maintain effective working relationships across the school.
Good negotiation skills and ability to balance and resolve conflicting requirements/ demands.
Ability to work flexible hours as required by the Headteacher
/ Application form and interview


(Note: Please address each selection criteria individually, providing demonstrableevidence in support of your claims)