Minitues of the Employment Equity Steering Committee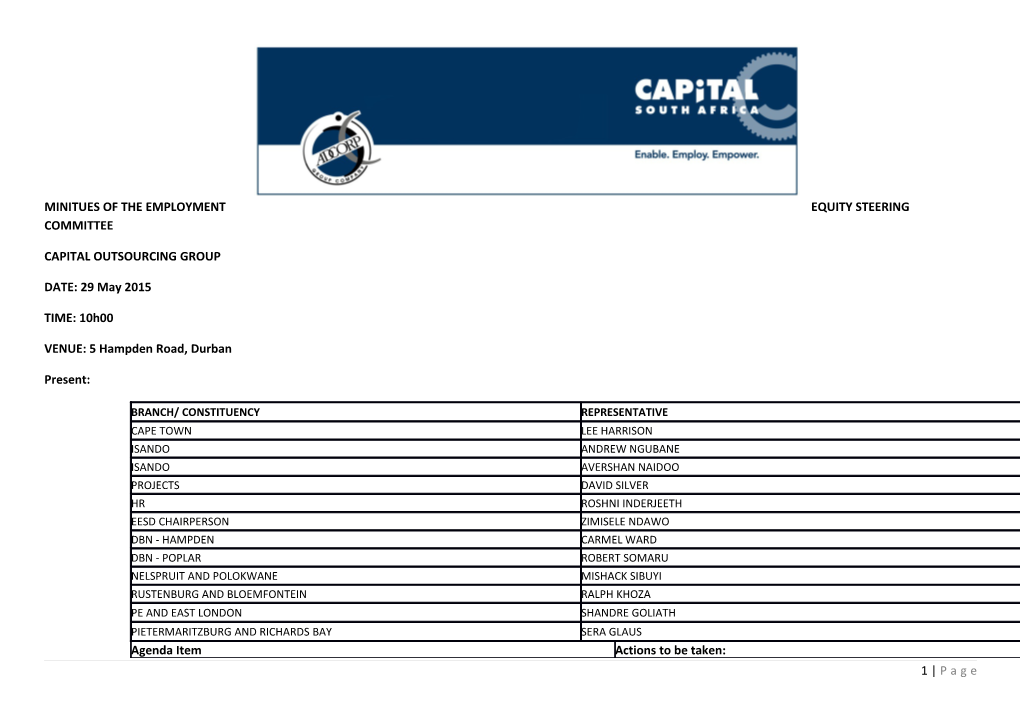 MINITUES OF THE EMPLOYMENT EQUITY STEERING COMMITTEE

CAPITAL OUTSOURCING GROUP

DATE: 29 May 2015

TIME: 10h00

VENUE: 5 Hampden Road, Durban

Present:

BRANCH/ CONSTITUENCY / REPRESENTATIVE
CAPE TOWN / LEE HARRISON
ISANDO / ANDREW NGUBANE
ISANDO / AVERSHAN NAIDOO
PROJECTS / DAVID SILVER
HR / ROSHNI INDERJEETH
EESD CHAIRPERSON / ZIMISELE NDAWO
DBN - HAMPDEN / CARMEL WARD
DBN - POPLAR / ROBERT SOMARU
NELSPRUIT AND POLOKWANE / MISHACK SIBUYI
RUSTENBURG AND BLOEMFONTEIN / RALPH KHOZA
PE AND EAST LONDON / SHANDRE GOLIATH
PIETERMARITZBURG AND RICHARDS BAY / SERA GLAUS
Agenda Item / Actions to be taken:
By whom / by when
1. Opening and welcome
The Chairperson welcomed all EESD Committee members to the3rd EESD committee meeting of 2015. The agenda for the day was read and the Chairperson advised that said agenda was to be followed. He explained that there will be agenda changes over the year to include the Workplace Skills Plan.
Further it was noted that the EESD Coordinator, Sne Mjwara, was no longer in Capital's employ as she had left to pursue personal endeavours.
As such the minutes of the meeting would be recorded by Robert Somaru and notes taken by Sera Glaus.
2. Apologies

Megan Hossack
Priscilla Ngcobo
Approval of Previous Meeting:
It was noted by Sera Glaus that she was recorded as being present at the previous meeting when she had sent her apologies.
The minutes therefore need to be amended to reflect this. However, in essence, the minutes of previous meeting were approved – This was moved by David Silver and seconded by Lee Harrison.
4. Matters arising

Mishack Sibuyi raised a query on page 7 of the previous minutes regarding the BBBEE representation scope and how it has changed and that the chairperson had said he would update the committee at the next meeting.
The chairperson went through the new BBBEE elements. Previously companies were assessed on 7 elements, but on 5 as from the 1st May 2015. The priority elements being Skills Development, Ownership, and Enterprise and Supplier Development.

5. Tabling and analysis of statistical reporting pack including staff movements
The chairperson took the meeting through the following statistical reporting:
Staff Movements: (For the reporting period January 2015 to March 2015)
New Recruits:
1 Top Management (White Male)
2 Senior Management (White Males)
1 Professionally Qualified / Middle Management (White Female)
11 Skilled Technical / Junior Management (2 African Males; 2 Coloured Males; 1 Indian Male; 4 White Males; 2 White Females)
42 Semi-Skilled (13 African Males; 1 Indian Male; 2 White Males; 14 African Females; 5 Coloured Females; 1 Indian Female; 6 White Females)
Recruitment of ACI groups for the reporting period represent 68.42%; 35.09% ACI Female and 33.33% ACI Male; 15.79% White Male and 15.79% White Female
Promotions:
None
Terminations:
1 Top Management (White Male)
3 Professionally Qualified / Middle Management (1 African Male; 1 White Female; 1 Foreign National Male)
14 Skilled Technical / Junior Management (2 African Males; 3 Indian Males; 2 White Males; 1 Indian Female; 6 White Females)
34 Semi-Skilled (12 African Males; 5 White Males; 8 African Females; 4 Coloured Females; 1 Indian Female; 3 White Females; 1 Foreign National Female)
3 Unskilled (African Females)
Terminations of ACI groups for the reporting period represents 63.64%; 30.91% ACI Female and 32.73% ACI Male; 14.55% White Male; 18.18% White Female; 3.64% Foreign Nationals.
Turnover for the reporting period is 8.72%
Statistical Pack:
Stats SA and the Annual Report: Commission for Employment Equity 2013-2014:
The Workforce Profile Analysis compares each occupational level against the Economically Active Population (EAP) as provided by Stats SA. This section now uses a graphical representation to indicate the workforce profile against the EAP.
TOP MANAGEMENT:

SENIOR MANAGEMENT:

PROFESSIONALLY QUALIFIED / MIDDLE MANAGEMENT:

SKILLED TECHNICAL / JUNIOR MANAGEMENT:

SEMI-SKILLED:

UNSKILLED:

WORKFORCE AT MARCH 2015:


TOTAL BLACK REPRESENTATION AND TOTAL BLACK FEMALE REPRESENTATION AGAINST EAP AS AT MARCH 2015

The chairperson went through each graph in detail and explained them to the committee.
It was noted that despite the latest case regarding demographics that the national demographics need to be looked at and under representation of ACI groups needed to be addressed in line with the demographics published by the Commission.
The meeting noted that there is still underrepresentation of ACIs in the Top, Senior and Professional management levels. It was moved that development of staff need to be implemented with this in mind. The meeting also moved that succession plans be implemented for ACI promotion. It was noted that replacement of staff in these levels was a missed opportunity for employment equity and diversity.
It was requested that a breakdown of each level be made available. The chairperson was tasked with making this available in the next meeting.
Development of staff, especially those without matric was raised as needing priority.
The committee has requested information as to the reasons for resignations (as per the exit interviews). Without this information it is not possible to correct historical problems. The chairperson said that such information would be addressed in the next meeting.
It was noted that the graph on page 7 needed to be amended as it didn't have a number but instead reflected "Diff#". / ZN, 07 August
ZN, 07 August
Committee Secretary 07 August
6. Opportunities created through Recruitment and Termination (for the reporting period January 2015 to March 2015)
The meeting was taken through the following opportunities created through recruitment and terminations.
AM / CM / IM / WM / AF / CF / IF / WF
EAP 2013- 2014 / 40.3% / 5.6% / 1.9% / 6.2% / 34.9% / 5.0% / 1.2% / 4.6%
CAPITAL Numerical Goals (for end of EE Plan March 2016)
Occupational Levels / Male / Female / Foreign Nationals
African / Coloured / Indian / White / African / Coloured / Indian / White / Male / Female / TOTAL
Top Management / 3 / 1 / 1 / 5
Senior Management / 3 / 3 / 11 / 2 / 2 / 2 / 5 / 28
Professionally qualified and experienced specialists and mid- management / 8 / 2 / 3 / 9 / 4 / 3 / 4 / 17 / 50
Skilled technical and academically qualified workers, junior management, supervisors, foremen, and superintendents / 42 / 16 / 13 / 44 / 24 / 7 / 7 / 29 / 1 / 183
Semi- skilled and discretionary decision making / 130 / 17 / 12 / 21 / 73 / 30 / 12 / 49 / 3 / 3 / 350
Unskilled and defined decision making / 7 / 11 / 1 / 19
TOTAL PERMANENT / 190 / 35 / 31 / 88 / 114 / 43 / 26 / 101 / 4 / 3 / 635
* IN EE: ONLY A MISSED OPPORTUNITY IF REPLACEMENTS ARE MADE THAT ARE NOT IN LINE WITH TARGETS / GOALS
* IN BEE: A MISSED OPPORTUNITY IS ANY NON-DESIGNATED REPLACEMENTS / RECRUITMENTS
OPPORTUNITIES FOR THE PERIOD JANUARY TO MARCH 2015 / TOP / SENIOR / MIDDLE / JUNIOR / SEMI / UNSKILLED / TOTAL
TOTAL TERMINATED / 1 / 0 / 3 / 14 / 34 / 3 / 55
TOTAL RECRUITED / 1 / 2 / 1 / 11 / 42 / 0 / 57
TOTAL REPLACED WITH ACI GROUPS / 0 / 0 / 0 / 5 / 34 / 0 / 39
TOTAL REPLACED WITH WHITE FEMALE / 0 / 0 / 1 / 2 / 6 / 0 / 9
TOTAL REPLACED WITH WHITE MALE / 1 / 2 / 0 / 4 / 2 / 0 / 9
TOTAL REPLACED WITH FOREIGN NATIONALS / 0 / 0 / 0 / 0 / 0 / 0 / 0
EE OPPORTUNITIES AS A PERCENTAGE / 0.00% / 0.00% / 0.00% / 0.00% / 0.00% / #DIV/0! / 0.00%
BBBEE OPPORTUNITIES AS A PERCENTAGE / 100.00% / 100.00% / 100.00% / 54.55% / 19.05% / #DIV/0! / 31.58%
EE OPPORTUNITIES CREATED:
a) APPOINTMENT OF 1 WHITE MALE TO TOP MANAGEMENT IS IN LINE WITH ACHIEVEMENT OF GOALS
b) 100% OPPORTUNITY CREATED FOR SENIOR MANAGEMENT, GOALS FOR WHITE MALE HAVE BEEN EXCEEDED, THEREFORE THIS IS A MISSED OPORTUNITY TO APPOINT PEOPLE FROM
DESIGNATED GROUPS
c) OPPORTUNITY WAS CREATED AT JUNIOR MANAGEMENT, 2 WHITE FEMALES WERE APPOINTED WHICH WAS NOT IN LINE WITH ACHIEVEMENT OF GOALS AS THESE HAVE BEEN
EXCEEDED, THEREFORE A MISSED OPPORTUNITY; AAPOINTMENT OF WHITE MALES IS IN LINE WITH THE ACHIEVEMENT OF GOALS
d) OPPORTUNITY WAS CREATED AT SEMI-SKILLED, 2 WHITE MALES WERE APPOINTED WHICH WAS NOT IN LINE WITH ACHIEVEMENT OF GOALS AS THESE HAVE BEEN EXCEEDED,
THEREFORE A MISSED OPPORTUNITY; APPOINTMENT OF WHITE FEMALES IS IN LINE WITH ACHIEVEMENT OF GOALS
BBBEE OPPORTUNITIES FOR TRANSFORMATION CREATED:
a) 100% OPPORTUNITY CREATED FOR TOP MANAGEMENT HOWEVER THIS WAS FILLED BY 1 WHITE MALE
b) 100% OPPORTUNITY CREATED FOR SENIOR MANAGEMENT HOWEVER THIS WAS FILLED BY 2 WHITE MALES
c) 100% OPPORTUNITY CREATED FOR MIDDLE MANAGEMENT HOWEVER THIS WAS FILLED BY 1 WHITE FEMALE
d) 54.55% OPPORTUNITY CREATED FOR JUNIOR MANAGEMENT HOWEVER THIS WAS FILLED BY 2 WHITE FEMALES AND 4 WHITE MALES
The reasons for missed opportunities were ascribed to lack of internal succession plan and mentoring of the ACIs.
The meeting strongly recommended mentoring of ACIs so to improve their promotion opportunity. This would improve the required skills and internal promotion.
7. Report on implementation of employment equity plan to date
The meeting was taken through the AA measures and barriers document which has been extracted from the EE Plan and tracks progress quarterly.
It was recommended that all branches should follow the recruitment process in line with the Employment Equity plan of the company.
Regarding policies and procedures it was recommended that these be reviewed and made accessible to all staff members.
8. Remuneration: Equal Pay for Work of Equal Value
The Senior Manager responsible for Equity confirmed that the Equal pay for work Equal Value was handled by the Adcorp committee. Members and all employees will be informed as soon as the committee furnishes the findings. The committee will be informed of the developments in the next meeting.
9. Confirmation of submission of Workplace Skills Plan (WSP) for the coming year and Annual Training Report (ATR) for the previous year
WSP was submitted to meet the 30 April SETA submission deadline. A copy of proof of submission was given to each member.
10. Levies paid and recovered
Skills Spend YTD R1,357,360.47
Skills Development Levies Paid YTD 15,326,445.23
Levies Recovered YTD R3,002,415.67
BBBEE Revised Codes – Skills Spend etc to be advised through the MSP.
11. Feedback from committee representatives regarding any matters or disputes relating to harassment or discrimination from their constituency
The chairperson asked if any written feedback had been provided to any EE representatives. It was noted that a written concern was regards to uniforms. The concern was that uniforms were not uniformly supplied. This issue was tabled in the previous meeting.
It was resolved that the chairperson takes this issue to management for a decision. / ZN, 07 August
12. General
The chairperson shared that the Department of Labour (DOL) Employment Equity audit committee made an appointment for an audit. He took the meeting through a list of what they look for. It was suggested that all information, relating to branch DOL audits, be placed on the COG accessible drive so that the relevant parties could download and print the relevant information for the DOL inspectors who visit branches.
The meeting was closed with the announcement that the meeting will take place in August.


1 | Page