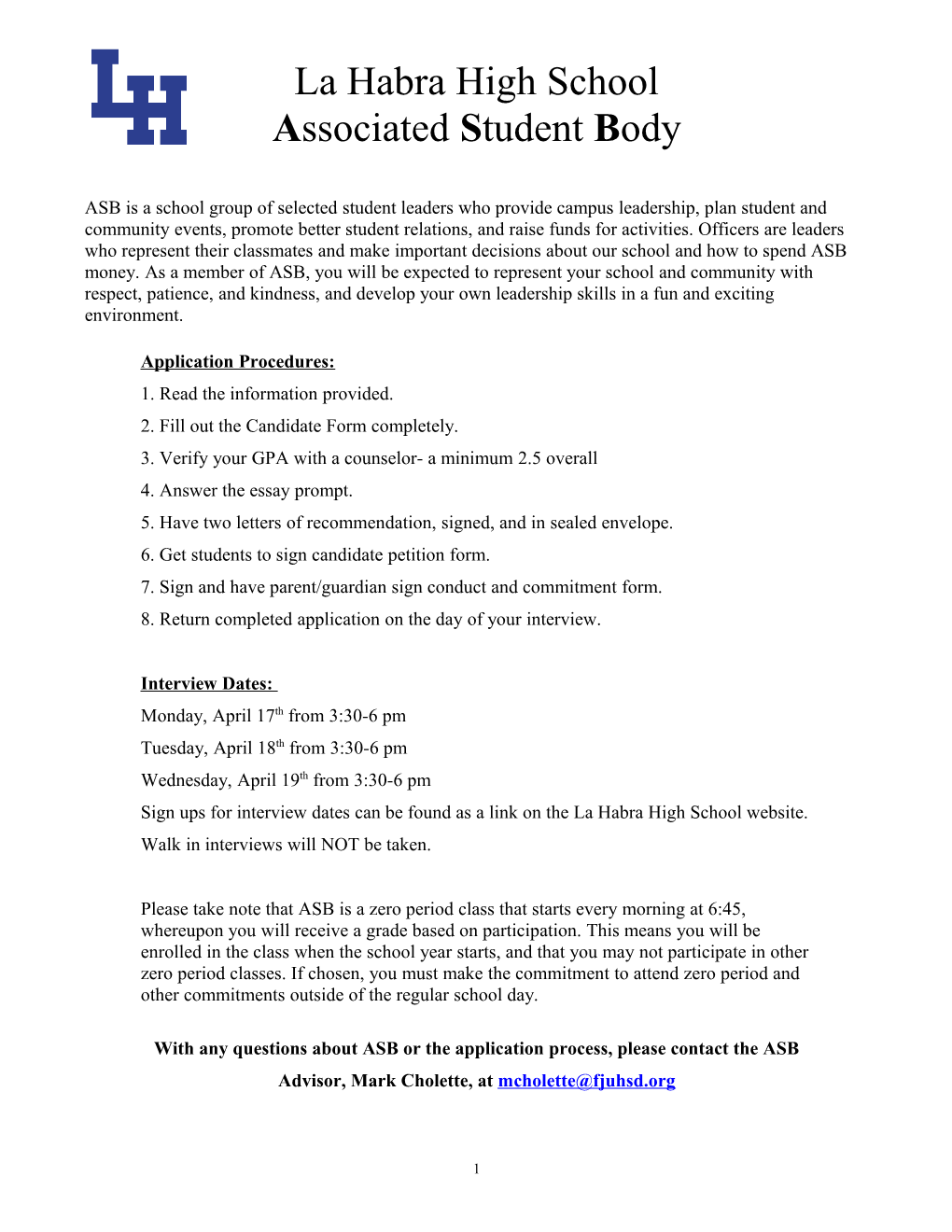 La Habra High School
Associated Student Body
ASB is a school group of selected student leaders who provide campus leadership, plan student and community events, promote better student relations, and raise funds for activities. Officers are leaders who represent their classmates and make important decisions about our school and how to spend ASB money. As a member of ASB, you will be expected to represent your school and community with respect, patience, and kindness, and develop your own leadership skills in a fun and exciting environment.
Application Procedures:
1. Read the information provided.
2. Fill out the Candidate Form completely.
3. Verify your GPA with a counselor- a minimum 2.5 overall
4. Answer the essay prompt.
5. Have two letters of recommendation, signed, and in sealed envelope.
6. Get students to sign candidate petition form.
7. Sign and have parent/guardian sign conduct and commitment form.
8. Return completed application on the day of your interview.
Interview Dates:
Monday, April 17th from 3:30-6 pm
Tuesday, April 18th from 3:30-6 pm
Wednesday, April 19th from 3:30-6 pm
Sign ups for interview dates can be found as a link on the La Habra High School website. Walk in interviews will NOT be taken.
Please take note that ASB is a zero period class that starts every morning at 6:45, whereupon you will receive a grade based on participation. This means you will be enrolled in the class when the school year starts, and that you may not participate in other zero period classes. If chosen, you must make the commitment to attend zero period and other commitments outside of the regular school day.
With any questions about ASB or the application process, please contact the ASB Advisor, Mark Cholette, at
La Habra High School
Associated Student Body
Anyone who completes the candidate application packet by the date specified, meets all eligibility requirements for their chosen position and is approved by the Executive Board, along with the ASB Advisor, may run for office. Final decisions regarding eligibility are to be determined solely by the ASB Advisor.
Which position is right for me?
Below is an outline of skills and talents to help you select the best office for you. It is certainly not a list of all the skills someone needs to do the job right. It is simply a guide to help you focus on your strengths, how you can best put them to use, and how you can learn to develop them even further, through a leadership experience in La Habra High School ASB.

The Positions of ASB Class Officers

Freshman Class
President / Appointed
Vice President / Appointed
Secretary / Appointed
Treasurer / Appointed
Senator / Appointed / Number determined by Executive Board


The Positions of ASB Appointed Commissioners

Spirit Commissioner-plan and coordinate the all-school assemblies
Historian-take pictures and video of all ASB events, create an ASB yearbook, create ASB DVD
Audio/Visual Commissioner-handle all audio/visual elements of ASB events, ie. sound system, projection system, lighting, etc. Have a working knowledge of video editing (iMovie)
Public Relations- Organizes staff and student appreciation events
Drives Commissioner- Plans and runs all drives within the school year
Sports Commissioner- Organizes and leads student athletic events


La Habra High School ASB Freshmen Application Packet

FAILURE TO COMPLETE PACKET AND MEET DEADLINES WILL RESULT IN DISQUALIFICATION.

Deadlines:

Tuesday, February 28, 2017Applications Available

Monday, April 17, 2017Interviews for incoming Freshmen 3:30-6 pm at LHHS in

Rm. 237 (you must sign up online and bring your completed application with to you the interview).

Tuesday, April 18, 2017Interviews for incoming Freshmen 3:30-6 pm at LHHS in

Rm. 237 (you must sign up online and bring your completed application with to you the interview).

Wednesday, April 19, 2017Interviews for incoming Freshmen 3:30-6 pm at LHHS in

Rm. 237 (you must sign up online and bring your completed application with to you the interview).

May, TBAASB List with selected freshmen will be posted to the La Habra High School website.

ALL DATES ARE SUBJECT TO CHANGE. THE EXECUTIVE BOARD WILL POST NOTICE OF ANY CHANGES IMMEDIATELY TO THE LA HABRA HIGH SCHOOL WEBSITE.

Please note that all dates pertain to just the application process. ASB is a year round activity, and there will be several meetings to attend throughout the summer to prepare for the coming school year. These dates will be determined by the Executive Board, and will be announced sometime in May when the new ASB meets for the first time.

La Habra High School

Associated Student Body

This will be the first page of your application; materials must be placed in this exact order.

Name______

Position______

Questionnaire (pg. 5)
Candidate Form with signatures (pg. 6)
Essay Question (pg. 6)
Code of Conduct (pg. 7)
Petition (pg. 8)
2 Teacher Recommendations


A.S.B. Questionnaire

A brief answer is required for the following questions. Please type your responses.

1. Why do you feel you are qualified for a position in ASB?

2. Explain one idea/activity you would like to plan and implement this year as an ASB officer.

3. What is your plan to ensure that you balance your academic classes, other extra-curricular activities with ASB?

4. Please list the areas of your school life that are the biggest concern to you conflict wise.

5. In your limited time here, what one thing would you change about La Habra High School?

Associated Student Body

Candidate Form

______

Candidate's NameID #

______

Home Phone NumberEmail

______

Intermediate School

______

Overall GPA (2.5 Required)Counseling Office Signature (Verify GPA)

Office Running For: ______

Alternate Position: ______

Essay Question

(Please type, size 12, Times New Roman, Double Space)

What does it mean to be a good leader on campus? Please describe the traits that you believe are necessary to be a good leader, and give an example of how you are one on your campus.

A.S.B. Code of Conduct

1. All officers are required to maintain a 2.5 GPA throughout their length of office.

2. Refrain from the use of tobacco, drugs, alcohol, or other controlled substance while acting as a representative of La Habra High School.

3. Work to foster a positive school environment, maintain good relations with students and staff, and support all decisions made by the governing body of the ASB

4. Maintain a good pattern of attendance, including punctuality, throughout the entire educational program.

5. Obey and support all school rules and respect all decisions made by the School Administration or District Office Administration.

6. Maintain a high degree of integrity fitting with the position of authority granted you.

7. Uphold the constitution and bylaws and fulfill your job description to the best of your ability.

______

Candidate's SignatureDate
Required Commitment
Please have your parent/ guardian sign below, giving you permission to be involved in ASB.

I understand the tremendous time obligation, effort, and dedication expected of an Executive, Class, and Appointed ASB member.

______Parent's Signature Date

La Habra High School

Petition for ASB Freshman Officer

My name is I am running for the office of ASB for the 2017-2018school year.

By signing below, I certify that I am currently a student, and that I believe this person is qualified to run for office and represent the students of La Habra High School.

IDPrint nameGrade Signature

1. ______

2. ______

3.______

4.______

5.______

6.______

7.______

8.______

9.______

10.______

11.______

12.______

13.______

14.______

15.______

16.______

17.______

18.______

19.______

20.______

21.______

22.______

23.______

24.______

25.______

La Habra High ASB

Character evaluation form

2017-2018 freshman application

* Must be from a PREVIOUS/CURRENT teacher

STUDENT SHOULD FILL THIS BOX OUT BEFORE HANDING TO THE TEACHER. ALL OTHER INFORMATION IS TO BE FILLED OUT BY EVALUATING TEACHER.

(PLEASE GIVE TEACHERS ENOUGH TIME TO FILL OUT THIS EVALUATION FORM)

Student name: Position:

Teacher name:

Directions: Please score the candidate whose name appears above on the following criteria. These scores help to determine a candidate qualification to run for office, so your honest assessment of this student is taken very seriously. While comments are not required, they can prove enormously helpful in a very competitive process such as this.

DO NOT GIVE THIS BACK TO THE STUDENT. Your individual scores and comments are NEVER shown to the student or parents, to maintain confidentiality. Please return this to the student in a sealed and signed envelope. It is their responsibility to get the recommendation from you before their interview date. Thank you so much for your time.

Characteristic /
Score (1-5)
Student enthusiastically participates in class activities and discussions
Student takes initiative and shows self-motivation
Student shows respect for both adults and peers
Student demonstrates emotional maturity
Student is on time to class and turns assignments in on time
Student is trustworthy and honest
Student is kind and caring to others in both words and actions
Student works well as a member of a team
Student is a positive leader in class
"Gut feeling" – on a scale of 1-5, what is this student's overall ASB potential?
Total Score


Comments:

Teacher signature: ______


La Habra High ASB

Character evaluation form

2017-2018 freshman application

* Must be from a PREVIOUS/CURRENT teacher

STUDENT SHOULD FILL THIS BOX OUT BEFORE HANDING TO THE TEACHER. ALL OTHER INFORMATION IS TO BE FILLED OUT BY EVALUATING TEACHER.

(PLEASE GIVE TEACHERS ENOUGH TIME TO FILL OUT THIS EVALUATION FORM)

Student name: Position:

Teacher name:

Directions: Please score the candidate whose name appears above on the following criteria. These scores help to determine a candidate qualification to run for office, so your honest assessment of this student is taken very seriously. While comments are not required, they can prove enormously helpful in a very competitive process such as this.

DO NOT GIVE THIS BACK TO THE STUDENT. Your individual scores and comments are NEVER shown to the student or parents, to maintain confidentiality. Please return this to the student in a sealed and signed envelope. It is their responsibility to get the recommendation from you before their interview date. Thank you so much for your time.

Characteristic /
Score (1-5)
Student enthusiastically participates in class activities and discussions
Student takes initiative and shows self-motivation
Student shows respect for both adults and peers
Student demonstrates emotional maturity
Student is on time to class and turns assignments in on time
Student is trustworthy and honest
Student is kind and caring to others in both words and actions
Student works well as a member of a team
Student is a positive leader in class
"Gut feeling" – on a scale of 1-5, what is this student's overall ASB potential?
Total Score


Comments:

Teacher signature: ______

1