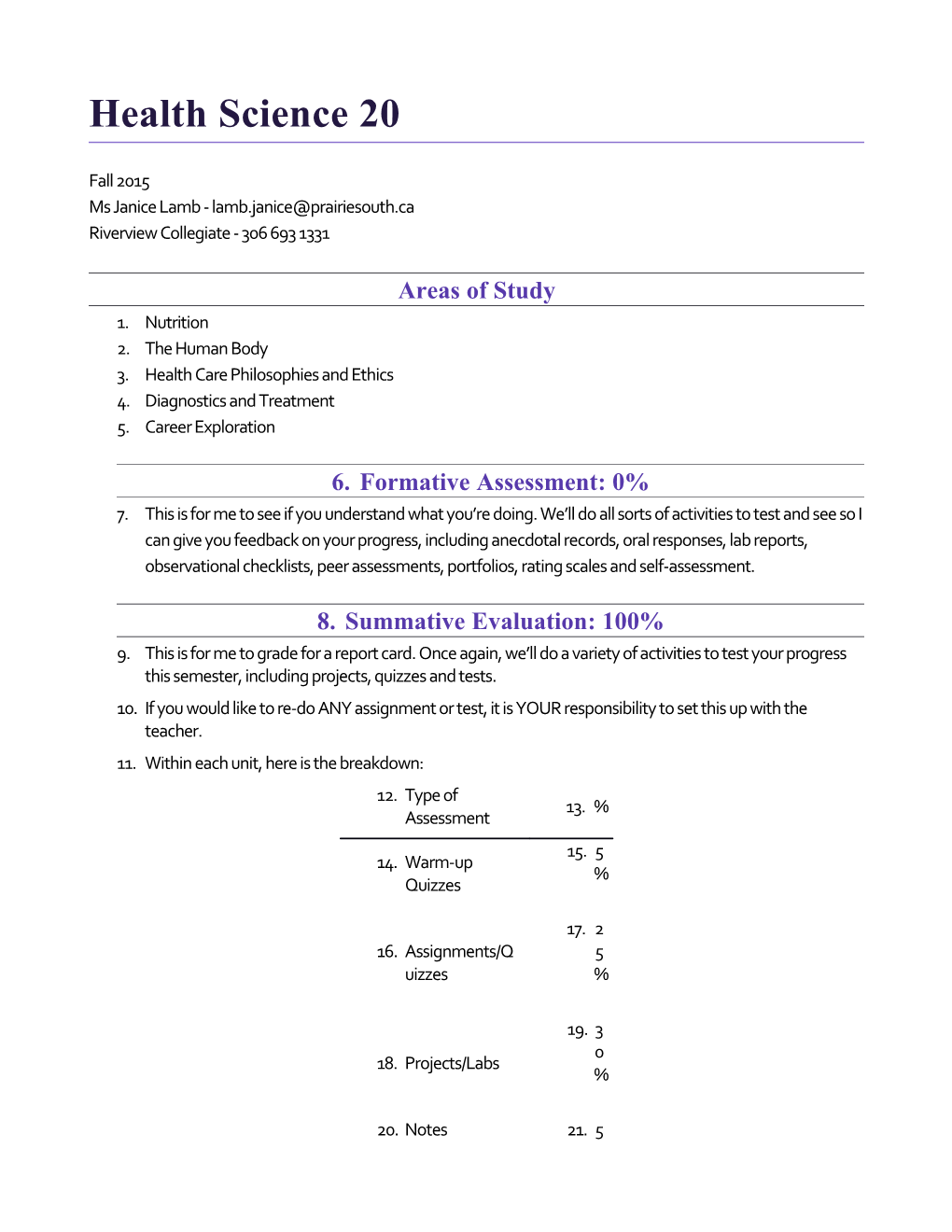 Health Science 20
Fall 2015
MsJanice Lamb -
Riverview Collegiate - 306 693 1331
Areas of Study
Nutrition
The Human Body
Health Care Philosophies and Ethics
Diagnostics and Treatment
Career Exploration
Formative Assessment: 0%
This is for me to see if you understand what you're doing. We'll do all sorts of activities to test and see so I can give you feedback on your progress, including anecdotal records, oral responses, lab reports, observational checklists, peer assessments, portfolios, rating scales and self-assessment.
Summative Evaluation: 100%
This is for me to grade for a report card. Once again, we'll do a variety of activities to test your progress this semester, including projects, quizzes and tests.

If you would like to re-do ANY assignment or test, it is YOUR responsibility to set this up with the teacher.

Within each unit, here is the breakdown:

Type of Assessment / %
Warm-up Quizzes / 5%
Assignments/Quizzes / 25%
Projects/Labs / 30%
Notes / 5%
End of Unit Assessments / 35%


*Evaluation subject to change at teacher's discretion.
Good Stuff to Know
Be kind to each other, the teacher and the educational assistants.
Items needed for this class: a pencil, paper, highlighter, and your binder.
Assignments need to be handed in when they are due. They can be handed in anytime up until the end of the period. Whatever you've got by the end of the period is what is handed in. Otherwise, please hand in an Incomplete Homework Slip. If you know ahead of time that you will not be able to hand in an assignment on time, please talk to me about it and we'll come to an agreement.
Work during the class time given – not at a later time.
Extra help is always available! Come by during lunch or after school.
Website:
If you must miss for class for any reason, you can go to the class website and look up our assignment for the day. This is also a great place to go to study for the quizzes, tests, and exams.
Conclusion: Challenge yourself. Maintain a positive attitude. Be prepared. Listen attentively. Concentrate. Give an honest effort. Do your required homework. Please, if you aren't "getting it", ask for help immediately. Take personal responsibility and pride for your education. I am here to allow and assist in your success.
Health Science 20 Outcomes
Nutrition
HS20-NU1 / Assess the importance of micro and macromolecules in maintaining a healthy human.
HS20-NU2 / Analyze dietary choices based on personal and cultural beliefs and scientific understanding of nutrition.

The Human Body
HS20-HB1 / Analyze the anatomy and physiology of a healthy human.
HS20-HB2 / Investigate various pathologies and ailments and their effects on cells, tissues, organs, and systems of a healthy human.


Health Care Philosophies and Ethics

HS20-HC1 / Analyze how Western, Indigenous, traditional, complementary and alternative approaches to health care contribute to a holistic perspective (e.g., mental, emotional, physical and spiritual) of health.
HS20-HC2 / Examine how personal and societal beliefs impact ethical decisions regarding health care.

Diagnostics and Treatment
HS20-DT1 / Evaluate the tools and procedures used to diagnose and monitor medical conditions.
HS20-DT2 / Recognize the importance of interpreting diagnostic findings to support treatment options.

Career Exploration
HS20-CE1 / Analyze and explore health-science related career paths in Saskatchewan, Canada and the world.

Self-Directed Study
HS20-SDS1 / Create and carry out a plan to explore one or more topics of personal interest relevant to Health Science 20 in depth.
Health Science 20 – Course Outline – LAMB
September 2015
Monday / Tuesday / Wednesday / Thursday / Friday
31 No School / 1 Outline, Classroom Expectations / 2 Review of bonds; Synthesis and decomposition reactions / 3 Carbohydrates / 4 Lipids
7 No School / 8 Proteins / 9 Enzyme Lab / 10 Rob Nash Concert / 11 Food Testing Lab
14 Micronutrients / 15 NM1 assessment / 16 NM1 assessment / 17 Inquiry Activity (part 1) / 18 Inquiry Activity (part 1)
21 Inquiry Activity (part 1) / 22 Inquiry Activity (part 1) / 23 Inquiry Activity (part 2) / 24 Inquiry Activity (part 2) / 25 Inquiry Activity (part 2)
October 2015
Monday / Tuesday / Wednesday / Thursday / Friday
28 Inquiry Activity (part 2) / 29 Inquiry Activity (part 2) / 30 Review of unit / 1 NM1 & 2 Summative Assessment / 2 NM1 & 2 Summative Assessment
5 Directional Terms / 6 Banana Lab and Quiz / 7 Musculo-Skeletal System / 8 Disgestive-Excretory System / 9 Cardio System
12 No School / 13 Respiratory System / 14 Nervous System / 15 Endocrine System / 16 Reproductive System
19 No School / 20 Connections Between Body Systems / 21 Fetal Pig Dissection / 22 Fetal Pig Dissection / 23 Classifying Diseases
26 Immune Response / 27 Fever, Inflammation, Blood Lab / 28 Blood Types and Effect on Immune System / 29 Strep Throat / 30 Pathology Research Assignment
November 2015
Monday / Tuesday / Wednesday / Thursday / Friday
2 Pathology Research Assignment / 3 Pathology Research Assignment / 4 Research on change in beliefs about medical care / 5 Jigsaw
Traditional medical knowledge system / 6 Traditional medical knowledge systems notes, assignment
9 Complementary knowledge system notes, begin assignment / 10 Finish research assignment on complementary treatment / 11 No School / 12 Evidence based knowledge system notes, assignment / 13 Career Exploration Day 1
16 3 perspectives assignment / 17 Controversial issues Patient's rights / 18 Finish notes on patient's rights, look at case studies / 19 Career Exploration Day 2 / 20 No School
23 Ethical decision making notes, case studies / 24 Hand-in assignment on ethical decision making/patient's rights / 25 Review / 26 Begin summative assessment / 27 Summative assessment
December 2015
Monday / Tuesday / Wednesday / Thursday / Friday
30 Career Exploration Day 3 / 1 Vital signs/heart rate / 2 Heart rate/exercise lab / 3 Rate of Respiration/ Respiration Lab / 4 Career Exploration Day4
7 Blood Pressure / 8 Blood Pressure Lab / 9 Temperature/Pain
Vital Signs Case Studies / 10 Vital Signs Case Studies / 11 Career Exploration Day 5
14 Blood/Urinalysis
Lab Test / 15 Swabs/Biopsy
Lab Test / 16 Career Exploration Presentations (Day 6) / 17 Career Exploration Presentations (Day 7) / 18 Gift Exchange?
21 No School / 22 No School / 23 No School / 24 No School / 25 No School
January 2016
Monday / Tuesday / Wednesday / Thursday / Friday
28 No School / 29 No School / 30 No School / 31 No School / 1 No School
4 Urinalysis Lab / 5 Medical Imaging Mini Research Assignment / 6 Medical Imaging Mini Research Assignment / 7 Medical Imaging Mini Research Assignment / 8 Review Research Assignment
11 Review Research Assignment / 12 Review Research Assignment / 13 Review / 14 Diagnostics Performance Task/presentations / 15 Diagnostics Performance Task/presentations
18 Diagnostics Performance Task/presentations / 19 Diagnostics Performance Task/presentations / 20 Review for final / 21 Review for final / 22 Review for final
25 FINAL EVALUATIONS / 26 FINAL EVALUATIONS / 27 FINAL EVALUATIONS / 28 FINAL EVALUATIONS / 29 No School