Guidelines for Using Boats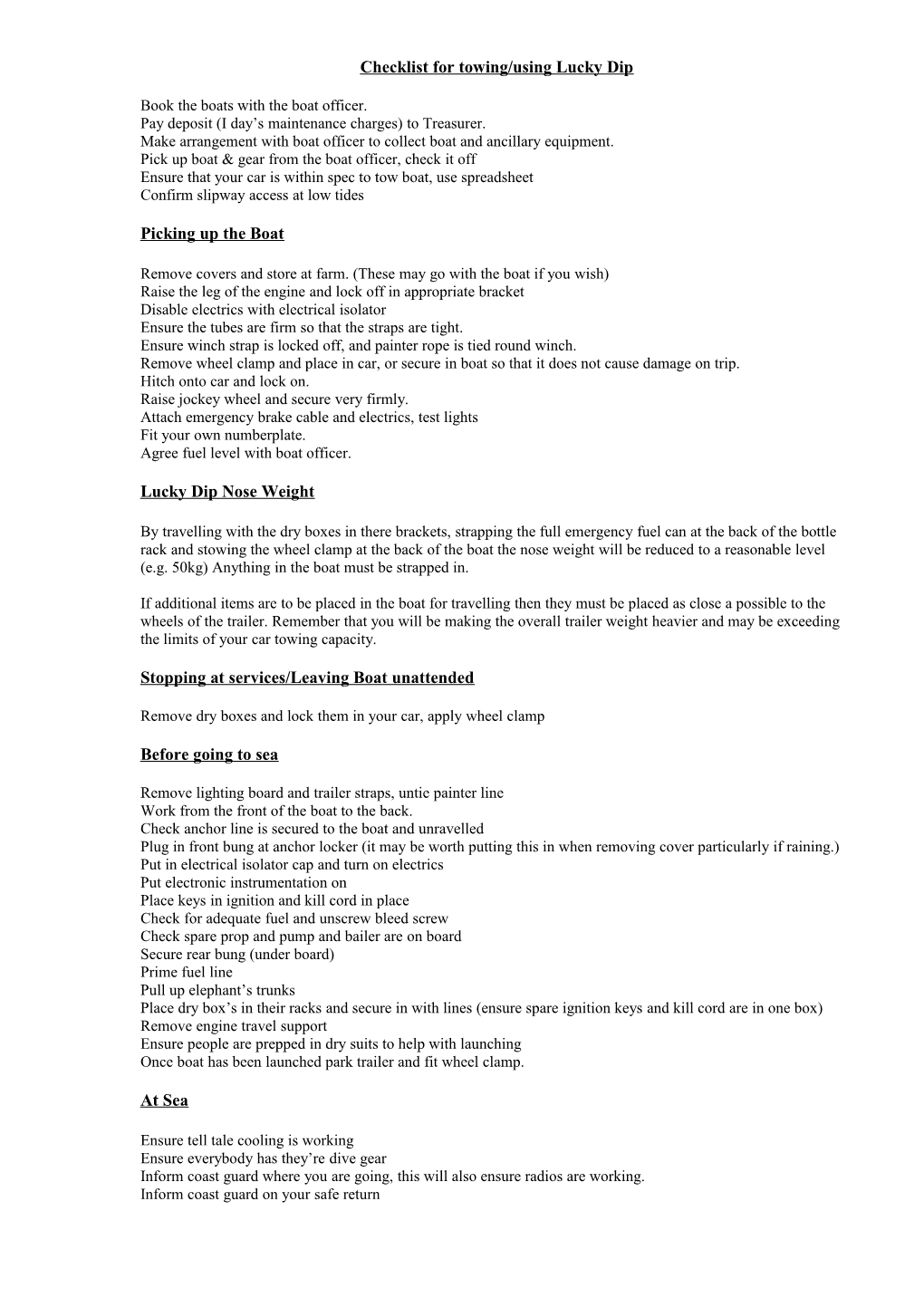 Checklist for towing/using Lucky Dip
Book the boats with the boat officer.
Pay deposit (I day's maintenance charges) to Treasurer.
Make arrangement with boat officer to collect boat and ancillary equipment.
Pick up boat & gear from the boat officer, check it off
Ensure that your car is within spec to tow boat, use spreadsheet
Confirm slipway access at low tides
Picking up the Boat
Remove covers and store at farm. (These may go with the boat if you wish)
Raise the leg of the engine and lock off in appropriate bracket
Disable electrics with electrical isolator
Ensure the tubes are firm so that the straps are tight.
Ensure winch strap is locked off, and painter rope is tied round winch.
Remove wheel clamp and place in car, or secure in boat so that it does not cause damage on trip.
Hitch onto car and lock on.
Raise jockey wheel and secure very firmly.
Attach emergency brake cable and electrics, test lights
Fit your own numberplate.
Agree fuel level with boat officer.
Lucky Dip Nose Weight
By travelling with the dry boxes in there brackets, strapping the full emergency fuel can at the back of the bottle rack and stowing the wheel clamp at the back of the boat the nose weight will be reduced to a reasonable level (e.g. 50kg) Anything in the boat must be strapped in.
If additional items are to be placed in the boat for travelling then they must be placed as close a possible to the wheels of the trailer. Remember that you will be making the overall trailer weight heavier and may be exceeding the limits of your car towing capacity.
Stopping at services/Leaving Boat unattended
Remove dry boxes and lock them in your car, apply wheel clamp
Before going to sea
Remove lighting board and trailer straps, untie painter line
Work from the front of the boat to the back.
Check anchor line is secured to the boat and unravelled
Plug in front bung at anchor locker (it may be worth putting this in when removing cover particularly if raining.)
Put in electrical isolator cap and turn on electrics
Put electronic instrumentation on
Place keys in ignition and kill cord in place
Check for adequate fuel and unscrew bleed screw
Check spare prop and pump and bailer are on board
Secure rear bung (under board)
Prime fuel line
Pull up elephant's trunks
Place dry box's in their racks and secure in with lines (ensure spare ignition keys and kill cord are in one box)
Remove engine travel support
Ensure people are prepped in dry suits to help with launching
Once boat has been launched park trailer and fit wheel clamp.
At Sea
Ensure tell tale cooling is working
Ensure everybody has they're dive gear
Inform coast guard where you are going, this will also ensure radios are working.
Inform coast guard on your safe return
When Leaving the boat in the water overnight
Remove all electric's
Ensure that the boat is on a secure mooring

Ensure there is sufficient line to moor the boat to take into account the rise and fall of tides

If rafting, ensure that mooring lines are also secured to shore as well as moored to inside boats.

Recovering

Ensure engine is lifted and dive gear removed

Preferably float or drive the boat onto the trailer, last resort winch it on

Ensure winch strap is locked off before boat and trailer are pulled forward

Prepping boat for the road

Put engine support bracket in place

Remove dry box's (optional)

Lower elephants trunk

Screw up bleed screw on fuel tank

Remove rear bung

Remove electrical instrumentation

Turn off and remove electrical isolator cap

Remove front bung

Tie off painter to winch.

Ensure that emergency brake lead is secured

Ensure tubes are firm

Place straps over the boat and secure to trailer

Secure lighting board run cables and test

Fit your own number plate.

Ensure nothing has been left behind

Returning the boat at the end of the trip

Ensure engine is flushed with use of the muffs. Water coming from tell tale should taste fresh and warm

The boat and trailer are washed down with fresh water

The lighting board removed from its supports

The engine lowered to the upright position

Wheel clamp applied

The handbrake left off

The straps slackened off

If the tubes are firm on a cold day then release a small amount of air

Agree fuel level with boat officer.

Report any problems or damage to boat officer

Miscellaneous

Dimensions on Trailer
*Height 3.2 Meters 10.5 feet
Length 7.4 Meters 24.2 feet
Width 2.27 Meters 7.4 feet
**Weight 1240kg
* Height to top of fixed point 2.4 Meters Tallest Ariel unscrews not very flexible
** Inc Full fuel tanks, wheel clamp, 12kg of shot, Minimum water in the hull. Exc. dry box's, spare anchor etc / LSAC has breakdown cover for the boat whilst on the trailer via
RAC Commercial insurance. This is a last resort if normal breakdown cover will not get the boat back. This will get the boat and trailer to the nearest secure repair establishment.
The cost of this service is £123.31 initial call out charge and one hour's assistance. Additional hours are charged at a rate of £76.37/hour. LSAC will re-imburse any club member who incurs these costs.
Telephone 0800 591111 for emergency assistance and quote account number 428 L


Checklist for towing/using Skinny Dip

Book the boats with the boat officer.

Pay deposit (1 day's maintenance charges) to Treasurer

Pick up the gear from the boat officer, check it off

Ensure that your car is within spec to tow boat, use spreadsheet

Confirm slipway access at low tide.

Picking up the Boat

Remove covers and store, (these may go with the boat if you wish). Take console cover with you.

Raise the leg of the engine and lock off in appropriate bracket

Disable electrics with electrical isolator

Ensure the tubes are firm, so that the straps are tight.

Ensure winch strap is locked off and painter rope is tied round winch.

Remove wheel clamp and place in car, or secure in boat so that it does not cause damage on trip.

Hitch onto car and lock on

Raise jockey wheel and secure very firmly.

Attach emergency brake cable and electrics and test lights.

Fit your own numberplate.

Agree fuel level with boat officer.

Nose Weight

By placing the wheel clamp at the back of the boat and travelling the dry boxes in there brackets the nose weight will be reduced to a reasonable level (e.g. 50kg) Anything in the boat must be strapped in.

If additional items are to be placed in the boat for travelling then they must be placed as close a possible to the wheels of the trailer. Remember that you will be making the overall trailer weight heavier and may be exceeding the limits of your car towing capacity.

Stopping at services/Leaving the boat unattended

Remove dry boxes and lock them in your car, apply wheel clamp

Before going to sea

Remove lighting board and trailer straps, untie painter line

Work from the front of the boat to the back.

Check anchor line is secured to the boat and unravelled

Plug in front bung at anchor locker (it may be worth putting this in when removing the cover, particularly if raining).

Put in electrical isolator cap and turn on electrics

Put the Lowrance echo sounder on.

Place keys in ignition and kill cord in place

Check for adequate fuel and secure fuel line, unscrew bleed screw on petrol can

Secure rear bung

Prime fuel line

Pull up elephant's trunks

Place dry box's in their racks and secure in with lines (ensure spare ignition keys and kill cord are in one box.).

Remove engine travel support

Check that there is sufficient 2-stroke oil in the reservoir

Ensure people are prepped in dry suits to help with launching

Once has been launched park trailer and wheel clamp

At Sea

Ensure tell tale cooling jet is working

Ensure everybody has they're dive gear

Inform coast guard where you are going, this will also ensure radios are working.

Inform coast guard on your safe return

When Leaving the boat in the water overnight

Remove Lowrance echo sounder

Isolate electrical supply

Place cover over the console to cover additional electrics that cannot be removed

Remove fuel line

Ensure that the boat is on a secure mooring

Ensure there is sufficient line to moor the boat to take into account the rise and fall of tides.

If rafting, ensure that mooring lines are also secured to shore as well moored to inside boats.

Recovering

Ensure engine is lifted and dive gear removed

Preferably float or drive the boat onto the trailer, last resort winch it on

Ensure winch strap is locked off before boat and trailer are pulled forward

Prepping boat for the road

Put engine support bracket in place

Remove dry box's (optional)

Lower elephants trunk

Screw up bleed screw on fuel tank

Remove rear bung

Remove Lowrance echo sounder

Turn of and remove electrical isolator cap

Remove front bung

Tie of painter to winch

Ensure that emergency brake lead is secured

Ensure tubes are firm

Place straps over the boat and secure to trailer

Secure lighting board run cables and test

Fit your own number plate.

Ensure nothing has been left behind

Returning the boat at the end of the trip

Ensure engine is flushed with use of the muffs provided. Water coming from tell tale should taste fresh and warm. When flushing the engine remove fuel line and run engine until stops.

The boat and trailer are washed down with fresh water

The engine lowered to the upright position, raise light board when doing this.

Wheel clamp applied

The handbrake left off

The straps slackened off

If the tubes are firm on a cold day then release a small amount of air.

Agree fuel level with boat officer.

Miscellaneous

Dimension on trailer

Width: 2000mm (6'7")
Length: 6150mm (20'2")
Height to top of (Flexible) Ariel: 2930mm (9' 7.5")
Height to top of (Fixed) Navigation Light: 2530mm (8' 4")
*Weight 800 kg
*Including fuel wheel clamp 12kg of shot minimal water under floor. Excluding dry box's jack etc / LSAC has breakdown cover for the boat whilst on the trailer via
RAC Commercial insurance. This is a last resort if normal breakdown cover will not get the boat back. This will get the boat and trailer to the nearest secure repair establishment. The cost of this service is £123.31 initial call out charge and one hour's assistance. Additional hours are charged at a rate of £76.37/hour.
LSAC will re-imburse any club member who incurs these costs.
Telephone 0800 591111 for emergency assistance and quote account number 428 L