Fairfax Little League Board Meeting Minutes, February 11, 2015 7:30Pm Thaiss Board Room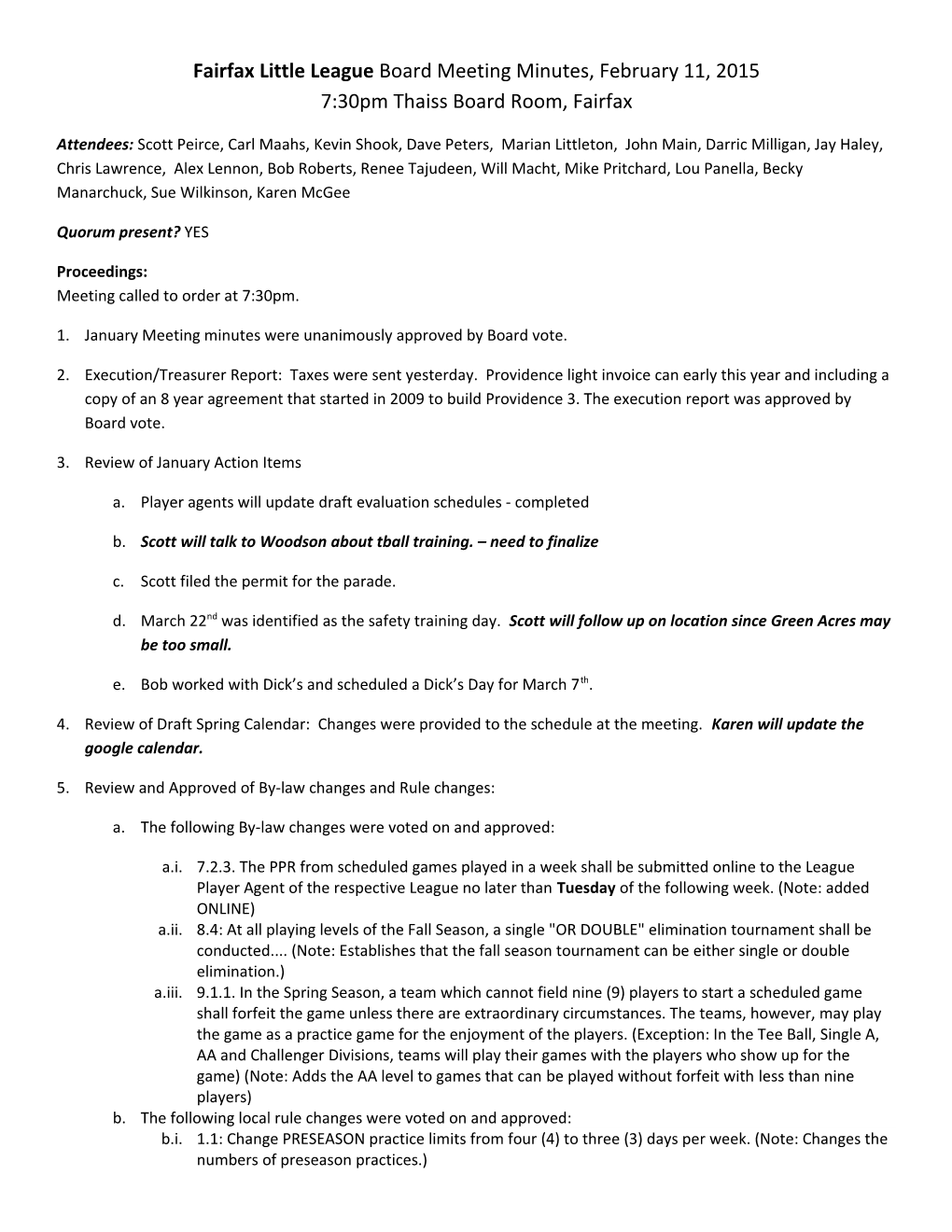 Fairfax Little League Board Meeting Minutes, February 11, 2015
7:30pm Thaiss Board Room, Fairfax
Attendees:Scott Peirce, Carl Maahs, Kevin Shook, Dave Peters, Marian Littleton, John Main, Darric Milligan, Jay Haley, Chris Lawrence, Alex Lennon, Bob Roberts, Renee Tajudeen, Will Macht, Mike Pritchard, Lou Panella, Becky Manarchuck, Sue Wilkinson, Karen McGee
Quorum present?YES
Proceedings:
Meeting called to order at 7:30pm.
January Meeting minutes were unanimously approved by Board vote.
Execution/Treasurer Report: Taxes were sent yesterday. Providence light invoice can early this year and including a copy of an 8 year agreement that started in 2009 to build Providence 3. The execution report was approved by Board vote.
Review of JanuaryAction Items
Player agents will update draft evaluation schedules - completed
Scott will talk to Woodson about tball training. – need to finalize
Scott filed the permit for the parade.
March 22nd was identified as the safety training day. Scott will follow up on location since Green Acres may be too small.
Bob worked with Dick's and scheduled a Dick's Day for March 7th.
Review of Draft Spring Calendar: Changes were provided to the schedule at the meeting. Karen will update the google calendar.
Review and Approved of By-law changes and Rule changes:
The following By-law changes were voted on and approved:
7.2.3. The PPR from scheduled games played in a week shall be submitted online to the League Player Agent of the respective League no later than Tuesday of the following week. (Note: added ONLINE)
8.4: At all playing levels of the Fall Season, a single "OR DOUBLE" elimination tournament shall be conducted.... (Note: Establishes that the fall season tournament can be either single or double elimination.)
9.1.1. In the Spring Season, a team which cannot field nine (9) players to start a scheduled game shall forfeit the game unless there are extraordinary circumstances. The teams, however, may play the game as a practice game for the enjoyment of the players. (Exception: In the Tee Ball, Single A, AA and Challenger Divisions, teams will play their games with the players who show up for the game) (Note: Adds the AA level to games that canbe played without forfeit withless than nine players)
The following local rule changes were voted on and approved:
1.1:Change PRESEASON practice limits from four (4) to three (3) days per week. (Note: Changes the numbers of preseason practices.)
1.2.3. Minor League Division Player Participation: No player shall sit out a second defensive inning until all other players have sat at least one defensive inning with the exception of a pitcher which is limited to a pitch count. (Note: Addresses player participation to maintain a balance of playing time.)
Individual League Updates
Juniors/Seniors/Intermediate: 18 are already signed up for Seniors. Expect 2 or 3 teams. 40 players are expect for 4 teams at Juniors. 26 players are signed up for intermediate.
Two managers were nominated and approved. (see table attached)
5 managers were nominated and approved.
Two managers and one coach were nominated and approved.
National League: Recruiting of managers continues. The league mapped has been signed. All players should be uploaded by 3/1. Out of boundary players must be approved by 1st practice.
Five managers were nominated and approved for tball. Need more!
8 managers were nominated and approved for A.
6 managers were nominated and approved for AA. Need 2-3 more.
8 managers were nominated and approved for AAA. May need one more.
9 managers were nominated and approved for Majors. Number of Majors teams will be determined after evaluations
American League: Thanks to Jay Haley and Laura Hall for help with Managers' Guide. They will be handed out at Safety training.
Managers listed on attached table were nominated and approved.
Challenger: Bob Sotille says that Jrs (<15 year olds) can not play Seniors (>18 year olds) in challenger games.
Functional Reports
Concessions: Approved to buy 3 grills. Need to know how many Sundays are needed at Chilcott for Challenger games. Scott will follow up with Jay Kittleberger on water at Providence.
Public Relations: Scott has submitted the permit for the parade. We will use the same route and start at 9am. Roads to close at 8:30am. Becky will contact Paul VI. Bob will call Chevy for convertibles. Colin Grote will find volunteers to hand out the letters to the residents the week of 3/15. There is no contingency plan if it rains/snows. The event will be cancelled.
Scheduling: No report.
Safety: draft of the safety guide was send to Bob. He made some changes and it is ready to go. Everyone should get a copy. Suggest putting it online.
Coaching Coordinator: Suggest providing a sheet to pass out at evals looking for coaches especially for the younger kids. VBC coaches; training dates have been set. Chris and Jay to coordinate managers' training similar to the fall for the spring. Need coach mentoring.
Player Development: Robinson and Woodson would like to have some of their players at opening day. Good feedback was received on the winter break training.
Fundraising/Capital Campaign: There is about a $1k budget for fundraising. Leaning towards silicon bracelets, car magnets. Can have at concessions, evals, and opening day. Also, lining up a Spirit day at Woodies.
Volunteer Coordinator: A plan is set for evals. Fairfax HS students will help out.
Sponsors: Dick's day has been set for 3/7.
Umpires: 40 new umpires have signed up. Need more adult umpires.
Equipment: Shirts and hats have been ordered. Baseballs are in stock. May need more wiffle balls and throwdown bases. Equipment pick up will be on 3/8 with 3/14 as a backup.
Fields and Grounds: All permits are good except county. Scott needs to meet with the county and tell them why he is building a dugout. All county fields (BB, Lakeside) need a field coordinator. Can be the coach or manager. There is a plan to extend Thaiss past the creek (5 year plan). The city needs to approve the steps from Thaiss 1 to the New School parking lot. It would be nice to have step at Providence 3 as well. Scott has offered to pay for the steps. The cell tower plan has been sent. We need to check the insurance. It is a 5 year lease. Zoning form was approved by the Board. Scott will set up a subcommittee to do something for our 60th anniversary year.
Registration/Information Officer: No report.
Juniors/Seniors/Intermediate Managers for Approval

Managers Name / Level / Approved / Opposed / Abstain
Brandon Smith / Juniors / 17 / 0 / 0
Kevin Shook / Juniors / 17 / 0 / 0
Michael Carchia / Juniors / 17 / 0 / 0
Mark murphy / Juniors / 17 / 0 / 0
Bob Roberts / Juniors / 17 / 0 / 0
Joe Molinara / Seniors / 17 / 0 / 0
Chris Adams / Seniors / 17 / 0 / 0
Rob Calderon / Intermediate / 17 / 0 / 0
Mark Davis / Intermediate / 17 / 0 / 0
Scott Peirce (Coach) / Intermediate / 17 / 0 / 0


American League Managers for Approval

Managers Name / Level / Approved / Opposed / Abstain
Jacques Thomas / Tball / 17 / 0 / 0
Plummer, Kevin / Tball / 17 / 0 / 0
Nagle, Kurt / Tball / 17 / 0 / 0
Shook, Kevin / A / 17 / 0 / 0
O'Donnell, Ken / A / 17 / 0 / 0
McCarthy, John / A / 17 / 0 / 0
Fiebiger, Shawn / A / 17 / 0 / 0
Freireich,Brett / A / 17 / 0 / 0
Gott, Eric / A / 17 / 0 / 0
Schneider, Tom / A / 17 / 0 / 0
Crawford, Bob / A / 17 / 0 / 0
Berman, Marc / AA / 17 / 0 / 0
Frank, Kevin / AA / 17 / 0 / 0
Nolan, Matt / AA / 17 / 0 / 0
Plaut, Quentin / AA / 17 / 0 / 0
Worshek, Frank / AA / 17 / 0 / 0
Walcott, Robert (alt1) / AA / 17 / 0 / 0
Moir, Adam (alt 2) / AA / 17 / 0 / 0
DiNicola, Justin (alt 3) / AA / 17 / 0 / 0
Auble, Ron / AAA / 17 / 0 / 0
Buckley, Michael / AAA / 17 / 0 / 0
Collins, Sam / AAA / 17 / 0 / 0
Horn, Tom / AAA / 17 / 0 / 0
Little, Larry / AAA / 14 / 3 / 0
Ott, Darin / AAA / 17 / 0 / 0
Fisher, Steve (Alt) / AAA / 17 / 0 / 0
Altieri, Greg / Majors / 17 / 0 / 0
Quigley, Mark / Majors / 17 / 0 / 0
Krahulec, Jim / Majors / 17 / 0 / 0
Jennings, Rob / Majors / 17 / 0 / 0
Skinner, Tony / Majors / 17 / 0 / 0
Burdestsky, Matt (atl1) / Majors / 17 / 0 / 0
Meaders, Eric (Coach) / Majors / 17 / 0 / 0


National League Managers for Approval

Managers Name / Level / Approved / Opposed / Abstain
Matt jones / Tball / 17 / 0 / 0
Matt Oliveri / Tball / 17 / 0 / 0
Jason Kucsan / Tball / 17 / 0 / 0
Adam Getz / Tball / 17 / 0 / 0
Tom Scott / A / 17 / 0 / 0
Jason Fedok / A / 17 / 0 / 0
Marc Brazie / A / 17 / 0 / 0
William Smith / A / 17 / 0 / 0
Jay White / A / 17 / 0 / 0
Sean Cassidy / A / 17 / 0 / 0
Chris Alberts / A / 17 / 0 / 0
Brad Edmonson / A / 17 / 0 / 0
Mike Pritchard / AA / 17 / 0 / 0
Matt Van Parys / AA / 17 / 0 / 0
Doug Hook / AA / 17 / 0 / 0
Kevin Ward / AA / 17 / 0 / 0
Matthew Armstrong / AA / 17 / 0 / 0
Sean Walker / AA / 17 / 0 / 0
Jay Haley / AAA / 17 / 0 / 0
Rey Chavez / AAA / 17 / 0 / 0
Darric Milligan / AAA / 17 / 0 / 0
SubirChaklader / AAA / 17 / 0 / 0
Chet Shafer / AAA / 17 / 0 / 0
Greg Wathen / AAA / 17 / 0 / 0
Carl Lewis / AAA / 17 / 0 / 0
Greg Clifton / AAA / 17 / 0 / 0
Karen McGee / Majors / 17 / 0 / 0
Alex Lennon / Majors / 17 / 0 / 0
Matt Thys / Majors / 17 / 0 / 0
Tom Young / Majors / 17 / 0 / 0
Dave Peters / Majors / 17 / 0 / 0
Chris Cecka / Majors / 17 / 0 / 0
Ralph Rueda / Majors / 17 / 0 / 0
Greg St Claire / Majors / 17 / 0 / 0
Rob Proulx / Majors / 17 / 0 / 0