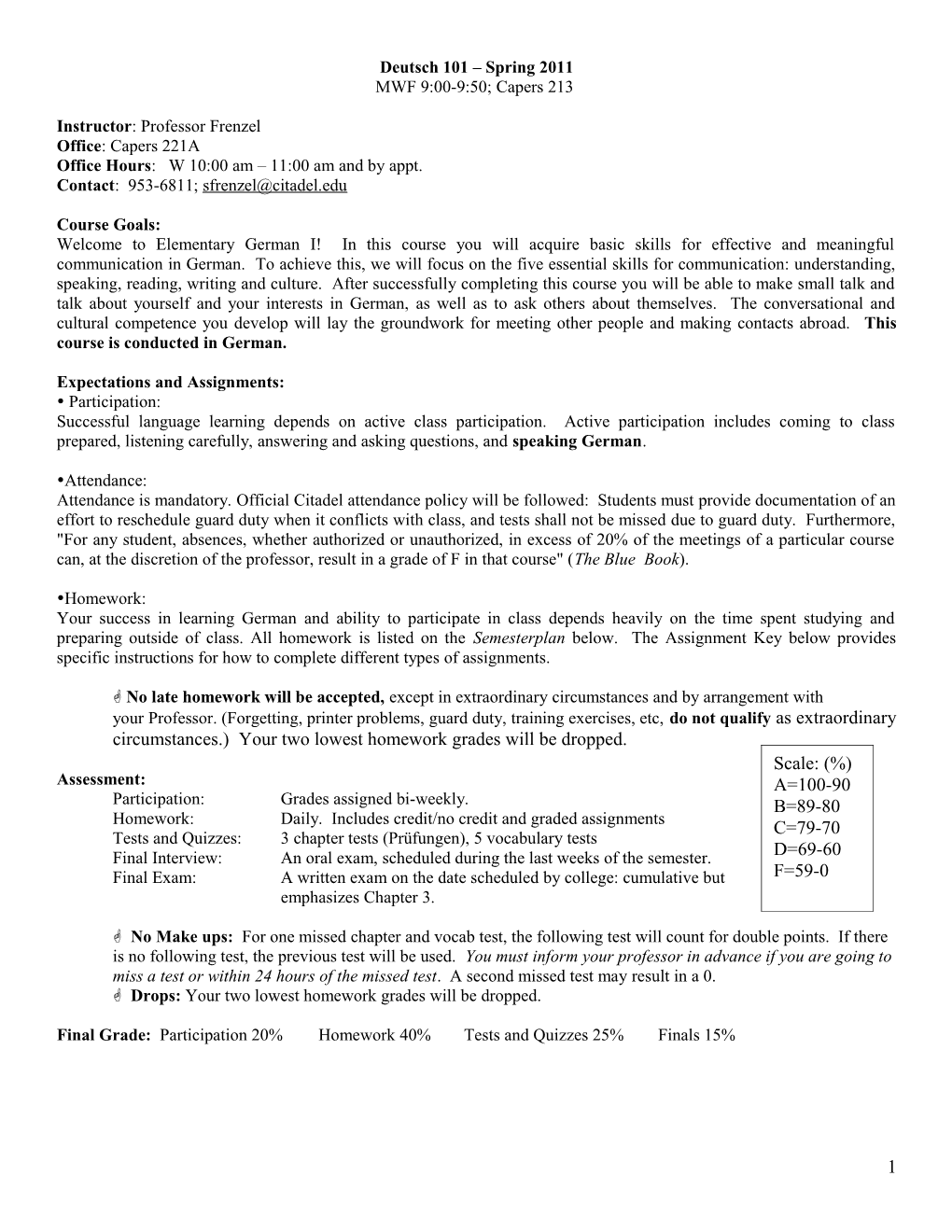 Deutsch 101 – Spring 2011
MWF 9:00-9:50; Capers 213
Instructor: Professor Frenzel
Office: Capers 221A
Office Hours:W 10:00 am – 11:00 am and by appt.
Contact: 953-6811;
Course Goals:
Welcome to Elementary German I! In this course you will acquire basic skills for effective and meaningful communication in German. To achieve this, we will focus on the five essential skills for communication: understanding, speaking, reading, writing and culture. After successfully completing this course you will be able to make small talk and talk about yourself and your interests in German, as well as to ask others about themselves. The conversational and cultural competence you develop will lay the groundwork for meeting other people and making contacts abroad. This course is conducted in German.
Expectations and Assignments:
 Participation:
Successful language learning depends on active class participation. Active participation includes coming to class prepared, listening carefully, answering and asking questions, and speaking German.
Attendance:
Attendance is mandatory. Official Citadel attendance policy will be followed: Students must provide documentation of an effort to reschedule guard duty when it conflicts with class, and tests shall not be missed due to guard duty. Furthermore, "For any student, absences, whether authorized or unauthorized, in excess of 20% of the meetings of a particular course can, at the discretion of the professor, result in a grade of F in that course" (The Blue Book).
Homework:
Your success in learning German and ability to participate in class depends heavily on the time spent studying and preparing outside of class. All homework is listed on the Semesterplan below. The Assignment Key below provides specific instructions for how to complete different types of assignments.
No late homework will be accepted, except in extraordinary circumstances and by arrangement with
your Professor. (Forgetting, printer problems, guard duty, training exercises, etc, do not qualify as extraordinary circumstances.) Your two lowest homework grades will be dropped.
Assessment:
Participation: Grades assigned bi-weekly.
Homework: Daily. Includes credit/no credit and graded assignments
Tests and Quizzes: 3 chapter tests (Prüfungen), 5 vocabulary tests
Final Interview:An oral exam, scheduled during the last weeks of the semester.
Final Exam:A written exam on the date scheduled by college: cumulative but emphasizes Chapter 3.
 No Make ups: For one missed chapter and vocab test, the following test will count for double points. If there is no following test, the previous test will be used. You must inform your professor in advance if you are going to miss a test or within 24 hours of the missed test. A second missed test may result in a 0.
 Drops: Your two lowest homework grades will be dropped.
Final Grade: Participation 20%Homework 40%Tests and Quizzes 25% Finals 15%
 All work submitted must be your own. Use of online translation programs and dictionaries is cheating. Prof. Emm, Prof. Frenzel and Prof. Skow are available to help. Consult with your instructor before seeking help from anyone else.

The Syllabus andSemesterplan are subject to change.

Final Exam Dates and Times:

9am Section: Thursday, April 28, 1300

Semesterplan

 Turn in all homework on the day it is listed.

Date Homework Topics (in class)

Datum / Hausaufgaben / Themen
Mittwoch (Wednesday) 12. Januar / Bereiten Sie vor (Prepare):
Print out a copy of the complete syllabus. / Einführung A
Namen (heißen) (Kultur)
Aufforderungen
Buchstaben a-h
Why learn German?
Freitag (Friday) 14. Januar / Üben Sie (Practice): (Check off each item as you complete it.)
 p. 19: Lesen Sie (read) A.1
 p. 20: Lesen Sie A.2 und schreiben Sie (write) Übung 2.
Schreiben Sie (write)A.11, A.12, A.22
Syllabusquiz / Kleidung
Farben (Kultur)
Alphabet
Zahlen 1-10
Case/Gender, Nouns and Pronouns
Montag (Monday) 17. Januar / Martin-Luther-King Feiertag
Mittwoch, 19. Januar / Üben Sie (Practice):
 Schreiben Sie (write) A.31, A.32, A.42, A.71
 Arbeitsblatt 1: Farben
Bereiten Sie vor (Prepare):
 p.20-1: Lesen Sie (read) A.3-4, schreiben Sie (write) Übungen 3-4. / Zahlen
Nouns and Pronouns
Freitag, 21. Januar / Üben Sie (Practice):
 Schreiben Sie A.61, A.62, A.72A-B , A.81A
Bereiten Sie vor (Prepare):
 p. 23: Lesen sie A.5 und schreiben Sie Übung 5 / Begrüßen/ Verabschieden
Addressing people
Montag,
24. Januar / Üben Sie (Practice):
 Arbeitsblatt 2: Begrüßen und Verabschieden
 Schreiben Sie A.51, A.52A-B, A.52D
Wiederholen Sie (review): Wortschatz S. 17-18 / Vokabeltest: (vocabulary test) Einf. A
 Aufsatz (Essay) 1
Mittwoch, 26. Januar / Bereiten Sie vor:
 p. 40: Lesen Sie B.1 und schreiben Sie Übungen 1-2
 p. 41-2: Lesen Sie B.2-3 und schreiben Sie Übung 3-4. / Einführung B
Das Klassenzimmer
Definite + indefinite articles
The verbs sein and haben
Freitag, 28. Januar / Üben Sie:
 Arbeitsblatt 3: Das Klassenzimmer
Bereiten Sie vor:
 p. 43: Lesen Sie B.4 und schreiben Sie Übung 6. / Beschreibungen (Kultur)
Der Körper
Plural forms of nouns
The verbs sein and haben
Montag, 31. Januar / Üben Sie:
 Schreiben Sie B.21A, B.22A-B, B.31, B.32
Bereiten Sie vor:
 p. 45: Lesen Sie B.5 und schreiben Sie Übung 7. / Die Familie
Personal pronouns
Mittwoch, 2. Februar / Üben Sie:
 Schreiben Sie B.41A, B.42, B.71A-D
 Arbeitsblatt 4: Familie / Wetter und Jahreszeiten
Kultur: Wetter und Klima
Wochentage
Freitag, 4. Februar / Üben Sie:
 Schreiben Sie B.52A-B, B.81A-B
 Arbeitsblatt 5: Das Wetter
Bereiten Sie vor:
 p. 46: Lesen Sie B.6 und schreiben Sie Übung 8.
 p. 47: Lesen Sie B.7 und schreiben Sie Übung 9-10. / Herkunft und Nationalität
Kultur: Die Lage Deutschlands in Europa
possessive adjectives
Montag, 7. Februar / Üben Sie:
 Schreiben Sie B.62B, B.72A-B
 Arbeitsblatt 6: Herkunft
 Wiederholen Sie: Wortschatz S.38-39. /  Vokabeltest: Einf. B
Wiederholung
 Aufsatz 2
Mittwoch, 9. Februar / Bereiten Sie vor:
S.69-70: Lesen Sie 1.1 und schreiben Sie Übungen 1-3. / Kapitel 1: Wer ich bin und was ich tue
Freizeit und Hobbys
present tense
Freitag, 11. Februar / Üben Sie:
 Schreiben Sie 1.11, 1.12A
Bereiten Sie vor:
 S.71-2: Lesen Sie 1.2 und schreiben Sie Übung 4 / Was machst du gern?
Kultur: Freizeit
Montag, 14. Februar / Üben Sie:
 Schreiben Sie 1.51A-F / Schule und Universität
Kultur: Schule
Mittwoch, 16. Februar / Üben Sie:
 Schreiben Sie 1.22B, 1.61A
 Aufsatz 3 Must be typed and double spaced!
Bereiten Sie vor:
 S.72-3: Lesen Sie 1.3 und schreiben Sie Übung 6. / Uhrzeit(telling time)
Freitag, 18. Februar / Üben Sie:
 Schreiben Sie 1.52A, 1.52B
Arbeitsblatt 7: Schule und Universität
Bereiten Sie vor:
 S.74: Lesen Sie 1.4 und schreiben Sie Übungen 7-8;
S.75-6: Lesen Sie 1.5 und schreiben Sie Übungen 9-10. / Word order in statements
Tagesablauf
Separable Prefix Verbs
Montag, 21. Februar / Üben Sie:
 Schreiben Sie 1.32C
 Arbeitsblatt 8: Tagesablauf
 Aufsatz 4 Must be typed and double spaced! / Lektüre: Brief eines Internatsschülers
Mittwoch, 23. Februar / Üben Sie:
 Schreiben Sie 1.53A, 1.53B
 S.76: Lesen Sie 1.6 und schreiben Sie Übungen 11, 12. / Persönliche Daten
Word order in questions
Freitag, 25. Februar / Üben Sie:
 Schreiben Sie 1.42A, 1.42C
 Arbeitsblatt 9: Persönliche Daten / Lektüre: Guten Tag, ich heiße...
Montag, 28. Februar / Üben Sie:
 Schreiben Sie 1.54A-B, 1.55A-B
Bereiten Sie vor:
Wiederholen Sie: Wortschatz S.67-68 /  Vokabeltest: Kap. 1
Wiederholung
Mittwoch, 2. März / Bereiten Sie vor:
Wiederholen Sie! / Prüfung! Einf. A-B und Kapitel 1
Freitag, 4. März / Bereiten Sie vor:
 S.98: Lesen Sie 2.1 und schreiben Sie Übung 1 / Kapitel 2: Besitz und Vergnügen
The accusative case
Besitz
Montag, 7. März / Üben Sie:
 Arbeitsblatt 10: Besitz
Bereiten Sie vor:
 S.99-100: Lesen Sie 2.2 und schreiben Sie Übung 3 / The negative article
Kultur: der Euro
Mittwoch, 9. März / Üben Sie:
 Schreiben Sie 2.51A-C, 2.51E, 2.51G, 2.61A
Bereiten Sie vor:
S.100-101: Lesen Sie 2.3 und schreiben Sie Übung 4 / Geschenke
What would you like?
Freitag, 11. März / Üben Sie:
 Schreiben Sie 2.52A-F
 Arbeitsblatt 11: Geschenke / Lektüre: Ringe fürs Leben zu zweit
Montag, 14. März / Bereiten Sie vor:
S.101-103: Lesen Sie 2.4 und schreiben Sie Übungen 5-6 / Possessive Adjectives
Kleidung und Aussehen
Mittwoch, 16. März / Üben Sie:
 S.104: Schreiben Sie Übung 7.
 Schreiben Sie 2.31A, 2.32A-B
 Aufsatz 5 Must be typed and double spaced! / Lektüre: Film: Im Juli
Freitag, 18. März / Üben Sie:
 Schreiben Sie 2.61B
Bereiten Sie vor:
 S.104-105: Lesen Sie 2.5 und schreiben Sie Übungen 8-10 / Vergnügen (Kultur)
Stem-vowel changing verbs
Montag, 21. März / Üben Sie:
 Schreiben Sie 2.42C
 Arbeitsblatt 12: Vergnügen
Bereiten Sie vor:
 S.106-107: Lesen Sie 2.6 und schreiben Sie Übung 11.
 Aufsatz 6 Must be typed and double spaced! / Asking people to do things: the "du-Imperative"
Mittwoch, 23. März / Üben Sie:
 Schreiben Sie 2.53A-B, 2.54
Bereiten Sie vor:
 Lernen Sie Wortschatz, S.95-97 /  Vokabeltest: Kap. 2
Wiederholung
Freitag, 25. März / Bereiten Sie vor:
Wiederholen Sie! / Prüfung: Kapitel 2
28.3. – 1.4. / Frühlingsferien
Montag,
4. April / Bereiten Sie vor:
 S.130-31: Lesen Sie 3.1 und schreiben Sie Übungen 1-2 / Kapitel 3
Talente und Pläne
können, wollen, mögen
Mittwoch, 6. April / Üben Sie:
 Schreiben Sie 3.12A-B, 3.51B, 3.52 / Lektüre: Das Geheimnis der Küchenbank
Freitag, 8. April / Bereiten Sie vor:
S. 131-2: Lesen Sie 3.2 und schreiben Sie Übungen 3-4 / Pflichten
müssen, sollen, dürfen
Montag, 11. April / Üben Sie:
 Schreiben Sie 3.21A, 3.22A-B / Kultur: Jugendschutz
Vertiefung: Modalverben
Mittwoch, 13. April / Üben Sie:
 Schreiben Sie 3.61A
Bereiten Sie vor:
 S.133-134: Lesen Sie 3.3 und schreiben Sie Übungen 5,6,7. / Ach wie nett!
Accus. personal pronouns
Lektüre: Die PISA-Studie
Freitag, 15. April / Üben Sie:
 Schreiben Sie 3.32C
Bereiten Sie vor:
 S.135-6: Lesen Sie 3.4 und schreiben Sie Übungen 8-9
 Aufsatz 7 Must be typed and double spaced! / Dependent clauses: wenn und weil
Körperliche und geistige Verfassung
Montag, 18. April / Üben Sie:
 Schreiben Sie 3.42A, 3.53A, 3.53C-D / Dependent clauses:
separable prefix verbs
Mittwoch, 20. April / Bereiten Sie vor:
 S.137: Lesen Sie 3.5 und schreiben Sie Übung 10
Üben Sie:
 Schreiben Sie 3.54 A-D / Vertiefung dependent clauses
Kultur: Schuljahr und Zeugnisse
Freitag, 22. April / Üben Sie:
 Schreiben Sie 3.61B-C
 Aufsatz 8 Must be typed and double spaced! /  Vokabeltest: Kap. 3
Wiederholung und Übung
Montag, 25. April / Wiederholen und üben Sie! / Wiederholung
Thursday, April 28, 13:00 FINAL