Cranbourne Business and Enterprise College, Wessex Close, Basingstoke RG21 3NP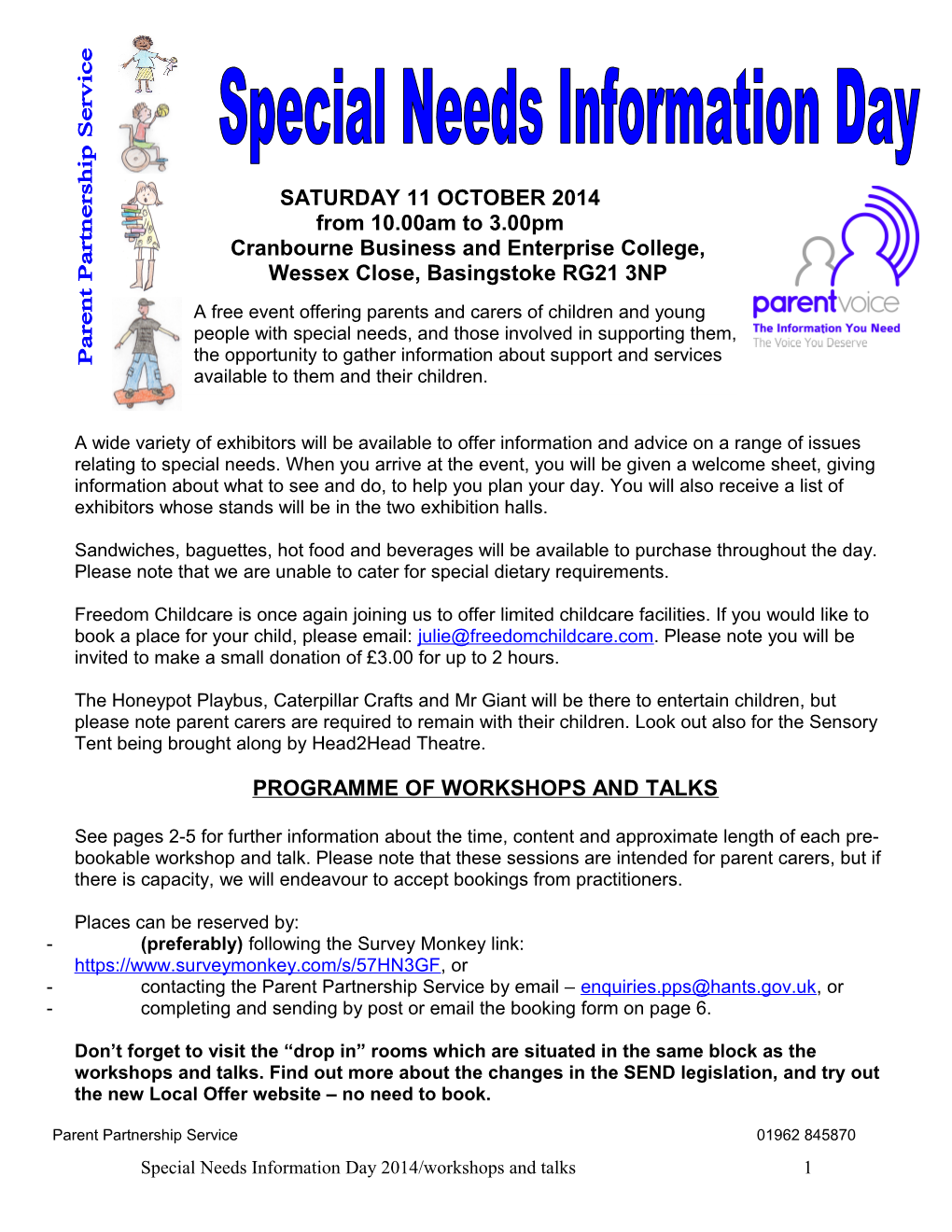 SATURDAY 11 OCTOBER 2014

from 10.00am to 3.00pm

Cranbourne Business and Enterprise College, Wessex Close, Basingstoke RG21 3NP

A wide variety of exhibitors will be available to offer information and advice on a range of issues relating to special needs. When you arrive at the event, you will be given a welcome sheet, giving information about what to see and do, to help you plan your day. You will also receive a list of exhibitors whose stands will be in the two exhibition halls.

Sandwiches, baguettes, hot food and beverages will be available to purchase throughout the day. Please note that we are unable to cater for special dietary requirements.

Freedom Childcare is once again joining us to offer limited childcare facilities. If you would like to book a place for your child, please email: . Please note you will be invited to make a small donation of £3.00 for up to 2 hours.

The Honeypot Playbus, Caterpillar Crafts and Mr Giant will be there to entertain children, but please note parent carers are required to remain with their children. Look out also for the Sensory Tent being brought along by Head2Head Theatre.

PROGRAMME OF WORKSHOPS AND TALKS

See pages 2-5for further information about the time, content and approximate length of each pre-bookable workshop and talk. Please note that these sessions are intended for parent carers, but if there is capacity, we will endeavour to accept bookings from practitioners.

Places can be reserved by:

-(preferably) following the Survey Monkey link: or

-contacting the Parent Partnership Service by email – , or

-completing and sending by post or email the booking form on page 6.

Don't forget to visit the "drop in" rooms which are situated in the same block as the workshops and talks. Find out more about the changes in the SEND legislation, and try out the new Local Offer website – no need to book.

Parent Partnership Service01962 845870

Talk: / Content:
The Children & Families Act – what does this mean for families? / An overview of the SEN reforms and how parent carers can influence local services and provision through parent participation.
We will provide an overview of the changes to the SEN system, following the implementation of the Children & Families Act, plus additional detail on the Local Offer and how parent carers can use the Local offer to influence local services, as well as information about the new SEN Support category in schools, Education, Health & Care plans (EHCPs) and Personal Budgets.
Led by:
Sharon Smith and
Gail Bedding, Hampshire Parent Carer Network (HPCN) / HPCN have provided parent representatives on all Hampshire SEN reforms workstreams, project groups and strategic boards, as well as being involved regionally and nationally.
We are all parents of children with disabilities and/or additional needs, so understand the implementation of the reforms from a parent's perspective. We are passionate about helping parents understand what the changes will mean in practice, and how they can influence services through effective participation.
Time: / Length: / Relevant for parent carers of children aged:
11.00am / 60 mins / All ages
Presentation: / Content:
Climbing a Mountain:
Facing and overcoming obstacles with Asperger Syndrome / Luke's presentations can help those with Asperger Syndrome and their families to:

adjust to life with Asperger Syndrome
build on strengths and realise potential
manage anxiety and reduce stress
see that there is light at the end of the tunnel.
They can also help others who live or work with someone who has Asperger Syndrometo:

understand the makeup of a person with Asperger Syndrome
empathise with someone's condition as opposed to seeing it as a problem
learn about ways of communicating with people on the autism spectrum.
Luke's friendly, humorous approach and sympathetic manner creates an engaging atmosphere, which make his presentations easy to listen to and enjoy.
Led by:
Luke Syddall / Luke is a 31 year old who was diagnosed with Asperger Syndrome when he was 8 years old. Luke says:
"There are many things in my life that I have accomplished – such as: I've got my driver's licence; worked at summer camp in America; travelled around America by myself; worked part-time as a tennis coach; work with children on the Autism spectrum; as well as various, paid administration jobs. I'm a member of 'Hampshire Autism Voice' and the 'Hampshire Autism Partnership Board'."
Time: / Length: / Relevant for parent carers of children aged:
12.15pm / 60 mins / All ages
Workshop: / Content:
Communication skills when managing challenging behaviour / An activity that focuses participants' attention on how they can use their tone of voice, body language and facial expression to help prevent and de-escalate challenging behaviour.
Led by:
Becky Bolger / Becky has more than 16 years experience of managing challenging behaviour. She enjoys delivering workshops that enable others to develop their own skills when confronted with behaviour that challenges them.
Time: / Length: / Relevant for parent carers of children aged:
1.15pm / 90 mins / All ages
Talk: / Content:
Dyslexia Awareness /
Issues surrounding identifying dyslexic symptoms and ways of helping dyslexic learners.
Advice on how memory works and how to improve working memory, how to support your child at home, and information on the type of support your child's school can offer.
Looking at the incidences of co-occurring difficulties, such as speech and language impairment, ADHD, dyspraxia and autism.

Led by:
Susan Hebditch / Susan is Principal of the Winchester Centre of Dyslexia Action. She assesses for Dyslexia and also teaches those who are Dyslexic learners. Susan carries out awareness sessions for schools and parent carers.
Time: / Length: / Relevant for parent carers of children aged:
10.30am / 60 mins / All ages
Workshop: / Content:
Fulfilling Potential, Maximising Opportunities - working with your children to prepare them and you for their adultlife / Each participant of this interactive workshop will be given a copy of the 'Getting a Life' booklet. Together we will explore its content to discuss and consider pathways to work, housing, healthy lifestyles, friendships and community life.
Led by:
Samantha Hudson, Jo Hooper and Siobhan Sweeney / Samantha, Jo and Siobhan all work for Hampshire County Council
Time: / Length: / Relevant for parent carers of children aged:
1.30pm / 75 mins / Age 13 +
One to one sessions: / Content:
Making Decisions and protecting assets / One to one advice sessions (approximately 15 minutes) on looking after the financial and welfare needs of a family member who requires support, and protecting the family's assets in the future.
By:
Ruth Keighley, Senior Chartered Legal Executive, Herrington & Carmichael LLP, Solicitors / Ruth has been working with vulnerable and elderly clients and their families for many years. She has experience in Attorneyship through the Office of the Public Guardian and Deputyship through the Court of Protection. Her field of work covers both financial matters as well as health and welfare issues, and the difficulties that parents/guardians encounter when a young vulnerable person reaches 18 years old.
Time: / Length: / Relevant for parent carers of children aged:
Bookable appointments – visit Ruth on her stand in the exhibition hall / 15 mins / All ages
Workshop: / Content:
Raising a confident, emotionally resilient child / Resilient children thrive and mature, even when circumstances are against them. This workshop will look at the factors inside and outside the home that help children develop resilience, focusing mainly on what parents can do to help their child(ren) become as emotionally resilient as possible.
By:
Dr Rebecca Murphy & Dr Jemma Murray / Becci and Jemma are Educational Psychologists working in Hampshire communities supporting children, schools and families.
Time: / Length: / Relevant for parent carers of children aged:
10.30am / 90 mins / All ages


See page 7for the planner

Please note:
We will acknowledge receipt of your booking by email only (time permitting)
If you find that you are unable to attend the session you have booked, please do let us know – we usually have a waiting list of people wishing to book places
When you arrive at the school, please follow the signs for visitors parking
Please arrange to arrive at the booking desk in Reception at least 15 minutes before the start of your first workshop/talk, so that we can direct you or take you to the room
You will be asked to complete a feedback form for each session you attend
Please do allow yourself enough time to visit the exhibits before or after your workshops/ talks
Special Needs Information Day

Saturday 11 October 2014 at Cranbourne Business and Enterprise College

Workshop/Talk Booking Form

(see planner on page 7)

Workshop/Talk / Time / Length
(approx) / No. of places
required
The Children & Families Act – what does this mean for families? / 11.00am / 60 mins
Climbing a Mountain: Facing and overcoming obstacles with Asperger Syndrome / 12.15pm / 60 mins
Communication skills when managing challenging behaviour / 1.15pm / 90 mins
Dyslexia Awareness / 10.30am / 60 mins
Fulfilling Potential, Maximising Opportunities – working with your children to prepare them and you for their adult life / 1.30pm / 75 mins
Making decisions and protecting assets (by appointment) / Bookable appointments / 15 mins / Please book with Ruth Keighley on the day
Raising a confident, emotionally resilient child / 10.30am / 90 mins


Name …………………………………………………………………………………………………………

Address ………………………………………………………………………………………………………

………………………………………………………………………Postcode: ……………………………

Tel……………………………………………………email ……………………………………………

Are you attending as a (delete as applicable): parent / carer / member of school staff /

member of voluntary organisation / other professional / other (please specify)……………………

Do you (or anyone accompanying you) have any special access requirements? If so, please specify:

………………………………………………………………………………………………………………

Freedom Childcare is once again joining us to offer limited childcare facilities. If you would like to book a place for your child, please email: .

Please follow this Survey Monkey link to book your place(s)

………………………………………………………………………………..

Alternatively, return this form by email to

Parent Partnership Service

01962 845870

Special Needs Information Day 2014/workshops and talks1

Special Needs Information Day 11 October 2014, Basingstoke - Workshops and talks – planner

Length
and time(s) / Title / 10.00 am / 10.30 am / 11.00 am / 11.30 am / 12.00 pm / 12.30 pm / 1.00 pm / 1.30 pm / 2.00 pm / 2.30
Pm
60 mins
11.00am / The Children & Families Act – what does this mean for families?
60 mins
12.15pm / Climbing a Mountain: Facing and overcoming obstacles with Asperger Syndrome
90 mins
1.15pm / Communication skills when managing challenging behaviour
60 mins
10.30am / Dyslexia awareness
75 mins
1.30pm / Fulfilling Potential, Maximising Opportunities
90 mins
10.30am / Raising a confident, emotionally resilient child


Special Needs Information Day 2014/workshops and talks1