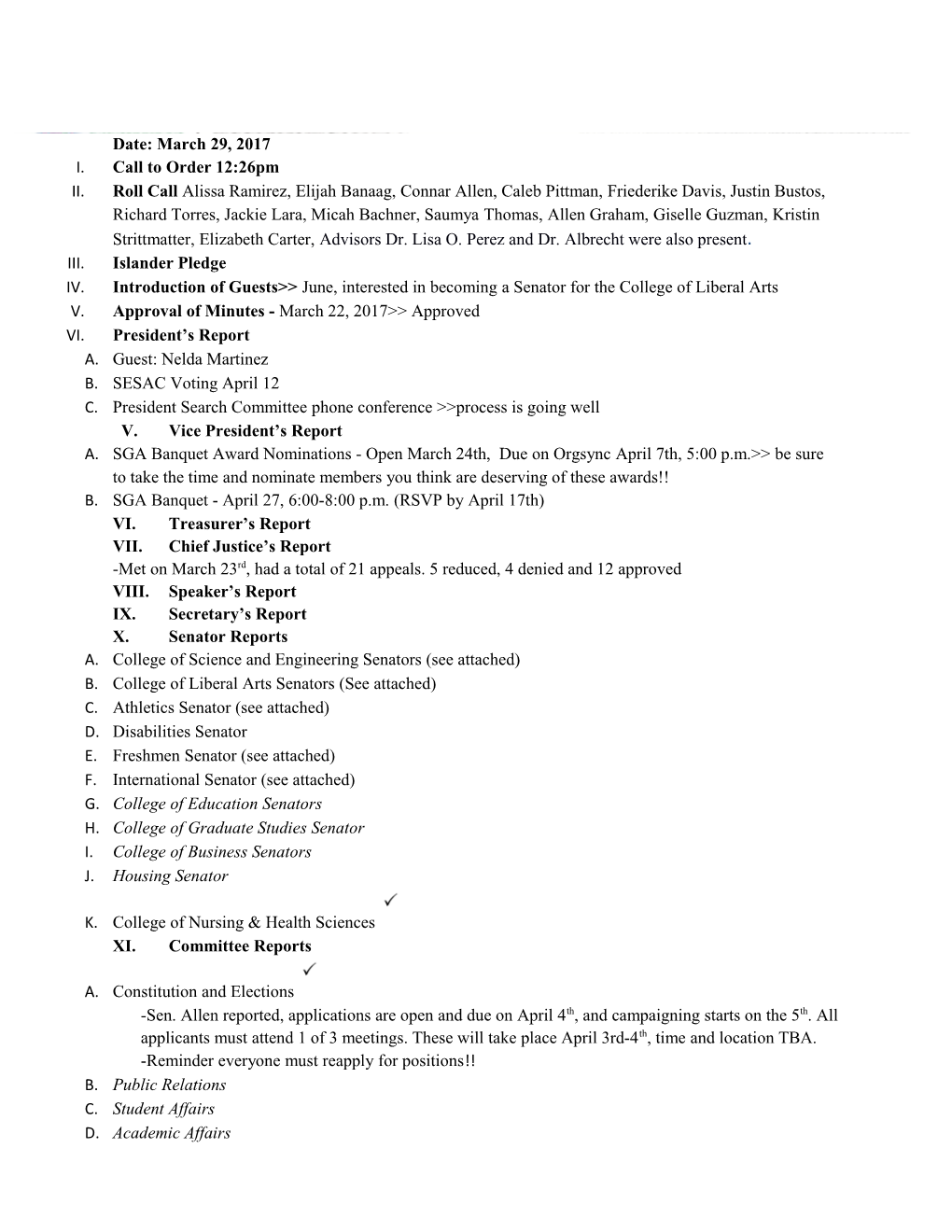 Date: March 29, 2017
Call to Order 12:26pm
Roll Call Alissa Ramirez, Elijah Banaag, Connar Allen, Caleb Pittman, Friederike Davis, Justin Bustos, Richard Torres, Jackie Lara, Micah Bachner, Saumya Thomas, Allen Graham, Giselle Guzman, Kristin Strittmatter, Elizabeth Carter, Advisors Dr. Lisa O. Perez and Dr. Albrecht were also present.
Islander Pledge
Introduction of Guests> June, interested in becoming a Senator for the College of Liberal Arts
Approval of Minutes - March 22, 2017> Approved
President's Report
Guest: Nelda Martinez
SESAC Voting April 12
President Search Committee phone conference >process is going well
V. Vice President's Report
SGA Banquet Award Nominations - Open March 24th, Dueon Orgsync April 7th, 5:00 p.m.> be sure to take the time and nominate members you think are deserving of these awards!!
SGA Banquet - April 27, 6:00-8:00 p.m. (RSVP by April 17th)
VI. Treasurer's Report
VII. Chief Justice's Report
-Met on March 23rd, had a total of 21 appeals. 5 reduced, 4 denied and 12 approved
VIII. Speaker's Report
IX. Secretary's Report
X.Senator Reports
College of Science and Engineering Senators (see attached)
College of Liberal Arts Senators (See attached)
Athletics Senator (see attached)
Disabilities Senator
Freshmen Senator (see attached)
International Senator (see attached)
College of Education Senators
College of Graduate Studies Senator
College of Business Senators
Housing Senator
College of Nursing & Health Sciences
XI. Committee Reports
Constitution and Elections
-Sen. Allen reported, applications are open and due on April 4th, and campaigning starts on the 5th. All applicants must attend 1 of 3 meetings. These will take place April 3rd-4th, time and location TBA.
-Reminder everyone must reapply for positions!!
Public Relations
Student Affairs
Academic Affairs
Environmental Affairs
Food & Services
Legislative Study
Special Events Funding & Catering Incentive Funding
-CIF meeting was on March 29th at 3pm
Spirits and Traditions
XII. Old Business
XIII.Advisor's Report
-Nominations for SEAS awards, forum is open and deadline is April 7th, at 11:59pm. Awards will be presented April 28th in the UC Anchor Ballroom at 3:30pm.
-Islander pledge will be part of ring ceremony. Ring ceremony is April 4th, there will be two ceremonies as this is the largest ring ceremony to date.
XIV.Open Forum
-Tabling from 11-2pm to pass our ribbons for Islander tribute, contact Andrea if you would like to volunteer.
-Sen. Ramirez reported, What The Frustration forum open on SGA Orgsync
XV.Announcements
Islander Tribute - April 4th, 6:00 p.m. in UC Anchor Ballroom (attendance is mandatory)
SGA Banquet - April 27, 6:00-8:00 p.m. (RSVP by April 17th - Form is in Orgsync)
Stoles - Applications due April 12th (Form is in Orgsync)
XVI.Roll Call Alissa Ramirez, Elijah Banaag, Connar Allen, Caleb Pittman, Kyle Fernandez Friederike Davis, Justin Bustos, Richard Torres, Jackie Lara, Micah Bachner, Saumya Thomas, Allen Graham, Giselle Guzman, Kristin Strittmatter, Elizabeth Carter, Advisors Dr. Lisa O. Perez and Dr. Albrecht were also present.
Adjournment 1:12pm