Brief Summary of Biogenic Emission Processing for MANE-VU / OTC Modeling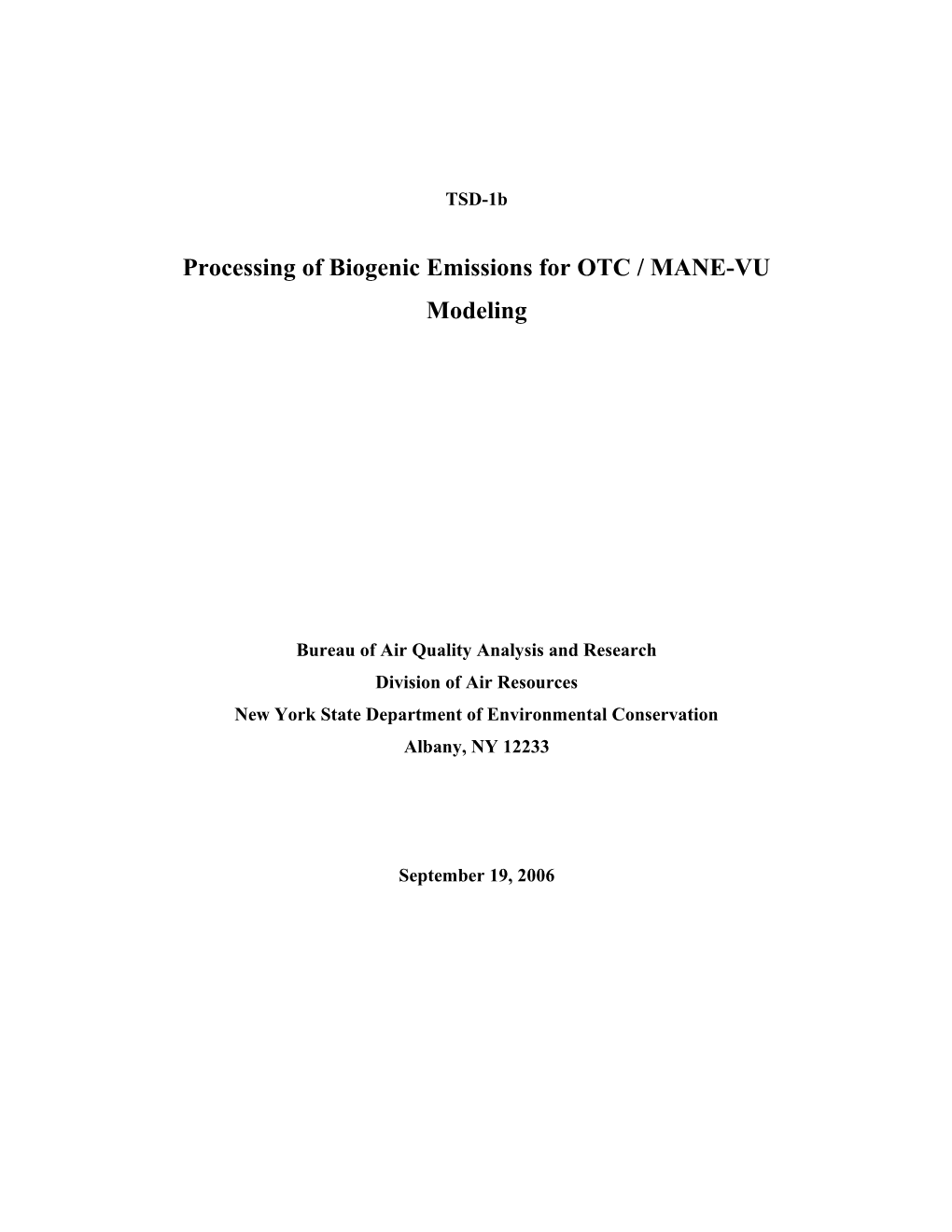 TSD-1b
Processing of Biogenic Emissions for OTC / MANE-VU Modeling
Bureau of Air Quality Analysis and Research
Division of Air Resources
New York State Department of Environmental Conservation
Albany, NY 12233
September 19, 2006
Biogenic emissions for the time period from January 1, 2002 – December 31, 2002 were calculated by NYSDEC using the Biogenic Emissions Inventory System (BEIS) version 3.12 integrated within SMOKE2.1. General information about BEIS is available at while documentation about biogenic emissions processing within SMOKE2.1 is available at and . Note that the SMOKE documentation refers to BEIS3.09 and has not yet been updated for BEIS3.12. This affects the number of species modeled as well as the use of different speciation profiles. However, the general processing approach has not changed from BEIS3.09 to BEIS3.12. In short, this processing approach is as follows and was utilized by NYSDEC for its biogenic emission processing for 8-hr ozone and PM2.5 modeling:
Normbeis3 reads gridded land use data and emissions factors and produces gridded normalized biogenic emissions for 34 species/compounds. The gridded land use includes 230 different land use types. Both summer and winter emissions factors for each species/compound are provided for each of the 230 land use types. On output, Normbeis3 generates a file B3GRD which contains gridded summer and winter emission fluxes for the modeling domain that are normalized to 30 °C and a photosynthetic active radiation (PAR) of 1000 µmol/m2s. In addition, gridded summer and winter leaf area indices (LAI) are also written to B3GRD.
Tmpbeis3 reads the gridded, normalized emissions file B3GRD and meteorological data from the MCIP-processed MM5 meteorological fields generated by the University of Maryland for MANE-VU/OTC modeling. Specifically, the following MM5/MCIP meteorological variables are used by Tmpbeis3 to compute hour-specific, gridded biogenic emissions from the normalized emission fluxed contained in B3GRD: layer-1 air temperature ("TA"), layer-1 pressure ("PRES"), total incoming solar radiation at the surface ("RGRND"), and convective ("RC") and non-convective ("RN") rainfall. Additionally, the emissions for the 34 species/compounds modeled by BEIS3.12 are converted to CO, NO, and the CB-IV VOC species utilized in CMAQ via the use of the BEIS3.12-CB-IV speciation profile. In adition, an optional seasonal switch file, BIOSEASON, was utilized to decide whether to use summer or winter emissions factors for any given grid cell on any given day. This file was generated by the SMOKE2.1 utility Metscan based on MM5 layer-1 air temperatures to determine the date of the last spring frost and first fall frost at each grid cell. Summer emission factors are used by Tmpbeis3 for the time period between the last spring frost and first fall frost at any given grid cell, and winter emission factors are used for the remaining time period. Documentation for the Metscan utility is available at . An animated GIF file showing the BIOSEASON file used by NYSDEC can be found at ftp://ftp.dec.state.ny.us/dar/air_research/chogrefe/biog_reports/b3season_movie.gif
For reporting purposes, the hourly, speciated, gridded emissions were aggregated to the county level for each day. For any given grid cell, emissions are distributed among the counties intersecting this grid cell in proportion to the area of each of these counties within the grid cell. The area gridding surrogates needed for this aggregration are based on a file obtained from EPA via followed by windowing for the MANE-VU/OTC modeling domain.
Table 1County and State totals of estimated biogenic emissions (tpy)

State / FIPS / County / NO / CO / VOC
[TPY] / [TPY] / [TPY]
Connecticut / 009001 / Fairfield / 52 / 894 / 7150
009003 / Hartford / 88 / 915 / 8537
009005 / Litchfield / 98 / 1261 / 12221
009007 / Middlesex / 54 / 615 / 5587
009009 / New Haven / 80 / 876 / 7544
009011 / New London / 74 / 906 / 8960
009013 / Tolland / 55 / 651 / 5999
009015 / Windham / 60 / 772 / 8019
Connecticut / TOTAL / 560 / 6889 / 64017
Deleware / 010001 / Kent / 308 / 1354 / 15912
010003 / New Castle / 143 / 875 / 8834
010005 / Sussex / 539 / 2045 / 21595
Deleware / TOTAL / 990 / 4274 / 46342
DC / 011001 / Washington / 30 / 150 / 1726
DC / TOTAL / 30 / 150 / 1726
Maine / 023001 / Androscoggin / 35 / 885 / 8204
023003 / Aroostook / 741 / 15531 / 140877
023005 / Cumberland / 49 / 1298 / 11528
023007 / Franklin / 72 / 3269 / 32111
023009 / Hancock / 66 / 2950 / 27090
023011 / Kennebec / 73 / 1425 / 12849
023013 / Knox / 30 / 689 / 6680
023015 / Lincoln / 32 / 849 / 8072
023017 / Oxford / 79 / 3224 / 34189
023019 / Penobscot / 211 / 7249 / 63128
023021 / Piscataquis / 146 / 8638 / 80748
023023 / Sagadahoc / 37 / 526 / 4504
023025 / Somerset / 173 / 8413 / 77850
023027 / Waldo / 57 / 1833 / 18125
023029 / Washington / 144 / 6459 / 58678
023031 / York / 73 / 1698 / 15571
Maine / TOTAL / 2018 / 64936 / 600203
Maryland / 024001 / Allegany / 63 / 661 / 8664
024003 / Anne Arundel / 79 / 945 / 12786
024005 / Baltimore / 166 / 847 / 8102
024009 / Calvert / 59 / 798 / 10048
024011 / Caroline / 202 / 648 / 7907
024013 / Carroll / 189 / 822 / 7853
024015 / Cecil / 86 / 654 / 10093
024017 / Charles / 78 / 1079 / 15042
024019 / Dorchester / 134 / 829 / 10337
024021 / Frederick / 204 / 1123 / 10964
024023 / Garrett / 102 / 930 / 11391
024025 / Harford / 141 / 911 / 9053
024027 / Howard / 75 / 562 / 4460
024029 / Kent / 177 / 498 / 4761
024031 / Montgomery / 134 / 813 / 6786
024033 / Prince Georges / 87 / 732 / 10214
024035 / Queen Annes / 222 / 684 / 7146
024037 / St Marys / 99 / 886 / 10793
024039 / Somerset / 58 / 498 / 5796
024041 / Talbot / 131 / 495 / 5225
024043 / Washington / 112 / 781 / 7538
024045 / Wicomico / 124 / 796 / 10304
024047 / Worcester / 158 / 1121 / 13079
024510 / Baltimore / 54 / 235 / 1762
Maryland / TOTAL / 2934 / 18350 / 210104
Massachusetts / 025001 / Barnstable / 261 / 668 / 5905
025003 / Berkshire / 73 / 1182 / 11029
025005 / Bristol / 107 / 753 / 7142
025007 / Dukes / 115 / 252 / 1728
025009 / Essex / 55 / 794 / 7128
025011 / Franklin / 61 / 1031 / 9424
025013 / Hampden / 51 / 904 / 9201
025015 / Hampshire / 61 / 820 / 7056
025017 / Middlesex / 68 / 1085 / 11630
025019 / Nantucket / 56 / 159 / 1362
025021 / Norfolk / 49 / 615 / 5513
025023 / Plymouth / 170 / 1197 / 11876
025025 / Suffolk / 26 / 177 / 1351
025027 / Worcester / 103 / 1955 / 23612
Massachusetts / TOTAL / 1257 / 11594 / 113957
New Hampshire / 033001 / Belknap / 25 / 693 / 6915
033003 / Carroll / 40 / 1512 / 14981
033005 / Cheshire / 49 / 1019 / 10099
033007 / Coos / 72 / 3239 / 33668
033009 / Grafton / 91 / 2442 / 23151
033011 / Hillsborough / 48 / 1337 / 14503
033013 / Merrimack / 48 / 1314 / 13566
033015 / Rockingham / 39 / 1120 / 10080
033017 / Strafford / 25 / 686 / 6617
033019 / Sullivan / 45 / 943 / 8314
New Hampshire / TOTAL / 482 / 14306 / 141894
New Jersey / 034001 / Atlantic / 135 / 1225 / 18890
034003 / Bergen / 37 / 239 / 2455
034005 / Burlington / 151 / 1827 / 25255
034007 / Camden / 68 / 491 / 7751
034009 / Cape May / 90 / 566 / 7763
034011 / Cumberland / 122 / 773 / 10699
034013 / Essex / 57 / 199 / 1831
034015 / Gloucester / 119 / 556 / 8444
034017 / Hudson / 26 / 125 / 701
034019 / Hunterdon / 81 / 706 / 5743
034021 / Mercer / 85 / 475 / 4889
034023 / Middlesex / 98 / 456 / 5267
034025 / Monmouth / 125 / 1152 / 15423
034027 / Morris / 63 / 604 / 7288
034029 / Ocean / 128 / 1871 / 27063
034031 / Passaic / 41 / 339 / 3841
034033 / Salem / 123 / 535 / 8304
034035 / Somerset / 49 / 518 / 5548
034037 / Sussex / 67 / 718 / 7768
034039 / Union / 21 / 168 / 2191
034041 / Warren / 125 / 517 / 4505
New Jersey / TOTAL / 1813 / 14058 / 181618
New York / 036001 / Albany / 59 / 730 / 6253
036003 / Allegany / 129 / 1218 / 9526
036005 / Bronx / 25 / 100 / 657
036007 / Broome / 107 / 879 / 7861
036009 / Cattaraugus / 148 / 1654 / 13540
036011 / Cayuga / 227 / 986 / 7928
036013 / Chautauqua / 202 / 1260 / 8144
036015 / Chemung / 88 / 521 / 3911
036017 / Chenango / 149 / 1120 / 7833
036019 / Clinton / 138 / 1631 / 13341
036021 / Columbia / 96 / 896 / 8484
036023 / Cortland / 101 / 616 / 4280
036025 / Delaware / 133 / 1672 / 13435
036027 / Dutchess / 90 / 1096 / 10288
036029 / Erie / 165 / 1127 / 6898
036031 / Essex / 94 / 2547 / 20888
036033 / Franklin / 228 / 2337 / 17197
036035 / Fulton / 90 / 764 / 5275
036037 / Genesee / 201 / 645 / 3993
036039 / Greene / 47 / 886 / 8182
036041 / Hamilton / 78 / 2092 / 16056
036043 / Herkimer / 175 / 1783 / 12846
036045 / Jefferson / 251 / 1754 / 12503
036047 / Kings / 15 / 60 / 309
036049 / Lewis / 154 / 1693 / 12116
036051 / Livingston / 222 / 888 / 6048
036053 / Madison / 149 / 1049 / 7528
036055 / Monroe / 223 / 990 / 6237
036057 / Montgomery / 106 / 579 / 4715
036059 / Nassau / 81 / 408 / 2859
036061 / New York / 16 / 76 / 473
036063 / Niagara / 335 / 940 / 5182
036065 / Oneida / 214 / 1515 / 10021
036067 / Onondaga / 171 / 929 / 6259
036069 / Ontario / 178 / 767 / 6024
036071 / Orange / 110 / 1065 / 13024
036073 / Orleans / 195 / 635 / 3314
036075 / Oswego / 119 / 1277 / 7911
036077 / Otsego / 157 / 1190 / 7958
036079 / Putnam / 32 / 473 / 5243
036081 / Queens / 20 / 105 / 543
036083 / Rensselaer / 96 / 894 / 7316
036085 / Richmond / 47 / 173 / 1292
036087 / Rockland / 26 / 300 / 4006
036089 / St. Lawrence / 376 / 3876 / 28960
036091 / Saratoga / 76 / 1125 / 9010
036093 / Schenectady / 39 / 377 / 3032
036095 / Schoharie / 95 / 737 / 5496
036097 / Schuyler / 87 / 438 / 3193
036099 / Seneca / 127 / 438 / 3305
036101 / Steuben / 267 / 1475 / 12085
036103 / Suffolk / 368 / 1328 / 12886
036105 / Sullivan / 76 / 1325 / 12538
036107 / Tioga / 102 / 730 / 5400
036109 / Tompkins / 96 / 576 / 4128
036111 / Ulster / 82 / 1493 / 15714
036113 / Warren / 46 / 1396 / 11568
036115 / Washington / 183 / 1109 / 8355
036117 / Wayne / 270 / 920 / 5940
036119 / Westchester / 35 / 549 / 5347
036121 / Wyoming / 194 / 720 / 3813
036123 / Yates / 107 / 507 / 4017
New York / TOTAL / 8313 / 63436 / 492483
Pennsylvania / 042001 / Adams / 186 / 892 / 8926
042003 / Allegheny / 182 / 948 / 6727
042005 / Armstrong / 108 / 940 / 9955
042007 / Beaver / 69 / 600 / 4895
042009 / Bedford / 128 / 1249 / 14127
042011 / Berks / 280 / 1377 / 14146
042013 / Blair / 91 / 729 / 7579
042015 / Bradford / 224 / 1265 / 9423
042017 / Bucks / 144 / 954 / 8399
042019 / Butler / 149 / 1032 / 8602
042021 / Cambria / 128 / 805 / 6545
042023 / Cameron / 25 / 627 / 7563
042025 / Carbon / 53 / 585 / 8121
042027 / Centre / 158 / 1344 / 16886
042029 / Chester / 264 / 1176 / 10474
042031 / Clarion / 85 / 848 / 10743
042033 / Clearfield / 149 / 1368 / 13267
042035 / Clinton / 71 / 1230 / 18191
042037 / Columbia / 106 / 802 / 9080
042039 / Crawford / 204 / 1297 / 10839
042041 / Cumberland / 193 / 816 / 9505
042043 / Dauphin / 116 / 799 / 8502
042045 / Delaware / 35 / 410 / 3250
042047 / Elk / 49 / 949 / 8921
042049 / Erie / 199 / 1107 / 8273
042051 / Fayette / 156 / 1087 / 9277
042053 / Forest / 26 / 577 / 7122
042055 / Franklin / 271 / 1057 / 10296
042057 / Fulton / 93 / 744 / 9341
042059 / Greene / 91 / 830 / 6966
042061 / Huntingdon / 135 / 1093 / 12606
042063 / Indiana / 144 / 1078 / 9156
042065 / Jefferson / 101 / 865 / 7362
042067 / Juniata / 79 / 588 / 8263
042069 / Lackawanna / 58 / 586 / 5569
042071 / Lancaster / 464 / 1299 / 9565
042073 / Lawrence / 114 / 503 / 3755
042075 / Lebanon / 155 / 623 / 5827
042077 / Lehigh / 149 / 594 / 6040
042079 / Luzerne / 75 / 1013 / 13215
042081 / Lycoming / 152 / 1457 / 16633
042083 / Mc Kean / 57 / 1044 / 7113
042085 / Mercer / 175 / 865 / 7114
042087 / Mifflin / 107 / 620 / 7508
042089 / Monroe / 75 / 773 / 8856
042091 / Montgomery / 106 / 812 / 6736
042093 / Montour / 85 / 321 / 3306
042095 / Northampton / 144 / 506 / 4416
042097 / Northumberland / 92 / 570 / 6340
042099 / Perry / 113 / 804 / 10216
042101 / Philadelphia / 29 / 194 / 1420
042103 / Pike / 37 / 757 / 9946
042105 / Potter / 89 / 1129 / 9027
042107 / Schuylkill / 123 / 1050 / 15001
042109 / Snyder / 88 / 538 / 6373
042111 / Somerset / 221 / 1251 / 11228
042113 / Sullivan / 45 / 684 / 5112
042115 / Susquehanna / 126 / 978 / 6448
042117 / Tioga / 176 / 1313 / 10942
042119 / Union / 71 / 541 / 6435
042121 / Venango / 72 / 855 / 9086
042123 / Warren / 76 / 1031 / 7352
042125 / Washington / 166 / 1068 / 7429
042127 / Wayne / 89 / 862 / 5954
042129 / Westmoreland / 199 / 1297 / 10589
042131 / Wyoming / 60 / 551 / 4634
042133 / York / 366 / 1393 / 12758
Pennsylvania / TOTAL / 8645 / 59945 / 585271
Rhode Island / 044001 / Bristol / 40 / 90 / 441
044003 / Kent / 41 / 328 / 3471
044005 / Newport / 37 / 183 / 1646
044007 / Providence / 39 / 591 / 6901
044009 / Washington / 54 / 572 / 6775
Rhode Island / TOTAL / 211 / 1764 / 19233
Vermont / 050001 / Addison / 186 / 922 / 6274
050003 / Bennington / 43 / 896 / 7349
050005 / Caledonia / 58 / 1149 / 10239
050007 / Chittenden / 74 / 606 / 3633
050009 / Essex / 61 / 1315 / 11795
050011 / Franklin / 208 / 971 / 5927
050013 / Grand Isle / 50 / 490 / 3506
050015 / Lamoille / 36 / 727 / 5627
050017 / Orange / 57 / 1182 / 10120
050019 / Orleans / 120 / 1570 / 12842
050021 / Rutland / 102 / 1257 / 9867
050023 / Washington / 47 / 1099 / 9502
050025 / Windham / 42 / 1232 / 10898
050027 / Windsor / 57 / 1330 / 10796
Vermont / TOTAL / 1142 / 14745 / 118376
Virginia / 051001 / Accomack / 187 / 959 / 9472
051003 / Albemarle / 140 / 1246 / 12533
051005 / Alleghany / 35 / 522 / 7369
051007 / Amelia / 70 / 915 / 10717
051009 / Amherst / 80 / 905 / 10823
051011 / Appomattox / 76 / 830 / 10447
051013 / Arlington / 17 / 64 / 531
051015 / Augusta / 135 / 1049 / 13291
051017 / Bath / 46 / 771 / 11636
051019 / Bedford / 189 / 1279 / 13052
051021 / Bland / 41 / 515 / 7097
051023 / Botetourt / 74 / 780 / 10211
051025 / Brunswick / 98 / 1458 / 18254
051027 / Buchanan / 32 / 722 / 9557
051029 / Buckingham / 76 / 1287 / 18830
051031 / Campbell / 112 / 1078 / 12933
051033 / Caroline / 73 / 1173 / 16020
051035 / Carroll / 132 / 634 / 6885
051036 / Charles City / 93 / 415 / 4711
051037 / Charlotte / 84 / 1219 / 14277
051041 / Chesterfield / 69 / 802 / 10686
051043 / Clarke / 56 / 369 / 4009
051045 / Craig / 39 / 538 / 7314
051047 / Culpeper / 105 / 894 / 10720
051049 / Cumberland / 56 / 814 / 10677
051051 / Dickenson / 20 / 550 / 6910
051053 / Dinwiddie / 82 / 1207 / 16511
051057 / Essex / 58 / 671 / 7403
051059 / Fairfax / 111 / 533 / 5538
051061 / Fauquier / 150 / 1166 / 14084
051063 / Floyd / 47 / 593 / 6493
051065 / Fluvanna / 54 / 775 / 10756
051067 / Franklin / 119 / 1297 / 15933
051069 / Frederick / 64 / 588 / 8798
051071 / Giles / 38 / 508 / 4918
051073 / Gloucester / 32 / 510 / 5945
051075 / Goochland / 47 / 670 / 10392
051077 / Grayson / 60 / 627 / 8260
051079 / Greene / 57 / 434 / 5727
051081 / Greensville / 63 / 735 / 9009
051083 / Halifax / 201 / 1852 / 22730
051085 / Hanover / 91 / 950 / 12493
051087 / Henri / 81 / 427 / 5468
051089 / Henry / 59 / 805 / 9772
051091 / Highland / 44 / 608 / 8579
051093 / Isle Of Wight / 178 / 813 / 8049
051095 / James City / 41 / 314 / 3989
051097 / King And Queen / 77 / 673 / 7615
051099 / King George / 62 / 540 / 6111
051101 / King William / 102 / 712 / 7846
051103 / Lancaster / 33 / 311 / 3669
051105 / Lee / 97 / 680 / 7221
051107 / Loudoun / 137 / 942 / 8999
051109 / Louisa / 78 / 1142 / 16780
051111 / Lunenberg / 88 / 1108 / 13611
051113 / Madison / 70 / 598 / 7305
051115 / Mathews / 27 / 367 / 4025
051117 / Mecklenburg / 145 / 1478 / 18507
051119 / Middlesex / 42 / 480 / 5561
051121 / Montgomery / 70 / 501 / 5366
051125 / Nelson / 67 / 979 / 12465
051127 / New Kent / 35 / 600 / 8240
051131 / Northampton / 90 / 263 / 2019
051133 / Northumberland / 88 / 778 / 9298
051135 / Nottoway / 74 / 894 / 10670
051137 / Orange / 98 / 759 / 8265
051139 / Page / 77 / 540 / 6705
051141 / Patrick / 75 / 884 / 10255
051143 / Pittsylvania / 203 / 1806 / 22102
051145 / Powhatan / 47 / 675 / 10194
051147 / Prince Edward / 69 / 942 / 12042
051149 / Prince George / 73 / 572 / 6484
051153 / Prince William / 38 / 718 / 10979
051155 / Pulaski / 61 / 450 / 6510
051157 / Rappahannock / 61 / 521 / 7141
051159 / Richmond / 63 / 383 / 4548
051161 / Roanoke / 63 / 427 / 5278
051163 / Rockbridge / 101 / 813 / 9710
051165 / Rockingham / 189 / 1020 / 12959
051167 / Russell / 56 / 703 / 7975
051169 / Scott / 95 / 753 / 9943
051171 / Shenandoah / 117 / 757 / 10570
051173 / Smyth / 78 / 603 / 7159
051175 / Southampton / 177 / 1306 / 15588
051177 / Spotsylvania / 46 / 911 / 12575
051179 / Stafford / 27 / 637 / 8344
051181 / Surry / 85 / 784 / 10024
051183 / Sussex / 102 / 1267 / 16362
051185 / Tazewell / 77 / 639 / 7477
051187 / Warren / 44 / 438 / 6310
051191 / Washington / 142 / 632 / 6822
051193 / Westmoreland / 101 / 777 / 9357
051195 / Wise / 35 / 462 / 5685
051197 / Wythe / 109 / 596 / 7803
051199 / York / 35 / 271 / 3423
051510 / Alexandria / 38 / 145 / 1065
051515 / Bedford / 22 / 101 / 604
051520 / Bristol / 37 / 135 / 1220
051530 / Buena Vista / 6 / 43 / 381
051540 / Charlottesville / 18 / 98 / 528
051550 / Chesapeake / 71 / 666 / 8477
051560 / Clifton Forge / 27 / 61 / 436
051570 / Colonial Heights / 35 / 88 / 662
051580 / Covington / 24 / 114 / 1605
051590 / Danville / 55 / 343 / 3405
051595 / Emporia / 19 / 234 / 3300
051600 / Fairfax / 18 / 96 / 1518
051610 / Falls Church / 16 / 98 / 1120
051620 / Franklin / 66 / 142 / 1041
051630 / Fredericksburg / 14 / 250 / 3012
051640 / Galax / 45 / 94 / 519
051650 / Hampton / 24 / 127 / 1112
051660 / Harrisonburg / 73 / 143 / 746
051670 / Hopewell / 26 / 79 / 711
051678 / Lexington / 8 / 62 / 620
051680 / Lynchburg / 45 / 250 / 2135
051683 / Manassas / 17 / 86 / 743
051685 / Manassas Park / 17 / 50 / 268
051690 / Martinsville / 19 / 190 / 1625
051700 / Newport News / 63 / 231 / 2187
051710 / Norfolk / 42 / 197 / 2692
051720 / Norton / 13 / 120 / 1305
051730 / Petersburg / 58 / 171 / 1419
051735 / Poquoson / 17 / 122 / 1351
051740 / Portsmouth / 34 / 285 / 3215
051750 / Radford / 27 / 76 / 609
051760 / Richmond / 29 / 239 / 3517
051770 / Roanoke / 33 / 91 / 770
051775 / Salem / 14 / 61 / 568
051790 / Staunton / 69 / 205 / 1550
051800 / Suffolk / 118 / 964 / 11269
051810 / Virginia Beach / 186 / 924 / 8724
051820 / Waynesboro / 43 / 120 / 895
051830 / Williamsburg / 3 / 38 / 446
051840 / Winchester / 42 / 117 / 772
Virginia / TOTAL / 9267 / 80615 / 981848