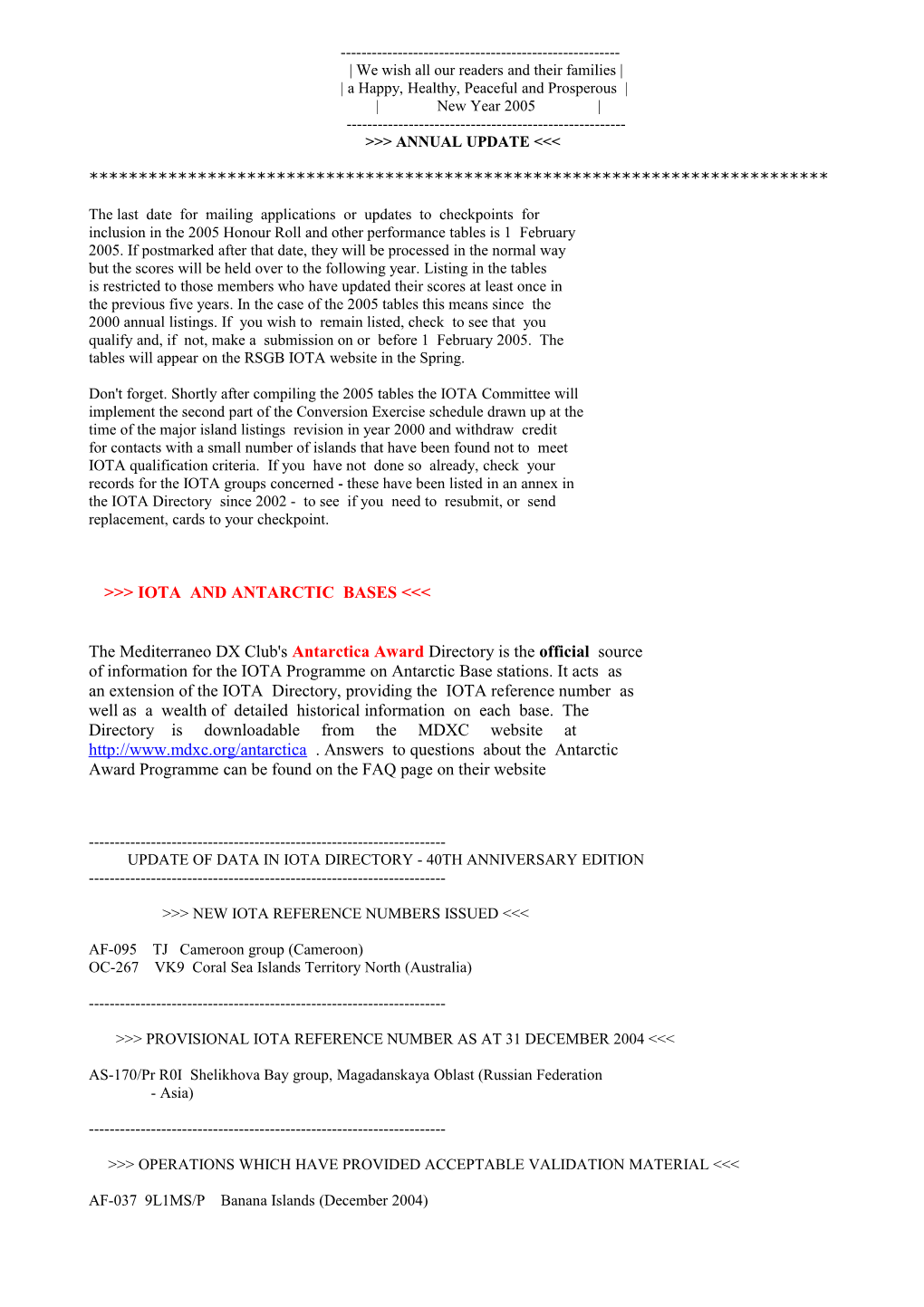 ------
| We wish all our readers and their families |
| a Happy, Healthy, Peaceful and Prosperous |
| New Year 2005 |
------
> ANNUAL UPDATE <
***************************************************************************
The last date for mailing applications or updates to checkpoints for
inclusion in the 2005 Honour Roll and other performance tables is 1 February
2005. If postmarked after that date, they will be processed in the normal way
but the scores will be held over to the following year. Listing in the tables
is restricted to those members who have updated their scores at least once in
the previous five years. In the case of the 2005 tables this means since the
2000 annual listings. If you wish to remain listed, check to see that you
qualify and, if not, make a submission on or before 1 February 2005. The
tables will appear on the RSGB IOTA website in the Spring.
Don't forget. Shortly after compiling the 2005 tables the IOTA Committee will
implement the second part of the Conversion Exercise schedule drawn up at the
time of the major island listings revision in year 2000 and withdraw credit
for contacts with a small number of islands that have been found not to meet
IOTA qualification criteria. If you have not done so already, check your
records for the IOTA groups concerned - these have been listed in an annex in
the IOTA Directory since 2002 - to see if you need to resubmit, or send
replacement, cards to your checkpoint.

> IOTA AND ANTARCTIC BASES <
The Mediterraneo DX Club's Antarctica Award Directory is the official source
of information for the IOTA Programme on Antarctic Base stations. It acts as
an extension of the IOTA Directory, providing the IOTA reference number as
well as a wealth of detailed historical information on each base. The
Directory is downloadable from the MDXC website at
Answers to questions about the Antarctic
Award Programme can be found on the FAQ page on their website
------
UPDATE OF DATA IN IOTA DIRECTORY - 40TH ANNIVERSARY EDITION
------
> NEW IOTA REFERENCE NUMBERS ISSUED <
AF-095 TJ Cameroon group (Cameroon)
OC-267 VK9 Coral Sea Islands Territory North (Australia)
------
> PROVISIONAL IOTA REFERENCE NUMBER AS AT 31 DECEMBER 2004 <
AS-170/Pr R0I Shelikhova Bay group, Magadanskaya Oblast (Russian Federation
- Asia)
------
> OPERATIONS WHICH HAVE PROVIDED ACCEPTABLE VALIDATION MATERIAL <
AF-037 9L1MS/P Banana Islands (December 2004)
AF-095 TJ3MC/P Mondoleh Island (April 2004)
AS-059 RZ0IWZ/P Nedorazumeniya Island (July 2004)
AS-124 A61AV/P Sirat Al Khawr Island (December 2004)
EU-159 F5JOT/P Cordouan Island (August 2004)
EU-159 F5LGQ/P Cordouan Island (August 2004)
OC-017 T30T Tarawa Island (October/November 2004)
OC-028 V7/K7ZZ Kwajalein Atoll, Ralik Chain (Oct/Nov 2004)
OC-029 V7/K7ZZ Majuro Atoll, Ratak Chain (October 2004)
OC-052 FO/I1SNW Hereheretue Isld, Duke of Gloucester Isls (Sept 2004)
OC-052 FO/IT9EJW Hereheretue Isld, Duke of Gloucester Isls (Sept 2004)
OC-052 FO/IT9YRE Hereheretue Isld, Duke of Gloucester Isls (Sept 2004)
OC-058 FK/KM9D Huon Island, D'Entrecasteaux Reefs (September 2004)
OC-079 FK/KF4TUG Pott Island, Belep Islands (September 2004)
OC-155 V6O Pulap Island, West Chuuk group (October 2004)
OC-185 VK4WWI/8 Bremer Island (November 2004)
OC-198 VK4WWI/8 North Island (October 2004)
OC-227 VK4WWI Sweers Island (November 2004)
OC-227 VK4SWE Sweers Island (resident)
OC-267 VK4WWI/P Marion Reef, Coral Sea Islands Territory (Nov 2004)
SA-020 FY/F5AHO/P Royale Island, Salut Islands (November 2004)
Note: This list includes operations where validation material was
volunteered, ie not specifically required for credit to be given. In all
cases, cards now submitted will be accepted by Checkpoints if they meet
normal standards. This means that the island name should be printed on the
card.
> OPERATIONS FROM WHICH VALIDATION MATERIAL IS AWAITED <
AS AT 31 DECEMBER 2004
AS-021 A61Q/P Siniyah Island (December 2004)
AS-170/Pr RI0IMA Matykil' Island (June/July 2004)
NA-200 XF3T Tamalcab Island (December 2004)
OC-223 VI2MI Montague Island (August 2004)
Note: Checkpoints are not authorised to credit QSL cards for an operation
where validation is required.
------
From:
Roger Balister, G3KMAMauro Pregliasco, I1JQJ
RSGB IOTA Manager RSGB IOTA Committee Member
31 December 2004 1 January 2005

*********************************************