2018 Collaboration Development Fund Application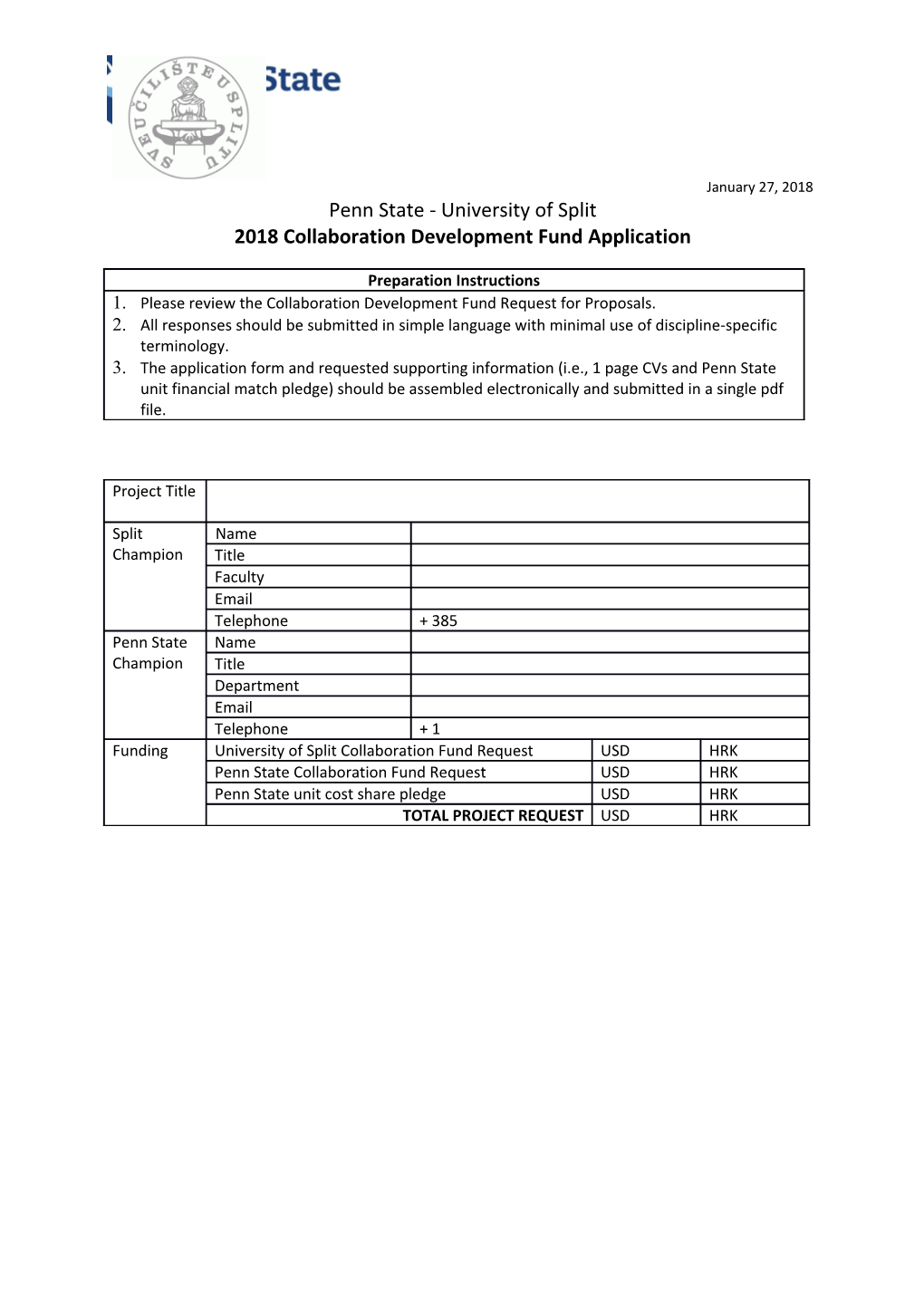 1
January 27, 2018
Penn State - University of Split
2018 Collaboration Development Fund Application
Preparation Instructions
Please review the Collaboration Development Fund Request for Proposals.
All responses should be submitted in simple language with minimal use of discipline-specific terminology.
The application form and requested supporting information (i.e., 1 page CVs and Penn State unit financial match pledge) should be assembled electronically and submitted in a single pdf file.

Project Title
Split
Champion / Name
Title
Faculty
Email
Telephone / + 385
Penn State Champion / Name
Title
Department
Email
Telephone / + 1
Funding / University of Split Collaboration Fund Request / USD / HRK
Penn State Collaboration Fund Request / USD / HRK
Penn State unit cost share pledge / USD / HRK
TOTAL PROJECT REQUEST / USD / HRK


Itemized Budget Worksheet

Item / USD / HRK
Travel
TOTAL
Program Description
Please use language intelligible to a non-specialist in the field. Describe how the program addresses a novel research problem or educational need. Describe the academic importance. What are the broader societal outcomes and impacts of the program?
(1000 word maximum)
Seed Money Program Outcomes
Describe the expected outcomes of the one-year Seed Money effort. Indicate how the outcomes will contribute to achieving the envisioned long-term, self-supporting collaborative program.
(300 word maximum)
Self-Supporting Program Sustainability
Outline how the program will build a long-term sustained international partnership. Describe the approach to make the program self-supporting and sustainable after the seed money support expires.Research programs should provide evidence with existing funding sources, including names of sponsoring agencies and, programs possible submission dates, etc., and an estimate of success for in this competitive environment. Educational programs should provide evidence of student demand, curricular integration and institutional willingness to adopt and support.
(500 word maximum)
Teamwork
Describe how the effort will be ledand coordinated. Address the attributes of the faculty and how the capabilities at the respective universities will be integrated and leveraged.
(300 word maximum)
Student Involvement
Describe the envisioned student involvement after the plan developed in the Collaboration Development Fund is implemented and reaches fruition.
(300 word maximum)


University of Split Team Members

(Multiple team members are highly encouraged)

Name
Title
Department
Email
Telephone / + 385
Name
Title
Department
Email
Telephone / + 385
Name
Title
Department
Email
Telephone / + 385
Name
Title
Department
Email
Telephone / + 385


Penn State Team Members

(Multiple team members are highly encouraged)

Name
Title
Department
Email
Telephone / +1
Name
Title
Department
Email
Telephone / +1
Name
Title
Department
Email
Telephone / +1
Name
Title
Department
Email
Telephone / +1
Program Timeline
Please list major milestones and monthly tasking.
(100 word maximum)
June 2018
July 2018
August 2018
September 2018
October 2018
November 2018
December 2018
January 2019
February 2019
March 2019
April 2019
May 2019