2 Sets of Form a (For Insolvency Professional Agency and Insolvency and Bankruptcy Board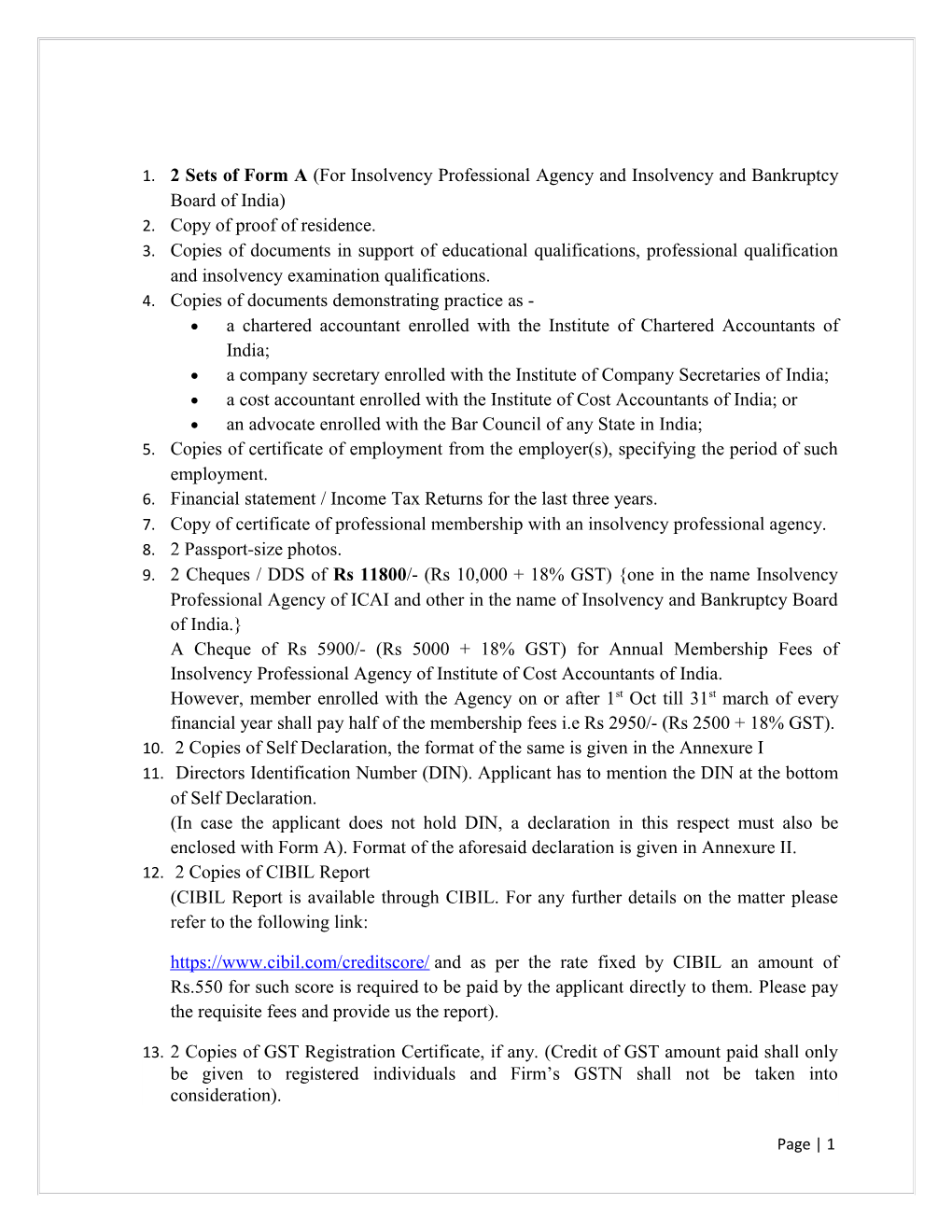 2 Sets of Form A (For Insolvency Professional Agency and Insolvency and Bankruptcy Board of India)
Copy of proof of residence.
Copies of documents in support of educational qualifications, professional qualification and insolvency examination qualifications.
Copies of documents demonstrating practice as -
a chartered accountant enrolled with the Institute of Chartered Accountants of India;
a company secretary enrolled with the Institute of Company Secretaries of India;
a cost accountant enrolled with the Institute of Cost Accountants of India; or
an advocate enrolled with the Bar Council of any State in India;
Copies of certificate of employment from the employer(s), specifying the period of such employment.
Financial statement / Income Tax Returns for the last three years.
Copy of certificate of professional membership with an insolvency professional agency.
2 Passport-size photos.
2 Cheques / DDS of Rs 11800/- (Rs 10,000 + 18% GST){one in the name Insolvency Professional Agency of ICAI and other in the name of Insolvency and Bankruptcy Board of India.}
A Cheque of Rs 5900/- (Rs 5000 + 18% GST) for Annual Membership Fees of Insolvency Professional Agency of Institute of Cost Accountants of India.
However, member enrolled with the Agency on or after 1st Oct till 31st march of every financial year shall pay half of the membership fees i.e Rs 2950/- (Rs 2500 + 18% GST).
2 Copies of Self Declaration, the format of the same is given in the Annexure I
Directors Identification Number (DIN). Applicant has to mention the DIN at the bottom of Self Declaration.
(In case the applicant does not hold DIN, a declaration in this respect must also be enclosed with Form A). Format of the aforesaid declaration is given in Annexure II.
2 Copies of CIBIL Report
(CIBIL Report is available through CIBIL. For any further details on the matter please refer to the following link:
as per the rate fixed by CIBIL an amount of Rs.550 for such score isrequiredto be paid by the applicant directly to them. Please pay the requisite fees and provide us the report).
2 Copies of GST Registration Certificate, if any. (Credit of GST amount paid shall only be given to registered individuals and Firm's GSTN shall not be taken into consideration).
Annexure I

SELF DECLARATION

Verification
Whether any disciplinary action is pending or has been taken at any time in the preceding three years against the professional member by the ICAI/ICSI/ICAI (Cost)/Bar Council. / No/Yes
Whether ICAI/ICSI/ICAI (Cost)/Bar Councilhas initiated any criminal proceeding against the professional member and is pending for disposal? / No/Yes
Whether the professional member had an unblemished service with the last employer if he was in employment? / No/Yes
Whether the name of the professional member appears in the databases of Ministry of Corporate Affairs regarding
i. Directors disqualified under section 164 of the Companies Act, 2013, or
ii. Proclaimed Offenders under section 82 of the Code of Criminal Procedure, 1973. / No/Yes
Whether the professional member has been penalised by a market regulator (SEBI and CCI) in the last three years? / Yes/No
Whether the name of professional member appears in the list of defaulters of RBI / Credit Information Company? / Yes/No


Directors Identification Number:

GST Registration Number:

Name

Signature

Annexure II

Page | 1