<Your Elevator Pitch Selling You/Your Business in 17 Words Or Less>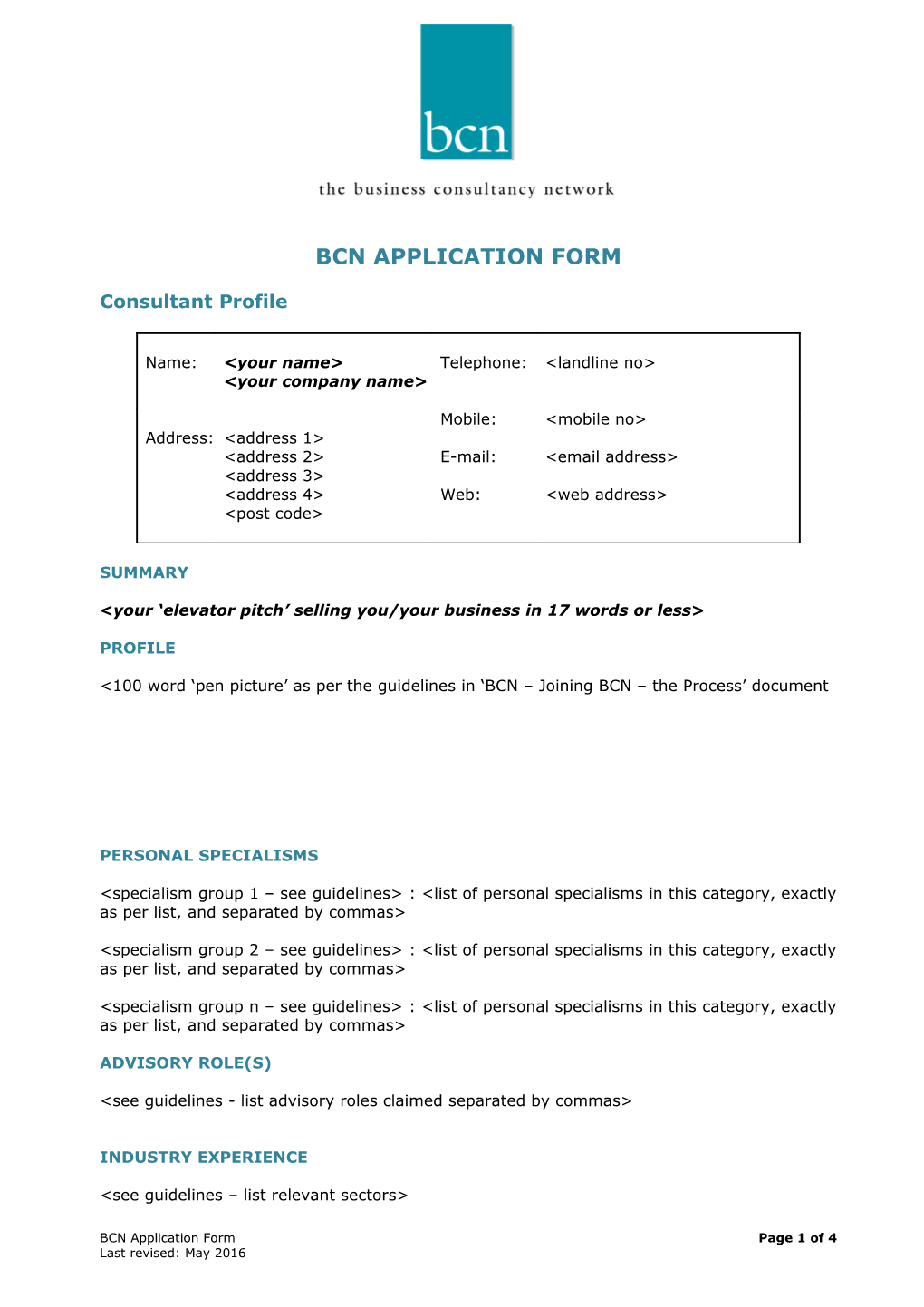 BCNAPPLICATION FORM

Consultant Profile

Name: / <your name>
<your company name / Telephone: / <landline no
Address: / <address 1>
<address 2>
<address 3>
<address 4>
<post code> / Mobile:
E-mail:
Web: / <mobile no
email address
web address


SUMMARY

<your 'elevator pitch' selling you/your business in 17 words or less>

PROFILE

<100 word 'pen picture' as per the guidelines in 'BCN – Joining BCN – the Process' document

PERSONAL SPECIALISMS

specialism group 1 – see guidelines> : <list of personal specialisms in this category, exactly as per list, and separated by commas>

specialism group 2 – see guidelines> : <list of personal specialisms in this category, exactly as per list, and separated by commas>

specialism group n – see guidelines> : <list of personal specialisms in this category, exactly as per list, and separated by commas>

ADVISORY ROLE(S)

<see guidelines - list advisory roles claimed separated by commas>

INDUSTRY EXPERIENCE

<see guidelines – list relevant sectors>

ORGANISATION SIZE EXPERIENCE

<see guidelines – list/describe the size of organisations you generally provide services to>

QUALIFICATIONS & TRAINING
<most senior/prestigious qualification – see guidelines>
<2nd most senior/prestigious qualification – see guidelines>
<etc>
<training courses etc if relevant – see guidelines>
PROFESSIONAL MEMBERSHIPS
<see guidelines – relevant memberships and details>
LANGUAGE ABILITY
<see guidelines – spoken and written business capability in languages other than English>
OVERSEAS EXPERIENCE
<see guidelines – any relevant overseas experience>
CAREER SUMMARY
1. <your company>
<see guidelines – free text but should include date established and a description of what your business does/provides and including examples/achievements as a bulleted list>
<example/achievement 1 ……>
<example/achievement 2……>
<example/achievement n ……>
2. <next most recent relevant organisation and dates worked there (2xxx-2xxx)
<if multiple positions held within one organisation they can be 'nested' within the overall organisation heading>
<these sections are free text but follow typical CV format for career history so describe the role and of course, list examples/achievements relevant to what your business is offering now…>
<example/achievement 1 ……>
<example/achievement 2……>
<example/achievement n ……>
3. <etc! (19xx-20xx)
<as you recede further into the past less detail is required, maybe just job roles and dates…>
<you do not need to give a history all the way back to your first job unless you want to – it is recent history that is most relevant to BCN and to prospective clients>
Remember that the complete profile must be no more than 2 pages…>
BCN - New Member's Commitment
What do you understand BCN to be?
Why do you wish to join BCN?
What do you have to offer BCN?
I wish to apply for membership of Business Consultancy Network (North West) and propose to demonstrate my commitment by the following:

Abiding by the BCN Code of Practice
Following the BCN Quality Policy
Payment of an annual fee on the due date
Attending and contributing to at least six of the ten business meetings per year
Giving an additional minimum of three days per year of my time to BCN
Agreeing that membership shall be subject to the terms of the Memorandum and Articlesof Associationof BCN,which is a company limited by guarantee.
Signed ………………………………………………
Full Name ......
Date ………………………..


BCN - Referees

Please provide the names and contact details of two client or professional referees. The BCN membership panel may contact these referees in order to clarify details relevant to your application.

Applicant Name
Position
Organisation
Phone
Email Address
BCN Sponsor Name
Organisation
Phone
Email Address
Referee 1 Name
Role
Organisation
Phone
Email Address
Postal Address
Relationship
Other Details
Referee 2 Name
Role
Organisation
Phone
Email Address
Postal Address
Relationship
Other Details


Page 1 of 4

BCN Application Form

Last revised: May 2016