To Allow the Ummah to Live Better Lives As Better Muslim Through New R&D Products and Services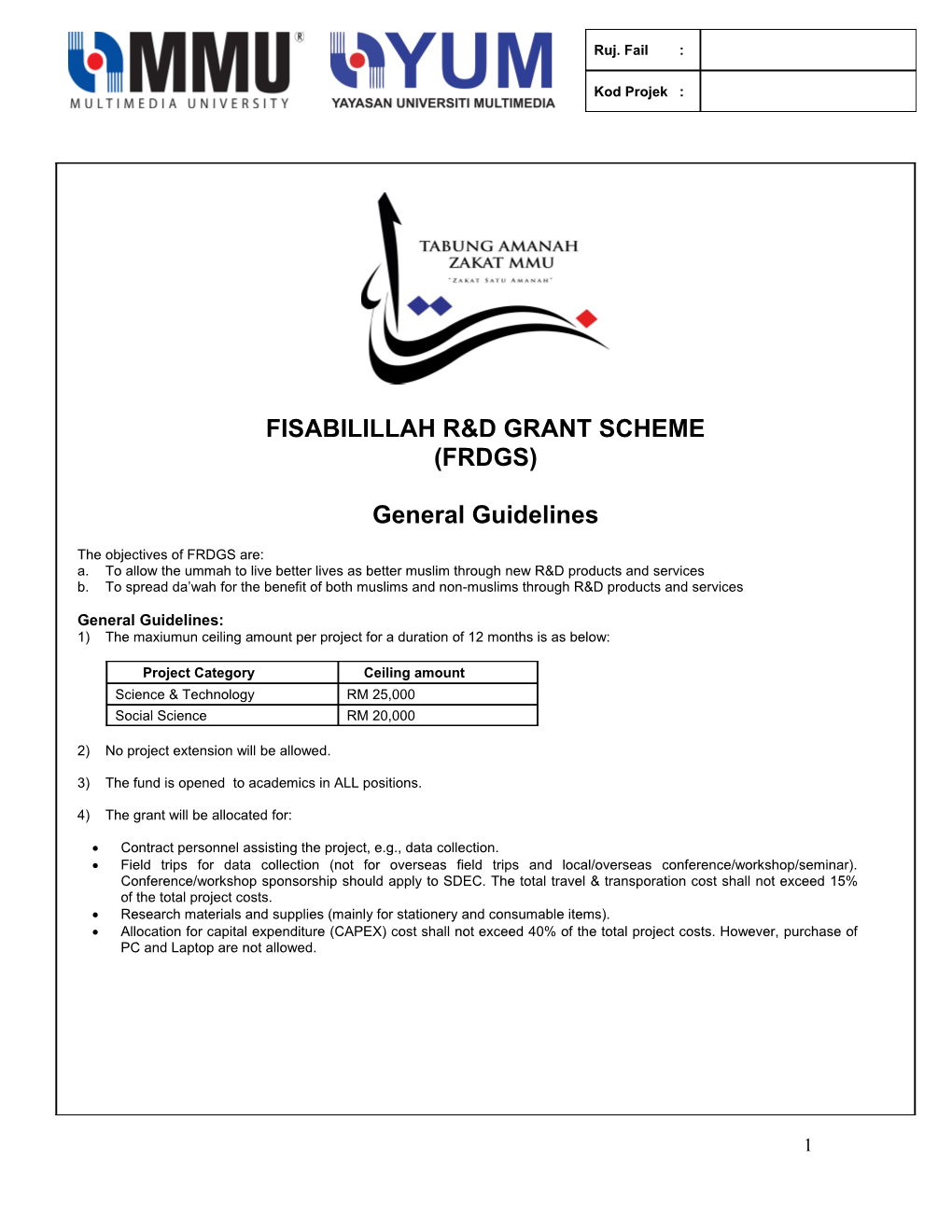 Ruj. Fail :
Kod Projek :

FISABILILLAH R&D GRANT SCHEME
(FRDGS)
General Guidelines
The objectives of FRDGS are:

To allow the ummah to live better lives as better muslim through new R&D products and services
To spread da'wah for the benefit of both muslims and non-muslims through R&D products and services
General Guidelines:
1)The maxiumun ceiling amount per project for a duration of 12 months is as below:
Project Category / Ceiling amount
Science & Technology / RM 25,000
Social Science / RM 20,000
2)No project extension will be allowed.
3)The fund is opened to academics in ALL positions.
4)The grant will be allocated for:

Contract personnel assisting the project, e.g., data collection.
Field trips for data collection (not for overseas field trips and local/overseas conference/workshop/seminar). Conference/workshop sponsorship should apply to SDEC. The total travel & transporation cost shall not exceed 15% of the total project costs.
Research materials and supplies (mainly for stationery and consumable items).
Allocation for capital expenditure (CAPEX)cost shall not exceed 40% of the total project costs. However, purchase of PC and Laptop are not allowed.

FISABILILLAH R&D GRANT SCHEME
(FRDGS)
APPLICATION FORM
A / TITLE OF PROPOSED PROJECT:
B / DETAILS OF PROJECT LEADER
B(i) / Name of Project Leader:
B(ii) / Faculty:
Position:
Research Centre:
B(iii) / Office Telephone No.: Fax No.:
Handphone No:
B(iv) / E-mail Address:
B(v) / Type of Service (Please circle):

Permanent Contract (State contract expiry date): ------
C / RESEARCH INFORMATION
C(i) / Project category(Please tick ( √ ): Please choose only ONE category
Science and Technology Social Science
C(ii) / Research Domain(Please tick ( √)): Please choose only ONE area
Engineering IT Creative Multimedia
Social Science
C(iii) / Duration of this research (Maximum period is 12months)
Duration:
From :
(dd/mm/yyyy)
To :
(dd/mm/yyyy)
C(iv) / Co-Researchers:
Bil / Name / Faculty/
Academic Centre / Research Centre / Designation / Signature
1
2
3
4
5
C(vii) / Executive Summary of Research Proposal (maximum 300 words)
(Please include the background of research, literature reviews, objectives, research methodology and expected outcomes from the research project)
C(viii) / Detailed proposal of research project:
(a)Research background including Hypothesis /Research Questions and Literature Reviews.
(b) Objective(s) of the Research
(c) Methodology
Please state in the form

Description of Methodology
Flow Chart of Research Activities ( Please enclose in the Appendix)
Gantt Chart of Research Activities (Please enclose in the Appendix)
Milestones and Dates
Milestones / Date (dd/mm/yyyy)
(d) Significance of project to Muslim community in MMU
D / BUDGET
Please indicate your estimated budget for this research and details of expenditure according to the guidelines attached.
Budget details
(Please specify in details) / Amount requested by applicant
(RM) / Amount recommended by RMC
(RM) / Amount recommended by JAZ R&D Panel
(RM)
D(i) / Salary and wages
* For appointment of Research Assistant/Helper Assistant (part time only)
* Total cost should include epf & socso contribution from fund(employer).
D(ii) / Travel and Transportation
*Total cost shall not exceed 15% of the total project costs.
D(iii) / Rental
D(iv) / Research Materials and Supplies
D(v) / Maintenance and Minor Repair Services
D(vi) / Accessories and Equipment CAPEX)
Allocation for capital expenditure (CAPEX) cost shall not exceed 40% of the total project costs
TOTAL AMOUNT
D / DECLARATION
I, certify that all information presented in this proposal is my own work as named in this application.
Date: Project Leader's Signature (with stamp):
E / RECOMMENDATION BY RMC
Please tick ( √ )

B. Recommended
C. Not Recommended
Name: Signature:
Director RMC
Date:
F / RECOMMENDATION BY FRDGS REVIEW PANEL
Please tick ( √ )
A. Recommended

B. Not Recomended (pls specify reasons)
General Comments:
------
------
------
------
Name: Signature:
Chairperson of JAZ R&D panel
Date:
G / APPROVAL BY JAZ
Please tick ( √ )
A. Approved

B. Not Approved (pls specify reasons) ------
Name: Signature:
Chairperson of JAZ
Date:


1