The Robin Hood Open, 5Th and 6Th Oct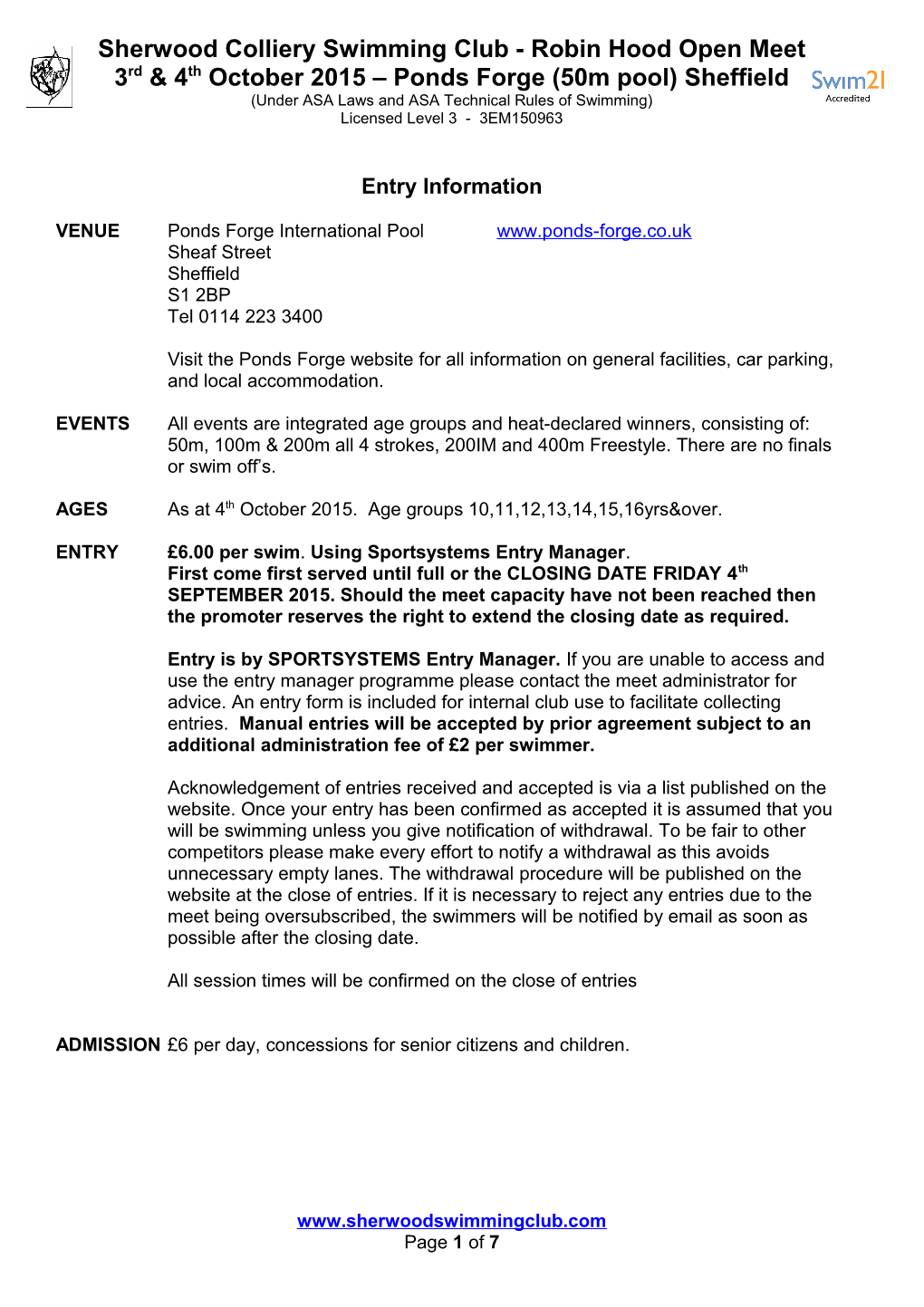 Sherwood Colliery Swimming Club - Robin Hood Open Meet

3rd & 4th October 2015 – Ponds Forge (50m pool) Sheffield

(Under ASA Laws and ASA Technical Rules of Swimming)
Licensed Level 3 - 3EM150963

Entry Information

VENUEPonds Forge International Pool

Sheaf Street

Sheffield

S1 2BP
Tel 0114 223 3400

Visit the Ponds Forge website for all information on general facilities, car parking, and local accommodation.

EVENTSAll events are integrated age groups and heat-declared winners, consisting of:

50m, 100m & 200m all 4 strokes, 200IM and 400m Freestyle. There are no finals or swim off's.

AGESAs at 4th October 2015. Age groups 10,11,12,13,14,15,16yrs&over.


ENTRY£6.00 per swim. Using Sportsystems Entry Manager.

First come first served until full or the CLOSING DATE FRIDAY4th SEPTEMBER 2015. Should the meet capacity have not been reached then the promoter reserves the right to extend the closing date as required.

Entry is by SPORTSYSTEMS Entry Manager.If you are unable to access and use the entry manager programme please contact the meet administrator for advice. An entry form is included for internal club use to facilitate collecting entries. Manual entries will be accepted by prior agreement subject to an additional administration fee of £2 per swimmer.

Acknowledgement of entries received and accepted is via a list published on the website. Once your entry has been confirmed as accepted it is assumed that you will be swimming unless you give notification of withdrawal. To be fair to other competitors please make every effort to notify a withdrawal as this avoids unnecessary empty lanes. The withdrawal procedure will be published on the website at the close of entries. If it is necessary to reject any entries due to the meet being oversubscribed, the swimmers will be notified by email as soon as possible after the closing date.

All session times will be confirmed on the close of entries

ADMISSION£6 per day, concessions for senior citizens and children.

AWARDSAwards will be made to the three fastest swimmers in each age group per event.

These are not presented and may be collected when the results for that event have been confirmed.

Returnable trophies are presented to theTop Boys Team, Top Girls Team

and overall Top Team. Each trophy may be kept for one year, after which it must

be returned. The Robin Hood Trophy will be presented to the Top Male swimmer and the Maid Marion Trophy to the top female swimmer, these trophies may be kept indefinitely. These awards are all based on the finishing positions in each event scoring 10 points for 1st place to 1 point for 10th place.

WARM-UPSupervised warm-up sessions will take place before each competition session. Continuous warm-up and swim-down will be available in the diving pit, except for designated times when the diving club take priority.

POOLSIDEPasses must be applied for in advance using the forms provided. For insurance and child-protection purposes all applicants for passes must be ASA registered clubmembers and DBS checked.

RESULTSResults will be posted live to the internet during the meet and will be available to download and print at the end of each session.

DE PHOTODE photo are the official photographers for this event which is by its nature in the public arena. By entering this event the swimmers and parents are acknowledging this fact which may result in the recording of his/her image.

CONTACTEmail

RHO Meet 2015, 8 Sheaf Place, Worksop, Notts S81 7LE
Cheques payable to 'Sherwood Colliery Swimming Club'

PAYMENTPayment may be made by cheque payable to 'Sherwood Colliery Swimming Club' or BACS by email request.

Please read this information in conjunction with the 'Promoters Conditions'

Meet Schedule

All start times and warm-up procedures to be confirmed on close of entries

All Events are 10yrs/Over.

Saturday Session 1–Warm-up from 8:00am Start 9:00am


101 / Boys 400 Free
102 / Girls 200 IM
103 / Boys 50 Back
104 / Girls 50 Back
105 / Boys 100 Breast
106 / Girls 100 Breast
107 / Boys 200 Fly


Saturday Session 2 -- Start (to be advised based on entry level


201 / Boys 200 Breast
202 / Girls 200 Back
203 / Boys 50 Fly
204 / Girls 100 Free
205 / Boys 100 Free
206 / Girls 50 Fly
207 / Boys 200 Back


Sunday Session 3–Warm-up from 8:00am Start 9:00am


301 / Girls 400 Free
302 / Boys 200 IM
303 / Girls 50 Free
304 / Boys 100 Fly
305 / Girls 100 Fly
306 / Boys 50 Free
307 / Girls 200 Breast


Sunday Session 4 -- Start (to be advised based on entry level)


401 / Girls 200 Free
402 / Boys 200 Free
403 / Girls 50 Breast
404 / Boys 100 Back
405 / Girls 100 Back
406 / Boys 50 Breast
407 / Girls 200 Fly


Qualifying Standards 25m Pool

Level 3 Licensed Meet - ALL TIMES ARE UPPER LIMITS (i.e. not faster than)
BOYS
EVENT / 10 / 11 / 12 / 13 / 14 / 15 / 16/over
50m Freestyle / 31.1 29.629.29.631.129.6 / 29.6 29.629.29.631.129.6 / 27.9 / 26.6 / 25.6 / 24.8 / 24.4
100m Freestyle / 1:07.8 / 1:03.9 / 59.8 / 56.8 / 54.8 / 53.6 / 52.6
200m Freestyle / 2:26.1 / 2:18.0 / 2:09.8 / 2:03.4 / 1:59.0 / 1:56.4 / 1:54.3
400m Freestyle / 5:07.2 / 4:47.7 / 4:31.7 / 4:19.5 / 4:11.6 / 4:05.8 / 4:01.8
50m Breaststroke / 41.0 / 38.5 / 36.1 / 33.8 / 32.5 / 31.4 / 30.7
100m Breaststroke / 1:29.3 / 1:22.7 / 1:17.2 / 1:12.3 / 1:09.5 / 1:07.3 / 1:05.9
200m Breaststroke / 3:10.6 / 2:57.4 / 2:46.6 / 2:36.7 / 2:30.2 / 2:26.1 / 2:23.8
50m Butterfly / 34.9 / 32.8 / 31.1 / 29.3 / 28.1 / 27.1 / 26.6
100m Butterfly / 1:19.6 / 1:12.5 / 1:07.6 / 1:03.6 / 1:00.8 / 58.8 / 58.0
200m Butterfly / 2:54.0 / 2:38.3 / 2:28.8 / 2:20.5 / 2:14.6 / 2:09.1 / 2:07.7
50m Backstroke / 36.0 / 34.1 / 32.3 / 30.4 / 29.4 / 28.4 / 27.6
100m Backstroke / 1:18.3 / 1:12.3 / 1:08.0 / 1:04.1 / 1:01.4 / 59.5 / 58.5
200m Backstroke / 2:44.0 / 2:33.8 / 2:25.0 / 2:17.2 / 2:11.7 / 2:08.1 / 2:06.1
200m Individual Medley / 2:48.1 / 2:36.8 / 2:27.9 / 2:20.7 / 2:14.6 / 2:11.2 / 2:09.2
GIRLS
EVENT / 10 / 11 / 12 / 13 / 14 / 15 / 16/over
50m Freestyle / 31.4 / 30.0 / 28.6 / 27.9 / 27.5 / 27.1 / 26.9
100m Freestyle / 1:09.0 / 1:04.3 / 1:01.0 / 59.6 / 58.6 / 58.0 / 57.5
200m Freestyle / 2:26.5 / 2:18.4 / 2:11.0 / 2:07.6 / 2:05.9 / 2:04.4 / 2:03.6
400m Freestyle / 5:11.3 / 4:47.2 / 4:32.4 / 4:26.0 / 4:22.7 / 4:19.4 / 4:18.9
50m Breaststroke / 41.0 / 38.5 / 36.4 / 35.2 / 34.5 / 34.0 / 33.8
100m Breaststroke / 1:29.6 / 1:22.5 / 1:18.0 / 1:15.1 / 1:13.0 / 1:12.4 / 1:12.3
200m Breaststroke / 3:10.2 / 2:56.9 / 2:47.2 / 2:41.1 / 2:37.7 / 2:36.3 / 2:35.9
50m Butterfly / 34.8 / 33.1 / 31.4 / 30.5 / 29.9 / 29.4 / 29.3
100m Butterfly / 1:19.3 / 1:12.6 / 1:08.2 / 1:06.2 / 1:04.6 / 1:04.1 / 1:03.8
200m Butterfly / 2:56.0 / 2:39.8 / 2:29.4 / 2:24.4 / 2:20.9 / 2:18.8 / 2:18.3
50m Backstroke / 35.9 / 34.0 / 32.5 / 31.6 / 31.0 / 30.7 / 30.4
100m Backstroke / 1:18.1 / 1:12.3 / 1:08.2 / 1:06.2 / 1:05.1 / 1:04.1 / 1:03.8
200m Backstroke / 2:45.1 / 2:32.5 / 2:25.0 / 2:21.5 / 2:19.2 / 2:16.9 / 2:15.9
200m Individual Medley / 2:47.4 / 2:36.3 / 2:28.2 / 2:24.7 / 2:22.1 / 2:20.5 / 2:19.8


ENTRY MANAGER NOTES
Download and install the Entry Manager program from the website links. Once installed the application can remain on your computer and used for other meets that use Sportsystems entry files. It is important to check for updates before proceeding.
Full instructions can be found within the program under 'Help'
------
CLUB ENTRY
Run the program and configure for your club.
Download the entry file set for the meet and import into Entry Manager.
Download the valid swimmers file for your club.
Enter your swimmers by selecting them from the list which appears when you start to 'add' swimmers, this ensures compatibility with the ASA membership database and ranking system.
The 'Get Times' button can be used to get the current times for the swimmer from GB Ranking. The best time in the last 12 months will be populated, this includes converted times where necessary.
Times entered that do not satisfy the entry standard, will be flagged 'Y' (yellow). These times cannot be used and will be automatically rejected when the swimmer is saved in the entry file. After downloading times from GB ranking then also click on any non required 'Y' (green) swims and these will change to 'N' (red), before saving.
------
INDIVIDUAL OR FAMILY ENTRY
As for club entry but is not necessary to download the valid swimmer file. Simply set the organisation to be your club, then go to add entries and simply key in your ASA registration number and click 'Get Member'
------
Entry forms are supplied for club use to facilitate collection of swimmers details but when using entry manager are not required to be submitted. The entry forms are a word document which can be edited to suit your club, or you may chose to use your own. Whichever way you decide it is important to keep a record of your entries.
If entering swimmers with a disability the S, SB & SM classes should appear automatically. If this does not happen then make sure you are using the latest version of entry manager.

If editing a previously saved swimmer you must make sure that the entries are correct before saving again.
When all the entries have been entered and checked use the report features to print your entries and calculate the total cost. Then 'export' the file and return to the meet administrator by email.
The exported file is located in the "C:\SPORTSYS\SSENTRY\EXPORT" folder and will have a file name similar to:
RHmeet15_WOKA_20150630-021421.sez (Meaning MeetCode_Club_Date-Time.sez )
Return this file by email attachment to the published email address.
Finally send payment with a copy of the printout from Entry Manager to the meet administrator.
PROBLEMS? EMAIL FOR ADVICE.

THIS FORM IS FOR INTERNAL CLUB USE / MANUAL ENTRIES


Surname: / Given Name:

ASA Reg. No:
/
Date of Birth:
Email:
/
Phone:
Eventnumber / M / F / Entry times
(or tick if these are to be downloaded from
GB Ranking)
50m freestyle / 306 / 303
100m freestyle / 205 / 204
200m freestyle / 402 / 401
400m freestyle / 101 / 301
50m backstroke / 103 / 104
100m backstroke / 404 / 405
200m backstroke / 207 / 202
50m breaststroke / 406 / 403
100m breaststroke / 105 / 106
200m breaststroke / 201 / 307
50m butterfly / 203 / 206
100m butterfly / 304 / 305
200m butterfly / 107 / 407
200m individual medley / 302 / 102
Total number of events ______at £6.00 per event / £
If submitted on paper to the Robin Hood Meet then add an administration fee £2:00 / £
Total / £


Return the entry form via your club coordinator


(This form may be edited - Insert your club information here)
COACHES' PASS APPLICATION FORM
Club______
Please reserve:______coaches' passes Saturday at £10.00 = £ ______
______coaches' passes Sunday at £10.00 = £ ______

Payment £______(may be included with entry fees)

All passes must be requested and paid for in advance, additional passes will not be sold at the gala. In accordance with ASA guidelines for child protection please list below the names of all coaches or team managers who will use the passes. Only one person per pass may be on the poolside at any one time.

It is the Clubs responsibility to make sure that anyone using a pass is a club member and DBS checked.

Name / ASA Number / DBS Number

Signed ______
Position______
Passes will be available on the day.
Please collect at the entranceto the pool deck
Page 1 of 7