The Medical and Dental Practitioners Council of Zimbabwe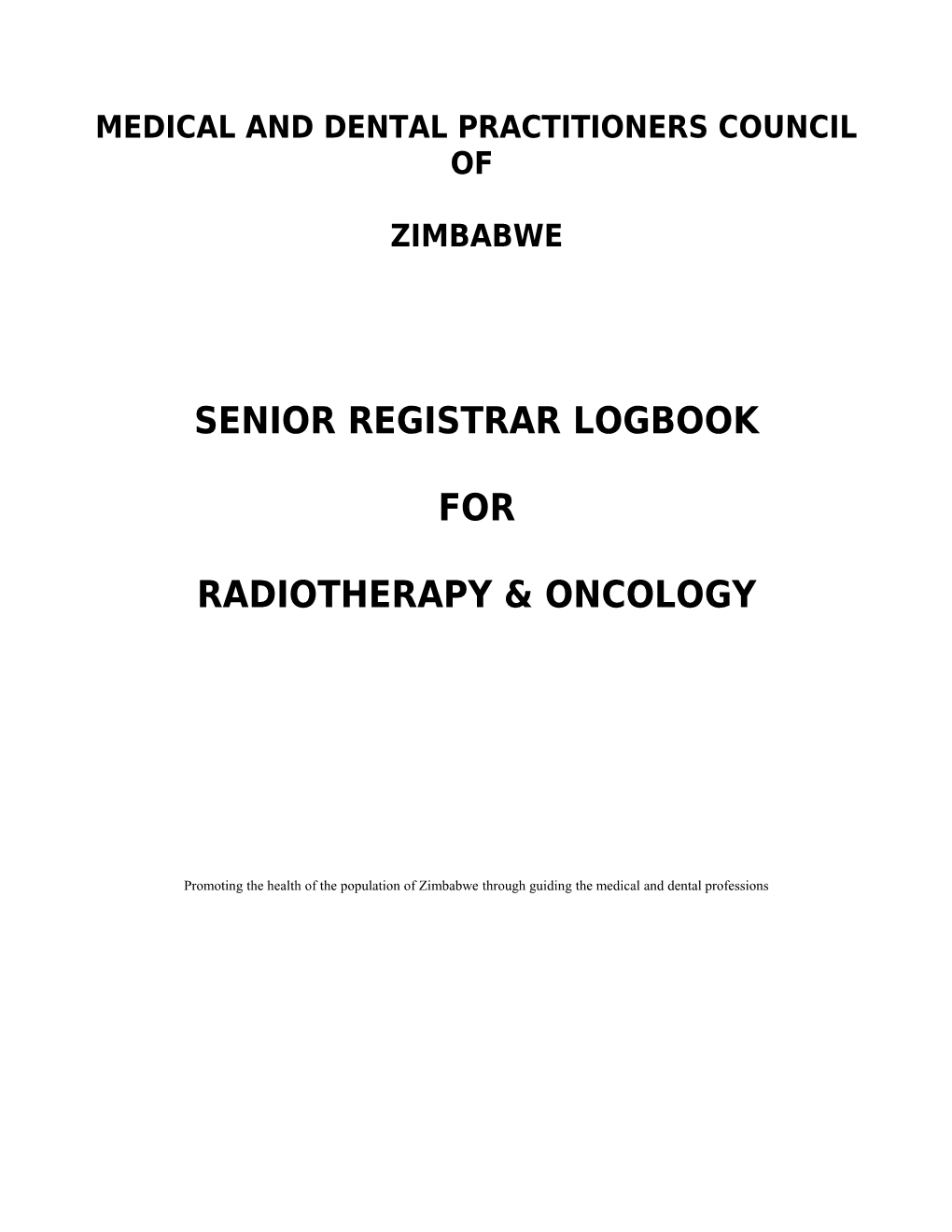 MEDICAL AND DENTAL PRACTITIONERS COUNCIL OF

ZIMBABWE

SENIOR REGISTRAR LOGBOOK

FOR

RADIOTHERAPY & ONCOLOGY

Promoting the health of the population of Zimbabwe through guiding the medical and dental professions

PERSONAL DETAILS

SURNAME…………………………………………………

FORENAMES(BLOCK LETTERS)

MDPCZ REGISTRATION NUMBER:

DATE OF BIRTH

(DD/MM/YY)

Registered address

EMAIL ADDRESS

Date of Commencing SR supervised Training ……………………………...

Name of training Institution ………………………………………

Institutions & Periods/Dates

1

2

3

4

Date of Assessment......

Names of Assessors: Dr......

Designation......

DR......

Designation......

I certify that I have checked and verified this Logbook

……………………………………………………………......

Date Dean of

Promoting the health of the population of Zimbabwe through guiding the medical and dental profession

Preamble

As a regulator Council has a statutory responsibility of assisting in the promotion of the health of the Zimbabwean public by ensuring high standards of medical education and practice.

The Council has a duty to ensure that the public of Zimbabwe receives quality care. The following guidelines have been developed to guide recently qualified Specialists both locally and abroad seeking specialist registration with the Council.

Requirements for Specialist Registration

Recently qualified practitioners Masters in Medicine (M Meds) or any approved specialist qualification by the Council upon successful completion of their specialist degree programmes are required to undertake 12 months Senior Registrar (SR) supervised practice in an approved teaching Designated Health Institution by the Council. The Senior Registrar programme is an accredited year of training intended to broaden both clinical acumen and knowledge base with a view of preparing for autonomous practice as a Consultant. Thus each Specialty has prescribed for itself areas, with Council input and approval, a set of generic and specific competencies that it feels forms a sound basis for lifelong development and practice as a safe Consultant.

In this regard, a SR is mandated to fulfill the requirements of their respective log book.

This must be duly signed by the respective supervising Consultant and submitted to the Council together with two 6 monthly reports from and signed by the respective Clinical Director and two supervising Consultants from their respective Specialty.

Where not specified in the logbook, a SR must show evidence of:

1)Participation in ongoing regular unit meetings(pathology, radiology, oncology etc)

2)Active in regular departmental audit meetings,

3)Active in clinical research and teaching activities.

4)At least 5 supervised clinical contact sessions a week , while optimally having no more than 20 percent unsupervised work load(surgical disciplines to have one independent list/week)

GENERIC FORMAT FOR PRE-REGISTRATION REQUIREMENTS SENIOR REGISTRAR

Personal Attributes / Strengths / Areas Of Improvement / Score

Presentation
Personal/physical appearance

Communication
Patient, relatives and any other interested parties.
Effective verbal skills. Present ideas and information concisely. Inspires confidence in colleagues. Keeps others well informed etc
 Interpersonal relations
Work colleagues and superiors

Management
Planning and Organization
Sets goals and priorities. Plans ahead and utilizes resources effectively. Ability to meet deadlines and monitor tasks.

Judgement
Considers pros and cons before making decisions. Considers risks. Considers impact of decisions and seeks advice.

Leadership
Effectively manages situations and implements changes when required. Motivates, coordinates, guides and develops subordinates through actions and attitudes.

Ethics
Observance of both the patient's and the doctor's rights. Considers the ethical impact of decisions. Demonstrates actions and attitudes of integrity.

Reliability
Can achieve goals without supervision. Dependable and trustworthy.

Quality of Work
Achieves high quality of work that meets requirements of the job.

Quantity of Work
Achieves or exceeds the standard amount of work expected on the job.

Initiative
A self-starter. Provides solutions to problems.

Cooperation
Willingness to work with others as a team member

Assessment by other disciplines
Professional conduct, reliability and quality of work.

Participation in clinical audit, clinical governance and Continuous Professional Development
Teaching
Junior medical and dental staff. Nurses and other health professionals.

Research
Participation in ongoing research.

Others



Score 1 – 5

1 is the worst score and 5 is the best score. Meet candidate quarterly and discuss strengths and areas of improvement. Consolidate with rating from other departments for overall score.

SECTION 2:Activities to be done;

Part I – Procedures that need to be done during the 1st quarter of the senior registrar year

Date of Assessment: ……………………………………………………………………………………

Name of Assessor: ……………………………………………………………………………………..

Activities
Poor / Satisfactory / Good / Excellent / Not done
Outpatient clinics: New patients, Review and SIM clinics
Ward round attendance and participation
Chemotherapy Administration
Brachytherapy
Chart round attendance and participation
Journal Club attendance and participation
MDT meetings attendance and participation


Any additional comments:

Signed: …………………………………………………… Date: ……………………………………

Part II – Procedures that need to be done during the 2ndquarter of the senior registrar year

Date of Assessment: ……………………………………………………………………………………

Name of Assessor: ……………………………………………………………………………………..

Activities
Poor / Satisfactory / Good / Excellent / Not done
Outpatient clinics: New patients, Review and SIM clinics
Ward round attendance and participation
Chemotherapy Administration
Brachytherapy
Chart round attendance and participation
Journal Club attendance and participation
MDT meetings attendance and participation


Any additional comments:

Signed: …………………………………………………… Date: ……………………………………

Part III – Procedures that need to be done during the 3rd quarter of the senior registrar year

Date of Assessment: ……………………………………………………………………………………

Name of Assessor: ……………………………………………………………………………………..

Activities
Poor / Satisfactory / Good / Excellent / Not done
Outpatient clinics: New patients, Review and SIM clinics
Ward round attendance and participation
Chemotherapy Administration
Brachytherapy
Chart round attendance and participation
Journal Club attendance and participation
MDT meetings attendance and participation


Any additional comments:

Signed: …………………………………………………… Date: ……………………………………

Part IV – Procedures that need to be done during the 4th quarter of the senior registrar year

Date of Assessment: ……………………………………………………………………………………

Name of Assessor: ……………………………………………………………………………………..

Activities
Poor / Satisfactory / Good / Excellent / Not done
Outpatient clinics: New patients, Review and SIM clinics
Ward round attendance and participation
Chemotherapy Administration
Brachytherapy
Chart round attendance and participation
Journal Club attendance and participation
MDT meetings attendance and participation


Any additional comments:

Signed: …………………………………………………… Date: ……………………………………

SECTION 3: Procedures to be done;

Patient Management Log Book:

A. RADIOTHERAPY TREATMENT

Minimum 50 Patients

1. Breast cancer

SCORING KEY

Score 1 – 5

1 is the worst score and 5 is the best score. Meet candidate quarterly and discuss strengths and areas of improvement. Consolidate with rating from other departments for overall score.

Name of Patient and File Number / DATE / Diagnosis and Treatment Intent any previous Treatment / Simulation/Treatment Technique/Planning and Prescription / Patient Outcome / Supervisor Score and Signature
1. / Mrs A. Faith
12/2003 / 10/05/13 / Breast Cancer Stage T2 N1 M0
Post MRM and 6 cycles of CAF / Simulated and Treatment planning done;
Prescribed 45Gy/20#/4weeks @ 2Gy/# / Completed RT
Treatment well-tolerated
2.
3.
4.
5.


2. Gynaecological cancers

(Cervix, Uterus, Vulva, Ovary)

Name of Patient and File Number / DATE / Diagnosis and Treatment Intent any previous Treatment / Simulation/Treatment Technique/Planning and Prescription / Patient Outcome / Supervisor Score and Signature
1. / Mrs A. Faith
12/2003 / 10/05/13 / Breast Cancer Stage T2 N1 M0
Post MRM and 6 cycles of CAF / Simulated and Treatment planning done;
Prescribed 45Gy/20#/4weeks @ 2Gy/# / Completed RT
Treatment well-tolerated
2.
3.
4.
5.


3. Thorax- Lung Cancer

Name of Patient and File Number / DATE / Diagnosis and Treatment Intent any previous Treatment / Simulation/Treatment Technique/Planning and Prescription / Patient Outcome / Supervisor Score and Signature
1. / Mrs A. Faith
12/2003 / 10/05/13 / Breast Cancer Stage T2 N1 M0
Post MRM and 6 cycles of CAF / Simulated and Treatment planning done;
Prescribed 45Gy/20#/4weeks @ 2Gy/# / Completed RT
Treatment well-tolerated
2.
3.
4.


4. Gastrointestinal Cancers

Esophagus, Gastric, Rectal, Anal Cancers

Name of Patient and File Number / DATE / Diagnosis and Treatment Intent any previous Treatment / Simulation/Treatment Technique/Planning and Prescription / Patient Outcome / Supervisor Score and Signature
1. / Mrs A. Faith
12/2003 / 10/05/13 / Breast Cancer Stage T2 N1 M0
Post MRM and 6 cycles of CAF / Simulated and Treatment planning done;
Prescribed 45Gy/20#/4weeks @ 2Gy/# / Completed RT
Treatment well-tolerated
2.
3.
4.
5.


5. Head and Neck/ENT Cancers

Lip and Oral Cavity, Oropharynx, Hypopharynx, Nasopharynx, Larynx, Paranasal Sinus Cancers, Salivary Glands

Name of Patient and File Number / DATE / Diagnosis and Treatment Intent any previous Treatment / Simulation/Treatment Technique/Planning and Prescription / Patient Outcome / Supervisor Score and Signature
1. / Mrs A. Faith
12/2003 / 10/05/13 / Breast Cancer Stage T2 N1 M0
Post MRM and 6 cycles of CAF / Simulated and Treatment planning done;
Prescribed 45Gy/20#/4weeks @ 2Gy/# / Completed RT
Treatment well-tolerated
2.
3.
4.
5.


6. Urological Cancers and Male Genital Cancers

Kidney, Bladder, Prostate, Penile and Testis

Name of Patient and File Number / DATE / Diagnosis and Treatment Intent any previous Treatment / Simulation/Treatment Technique/Planning and Prescription / Patient Outcome / Supervisor Score and Signature
1. / Mrs A. Faith
12/2003 / 10/05/13 / Breast Cancer Stage T2 N1 M0
Post MRM and 6 cycles of CAF / Simulated and Treatment planning done;
Prescribed 45Gy/20#/4weeks @ 2Gy/# / Completed RT
Treatment well-tolerated
2.
3.
4.
5.


7. Skin Cancers and Melanoma

Name of Patient and File Number / DATE / Diagnosis and Treatment Intent any previous Treatment / Simulation/Treatment Technique/Planning and Prescription / Patient Outcome / Supervisor Score and Signature
1. / Mrs A. Faith
12/2003 / 10/05/13 / Breast Cancer Stage T2 N1 M0
Post MRM and 6 cycles of CAF / Simulated and Treatment planning done;
Prescribed 45Gy/20#/4weeks @ 2Gy/# / Completed RT
Treatment well-tolerated
2.
3.
4.
5.


8. Bone and Soft Tissue Tumours

Name of Patient and File Number / DATE / Diagnosis and Treatment Intent any previous Treatment / Simulation/Treatment Technique/Planning and Prescription / Patient Outcome / Supervisor Score and Signature
1. / Mrs A. Faith
12/2003 / 10/05/13 / Breast Cancer Stage T2 N1 M0
Post MRM and 6 cycles of CAF / Simulated and Treatment planning done;
Prescribed 45Gy/20#/4weeks @ 2Gy/# / Completed RT
Treatment well-tolerated
2.
3.
4.
5.


9. Adult Neurological Tumours (PNS and CNS)

Name of Patient and File Number / DATE / Diagnosis and Treatment Intent any previous Treatment / Simulation/Treatment Technique/Planning and Prescription / Patient Outcome / Supervisor Score and Signature
1. / Mrs A. Faith
12/2003 / 10/05/13 / Breast Cancer Stage T2 N1 M0
Post MRM and 6 cycles of CAF / Simulated and Treatment planning done;
Prescribed 45Gy/20#/4weeks @ 2Gy/# / Completed RT
Treatment well-tolerated
2.
3.
4.
5.


10. Paediatric Malignancies

Name of Patient and File Number / DATE / Diagnosis and Treatment Intent any previous Treatment / Simulation/Treatment Technique/Planning and Prescription / Patient Outcome / Supervisor Score and Signature
1. / Mrs A. Faith
12/2003 / 10/05/13 / Breast Cancer Stage T2 N1 M0
Post MRM and 6 cycles of CAF / Simulated and Treatment planning done;
Prescribed 45Gy/20#/4weeks @ 2Gy/# / Completed RT
Treatment well-tolerated
2.
3.
4.
5.


11. Lymphoreticular Malignancies and Myeloma

Name of Patient and File Number / DATE / Diagnosis and Treatment Intent any previous Treatment / Simulation/Treatment Technique/Planning and Prescription / Patient Outcome / Supervisor Score and Signature
1. / Mrs A. Faith
12/2003 / 10/05/13 / Breast Cancer Stage T2 N1 M0
Post MRM and 6 cycles of CAF / Simulated and Treatment planning done;
Prescribed 45Gy/20#/4weeks @ 2Gy/# / Completed RT
Treatment well-tolerated
2.
3.
4.
5.


12. Kaposi Sarcoma

Name of Patient and File Number / DATE / Diagnosis and Treatment Intent any previous Treatment / Simulation/Treatment Technique/Planning and Prescription / Patient Outcome / Supervisor Score and Signature
1. / Mrs A. Faith
12/2003 / 10/05/13 / Breast Cancer Stage T2 N1 M0
Post MRM and 6 cycles of CAF / Simulated and Treatment planning done;
Prescribed 45Gy/20#/4weeks @ 2Gy/# / Completed RT
Treatment well-tolerated
2.
3.
4.
5.


13. Brachytherapy

Name of Patient and File Number / DATE / Diagnosis and Treatment Intent any previous Treatment / Procedure/Treatment Technique/Planning and Prescription / Patient Outcome / Supervisor Score and Signature
1. / Mrs A. Faith
12/2003 / 10/05/13 / Cervical Cancer Stage IIB
On Chemoradiation / Brachytherapy Procedure and planning- Brief description
7Gy to Point A, once a week x 3 insertion / Completed
Treatment well-tolerated
2.
3.
4.
5.


RADIOTHERAPY TREATMENT Overall Comments:

Supervisor 1:

DATE: ………………… NAME: ……………………………..…..SIGNATURE: ………………………………………..

……………………………………………………………………………………………………………………………………………………………………………………………………………………………………………………………………………………….....

……………………………………………………………………………………………………………………………………………………………………………………………………………………………………………………………………………………….....

……………………………………………………………………………………………………………………………………………………………………………………………………………………………………………………………………………………….....

Supervisor 2:

DATE: ………………… NAME: ……………………………..…..SIGNATURE: ………………………………………..

……………………………………………………………………………………………………………………………………………………………………………………………………………………………………………………………………………………….....

……………………………………………………………………………………………………………………………………………………………………………………………………………………………………………………………………………………….....

……………………………………………………………………………………………………………………………………………………………………………………………………………………………………………………………………………………….....

B. SYSTEMIC THERAPY: Chemotherapy/Hormonal and Targetted Therapy Treatment

Minimum 30 Patients

Name of Patient and File Number / DATE / Diagnosis and Treatment Intent any previous Treatment / Regimes and prescription(BSA) / Patient Outcome / Supervisor Score and Signature
1. / Mrs A. Faith
12/2003 / 10/05/13 / Breast Cancer Stage T2 N1 M0
Post MRM
Radical Treatment / AC x4  Tx4 (BSA 1.6)
AC = Doxorubicin 60mg/m2 (100mg) and cyclophosphamide 600mg/m2 (1000mg) Day 1 every 21 days for 4 cycles followed by 4 cycles of Taxotere 100mg/m2 Day 1 every 21 days for 4 cycles / Completed 8 cycles of chemotherapy; Well-tolerated
2.
3.
4.
5.
6.
7.
8.
9.
10
11
12
13
14
15
16
17
18
19
20
21
22
23
24
25
26
27
28
29
30


Systemic Therapy Overall Comments:

Supervisor 1:

DATE: ………………… NAME: ……………………………..…..SIGNATURE: ………………………………………..

……………………………………………………………………………………………………………………………………………………………………………………………………………………………………………………………………………………….....

……………………………………………………………………………………………………………………………………………………………………………………………………………………………………………………………………………………….....

……………………………………………………………………………………………………………………………………………………………………………………………………………………………………………………………………………………….....

Supervisor 2:

DATE: ………………… NAME: ……………………………..…..SIGNATURE: ………………………………………..

……………………………………………………………………………………………………………………………………………………………………………………………………………………………………………………………………………………….....

……………………………………………………………………………………………………………………………………………………………………………………………………………………………………………………………………………………….....

……………………………………………………………………………………………………………………………………………………………………………………………………………………………………………………………………………………….....

IF THERE ARE ANY UNFILLED AREAS, THE CHAIRPERSON OF THE DEPARTMENT SHOULD PROVIDE JUSTIFICATION.

Overall assessment by Chairperson Department of Radiology

Registrable …………………………………………………………………………………………………………………..

Extend Assessment by six months:………………………………………………………………………………….

Non Registrable………………………………………………………………………………………………………………

Recommendation by Association of Radiologists

Registrable……………………………………………………………………………………………………………………

Non registrable…………………………………………………………………………………………………………….

1