Summary of Simulation Results for the Sensing Techniques by Topic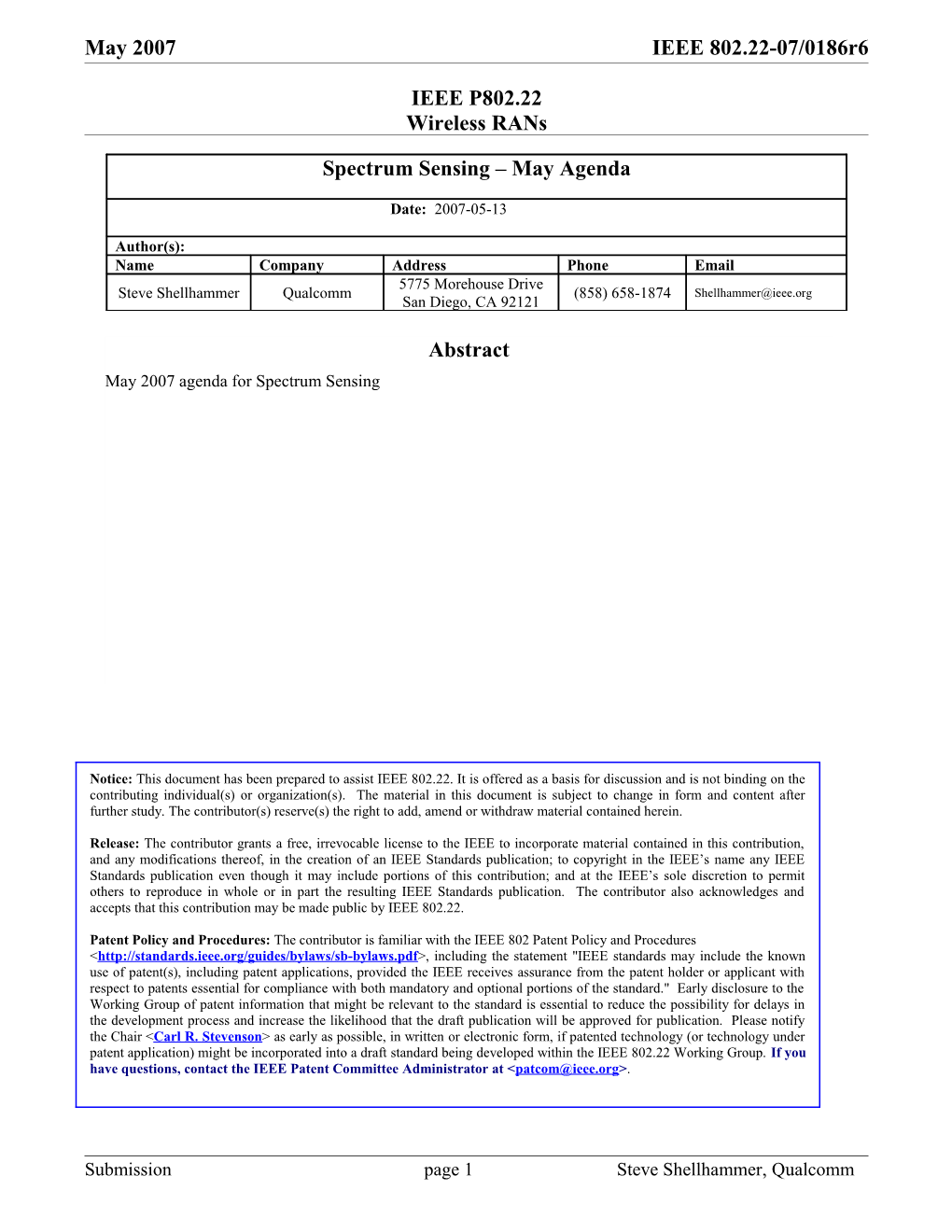 May 2007IEEE 802.22-07/0186r6

IEEE P802.22
Wireless RANs

Spectrum Sensing – May Agenda
Date: 2007-05-13
Author(s):
Name / Company / Address / Phone / Email
Steve Shellhammer / Qualcomm / 5775 Morehouse Drive
San Diego, CA92121 / (858) 658-1874 /

Sensing Meeting Times
Monday PM2
Tuesday AM1
Wednesday AM1
Summary of Simulation Results for the Sensing Techniques by Topic

Topic / Speaker / Doc Num / Duration
Summary of simulation results for the various sensing techniques / Gerald Chouinard / 30 min


Brief Review of Sensing Techniques by Topic and Vote on Each Technique
Each presenter will be given either 5 minutes or 20 minutes.
If the presenter does not have any new simulation results then the presenter will be given 5 minutes to summarize the sensing technique.
If the presenter has new simulation results they will be given 20 minutes to present those new results and summarize their sensing technique.
Anyone requiring 20 minutes for their presentation should notify Steve Shellhammer, or you will only be given 5 minutes for your presentation.
After the summary presentation there will be two votes
A vote asking the question "Do you have enough information to vote on this sensing technique?" This is a procedural vote requiring a simple 50% majority.
If the first vote passes then the next question will be "Should this sensing technique be included in the informative annex?" This is a technical vote requiring a 75% super majority.
Updates to the informative annex in the draft will be handled by submitting a technical comment during the WG letter ballot. So if the text for the sensing technique needs to be updated or added to the informative annex that will be handled with a letter ballot comment.

Energy /Power Detection / Speaker / Doc Num / Duration
Energy Detection / Steve Shellhammer / 802.22-06/75r0
802.22-06/134r0 / 5 min
Eigenvalue-based sensing techniques / Yonghong Zeng / 20 min
Multi-resolution spectrum sensing / Kyutae Lim / 802.22-07/143r0 / 5 min
Vote / 5 min
PN Sequence Based Techniques / Speaker / Doc Num / Duration
Signature based sensing algorithms / Wen Gao / 802.22-07/132r0 / 5 min
DTV Signal Sensing Using The PN511 Sequence / Monisha Ghosh / 802.22-07/126r0 / 5 min
An ATSC Detector using Peak Combining / Steve Shellhammer / 802.22-06/243r5 / 5 min
Vote / 5 min
Pilot Detection Based Techniques / Speaker / Doc Num / Duration
DTV Signal Sensing Using Pilot Detection / Monisha Ghosh / 802.22-07/125r0 / 20 min
Vote / 5 min
Spectrum Based Techniques / Speaker / Doc Num / Duration
Covariance-based sensing technique / Yonghong Zeng / 20 min
Simulation Results for Spectral Correlation Sensing with Real DTV Signals / Soo-Young Chang / 802.22-07/34r1 / 5 min
Vote / 5 min
Cyclostationary Based Techniques / Speaker / Doc Num / Duration
Cyclostationary-based sensing / Wen Gao / 802.22-07/133r0 / 5 min
Vote / 5 min
OFDM Feature Based Techniques / Speaker / Doc Num / Duration
DVB-T Sensing / Soo-Young Chang / 802.22-06/127r3 / 5 min
Vote / 5 min
Techniques for Detection During Reception / Speaker / Doc Num / Duration
Interference Detection Using Preambles for Sensing / Soo-Young Chang / 802.22-07/32r1 / 5 min
Orthogonal Interference Detection for Sensing / Soo-Young Chang / 802.22-07/33r1 / 5 min
Vote / 5 min


Harmonization of Sensing and MAC Text

Title / Speaker / Doc Num / Duration
Proposed modifications to MAC text to harmonize with sensing text / Carlos Cordeiro and David Cavalcanti / 802.22-07/207 / 60 min


Discussion Topics

Title / Speaker / Doc Num / Duration
Discussion on how to simulate Noise Uncertainty / All
Discussion on how to combine simulation results from multiple files (average, worst case, other). / All
Discussion on Distributed Sensing / All
Discussion on whether quieting is required on adjacent channels when sensing / All


Submissionpage 1Steve Shellhammer, Qualcomm