Special Education Support Service (SESS)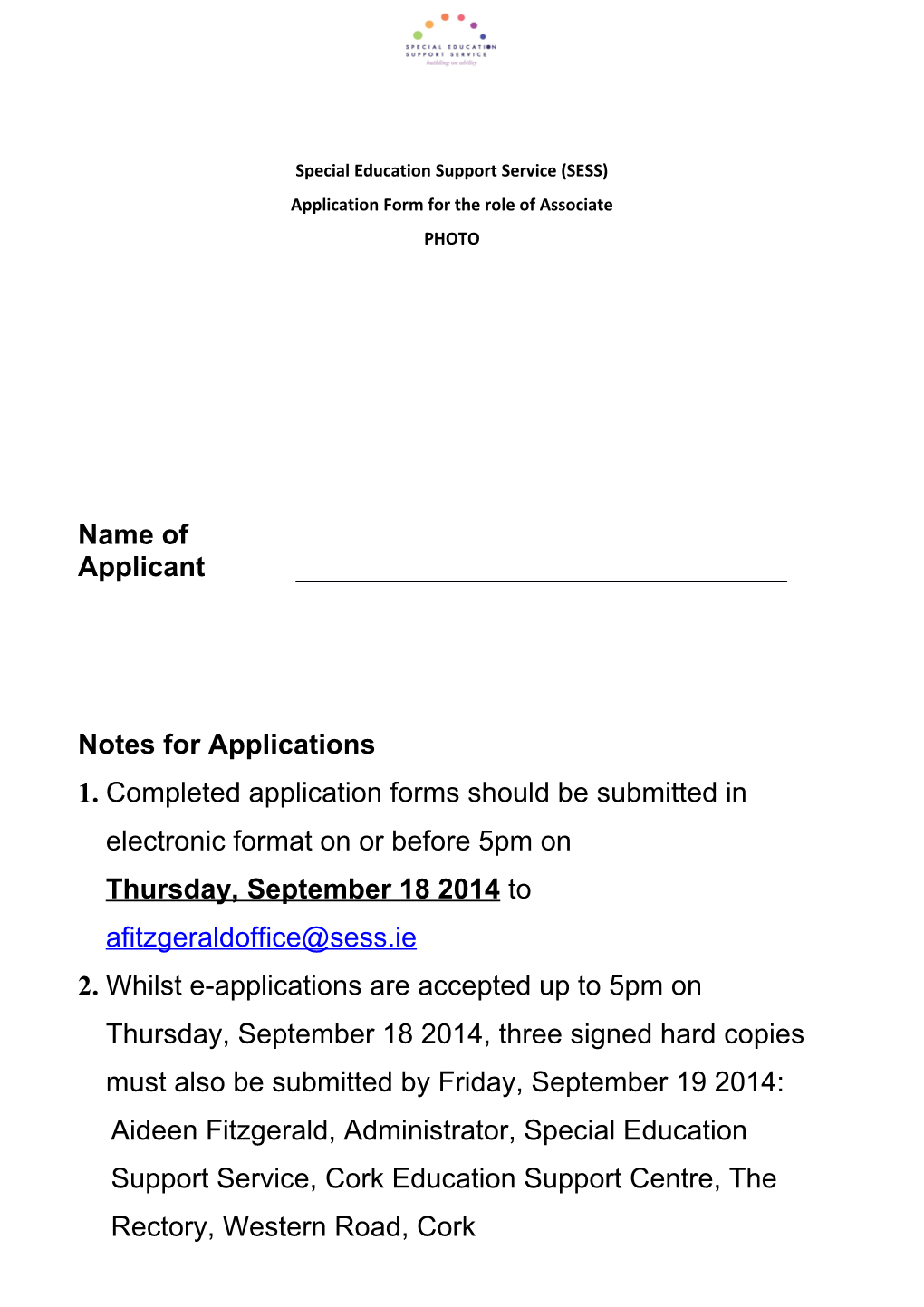 Special Education Support Service (SESS)
Application Form for the role of Associate
PHOTO
Name of Applicant
Notes for Applications
Completed application forms should be submitted in electronic format on or before 5pm on
Thursday, September 18 2014to
Whilst e-applications are accepted up to 5pm on Thursday, September 18 2014, three signed hard copies must also be submitted by Friday, September 19 2014:
Aideen Fitzgerald, Administrator, Special Education Support Service, Cork Education Support Centre, The Rectory, Western Road, Cork
Tel: 021 4254241
Late or incomplete applications will not be accepted.
Receipt of completed application forms will be acknowledged by e-mail.
If you have a disability which requires reasonable adjustments at the selection interview, or which needs to be taken into account when considering your application, please let us know.
Cork Education Support Centre is an equal opportunities employer.

For Office Use Only
Date Received
Application Number

Personal Details

Name
Address
Teaching Council No.
Education Sector (per Teaching Council Registration)
Telephone Numbers / Home / Mobile
E-Mail
Driving Licence (please tick) / Full Licence / Provisional Licence

Current Employment Status
2(A) Employer/School Details

Employer / School Name
Address
Roll Number
Telephone Number
Position (Principal, Deputy Principal, Learning Support Teacher, Subject Teacheretc)
Category (Primary, Post Primary, Special School, Third Level, other)
Employment Status
Only full time post holders or applicants that are retired less than two years from 01/09/2014 are eligible to apply for a part-time position as an SESS Associate
If Special Duty / Post-holder, please specify duties.

Competency in Irish – please indicate by ticking a box, as appropriate

Excellent / Very Good / Average / Poor

Qualifications, including post-graduate

Year(s) / Title / College / Major Subject(s)

Brief description of specialist experience you may have in any area(s) of Special Educational Needs.

Area of Specialist Expertise / Relevant Experience in the area listed
:

Employment Experience
6(A)School Experience

Teaching Role / School Name(s) / No. of Years
Class/SubjectTeacher in Mainstream School (s)
Class teacher in Special School (s)
Learning Support/Resource Teacher
Deputy Principal
Principal
Other (please specify)


6(B) Experience of working in an education setting other than a classroom

Setting Type / Details

Association with professional groups/teacher networks

Group / Brief Details of Role


Please respond to the following questionsin no more than 250 words per question

8. Outline how your leadership skills in the areas listed below were applied in the context of past and current employment. Please state also how these skills may be applied to the role of SESS Associate.

Skills
Innovation
Communication
Motivation


9. Outline how your management skills in the areas listed below were applied in the context of past and current employment. Please state also how these skills may be applied to the role of SESS Associate.

Skills
Planning
Organising
Monitoring


10. Outline how your ICT skills were applied in the context of past and current employment with particular reference to Teaching / Learning and Administration / Planning

Include relevant experience in the following areas:

-General ICT Skills

-Assistive Technology (AT)

-Web Authoring / Web-based Support

-eLearning Design

Teaching / Learning
Administration / Planning


11. Provide details of your experience and main achievements in the organisation, design and/or delivery of continuing professional development (CPD).

12. References – please provide details of two people from whom references may be obtained.

Contact Details – Referee 1

Referee's Name
Address
Telephone Numbers
E-Mail


Contact Details – Referee 2

Referee's Name
Address
Telephone Numbers
E-Mail


SESS / CESC reserve the right to seek additional or alternative referees if deemed appropriate.

I hereby certify that all information provided on this application form is true and correct:

Signature of Applicant
Date


1