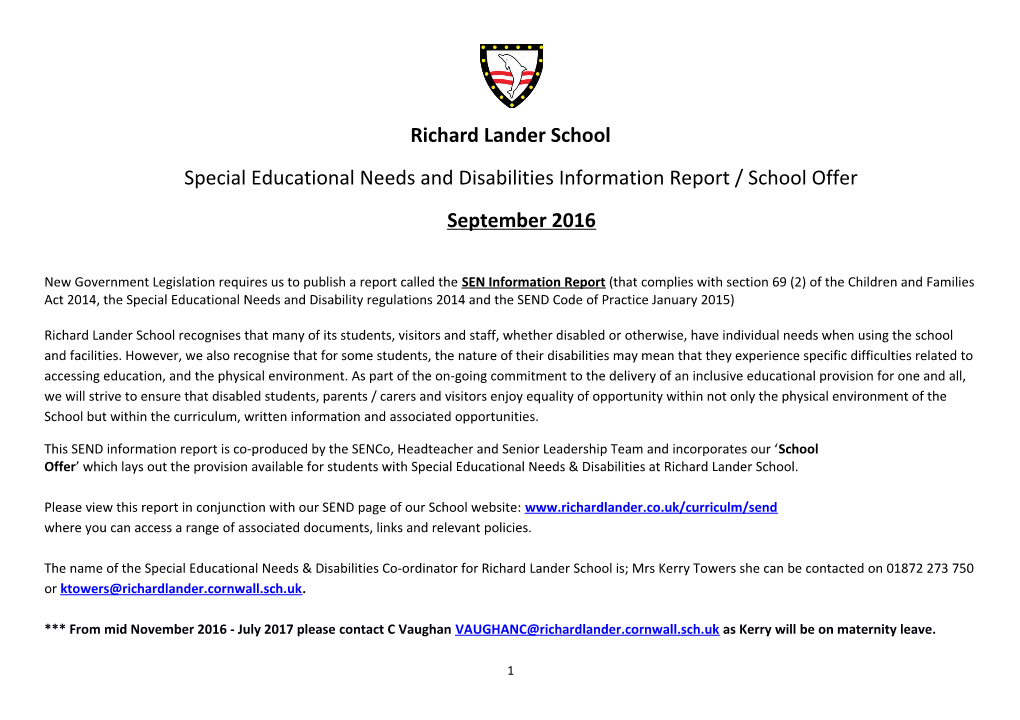 Richard Lander School

Special Educational Needs and Disabilities Information Report / School Offer

September 2016

New Government Legislation requires us to publish a report called the SEN Information Report(that complies with section 69 (2) of the Children and Families Act 2014, the Special Educational Needs and Disability regulations 2014 and the SEND Code of Practice January 2015)

Richard Lander School recognises that many of its students, visitors and staff, whether disabled or otherwise, have individual needs when using the school and facilities. However, we also recognise that for some students, the nature of their disabilities may mean that they experience specific difficulties related to accessing education, and the physical environment. As part of the on-going commitment to the delivery of an inclusive educational provision for one and all, we will strive to ensure that disabled students, parents / carers and visitors enjoy equality of opportunity within not only the physical environment of the School but within the curriculum, written information and associated opportunities.

This SEND information report is co-produced by the SENCo, Headteacher and Senior Leadership Team and incorporates our 'School

Offer' which lays out the provision available for students with Special Educational Needs & Disabilities at Richard Lander School.

Please view this report in conjunction with our SEND page of our School website:

where you can access a range of associated documents, links and relevant policies.

The name of the Special Educational Needs & Disabilities Co-ordinator for Richard Lander School is;Mrs Kerry Towers she can be contacted on 01872 273 750 or .

*** From mid November2016 - July 2017 please contact C Vaughan as Kerry will be on maternity leave.

The levels of support and provision offered by Richard Lander School:September 2016

Our School Offer: September 2016 / Whole School Approaches.
The Universal offer to all our children / young people. / Additional Targeted support and provision offer. / Specialist Individualised support and provision offer.
1: The Curriculum. /
A broad and balanced curriculum is offered to all students.
Inclusive teaching strategies.
Specialist teaching staff.
Streamlined options route tailored to students' ability and needs.
/
Tailored timetables and curriculum provisions which include some small group work / interventions.
Specific literacy intervention programmes.
Specific numeracy intervention programmes.
/
Personalised timetables as appropriate.
Access to ASDAN, Entry Level Functional Skills accredited qualifications as appropriate.
Alternative provision options at Truro College / Duchy College, local Short Stay School providers / external provisions.

2: Teaching and Learning. /
Dyslexia Friendly School status.
Use of ICT across curriculum.
Differentiated tasks matched to ability.
Termly progress reports and wider assessments such as BFL's (Behaviour for Learning measures)
Praise and Reward systems embedded across school.
Clear and consistent behaviour policy embedded across school.
Variety of individual paired and group tasks.
SEND initial concern referral form.
Whole staff SEND training and information sharing.
SEND representatives in all departments.
SEND bulletin with regular updates for whole staff.
/
Individual Learning Passports.
Coloured papers, coloured exercise books, coloured overlays, where appropriate.
Individual ICT options encouraged, e.g. coloured screen changer, where appropriate.
Laptops for student use, where appropriate.
Strategies for specific needs distributed.
TA support across lessons, where appropriate.
Regular record keeping, tracking and assessment.
/
Small group provision, where appropriate.
Learning resource support centre (LRSC) including our Nurture provision.
1:1 TA support, where appropriate.
Class teacher / tutor / TA attendance at EHCP Annual Reviews to inform planning.
Specialist resources and equipment.
Outreach support and advice from Special Schools if required.
Support from partner / external agencies. (see page 7, 8 & 9)

3: Self-Help skills and independence. /
Personal Social Health Education (PSHE) standalone curriculum/ embedded across all curriculum areas of school.
Student Leaders / Subject leaders / Lead Learners scheme.
Focus on independent learning skills.
Access to the LRSC (Learning resources support centre) for private study and Hmk completion.
Variety of independent and group tasks.
Independent home study / Show My Homework.
Wide variety of extra- curricular activities.
School nurse drop in and referral system.
School counsellor referral system.
School Accessibility plan.
Work experience programme.
DDA compliance policies in place.
/
Small group interventions with clear success criteria.
Student Support pastoral support team.
Positive behaviour plans which include time out cards, time in the Nurture provision, adapted curriculum as appropriate.
Specific programmes to develop students' confidence, attitudes to learning, discrete groups.
Differentiated tasks.
Careers South West (CSW) in school targeted support.
/
Practical assistance for physically impaired / disabled students.
Supported access to extra-curricular activities, where appropriate.
Break and lunchtime supervision, where appropriate.
Individualised rewards / incentives scheme.
Referrals to external agencies / community groups and social inclusion schemes.

4: Health, wellbeing and emotional support. / Listening to and responding to Children and Young People. /
Student Support pastoral support team.
Pastoral managers for each year group.
Dedicated Safeguarding officer.
Personal Social Health Education (PHSE) curriculum.
Vertical tutor group system, peer mentors.
Praise and reward system.
Head Boy / Head Girl / Student leaders' scheme / School Council.
Wide variety of extra- curricular activities.
Focus on in school rewards.
Assemblies.
Inter Community Sports / Sports Day.
School nurse drop in and referral system.
School counsellor referral system.
Healthy School's status
Weekly Student led respect group.
/
Positive behaviour plans including time out cards, time in our Nurture area, adapted timetables.
Careers South West (CSW) targetedin school support.
Referrals to partner agencies (see page 7, 8 & 9)
/
Student access to meet with key worker as required.
Students are supported in person centred planning with specific targets and measurable outcomes.
Common Assessment framework referrals (CAF process)
Team around the Child (TAC) meetings.
Child in Need (CHIN) meetings.
Child Protection meetings (CP)
Annual Review / EHCP meetings.
Regular contact with parents and carers as required.
Referrals to external partner agencies such as CAMHS and Educational Psychologists etc.
(See page 7, 8 & 9 for full details.)
5: Social Interaction opportunities. /
Wide variety of weekly extra- curricular activities.
Curriculum Enrichment Week.
Curriculum department trips, home and abroad.
Vertical tutor groups.
Work Experience.
Inter community sports / Sports day.
School Production: involving students across all Key Stages / ability ranges.
Cathedral Carol Service.
Celebration of Achievement evening.
Sports presentation evening.
Young enterprise.
Year 11 entertainment.
Summer Fun in the Sun.
Year 10 Work Experience.
Year 11 Leavers' Ball.
/
Small group social skills programme.
Behaviour support interventions.
Supervised break and lunch times as appropriate.
Supervised small group activities within tutor time as appropriate.
1-1 support at break and lunchtime as required, including access to extra- curricular activities and trips.
LRSC including our Nurture provision.
/
Referrals to community groups and social inclusion schemes.
Individual adaptations to timetables to allow for integrated working with others.
External support groups.
Phoenix Project Scheme.
White Gold mentoring.
The 'Thrive' approach.
1-1 break and lunchtime support as required, including access to extra- curricular activities and trips.
LRSC including our Nurture provision.
6: The physical environment.
Accessibility
Safety
Positive learning environment
/
DDA compliance policies in place.
School site risk assessments.
In school risk assessments reviewed annually with external H&S adviser.
Trained outdoor education officer with oversight of risk assessments for all trips and visits.
Building management via Interserve/ In house site manager.
School nurse drop in and referral system.
School counsellor referral system.
Qualified teachers in all specialist subjects.
First Aid Team.
Safeguarding Team.
Student Support Pastoral Team.
Anti-Bullying policy.
Single equality scheme in place.
Equality and Diversity Policy.
SEND Policy.
ARB Safety Plan.
Intimate care & safe touch policy.
Use of restrictive physical intervention methods policy.
Displays and success images in classrooms and corridors.
Lift maintained and accessible with student pass.
Structured rules for moving around the building.
Duty staff.
Separate staff and student entrances and exits.
/
Skilled management of medical needs: Epilepsy, Diabetes, Allergies etc.
Epilepsy student diaries.
Liaison with medical professionals.
Fire safety PEEPS (Personal Education Evacuation Plans) both for ARB and individual students as required.
Regular meetings with SENDCo and Medical officer, Safeguarding team, Student Support and Heads of Community.
Team Teach trained staff.
Team around the child professionals meetings.
/
Specialist mobility equipment.
Liaison with external professionals e.g. the equipment loan store.
Care plans jointly written with medical professionals and parents / carers.
1:1 TA support as required.
TA support where relevant for access to disabled facilities, physiotherapy and intimate personal care.
Individual behaviour management plans.
Individual student's Risk Assessments.

7: Transition from year to year / setting to setting. /
Meeting with year 6 teachers / parents and students within transition visits to feeder primary schools.
Year 6 induction days.
Heads of Community for all 4 pastoral communities.
Pastoral Manager for all year groups.
IAG (Information Advice and Guidance) for all students in year 9 with regards to options / KS4 in relation to College preference.
Year 10 College taster days.
Year 10 Work Experience.
Year 11 College transition assemblies / visits / interviews.
Year 11 College applications completed through PHSE curriculum.
/
Enhanced transition for vulnerable students as identified by Primary School staff.
Enhanced transition for vulnerable year 11 students as identified in house.
CSW individual support available for vulnerable year 11's.
Tailored in house IAG for vulnerable students.
Liaison with Truro College and Duchy College and Career South West regarding appropriate vocational courses / provision.
Learning Passport review meetings with Parent / Carer, SENDCO and key worker.
SENDCo termly review of all SEND students' progress
/
Tailored transition package for vulnerable yr. 6/ yr. 11 students.
Liaison with feeder SENDCo, year 6 teacher, parents and carers regarding transition support.
RLS SENDCo requests to attend all year 6 EHCP annual reviews.
Links with local further education providers, who also attend all EHCP Annual Reviews of year 11 students to aid transition.
Careers South West (CSW) involved in transition of students on EHC Plans from year 11 onwards.
Enhanced / extra college transition visits for year 11 vulnerable students and those on EHC Plans.

8: Partnership with parents and carers. /
Year 6 Open Evening.
Year 7 Parent information Evening.
Year 7 meet the tutor Cheese and Wine evening.
Termly progress and behaviour for learning reports to parents.
Parents' Evenings.
SENDCO available at all above events.
Parent questionnaire given out at parents' evening.
Weekly Bulletin.
School Website.
SIMS InTouch communication via email / text message.
Sports Day.
Sports presentation evening.
Celebration of Achievement.
School Production.
Cathedral Carol Service.
/
Parental meetings with, Assistant Head Teachers, Head of Communities and Pastoral support managers as appropriate.
Parental Meetings with SENDCO as appropriate.
Parental meetings with Tutor on request.
SEND information letter to year 6 Parents / Carers.
In house Educational Welfare Officer Involvement.
Safeguarding officer liaison.
Police Liaison Officer Involvement.
Learning Passport review meetings with Parent / Carer, SENDCO and key worker.
/
EHCP Annual Reviews.
Common Assessment framework referrals (CAF process)
Team around the Child (TAC) meetings.
Child in Need (CHIN) meetings.
Child Protection meetings (CP)
Email updates and communication with SENDCo / Tutor / Head of Community / Pastoral Manager.
SEND Parental questionnaire / Coffee Mornings.
SEND parental engagement learning sessions.
ARK fundraiser events.
ARK in the Park (summer holiday) events.
Signposting to the Care in Cornwall (Cornwall Family Information Service) website / SENDIASS team and other appropriate external agencies.



Services and external organisations we work with:

Organisation / What they do in brief / Contact details
Autism Spectrum Team / The Autism Spectrum Team is aservice supporting young people with autism. / 01872 323022
Behaviour Support Service / The Education Behaviour Support Service (BSS) offers frontline support with pupils and helps build capacity in schools to support challenging behaviour. / 0300 1234 100
CAMHS / Child and Adolescent Mental Health Services (CAMHS), support children and young people up to the age of 18. / 01872 221 400
Careers South West / Careers South West become involved with your child at their Year 11 EHCPTransition Review.
CSW begins to outline to parents/carers and young people the options available to them when they leave KS4 education. /
0800 9755 111

Cornwall Dyslexia Association / Support the needs of dyslexic children and young people in education and adults in the workplace. / 01872 222 911
County Transport Team / Arrange home/school transport. Work in conjunction with the school to produce an up to date risk assessment of each child to inform travel plan. / 0300 1234 100
External Providers:
BF Adventure: Developing students' confidence, self-esteem independence.
CLEAR: Support for Domestic Violence.
Dreadnought: Support for students with emotional well-being, anger management issues.
Jigsaw:A programme that aims to help children, young people, parents and carers who have alleged sexual abuse.
Kooth:Award winning online counselling for 11-25 year olds.
Penhaligon's Friends: Support for students who have suffered bereavement.
Phoenix Project: Fire and Rescue Service scheme based on team work and communication skills.
SHARE Mentors: Information and guidance service for young people aged 13-15 years.
White Gold: Mentoring service helping young people back into education, training and mainstream society. / Please contact the school SENDCo: Mrs K Towers in first instance should you require any advice or guidance regarding these external providers.
01872 273 750
Early Help Hub / A skilled team of professionals from Cornwall's Integrated Health and Children's Services. They process referrals and gather further relevant information from Cornwall Partnership NHS Foundation Trust, Education and Council records. The Hub works in partnership with: Family Information Service (FIS), Cornwall Partnership NHS Foundation Trust (CFT) Care Management Centre (CMC), and the Multi Agency Referral Unit (MARU), to ensure that the right support, information and guidance is offered The parent and professional are both informed of the outcome / 01872 322277


Educational Psychologists / Educational Psychologists are specialists in learning, behaviour and child development.They work directly with children and young people as well as providing expert advice to their parents and carers, andother adultswho teach and support them. / 01872 322888
HSS
Hearing Support Service / The teacher for hearing impaired pupil's work on a needs based service. The teacher undertakes hearing tests each term and recommendations are made to the class teacher which outlines appropriate strategies to be used within the classroom. / 01726 61004
S.A.L.T
Speech and Language Therapy Service / The Speech and Language Therapy Team works with children, young people and their families in order to help children who have difficulties with communication or with eating, drinking and swallowing. / 01208 834488
SENDIASS
Special Educational Needs and Disabilities Information Advice & Support Service / Information, advice, support and training for young people and parents / carers of children with SEND (0-25).The service is confidential, independent, impartial and free. / 01736 751921
SEND Assessment and Provision Team
Cornwall Council / The admissions process for an Area Resource Base (ARB) is via aneducation, health and care (EHC) statutory assessmentor through the information and evidence gathered at anannual review meeting. The decision about allocation of these places is the responsibility of theSpecial Educational Needs Resource Panel(SERP). / 01872 324242
Social Care / Children's Social Workers practice across an extensive range of services to help and support children, young people and their families throughout the county.
In each area of Cornwall there are the Early Help and Protection Services which include

2 Early Help Locality Teams
3 Children in Need Teams
2 Child Protection Teams
1 Child in Care Team
Contacts and Referrals are made through the Early Help Hub and our Multi-Agency Referral Unit (MARU) for social care provision. / Truro Children's Social Care office:
0300 1234 101
WhenSocial Care offices are closed you can call
01208 251 300 (for emergenciesonly)
VSS
Vision Support Service / The Vision support service works with children and young people (0-25 years) with a diagnosed visual impairment in their homes, early year's settings and schools to enable them to overcome barriers to their education caused by their vision loss. /


For more information about these and other organisations of support in Cornwall follow this link to theCare in Cornwall website (previously the Family Information Service, FIS)

Answers to Frequently asked Questions:
How does your school know if children need extra help and what should I do if I think my child may have special educational needs?
We follow the guidelines as set out in the SEND Code of Practice, which recommends a graduated approach with a system of Assess, Plan, Do and Review.
KS2 assessments forwarded to RLS in the summer term of year 6. This will advise appropriate curriculum provisions and setting arrangements where necessary.
Further information on SEND is transferred to the SENDCo during the induction visits in the spring and summer terms of year 6.
Opportunities for parents and carers to make appointments with SENDCo prior to induction.
SENDCo attendance at all EHCP Annual Review transfer meetings in the year 6 summer term.
Parents who feel their children may need specific support beyond this are advised to make contact with the SENDCo, please visit our website for more details.
SEND initial concern form, completed by teachers and sent to SENDCo to review.
Who is responsible for the progress and success of my child in school?
All teachers are responsible for the progress of their individual classes.
Form tutors support the overall academic progress of their tuteesvia annual progress reviews, tutor reports and parents evenings.
SENDCo responsible for the oversight of progress of SEND students.
Assistant Headteacher's have the responsibility and oversight of all students in their key stage including SEND students.
Raising standards leader (RSL) has specific oversight of progress of KS4 students.
How will the curriculum be matched to my Childs needs?
KS2 SATS data plus SEND information will be used to guide appropriate placement across the curriculum; including those subjects which are setted.
Depending on need, small group provision may be given to students with regard to developing literacy, numeracy and organisational skills.
Specific dyslexia support is offered to identified students.
Accredited pathways may be offered at a staged approach through KS3 and KS4 depending on need.This may include a vocational pathway at KS4.
Specific IAG (Information Advice and Guidance) is given to SEND students at transition points from Y11 onwards regarding GCSE options and transition to further education.
How will I know how my child is doing and how will you help me to support my child's learning?
Communication with form tutor.
Termly progress reports and BFL's sent home to parents.
Further reports on behaviour for learning sent home for each year group each term.
Merit reports are sent home on a weekly basis.
Homework is accessible to parents via 'Show My Homework' website and parents informed if homework is incomplete in any subject.
Specific Parent Evenings are organised at key points. This includes: Year 7 Induction Evening, Year 7 Literacy/Numeracy evening, and GCSE Maths/English evening.
Parents able to contact class teacher, SENDCo or year group pastoral manager with regard to further updates on their children's learning, or further support requested
What support will there be for my child's overall wellbeing?
Richard Lander School adopts a 'whole school approach' which ensures that 'All teachers are teachers of children with Special Educational Needs & Disabilities.'