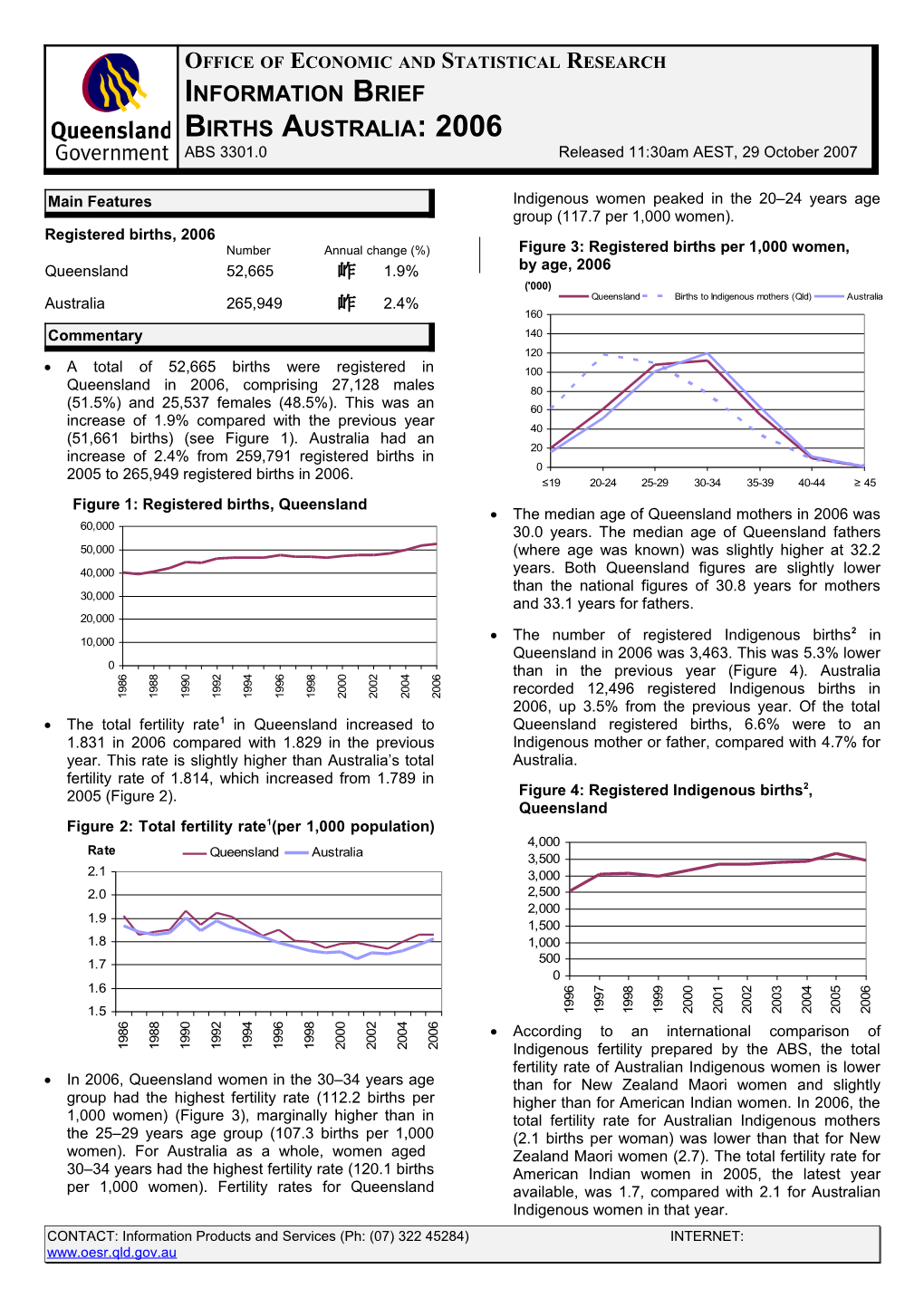 1
Main Features
Registered births, 2006
NumberAnnual change (%)
Queensland52,6651.9%
Australia265,9492.4%
Commentary
A total of 52,665 births were registered in Queensland in 2006, comprising 27,128 males (51.5%) and 25,537 females (48.5%). This was an increase of 1.9% compared with the previous year (51,661 births) (see Figure 1). Australia had an increase of 2.4% from 259,791 registered births in 2005 to 265,949 registered births in 2006.
Figure 1: Registered births, Queensland
The total fertility rate1 in Queensland increased to 1.831 in 2006 compared with 1.829 in the previous year. This rate is slightly higher than Australia's total fertility rate of 1.814, which increased from 1.789 in 2005 (Figure 2).
Figure 2: Total fertility rate1(per 1,000 population)

In 2006, Queensland women in the 30–34 years age group had the highest fertility rate (112.2 births per 1,000 women) (Figure 3), marginally higher than in the 25–29 years age group (107.3 births per 1,000 women). For Australia as a whole, women aged
30–34 years had the highest fertility rate (120.1 births per 1,000 women). Fertility rates for Queensland Indigenous women peaked in the 20–24 years age group (117.7 per 1,000 women).
Figure 3: Registered births per 1,000 women,
by age, 2006
The median age of Queensland mothers in 2006 was 30.0 years. The median age of Queensland fathers (where age was known) was slightly higher at 32.2 years. Both Queensland figures are slightly lower than the national figures of 30.8 years for mothers and 33.1 years for fathers.
The number of registered Indigenous births2 in Queensland in 2006 was 3,463. This was 5.3% lower than in the previous year (Figure 4). Australia recorded 12,496 registered Indigenous births in 2006, up 3.5% from the previous year. Of the total Queensland registered births, 6.6% were to an Indigenous mother or father, compared with 4.7% for Australia.
Figure 4: Registered Indigenous births2, Queensland
According to an international comparison of Indigenous fertility prepared by the ABS, the total fertility rate of Australian Indigenous women is lower than for New Zealand Maori women and slightly higher than for American Indian women. In 2006, thetotal fertility rate forAustralian Indigenous mothers (2.1births per woman) was lower than that for New Zealand Maori women (2.7). The total fertility rate for American Indian women in 2005, the latest year available, was 1.7, compared with 2.1 for Australian Indigenous women in that year.
1.The number of children a woman would bear during her lifetime if she experienced current age-specific fertility rates.
2.Coverage of Indigenous births in Queensland for 2002 to 2006 is estimated at 98% based on Census projections.