Operationsstandards and Procedures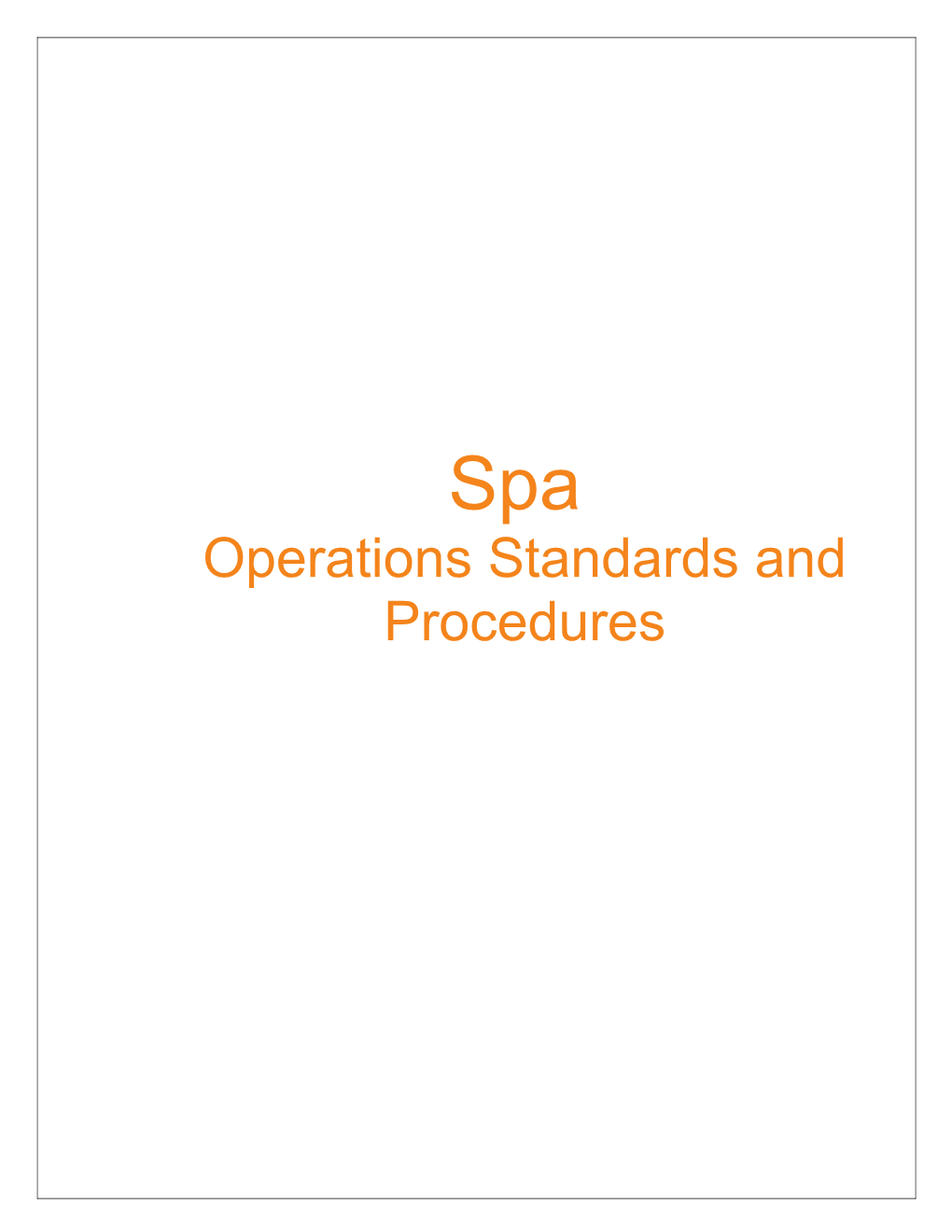 Spa
OperationsStandards and Procedures
Table of contents
Document overview...... 8
Guest interaction...... 9
Telephone greeting...... 10
Guest greeting in person...... 12
Reservations via telephone...... 13
Reservations in person for service...... 16
Credit card confirmation request...... 18
Confirmation calls...... 19
Cancellation policy...... 21
Check-in...... 22
Terms of entry and spa etiquette...... 24
Terms of entry and spa etiquette notice...... 25
Privacy policy...... 27
Privacy policy notice...... 28
Mobile phones, PDA's and pagers...... 29
Guest arrives late...... 30
Service provider arrives late...... 32
No-show policy...... 34
No-show credit card charging letter...... 36
Receiving guest into service room...... 37
Service in guest hotel room...... 39
Frozen amusee...... 41
Mint foot wipe...... 42
Guest under the influence...... 43
Allegations of inappropriate sexual conduct by therapist...... 44
Allegations of inappropriate conduct by guest...... 46
2
Escorting guest from service room...... 48
Tea zone...... 50
Terms of sale...... 51
Terms of sale notice...... 52
Payment...... 53
Payment via cash...... 54
Payment via credit card...... 55
Payment via gift voucher...... 57
Payment via room charge...... 58
Check-out...... 59
Colored candy departure...... 61
Guest farewell...... 62
Complaint in person...... 63
Complaint form...... 65
Complaint via written/ electronic coorespondence...... 66
Gift certificate via telephone...... 68
Gift certificate in person...... 70
Gift certificate terms and conditions...... 72
Spa tour & site inspection booking...... 73
Spa tour booking form...... 74
Spa tour for guests...... 75
Spa tour for media/ groups/ inspections...... 77
Request to send a spa brochure...... 79
Request to send a spa brochure form...... 80
Spa brochure request in person...... 81
Managing non-native language speaking guests...... 83
Housekeeping & set-up...... 85
General spa cleaning and presentation...... 86
3
Opening- treatment areas...... 88
Opening- treatment areas checklist...... 90
Massage room standardized set-up...... 91
Skincare room set-up...... 94
Dispensary set-up...... 97
Post treatment area preparation...... 98
Post treatment area checklist...... 100
Spa closing- treatment areas...... 101
Closing- treatment areas checklist...... 103
Spa presentation- reception...... 104
Presentation- reception checklist...... 105
Locker usage form...... 106
Spa opening- reception...... 107
Opening- reception checklist...... 109
Spa closing- reception...... 110
Closing- reception checklist...... 112
Daily scrub...... 113
Daily scrub checklist...... 114
Spa presentation- locker rooms...... 116
Spa presentation- wet grooming areas...... 118
Spa presentation- dry grooming areas...... 119
Spa opening- locker rooms...... 121
Opening- locker rooms checklist...... 122
Personalized locker restocking...... 123
Locker items checklist...... 124
Spa closing- locker room...... 125
Closing- locker room checklist...... 126
Spa presentation- waiting lounge...... 127
4
Presentation- waiting lounge checklist...... 128
Hospitality station set-up...... 129
Spa opening- waiting lounge...... 130
Opening- waiting lounge checklist...... 131
Spa closing- waiting lounge...... 132
Closing- waiting lounge checklist...... 133
Spa presentation- supporting facilities...... 134
Presentation- supporting facilities checklist...... 135
Spa opening- supporting facilities...... 136
Opening- supporting facilities checklist...... 137
Spa closing- supporting facilities...... 138
Closing- supporting facilities checklist...... 139
Store room stock...... 140
Stock monitoring...... 141
Master stock list...... 142
Linen...... 145
Laundry...... 146
Food and beverage...... 147
Approved food and beverage list...... 148
Food and beverage ingredient list...... 149
Food and beverage time list...... 150
Reading materials...... 151
Approved reading materials list...... 152
Music...... 153
Approved music list...... 154
Diffusing oils...... 155
Approved diffusing oils...... 156
Repairs and maintenance...... 157
5
Repairs and maintenance form...... 159
Back-of-house...... 160
Light bulb check...... 161
Retail...... 162
Retail assistance and sales...... 163
Merchandise protection...... 164
Held merchandise...... 166
Damage return policy...... 167
Employee purchases...... 169
Product samples...... 171
Customer return policy...... 172
Product returns...... 173
Markdown procedure policy...... 174
Sales incentives & vendor contests...... 176
Sales incentives form...... 177
New vendor approval process...... 178
New vendor approval form...... 180
Placing an order...... 181
Purchasing order form...... 182
Vendor compliance form...... 183
Receiving retail inventory...... 185
Ticketing...... 187
Inventory credits and returns...... 189
Inventory credits and returns form...... 191
Packing rtvs...... 192
Promotions...... 193
Monthly inventory count...... 194
Monthly reports...... 195
6
Visual log...... 197
Visual log book...... 198
Protocols...... 199
Introduction...... 200
Ritual touch- body...... 201
Ritual touch- face...... 202
Luminosity- signature facial...... 205
Scalp massage...... 207
Comfort touch facial massage...... 208
Ultra hydra...... 211
Skin deeper...... 213
Skin deeper- man...... 215
Youth springs eternal...... 217
Much kneaded- signature massage...... 219
Spaoma...... 222
Swede stone...... 229
Melt down...... 236
Liquid luxury- signature body...... 240
Wrapture...... 241
Orange crush...... 242
Detoxic...... 243
Ginger touch- signature mani...... 245
Ginger step- signature pedi...... 247
Full mani...... 250
Full pedi...... 253
Mini mani in e...... 256
Mini pedi...... 259
7
document overview
The operations standards, procedures and protocols within this document have been created to set the service standards for the Spa brand and establish procedures for achieving them. These documents form the foundation to ensure consistent service is delivered across the Spa brand. To be sure that this document becomes the functional backbone of each location, the procedures and protocols may need to be adjusted and modified to be representative of the operational needs of each property. They may also need to be adapted to ensure cultural relevance and location specific nuances as well as to comply with local law. While modifications to many of these procedures will be needed, each location should aim to achieve all of the standards denoted in the ORANGE box on each standard procedure. At a minimum the following brand standards MUST be maintained:
BRAND STANDARDS
OPERATIONS:
Each location must use a Spa-approved spa management hardware/software system for reservations, guest check-in, guest check-out, point of sale (including retail), management and accounting. Harms spa management software system (and related hardware) is pre-approved for Customized Spa Turnkey Spas.
Each location must utilize a Spa-standard minimum chart of accounts/general ledger codes/treatment codes/retail inventory codes, and timely report activity to Spa using standard report templates as designated from time to time
Core Spa menu offerings and protocols and Customized Spa Turnkey Spa-specific menu offerings and protocols must be maintained, including use of designated products. [comfort zone] must be the primary skin care line used (unless [comfort zone ]is not available in that jurisdiction
Spa Spa signature colored candy blend (as customized for Customized Spa Turnkey Spas) must be available at the front desk area
Relaxation lounge must have fruit and herb infused beverage option
Fresh, seasonal fruit must be served in the relaxation area or other appropriate location
Frozen amusee must be offered to the guest prior to their first service of the visit
Mint foot wipe must be performed after each service
Tea must be offered to guests in the T-Zone or other appropriate area as the final service touch of the Spa spa experience
RETAIL:
The location must use the Spa-designated product mix for 80% of its retail offerings. Initial standards require that, as part of the 80%, the [comfort zone] skincare line be available in its entirety (unless otherwise directed by Spa because [comfort zone] is not available in that jurisdiction)..
Each spa must have a retail area
There must be at least one employee who is designated as a Retail Specialist. Depending on the size of spa, these duties may be combined with another position, other than the Spa Manager/Director.
The retail area must have products distributed in the categories of touch (all products that are used in treatment), body (any additional body care products i.e. soaps, lotions, etc.), style (any clothing or accessories i.e. robes) and life (and home or gift items)
8
guest interaction
9
standard operating procedures > guest interaction > 1-GI
telephone greeting
all departments
Objective: To ensure the telephone is answered promptly and the guest is spoken to in anappropriate manner.
STANDARDS
Telephone must be answered within three rings.
Speak using a professional tone and smile at all times.
Guest name is used at least three times during the conversation.
Always use the proper surname when greeting a guest.
Conversation on the part of the spa personnel is to be kept minimal and professional, not becoming too personal in nature.
A guest will never be put on hold longer than one minute.
Before putting a guest on hold the spa personnel must first ask and receive the guest's permission
The telephone greeting procedure must be followed.
PROCEDURES
Answer telephone with "Good morning/afternoon/evening, thank you for calling Spa, this is (associate name) speaking. How may I assist you?"
If you are with another guest, ask the caller if you may place them on hold for a brief moment.
If they agree, thank them, place them on hold and get back to them within (one) minute., If at this time you are still with the previous guest, ask the guest in front of you if you may advise the guest on the phone that you will call them back. Thank your previous guest for their patience. Say to your guest on the phone, "Thank you for holding, I am still with a guest may I take your contact information and return your call as soon as possible or at a convenient time for you?" If they say yes, ask for their name and phone number.
If they disagree, state, "I understand, please allow me to finish up with my current guest and I will be back with you as soon as possible." If there is another associate available have them take the call,
10
otherwise complete your service with the guest in front of you and then move on to the phone guest."
If, when you answer the phone, you believe you will not be able to attend to the call within 1 minute, answer the phone as per point 2; however omit, "How may I assist you?" and instead ask, "May I take your contact information and return your call as soon as possible or at a convenient time for you?"I If yes ask for their name and number.
If no, ask if they would like to be placed on hold, advise them that you will get back to them as soon as possible.
If you are available, ask, "How may I assist you?"
Conduct the relevant procedure according to the guest's requirements.
For guests making bookings, conduct the Reservation via Telephone Procedure.
For guests requesting a brochure to be sent to them, conduct the Request to Send Spa BrochureProcedure.
For guests requesting a Spa tour, conduct the Spa Tour Booking Procedure.
For other inquiries, always address the guest in a professional and appropriate manner. If you are unable to meet the guest's expectation, take their details and ask a senior team member to call them back at a convenient time or transfer them to the appropriate person or department. If transferring, first speak with the appropriate person or department to inform them of the details of the situation and provide them with as much guest information as possible.