Name:Mohammad Faizan Ahmad Jamil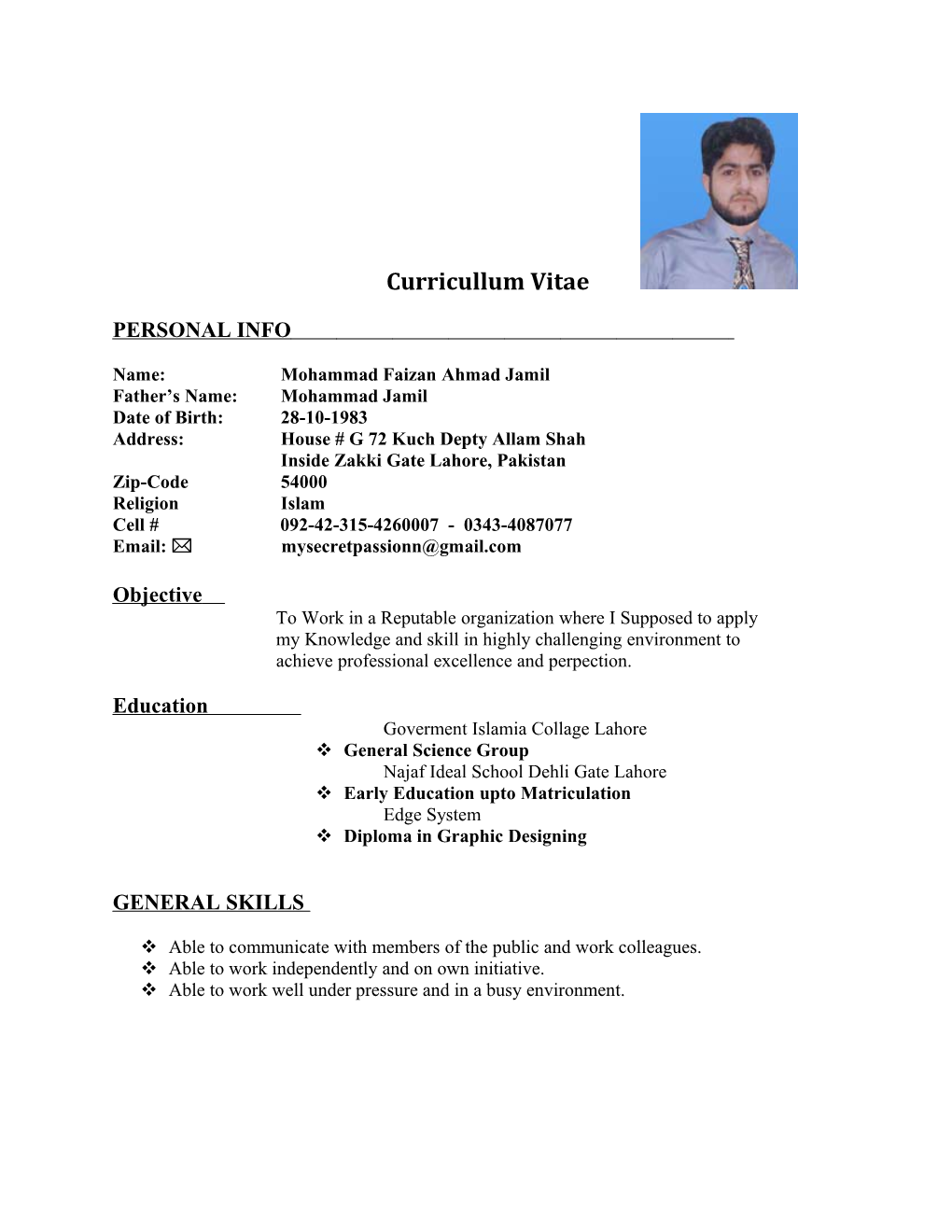 Curricullum Vitae
PERSONAL INFO
Name:Mohammad Faizan Ahmad Jamil
Father's Name:Mohammad Jamil
Date of Birth:28-10-1983
Address:House # G 72 Kuch Depty Allam Shah
Inside Zakki Gate Lahore, Pakistan
Zip-Code54000
Religion Islam
Cell # 092-42-315-4260007 - 0343-4087077
Email:
Objective
To Work in a Reputable organization where I Supposed to apply
my Knowledge and skill in highly challenging environment to
achieve professional excellence and perpection.
Education
Goverment Islamia Collage Lahore
General Science Group
Najaf Ideal School Dehli Gate Lahore
Early Education upto Matriculation
Edge System
Diploma in Graphic Designing
GENERAL SKILLS
Able to communicate with members of the public and work colleagues.
Able to work independently and on own initiative.
Able to work well under pressure and in a busy environment.
Technical Skills :
Microsoft Office,Internet & EmailProvision of Internet Access
Configuring and troubleshooting Microsoft Outlook and Outlook express
Hardware Assembling & Trouble Shooting
PC and Server Installation,Assembling and Trouble shooting.
Configuring and Implementing LAN & WAN
Configuring modem, dial up and troubleshooting
Software Installations
Software Diagnostics
Laptop Operating System Installations & Trouble Shooting
Configuration of DHCP, DNS, Active Directory
Configuring Internet Information Service ( Ftp )
Creating Users and Group (Global, Domain Local ,Universal )
Operating Systems
Windows Server 2000
Window Server 2003
Windows 98/NT/2000
Window XP
Window Vista
Window 7
Red Hat Linux 9 ( Installations)
Web and Graphical Skills:
Corel Draw
Adobe Photoshop
Adobe Macromedia Dreamweaver
Adobe Image Ready
In-page
Web Page Designing with Front Page
Joomla
Professional Experience :
Work as System Engr and Web Desginer in Royal Media Network
( Royal News ChannelIT/ Department)(Since 2009 to 2012)
Work as System Engr In Digital Office System/Ocean Office Automation/Networking Technologies Since -2008 to 2009
Work as System Engr in Generation System since 2003 to 2008
Work as Graphic Desginer in Silver Scan Co since 2001 to 2005
Technical Projects from GENSYS:
1Wapda House Lahore
Hardware,Software and Networking Maintenance & Trouble Shooting
2Lesco
Hardware,Software and Networking Maintenance & Trouble Shooting
3Sheikh Zaid Hospital
Laying Networking , Maintenance & Trouble Shooting
4Punjab University
Hardware,Software and Networking Maintenance & Trouble Shooting
5Govt Collage University ( GCU )
Hardware,Software and Networking Maintenance & Trouble Shooting
6Lahore College for Women University
Hardware,Software and Networking Maintenance & Trouble Shooting
7Punjab Institute of Cardiology Hospital
Hardware,Software and Networking Maintenance & Trouble Shooting
8National Accountability Bureau ( NAB )
Hardware Maintenance & Trouble Shooting
9LUMS
Hardware,Software and Networking Maintenance & Trouble Shooting
10TAVTA
Hardware Maintenance & Trouble Shooting
Web Project : Develop a
Maintenance & Update:
Develop a
Technical Projects from Digital Office System:
Caritas Pakistan
Hardware,Software Maintenance & Trouble Shooting
Caritas National
Hardware,Software and Web site Maintenance & Trouble Shooting
NCJP
Hardware,Software Maintenance & Trouble Shooting
Bishop House Lahore
Hardware,Software Maintenance & Trouble Shooting
Citi Juris
Hardware,Software Maintenance & Trouble Shooting
Khawaja Electronics
Hardware,Software Maintenance & Trouble Shooting
ICC PVT
Hardware,Software Maintenance & Trouble Shooting
ICC TEXT
Hardware,Software Maintenance & Trouble Shooting
EMCO
Hardware,Software Maintenance & Trouble Shooting
Capuchin House
Hardware,Software Maintenance & Trouble Shooting
ABB
Hardware,Software Maintenance & Trouble Shooting

Responsibilities and Roles:

Troubleshooting Windows related problems.

Troubleshooting Hardware related Problems

LAN WAN network troubleshooting

Installation of Windows based operating systems, Software, antivirus Installation, Configuring and maintaining Devices such as scanners, printers network Cards and associate devices.

Configuring and managing mail clients like MS Outlook & Outlook Express

Configuration and administration of Network Printers

Configuring Domain and Workgroup Networks


Professional Qualities

Motivated to learn grow in responsibility and business skills.

Ability to handle routine office works, etc.

OTHER SKILLS & INTERESTS

Good management and organizing skills

Effective business communication skill.

Have knowledge of Internet Marketing.

Have knowledge of computer hardware and software.

INTERESTS

Research on Breakthrough technologies

To lead the nation with new IT strategies

Playing cricketand computer games.

Chatting, net surfing.

Outing with friends.

Photography

LANGUAGES

LanguageReading WritingSpeaking

EnglishAdvanceIntermediateIntermediate

Urdu AdvanceAdvanceAdvance

Punjabi AdvanceAdvanceAdvance

Target Jobs
Jobs
Technical Support Engineer /System Engr
Graphics And Web Designer


. Reference:

Will be Furnished on Request