Membership Fees to Be Paid in Full No Later Than 1 May 2014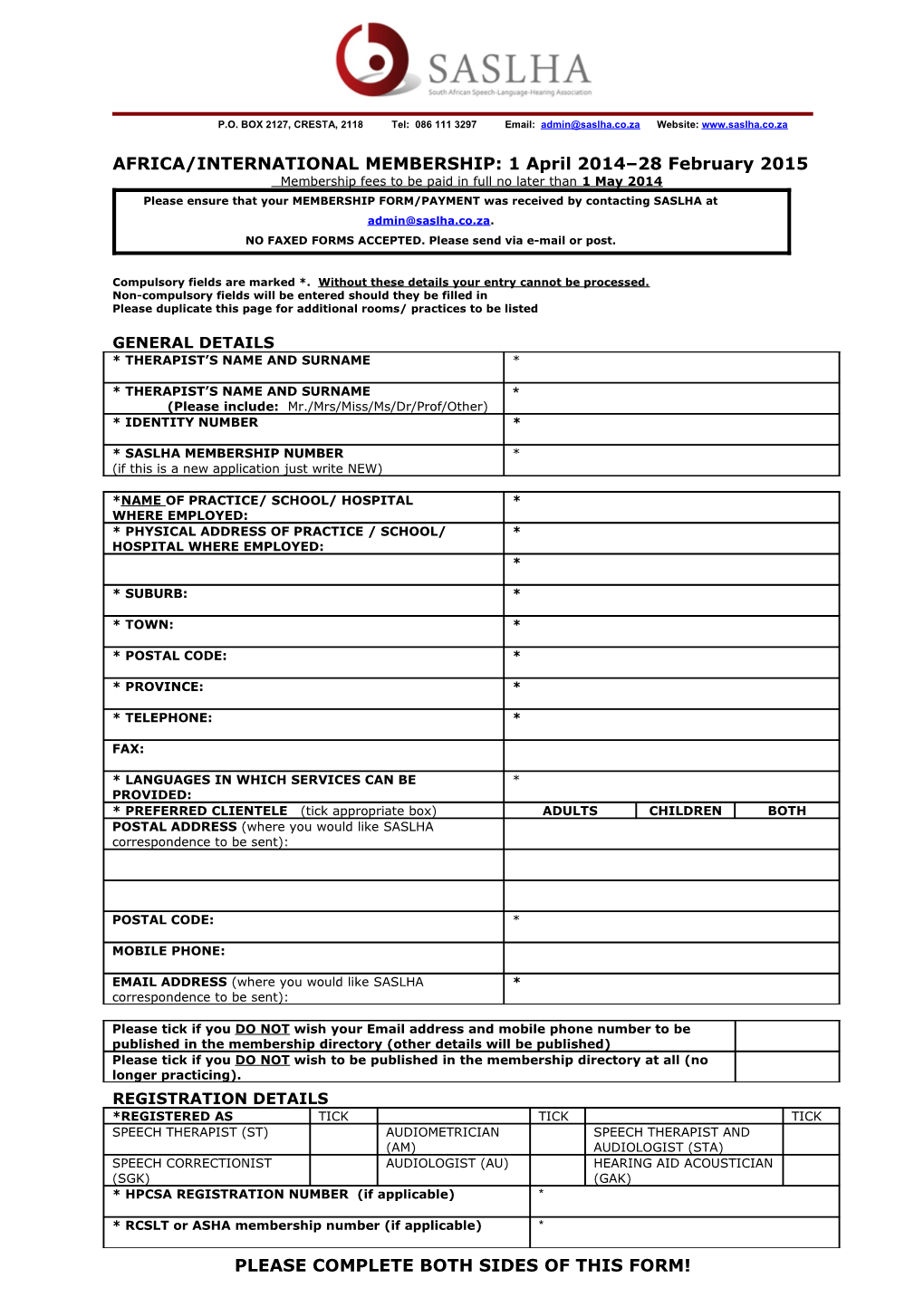 AFRICA/INTERNATIONAL MEMBERSHIP: 1 April 2014–28 February2015
Membership fees to be paid in full no later than 1 May 2014
Please ensure that your MEMBERSHIP FORM/PAYMENT was received by contacting SASLHA at .

NO FAXED FORMS ACCEPTED. Please send via e-mail or post.

Compulsory fields are marked *. Without these details your entry cannot be processed.

Non-compulsory fields will be entered should they be filled in

Please duplicate this page for additional rooms/ practices to be listed

GENERAL DETAILS

* THERAPIST'S NAME AND SURNAME / *
* THERAPIST'S NAME AND SURNAME
(Please include: Mr./Mrs/Miss/Ms/Dr/Prof/Other) / *
* IDENTITY NUMBER / *
* SASLHA MEMBERSHIP NUMBER
(if this is a new application just write NEW) / *
*NAME OF PRACTICE/ SCHOOL/ HOSPITAL
WHERE EMPLOYED: / *
* PHYSICAL ADDRESS OF PRACTICE / SCHOOL/ HOSPITAL WHERE EMPLOYED: / *
*
* SUBURB: / *
* TOWN: / *
* POSTAL CODE: / *
* PROVINCE: / *
* TELEPHONE: / *
FAX:
* LANGUAGES IN WHICH SERVICES CAN BE PROVIDED: / *
* PREFERRED CLIENTELE (tick appropriate box) / ADULTS / CHILDREN / BOTH
POSTAL ADDRESS (where you would like SASLHA correspondence to be sent):
POSTAL CODE: / *
MOBILE PHONE:
EMAIL ADDRESS (where you would like SASLHA correspondence to be sent): / *
Please tick if you DO NOT wish your Email address and mobile phone number to be published in the membership directory (other details will be published)
Please tick if you DO NOT wish to be published in the membership directory at all (no longer practicing).


REGISTRATION DETAILS

*REGISTERED AS / TICK / TICK / TICK
SPEECH THERAPIST (ST) / AUDIOMETRICIAN (AM) / SPEECH THERAPIST AND AUDIOLOGIST (STA)
SPEECH CORRECTIONIST
(SGK) / AUDIOLOGIST (AU) / HEARING AID ACOUSTICIAN
(GAK)
* HPCSA REGISTRATION NUMBER (if applicable) / *
* RCSLT or ASHA membership number (if applicable) / *

PLEASE COMPLETE BOTH SIDES OF THIS FORM!
CPD ACCREDITATION COMMITTEE

ONLYFOR MEMBERS WITH MORE THAN 5 YEARS' EXPERIENCE

Would you be willing to review CPD accreditation applications?
(If you indicate "YES", the SASLHA Office Manager will forward you the appropriate form to fill in) / YES / NO
EMPLOYMENT DETAILS - Please tick ONE block / TICK / TICK
PRIVATE PRACTICE
(self-employed part time) / PRIVATE PRACTICE
(self-employed full time) / GROUP PRACTICE
ENT / AUDIOLOGIST / SPEECH-LANGUAGE
THERAPIST
SCHOOL/
SPECIAL ED / DEPT OF HEALTH
(GOVERNMENT EMPLOYEE) / ACOUSTICIAN
UNIVERSITY / COMMUNITY SERVICE / HEARING AID
MANUFACTURER
NOT ACTIVE IN PROFESSION / OTHER (please indicate)


AREAS OF SPECIAL INTEREST

PLEASE TICK NO MORE THAN FIVE, OTHERWISE GENERAL PRACTICE CODE (GEN) APPLIES

PLEASE NOTE: SOME CATEGORIES REQUIRE SPECIFIC QUALIFICATION OR TRAINING IN THE AREA

SPEECH-LANGUAGE THERAPISTS / AUDIOLOGISTS

CODE
/ DESCRIPTION / TICK /
CODE
/ DESCRIPTION / TICK

AAC
/ Alternative and Augmentative Communication /
ABR
/ Auditory Brainstem Response
APH / Aphasia / BAL / Balance disorders and vertigo
APR / Apraxia / CAPD / Central Auditory Processing Disorders
- specialist audiological testing
CLEF / Cleft lip and palate / CI / Cochlear Implant MAPing
- specific MAPing clinic
CP / Cerebral Palsy / ECOG / Electrocochleography
DARTH / Dysarthria / EML / Ear Mould Laboratory
DPHAG / Dysphagia / ENG / Electronystagmography
EI / Early Intervention / HA / Dispensing of Hearing Aids and Assistive Listening devices
FEED / Feeding / IND / Industrial Audiology
GEN / General speech therapy practice includes language, articulation and phonology / ML / Medico-Legal
LARY / Laryngectomy / NEO / Neonatal Screening
LAP / Linguistically-based auditory processing / NOISE / Noise Protection
ML / Medico-Legal / OAE / Otoacoustic Emissions
NDT / Neuro-developmental Therapy / REHAB / Auditory Rehabilitation
PDD / Pervasive Developmental Disorders / SSEP / Steady State Evoked Potentials
SLTHI / Speech-language therapy for hearing impairment / TIN / Tinnitus Retraining Therapy
STUT / Stuttering
TRACH / Tracheostomy
VOC / Voice Therapy
Who are you insured with for your professional indemnity?
Do you belong to any other speech or audio professional body? (if yes please indicate name of professional body) / Yes / No


SASLHA MEMBERSHIP DETAILS

Membership fees are to be paid as a single payment before 1 May 2014

REGISTRATION FEES
(FOR lapsed membership) / ZAR 250-00
LATE PAYMENT PENALTY
Additional to membership fee if paying after 1 May 2014 / ZAR 250-00
*TYPE OF MEMBERSHIP (tick one) / ZAR 1500-00
AFRICA MEMBERSHIP
(for residents of another country in Africa)
INTERNATIONAL MEMBERSHIP
(for residents anywhere in the world, other than in Africa) / ZAR 1500-00
MYRTLE L ARON BURSARY FUND (Voluntary contribution) / ZAR
*TOTAL DUE / ZAR


ELECTRONIC OR DIRECT DEPOSITS

BANK: FIRST NATIONAL BRANCH:CENTURIONBRANCH CODE:261550

A/C NAME: SASLHA A/C NUMBER: 5054 0051 766SWIFT ADDRESS: FIRNZAJJ

PLEASE USE YOUR SASLHA MEMBERSHIP NUMBER (OR NAME AND SURNAME)

AS A REFERENCE FOR ALL ELECTRONIC AND DIRECT PAYMENTS
PLEASE COMPLETE BOTH SIDES OF THIS FORM!