List of Printing Stationery Items for the Financial Year 2011-12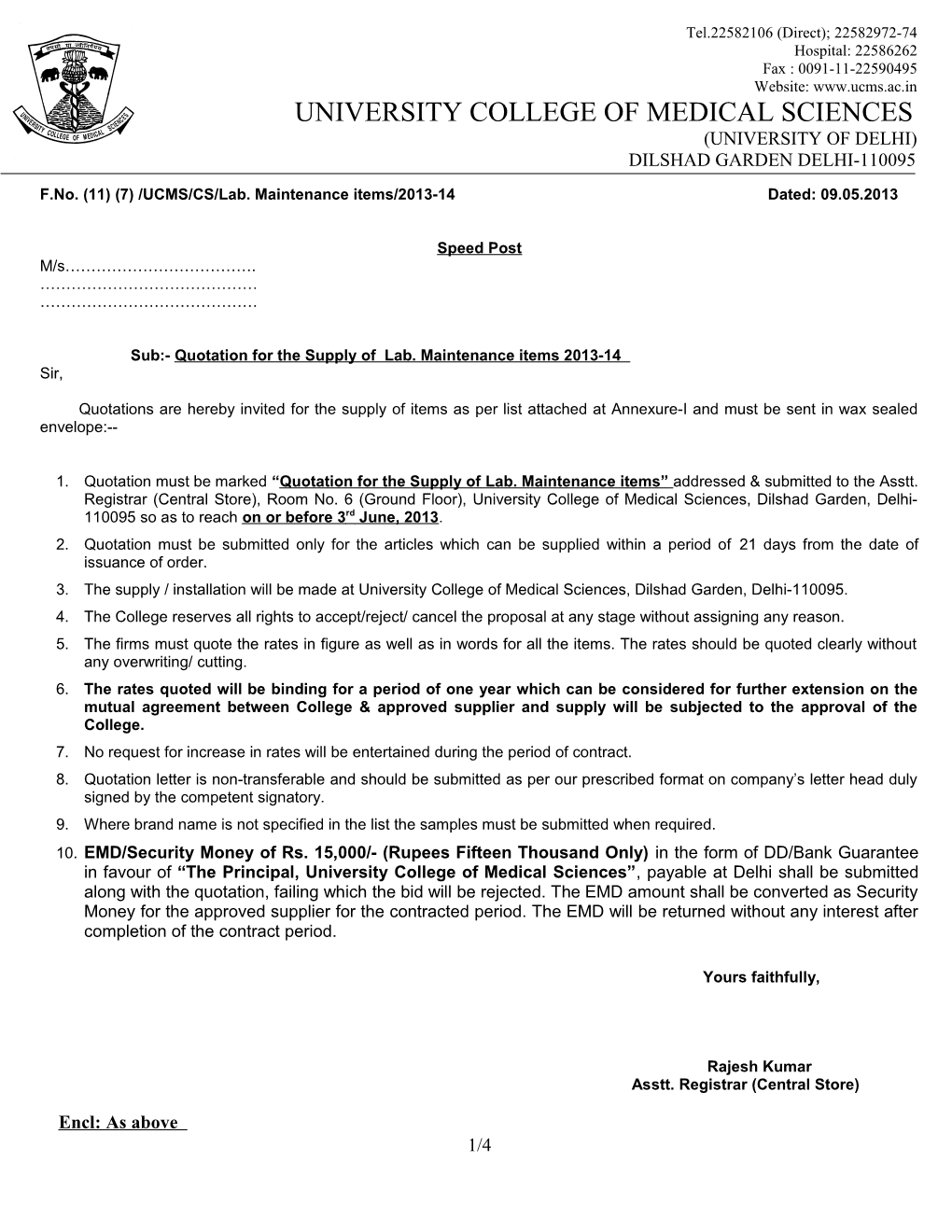 / Tel.22582106 (Direct); 22582972-74
Hospital: 22586262
Fax : 0091-11-22590495
Website:
UNIVERSITY COLLEGE OF MEDICAL SCIENCES
(UNIVERSITY OF DELHI)
DILSHAD GARDEN DELHI-110095


F.No. (11) (7) /UCMS/CS/Lab. Maintenance items/2013-14 Dated: 09.05.2013

Speed Post

M/s……………………………….

……………………………………

……………………………………

Sub:- Quotation for the Supply of Lab. Maintenance items 2013-14

Sir,

Quotations are hereby invited for the supply of items as per list attached at Annexure-I and must be sent in wax sealed envelope:--
Quotation must be marked "Quotation for the Supply ofLab. Maintenance items"addressed & submitted to the Asstt. Registrar (Central Store), Room No. 6 (Ground Floor), University College of Medical Sciences, Dilshad Garden, Delhi-110095 so as to reach on or before 3rd June, 2013.
Quotation must be submitted only for the articles which can be supplied within a period of 21 days from the date of issuance of order.
The supply / installation will be made at University College of Medical Sciences, Dilshad Garden, Delhi-110095.
The College reserves all rights to accept/reject/ cancel the proposal at any stage without assigning any reason.
The firms must quote the rates in figure as well as in words for all the items. The rates should be quoted clearly without any overwriting/ cutting.
The rates quoted will be binding for a period of one year which can be considered for further extensionon the mutual agreement between College & approved supplier and supply will be subjected to the approval of the College.
No request for increase in rates will be entertained during the period of contract.
Quotation letter is non-transferable and shouldbe submitted as per our prescribed format on company's letter head duly signed by the competent signatory.
Where brand name is not specified in the list the samples must be submitted when required.
EMD/Security Money of Rs. 15,000/- (Rupees Fifteen Thousand Only) in the form of DD/Bank Guarantee in favour of "The Principal, University College of Medical Sciences", payable at Delhi shall be submitted along with the quotation, failing which the bid will be rejected. The EMD amount shall be converted as Security Money for the approved supplier for the contracted period. The EMD will be returned without any interest after completion of the contract period.
Yours faithfully,

Rajesh Kumar

Asstt. Registrar (Central Store)

Encl: As above

Lab. Maintenance

List of Lab Maintenance items for the financial year – 2013-14

DEPARTMENT:-- CENTRAL STORE

Annexure – I

S.No. / NAME OF THE ITEMS
AND BRAND / Rate per Unit
Box/Ream/
Meter etc.
( in Rs. ) / Percentage of Vat item wise
(if applicable) / Total Price
Item wise
(Including Taxes)
1. / Acid Bottle ( 1 Liter )
Good Quality / Per Bottle
2. / Broom (Phool) Hari Ram Gulab Rai
Wight 400 gms.(with Plastic Handle) / Per piece
3. / Broom(Nariyal) Hari Ram Gulab Rai
Wight 400 gms.(with Tin Handle) / Per piece
4. / Black Board Duster
Good Quality / Per piece
5. / Chalk White (Vidyarthi)
50 nos. stick in one pkt. / Per pkt.
6. / Chalk Colour (Vidyarthi)
50 nos. stick in one pkt. / Per pkt.
7. / Cloth Malaysia 100% Cotton / Per mtr.
8. / Cleanzo 5 liter Tin
(Kleanall) / Per 5 ltr. Tin
9. / Phenyle Concentrated (5 liter Tin)
(Trishul) / Per 5 ltr. Tin
10. / Phenyle Concentrated (5 liter Tin)
(Gainda) / Per 5 ltr. Tin
11. / Washing Power (Fena) / Per Kg.
12. / Glass Tumbler(Ocean) / Per piece
13. / Glass Tumbler(Yera) / Per piece
14. / Vim pkt.1 kg. (ultra )Hindustan Liver / Per kg.
15. / Life Buoy Soap Big
(Hindustan Liver) / Per piece
16. / Lock Small 25 mm( Brass )
( Harrison ) / Per piece
17. / Lock Big 50mm( Brass)
( Harrison ) / Per piece
18. / Lock 70mm(Brass)
( Harrison ) / Per piece
19. / Peon Duster 22"x22" (White)
100 % cotton / Per Dozn.
20. / Plastic Jug (Milton)
Heavy Good Quality / Per piece
21. / Plastic Bucket with cover
20 Ltr. ( National )
Heavy Good Quality / Per piece
22. /
Floor Duster36"x36"Cotton
(Scotch Brite or equivalent)
/ Per Doz.
23. /
Torch Cell (Eveready) - Heavy Duty (Leak Proof -AAA)
/ Per piece
24. / Pencil Cell (Eveready) Heavy Duty (Leak Proof-AAA) / Per piece
25. / Cell Remote (Eveready) Heavy Duty (Leak Proof-AAA) / Per piece
26. / Plate form brush with bamboo
3 Foot Good Quality / Per piece
27. / Broom Nariyal with bamboo
Good Quality / Per piece
28. / Bagon SprayTin 5 Liter with Pump. (Baygon) / Per Tin
29. / Urinal cubes( Desire )
12 pices in one pkt. / Per pkt.
30. / Wiper 3 Foot Good Quality
with rubber / Per piece
31. / Wiper 4 Foot Good Quality
with rubber / Per piece
32. / Naphthalene Ball
200 gms pkt.
( Bengal Chemicals ) / Per Pkt. 200gm
33. / Jala Brush with Lathi / Per piece
34. / Scissor 8"
(Fiskars) / Per piece
35. / Towel White (Full size) 30x60" Bombay Dyeing / Per piece
36. / Towel White (Med. size) 24x48" Bombay Dyeing / Per piece
37. / Torch Chargeable
National / Per piece
38. / Lathi 4 foot ( bait )
Good Quality / Per Piece
39. / Wall Clock Ajanta M No-397 / Per piece
40. / Mug Plastic ( Cello )
Heavy Good Quality 1 Liter / Per piece
41. / Plastic Jug ( Milton 1.5 Liter ) / Per piece
42. / Toilet Brush ( Good Quality ) / Per piece
43. / Sutli Plastic Gola ( 1kg ) / Per kg
44. / Towel Small (Hand Towel)
Bombay Dyeing / Per piece
45. / Flask 1 liter (Milton) / Per piece
46. / C. Fold Towels Dispenser / Per piece
47. / Hygiene Bin SB-180 / Per piece
48. / Liquid Soap (Dettol) with dispenser / Per Bottle
250 ml
49. / Room Heat Convectors
(Usha Lexus-HC 423) / Per Piece
50. / Tissue Paper Rolls (Wintex) / Per Piece
51. / Black Garbage Bags (36X46 inches)
(High molecular High Density: Tear Resistant Quality Grade No: 1) / Per Kg.
52. / Bio Hazard Disposal Bags- Yellow Colour (High molecular High Density HMHDPE; Quality Grade No:1 in star seal Bottom finish)
(A) Size 16X18 inches / Per Kg.
(B) Size 36X42 inches / Per Kg.
53. / Biohazard Disposal Bags –Red Colour
Size 36X42 / Per Kg.
54. / Biohazard Disposal Bags –Blue Colour
Size 36X42 / Per Kg.


Where brand name is not specified, the samples must be submitted before supply.

1/4