LB78 Section 7-3-1 Normative Text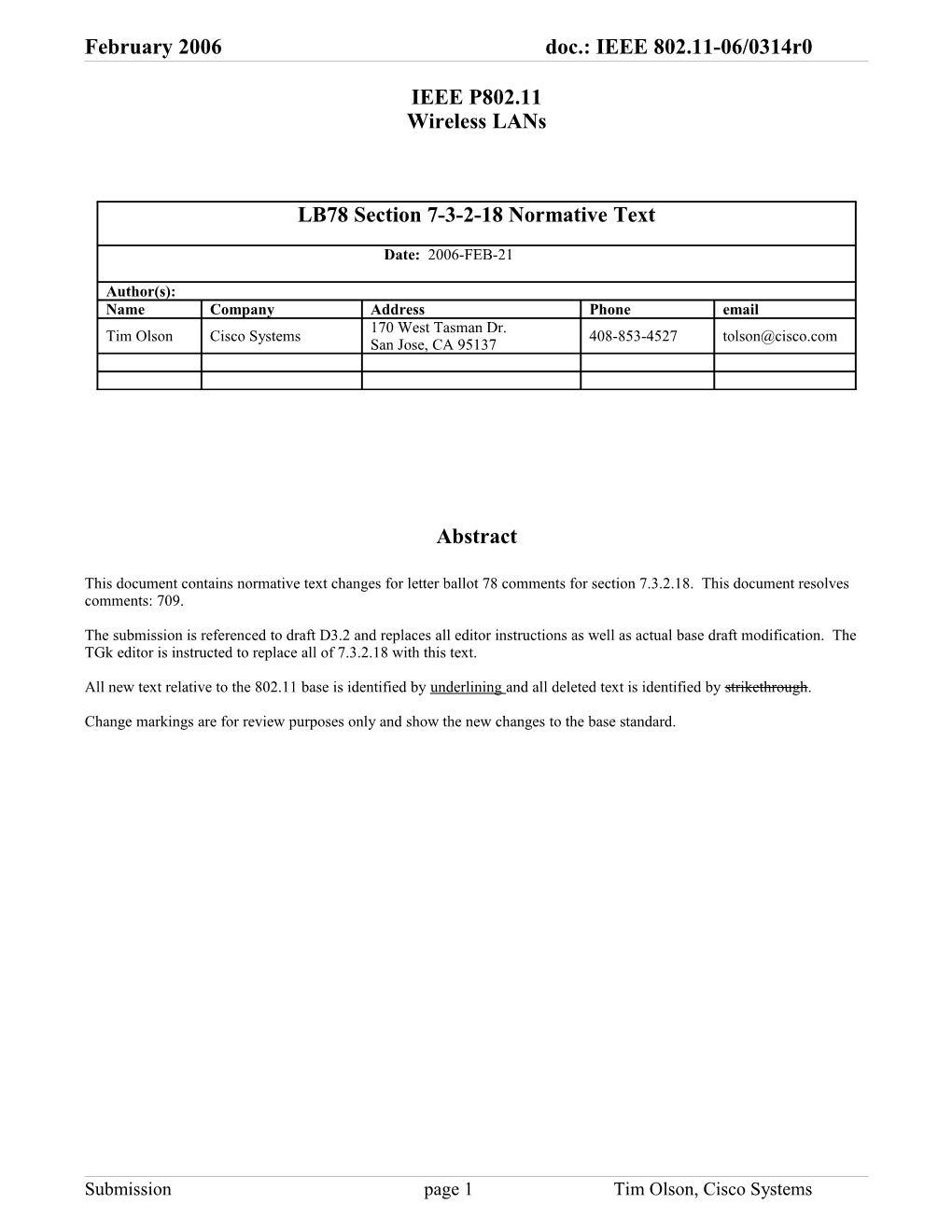 February 2006doc.: IEEE 802.11-06/0314r0

IEEE P802.11
Wireless LANs

LB78 Section 7-3-2-18 Normative Text
Date: 2006-FEB-21
Author(s):
Name / Company / Address / Phone / email
Tim Olson / Cisco Systems / 170 West Tasman Dr.
San Jose, CA95137 / 408-853-4527 /


Abstract

This document contains normative text changes for letter ballot 78 comments for section 7.3.2.18. This document resolves comments: 709.

The submission is referenced to draft D3.2 and replaces all editor instructions as well as actual base draft modification. The TGk editor is instructed to replace all of 7.3.2.18 with this text.

All new text relative to the 802.11 base is identified by underlining and all deleted text is identified by strikethrough.

Change markings are for review purposes only and show the new changes to the base standard.
7.3.2.18 TPC Report element
The TPC Report element contains transmit power and link margin information sent in response to a TPC Request element or a Link Measurement Request frame. A TPC Report element is included in a Beacon frame or Probe Response frame without a corresponding request. The format of the TPC Report element is shown in Figure 73.

Element ID
/ Length
/ Transmit Power / Link Margin
Octets: / 1 / 1 / 1 / 1


Figure 73 - TPC Report element format

The Length field shall be set equal to 2.

The Transmit Power field shall be set equal to the transmit power used to transmit the frame containing the TPC Report element. The field is coded as a signed integer in units of decibels relative to 1 mW. The maximum tolerance for the transmit power value reported in the TPC Response element shall be +/- 5 dB. This tolerance is defined as the difference, in decibels, between the reported power value and the actual EIRP of the STA (measured when transmitting 1500 octet frames).

The Link Margin field contains the link margin at the time and for the rate at which the Link Measurement Request frame or the frame containing the TPC Request element was received. The field is coded as a signed integer in units of decibels. The Link Margin field shall be set 0 and shall be ignored when a TPC Report element is included in a Beacon frame or Probe Response frame. The measurement method of Link Margin is beyond the scope of this standard.

The TPC Report element is included in TPC Report frames, as described in 7.4.1.4; Link Measurement Report frames as described in 7.4.5.4; Beacon frames, as described in 7.2.3.1; and Probe Response frames, as described in 7.2.3.9. The use of TPC Report elements and frames is described in 11.5.4.

Submissionpage 1Tim Olson, Cisco Systems