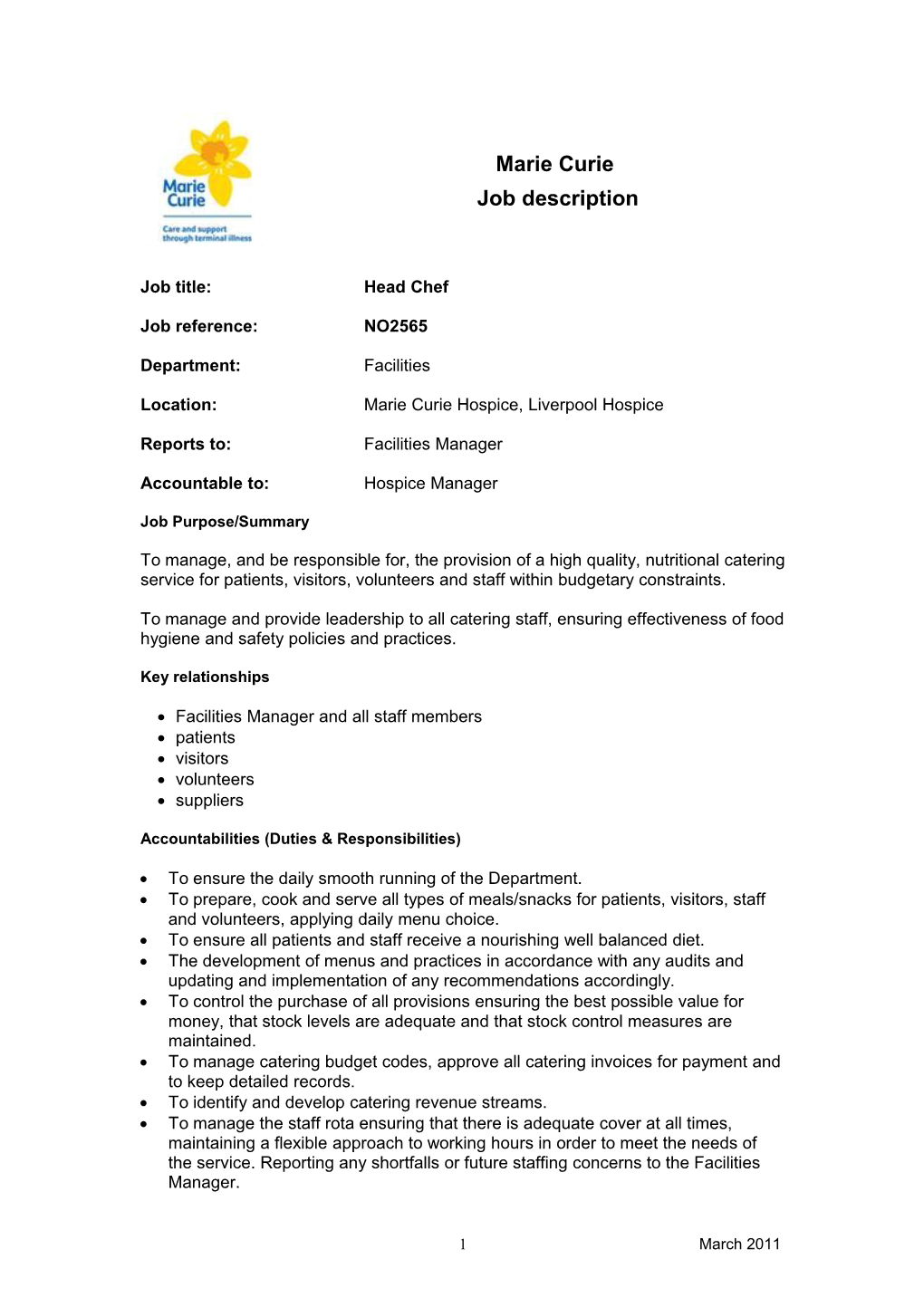 / Marie Curie
Job description


Job title:Head Chef

Job reference:NO2565

Department:Facilities

Location:Marie Curie Hospice, Liverpool Hospice

Reports to:Facilities Manager

Accountable to:Hospice Manager

Job Purpose/Summary

To manage, and be responsible for, the provision of a high quality, nutritional catering service for patients, visitors, volunteers and staff within budgetary constraints.

To manage and provide leadership to all catering staff, ensuring effectiveness of food hygiene and safety policies and practices.

Key relationships
Facilities Manager and all staff members
patients
visitors
volunteers
suppliers
Accountabilities (Duties & Responsibilities)
To ensure the daily smooth running of the Department.
To prepare, cook and serve all types of meals/snacks for patients, visitors, staff and volunteers, applying daily menu choice.
To ensure all patients and staff receive a nourishing well balanced diet.
The development of menus and practices in accordance with any audits and updating and implementation of any recommendations accordingly.
To control the purchase of all provisions ensuring the best possible value for money, that stock levels are adequate and that stock control measures are maintained.
To manage catering budget codes, approve all catering invoices for payment and to keep detailed records.
To identify and develop catering revenue streams.
To manage the staff rota ensuring that there is adequate cover at all times, maintaining a flexible approach to working hours in order to meet the needs of the service. Reporting any shortfalls or future staffing concerns to the Facilities Manager.
To implement quality assurance i.e. daily checking of all critical control points, confirming and checking of menus.
Organising and checking of functions, to ensure their catering requirements are met.
To maintain high standards of hygiene practices and procedures in accordance with the 'Food Hygiene Policy' and current legislation, keeping abreast of any new legislation.
To ensure that all relevant records are maintained in accordance with current Food Hygiene Legislation.
To ensure the kitchen equipment utensils, fabric of the unit is cleaned and monitored by means of a weekly audit and maintenance reports, and that checks are carried out and reported as and when equipment breaks down, or is no longer of a standard to be operational.
To carry out PPRDs for team members.
To ensure that all staff attend and are up to date with Mandatory training.
To identify training needs of the team, via PPRDs, customer feedback, changes in legislation.
To ensure all staff receive development training commensurate to their job and the needs of the service.
To attend / deliver training as required.
To implement and monitor all quality assurance and hazard analysis systems in the hospice relating to catering.
To monitor the number of covers provided and to provide accurate and timely information and reports as requested by the Facilities Manager.
To monitor staff holiday and sickness.
To assist in the recruitment, appointment, induction/training and appraisal of staff and volunteers as required.
To represent the Catering Department as and when necessary in meetings throughout the hospice.
To ensure health, safety and security of the catering department and equipment.
Communication
To maintain communications with patients to ensure their nutritional needs and all special requirements are met.
To plan and prepare daily menus/special diets in consultation with other staff (i.e. medical and nursing teams) to meet all patients' requirements including 'special diets' ensuring there is sufficient food to meet the numbers required.
To liaise on a daily basis with patients, ward staff, volunteers, and visitors regarding all aspects of the catering service, including gathering regular feedback on both food quality and service
To undertake in consultation with members of staff and education staff a range of refreshments for people attending education activities and planned meetings and prepare and supply a nourishing diet in an emergency when required.
To act on feedback from service users
Management
To be responsible for the management of all catering staff.
Education and Training
To facilitate training and give practical advice to all members of the team on nutrition, presentation and health, hygiene and food safety.
To ensure that all staff attend and are up to date with Mandatory training
To identify training needs of the team, via PPRDs, customer feedback, changes in legislation
To ensure all staff receive development training commensurate to their job and the needs of the service
General
In addition to the specific duties and responsibilities outlined in this job description, all Marie Curie Cancer Care employees should be aware of their specific responsibilities towards the following:
Marie Curie Cancer Care is committed to encouraging volunteering throughout the organisation and as such the post holder will be expected to support and respect volunteers, and may be asked to work alongside or supervise a volunteer as part of their role whilst working at Marie Curie Cancer Care.
Marie Curie Cancer Care operates a no-smoking policy. The post holder should either be a non-smoker or be prepared not to smoke in any Charity premises, grounds or vehicles or when on Marie Curie Cancer Care business outside the office.
Adhere to all health and safety and fire regulationsand to co-operate with the Charity in maintaining good standards of health and safety.
Adhere to all Marie Curie Cancer Care policies and procedures at all times
Actively promote and support the safeguarding of vulnerable adults, young people and children, observing and adhering to Marie Curie Cancer care policies on safeguarding
Uphold ethical and professional standards and not behave in a manner that is likely to bring the Charity into disrepute.
Promote and sustain a responsible attitude towards equal opportunities and diversity within the Charity.
Demonstrate a commitment to on-going registration requirements or any national professional or occupational standards associated with the role.
Demonstrate a commitment to on-going learning and development and to participate in any training relevant to the role.
For designated roles, the post holder will be responsible for health & safety, business continuity planning and/or risk management. (These responsibilities will be notified on appointment).
This job description is not exhaustive. It merely acts as a guide and may be amended to meet the changing requirements of the charity at any time after discussion with the post holder.

/ Marie Curie
Person Specification


Job title:Head Chef

Job reference:NO2565

Criteria / Essential / Desirable / How assessed
Skills / Abilities / - Supervisory Skills
- Organisational Skills
- Excellent communication skills
- Prioritising workload
- Ability to manage budget and to monitor stock levels
- Computer literate e.g. - Microsoft word, email/ internet
- A flexible and creative approach to problem solving and service developments.
- Ability to report within in-house meetings / - To be able to manage other non clinical teams / Application form
Interview
Knowledge / - Knowledge of current food hygiene legislation
- Experience of HACCP
- Experience of COSHH / Application form
Interview
Qualifications,
training and education / - 706/1City and Guilds or equivalent
- 706/2City and Guilds or equivalent
- Food handling certificate minimum level 3
- Basic Food Hygiene
- Intermediate food hygiene
- To be prepared to work towards a higher level qualification / - NVQ Level 4 Food handling certificate OrLevel 4 / equivalent
- Management qualification e.g. Institute Health Services - Management/ General management
- Advanced food hygiene / Application form
Experience / - relevant previous team management experience
- Managed a team of 5-10
- Experience of providing catering services / - Experience in similar role / type of organisation / Application form
Interview
Other requirements / - Team player
- Good communication /
Listening skills
- Flexible
- Reliable
- Self motivated
- Team player
- Positive work attitude / Application form
Interview


Where appropriate, reasonable adjustments to these criteria will be considered to accommodate personal circumstances such as disabilities.


/ Marie Curie
Terms and conditions


Job titleHead Chef

Job referenceNO2565

Salary scaleMarie Curie Pay scale Grade D

Salary£19,776 to £32,137 per annum

Annual leave entitlement33 days (including 8 bank holidays)

Notice periodOne Month (after probationary period)

Working hours35 hours per week

Probationary periodSix months

Disclosure Check Standard

Otherbenefits
Continued access to NHS Pension Scheme (subject to eligibility)
Marie Curie Cancer Care Group Personal Pension Scheme
Season ticket loan
Loan schemes for bikes; computers and satellite navigation systems
Due to administration costs borne by the charity, we regret that only short-listed candidates will be contacted. If you have not heard from us within four weeks of the below closing date, please assume that your application has been unsuccessful.
Closing date: 24TH May 2015 at 5pm
1
March 2011