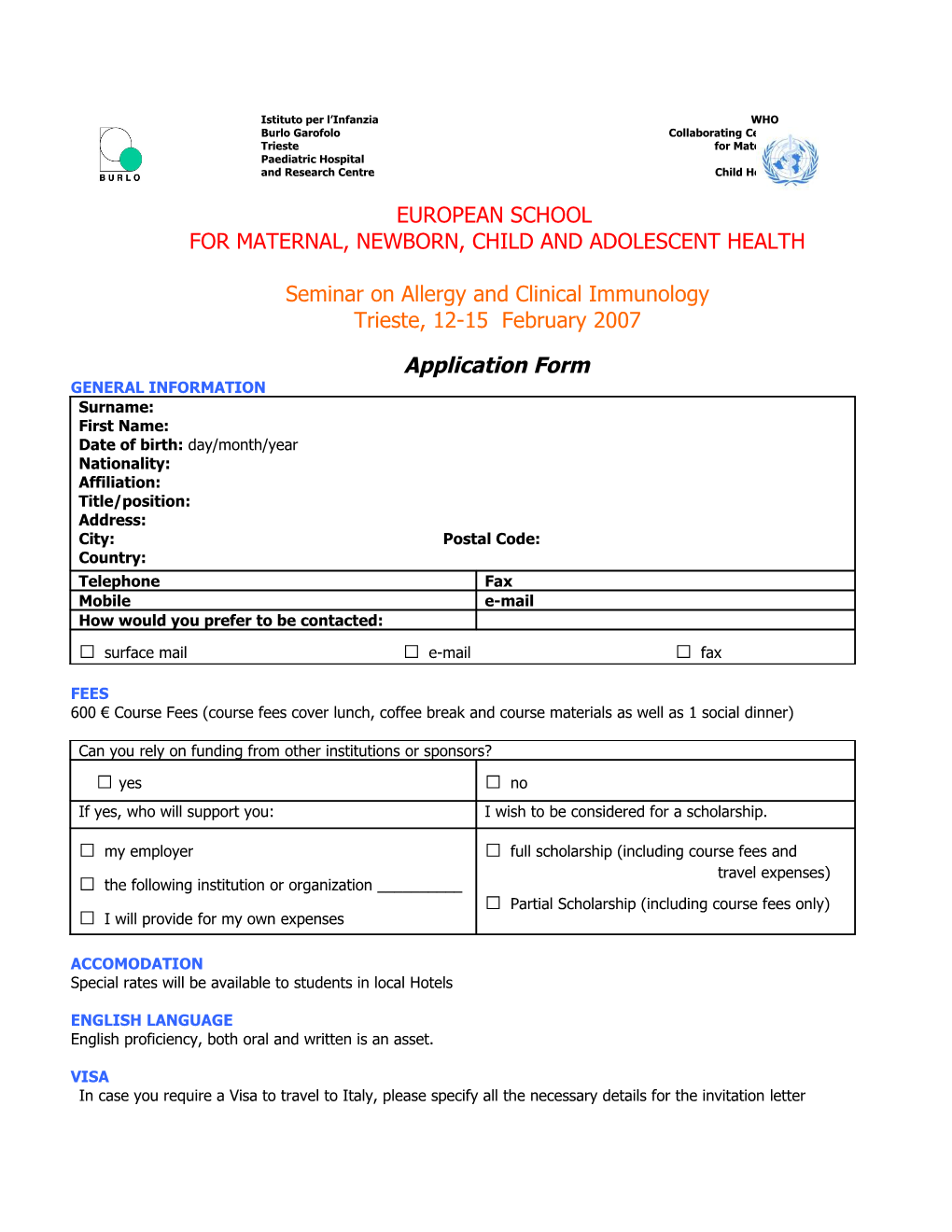 Istituto per l'Infanzia
Burlo Garofolo
Trieste
PaediatricHospital
and Research Centre / WHO
Collaborating Centre
for Maternal
and
Child Health


EUROPEANSCHOOL

FOR MATERNAL, NEWBORN, CHILD AND ADOLESCENT HEALTH

Seminar on Allergy and Clinical Immunology

Trieste, 12-15 February 2007

Application Form

GENERAL INFORMATION

Surname:
First Name:
Date of birth: day/month/year
Nationality:
Affiliation:
Title/position:
Address:
City: Postal Code:
Country:
Telephone / Fax
Mobile / e-mail
How would you prefer to be contacted:
□ surface mail □ e-mail □ fax


FEES

600 € Course Fees (course fees cover lunch, coffee break and course materials as well as 1 social dinner)

Can you rely on funding from other institutions or sponsors?
□yes / □ no
If yes, who will support you: / I wish to be considered for a scholarship.
□ my employer
□ the following institutionor organization ______
□ I will provide for my own expenses / □ full scholarship (including course feesand
travel expenses)
□ Partial Scholarship (including course fees only)


ACCOMODATION

Special rates will be available to students in local Hotels

ENGLISH LANGUAGE

English proficiency, both oral and written is an asset.

VISA

In case you require a Visa to travel to Italy, please specify all the necessary details for the invitation letter (Name and address as on passport, place and date of birth). Please contact your embassy and provide detailed information on their requirements (i.e. does the invitation letter need to be in original or is fax sufficient? What information needs to be included in the letter etc.)


Please submit the present Application Form enclosing
updated CV (max. 2 pages)
A brief letter (1 page) describing your interest in attending the School, and what are you expectations. The letter should include a brief description of your current responsibilities, as well as further developments of your responsibilities if envisaged.
One short letter ( max. half page) of presentation by either a supervisor or colleague
before December1st, 2006 to the address below. Applications that lack the above mentioned documents will not be considered.

Laura Cogoy
Direzione Scientifica
Istituto per l'Infanzia Burlo Garofolo
Via dell'Istria 65/1
34137 Trieste
Italy
Fax: +39-040-3785210 / For electronic submissions:
Please include in the subject of the e-mail: Application
for MCH Summer School_Name_Surname


You will be notified with an e-mail or fax., once your application has been received.

Decisions regarding acceptance and the allocation of scholarships will be communicated within two weeks after all applications have been received.