III. Field Guide for Application of HGM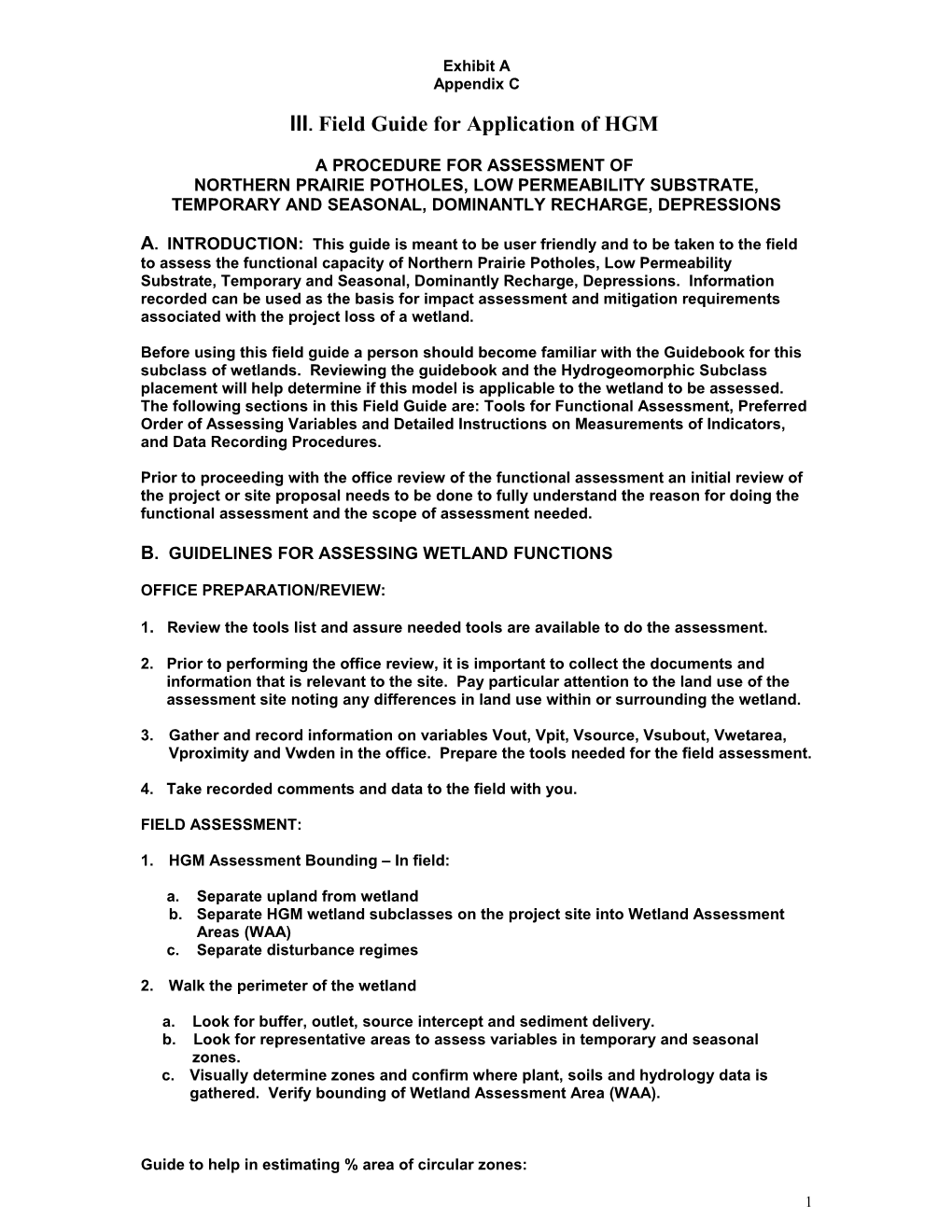 Exhibit A
Appendix C
III. Field Guide for Application of HGM
A PROCEDURE FOR ASSESSMENT OF
NORTHERN PRAIRIE POTHOLES, LOW PERMEABILITY SUBSTRATE, TEMPORARY AND SEASONAL, DOMINANTLY RECHARGE, DEPRESSIONS
A. INTRODUCTION: This guide is meant to be user friendly and to be taken to the field to assess the functional capacity of Northern Prairie Potholes, Low Permeability Substrate, Temporary and Seasonal, Dominantly Recharge, Depressions. Information recorded can be used as the basis for impact assessment and mitigation requirements associated with the project loss of a wetland.
Before using this field guide a person should become familiar with the Guidebook for this subclass of wetlands. Reviewing the guidebook and the Hydrogeomorphic Subclass placement will help determine if this model is applicable to the wetland to be assessed. The following sections in this Field Guide are: Tools for Functional Assessment, Preferred Order of Assessing Variables and Detailed Instructions on Measurements of Indicators, and Data Recording Procedures.
Prior to proceeding with the office review of the functional assessment an initial review of the project or site proposal needs to be done to fully understand the reason for doing the functional assessment and the scope of assessment needed.
B. GUIDELINES FOR ASSESSING WETLAND FUNCTIONS
OFFICE PREPARATION/REVIEW:
1. Review the tools list and assure needed tools are available to do the assessment.
2. Prior to performing the office review, it is important to collect the documents and
information that is relevant to the site. Pay particular attention to the land use of the
assessment site noting any differences in land use within or surrounding the wetland.
3. Gather and record information on variables Vout, Vpit, Vsource, Vsubout, Vwetarea, Vproximity and Vwden in the office. Prepare the tools needed for the field assessment.
4. Take recorded comments and data to the field with you.
FIELD ASSESSMENT:
1. HGM Assessment Bounding – In field:
a. Separate upland from wetland
b. Separate HGM wetland subclasses on the project site into Wetland Assessment Areas (WAA)
c. Separate disturbance regimes
2. Walk the perimeter of the wetland
a. Look for buffer, outlet, source intercept and sediment delivery.
b. Look for representative areas to assess variables in temporary and seasonal
zones.
c. Visually determine zones and confirm where plant, soils and hydrology data is
gathered. Verify bounding of Wetland Assessment Area (WAA).
Guide to help in estimating % area of circular zones:
% Radial distance(center to edge) 10% 20% 30% 40% 50% 60% 70% 80% 90% 100%
center point .------)------)------)------)------)------)------)------)------)------)
% Area within that radius 1% 4% 9% 16% 25% 36% 49% 64% 81% 100%
3. Follow the steps for on-site measurement of indicators in the field as explained in the
Preferred Order of Assessing Variables and the Detailed Instructions for
Determination and Measurement of Indicators.
4. Score the variable index scores on worksheet Table C-1 along with measurements
and comments.
5. Calculate Functional Capacity Index's (FCI's) using Table C-2 or computer program.
6. Check to insure you have all needed field data collected and recorded. Review the
data collected to see if it makes sense and recheck data appearing questionable.
C. TOOLS FOR FUNCTIONAL ASSESSMENT
OFFICE TOOLS:
USGS QUAD MAPS
NWI WETLAND MAPS
JURISDICTIONAL DELINEATION DOCUMENTS
PHOTO MAPS OF WETLAND AND THE AREA WITHIN ONE MILE RADIUS
METHOD/TOOLS FOR ACREAGE CALCULATION
SOIL SURVEY
MAP SCALE
DUGOUT VOLUME TABLES
FIELD TOOLS:

NORTHERN PRAIRIE FUNCTIONAL ASSESSMENT MODEL

PHOTO MAP OF WETLAND AND LANDSCAPE

BASIC SURVEY EQUIPMENT; HAND, ABNEY OR TRANSIT LEVEL, ROD, SURVEY OR STADIA

PLANT IDENTIFICATION HANDBOOKS

CAMERA, FILM, TRIPOD, ETC.

SPADE, SOIL PROBE OR AUGER FOR SOILS WORK

HAND LENS

CLIPBOARD, PAPER, PEN-PENCIL

FIELD RECORDING SHEETS

SOIL SURVEY

SOILS FIELD KIT - SPATULA, ACID, MUNSELL COLOR BOOK, TAPE MEASURE, WATER BOTTLE, HYDRIC SOIL INDICATORS BOOK,

FLAGS - VARIOUS COLORS OR LATH AND FLAGGING TAPE

MARKING PENS (TO WRITE ON FLAGS)

100 FOOT CHAIN

ACREAGE SCALE/RULER

CALCULATOR WITH SQUARE ROOT CAPABILITY

TILE PROBE

TOOLS FOR STEM DENSITY COUNT IN THE BUFFER

MEASUREING WHEEL

OTHER CONSIDERATIONS:

NOTIFY OWNER/OPERATOR

INSECT REPELLENT

SUN SCREEN

WADERS, HIP-CHEST-IRRIGATION

BINOCULARS

GENERAL LAND USE KNOWLEDGE OF THE BASIN

M.A.R.S.H. PLANT ID PROGRAM IN A LAPTOP

GPS PLGR

BAGS, CARDBOARD AND NEWSPAPER FOR PLANT COLLECTIONS

D. PREFERRED ORDER OF ASSESSING VARIABLES

1. Vwden

When approaching the wetland(s), examine area within 1320 feet (1/4 mile) radius. Verify location of wetlands found in office review. Check wetland basins noted as suspect during the office review. Formulate plans for an on-site check if needed (for larger wetlands a radius of 2980 feet (640 acres) or 1 mile radius may be needed to accurately assess the Vwden variable).

2. Vwetarea

The measurement of this variable is the ratio of temporary and seasonal wetlands to semi-permanent wetlands or wetter within a 1 mile radius of the assessed wetland's center point. Until a map depicting this variable is made for rapid assessment, the duck breeding pairs map is an acceptable surrogate and can be substituted for the variable Vwetarea in the Habitat function. (Large project type activity may require the measurement of the ratio at the 1 mile radius.)

3. Vproximity

The measurement of this variable is the mean distance in feet from the assessed wetland to the nearest 5 wetlands in any direction, measured edge to edge. When verifying office data for number of basins, note any changes that affect the measurement of the nearest 5 wetlands. If changes are made based on field observation, make adjustments to measurement of this variable.

4. Vsource

Review USGS quad sheets of the area, noting the watershed drawn out in the office review. Observe and note drainage work (ditches, subsurface drains) in and outside of the wetland and within the catchment area of the wetland. Eyeball the subject wetland and note land use and any alterations such as drains or tile, watershed size and any source impacts such as roads, irrigation, etc. Also note any indicators of high water marks such as trash lines, detritus hanging in standing vegetation, sediment stains, etc.

5. Vupuse

Observe and record dominant land use(s) from the wetland edge to the catchment perimeter, and the proportion of each land use as % of total catchment area.

6. Vsubout

Observe and verify office review of drainage work (ditches, subsurface drains) in and outside of the wetland and within 200 feet of the wetland. Record any length, width or other measurements you feel are appropriate. Using survey equipment, measure the following: Distance to or spacing of tile drain or ditch and depth of tile drain or ditch. Verify tile size.

7. Vbdensity

Grassland buffer density is observed on the upland within 50 feet of the wetland. The measurement of this variable is stem density. Secondary measurements are Percent Ground Cover and Visual Obstruction Measurement (VOR). Until reference standards are assigned indicators will be used.

8. Vbwidth

Use a measuring wheel, box tape, or pacing to measure the width across the most representative span of existing buffer. Exclude segment(s) with no buffer when considering the average width.

9. Vbcontinuity

Visually estimate the % of the wetland perimeter that has a buffer. Then look at an aerial photo of the wetland to check if the estimate appears to be reasonable.

10. Vpore

Using soil survey tools, locate wetland edge and wetland zones. Within the wetland observe soil structure, presence of an Ap horizon, evidence of tillage, evidence of roots growing horizontally, presence of a plow pan, soil pores, and rupture resistance.

11. Vsom

Within the wetland, observe hydric soil indicators, soil color, evidence and frequency of cropping and degree of drainage.

12. Vout

Using survey equipment, establish the following elevations: Wetland bottom, natural threshold outlet, constructed outlet and hydric line. Observe and verify from office review drains in and outside of the wetland. Record any length, width or other measurements you feel are appropriate.

13. Vpit

Determine volume of the pit in the wetland and compare it to the volume of the

wetland.

14. Vpcover

Survey plant cover in each wetland zone.

15. Vpratio

Inventory the plant population and record the relative abundance of the dominant species, based on the expected % of canopy that each comprises for the season. For a higher quality assessment, record the proportions of all species found. If any purple loosestrife is found, record the amount.

16. Vsed

Observe and note evidence of current and historic sediment delivery to the

wetland; evidence of tillage within the catchment area and tillage in and through

the buffer and wetland. Note the slope of the catchment area and the thickness of the A horizon, especially along the edge of the temporary zone. Check sediment depths in temporary zone and seasonal zone and record.

17. Vdetritus

Measure thickness of litter in both the temporary and seasonal zone if present. Variability will dictate the number of measurements to be taken to obtain a representative thickness.

18. Vwetuse

Observe and record dominant land uses within the wetland. If the assessment is made by a team confer with team members in scoring this variable.

E. DETAILED INSTRUCTIONS ON MEASUREMENTS OF INDICATORS AND DATA

RECORDING

Vwden

Where to measure: This variable accounts for the actual number count of wetland basins on the landscape within ¼ and 1 mile radius of the center of the assessed wetland.

When to measure: The data for this variable can be gathered in conjunction with the variable Vwetarea and initially is done in the office. Always verify results in the field.

What and how to measure: In the office, review the NWI and FSA wetland inventory maps and inscribe a circle scaled to ¼ mile radius from the center of the assessed wetland. Count the number of wetlands within or intercepted by the inscribed circle. Verify the number count in the field. (For larger wetlands a radius of 2980 feet (640 acres) or the 1 mile radius (2000.3 acres) may be needed to confirm the Vwden variable). If a wetland is bisected by a road count it as one wetland.

When approaching the site in the field review, verify location of wetlands found in office

review of the area within the 1/4 mile radius (1320 feet). Check wetland basins

noted as suspect during the office review. Formulate plans for an on-site check if needed.

What to Record: Number of wetland basin(s) within ____ mile radius of the center of the assessed wetland ______.

Definition and Measurement of Variable Condition VWDEN

Model Variable / Measurement or Condition / Index
VWDEN: Density of Wetlands in the Landscape / Density of wetlands within the defined radius from the center of the assessment wetland is >75% of reference standard based on physiographic region
(e.g., Glaciated Plains -vs.- Missouri Coteau). / 1.0
Definition: The number of wetland basins on the landscape within a defined radius from the WAA. (Data reported at 1 mile and 1/4 mile scale). / Density of wetlands within the defined mile radius from the center of the assessment wetland is 50% - 75% of reference standard based on physiographic region
(e.g., Glaciated Plains -vs.- Missouri Coteau). / 0.75
Logic: / Density of wetlands within the defined radius from the center of the assessment wetland is 25% - 50% of reference standard based on physiographic region
(e.g., Glaciated Plains -vs.- Missouri Coteau). / 0.5
Density of wetlands within the defined radius from the center of the assessment wetland 10% - 25% of reference standard based on physiographic region
(e.g., Glaciated Plains -vs.- Missouri Coteau). / 0.25
Density of wetlands within the defined radius from the center of the assessment wetland >0% - 10% of reference standard based on physiographic region
(e.g., Glaciated Plains -vs.- Missouri Coteau). / 0.1
No other wetlands within 1 mile radius. / 0.0

Vwetarea
Where to measure: The measurement of this variable is the ratio of temporary and seasonal wetlands to semi-permanent wetlands or wetter within a 1 mile radius of the assessed wetland's center point and captures the relationship of wetland diversity within a given assessment area. Until a map depicting this variable is made for rapid assessment, the duck breeding pairs map is an acceptable surrogate and can be substituted for the variable Vwetarea in the habitat function. More information on this variable can be found in the reference standards listing. (Large project type activity may require the measurement of the ratio at the 1 mile radius.) The duck breeding pairs indexing will be included with the reference standard information

When to measure: This variable is most conveniently measured in the office using NWI and FSA wetland inventory maps. A measuring device such as dot counter scale or planimeter will be used. Verify the wetland(s) in the field. This data can be gathered at the same time as Vwden and Vproximity data.

The duck breeding pairs map surrogate can be scored in the office. There will be no temporal variability in this measurement and it can be scored anytime during the assessment. The indexing was done using best professional judgment and applies to North Dakota. Indexing for other states should be done by local experts using their best professional judgment. The variable lacks sensitivity in that it does not count basins, nor is it able to detect instant change. This does not, however detract from its use. If a wetland is being assessed due to a planned alteration that requires mitigation, then mitigation should be performed in an area of the same or higher index score. It may take a policy decision to determine if mitigation will be basin for basin, function for function, in the same watershed, etc.

How and what to measure: Use the NWI maps to locate the assessed wetland and inscribe a circle scaled to a 1 mile radius around its center point. Measure the acreage of all wetland area within the inscribed circle. Total the acreage of temporary (PEMA) and seasonal (PEMC) wetlands.

Total the acreage of the semi-permanent (PEMF) or wetter wetlands. Divide the total

acreage for the PEMA and PEMC wetlands by the total of the PEMF and wetter wetlands.

The result is the ratio of temporary and seasonal wetland area to semi-permanent and

wetter wetland area.

The evaluator only needs to know the location of the wetland being assessed and have access to U. S. Fish and Wildlife Service Waterfowl Breeding Pairs Distribution map. The location is found on the breeding pairs map and, using the color-coded index legend on the map, the number of breeding pairs predicted to use this location is noted.

What to record: Measurement(s):

Area of temporary and seasonal wetlands within the _____ mile radius assessment

area ______.

Area of semi-permanent or wetter wetlands within the _____ mile radius assessment

area ______.

Ratio of temporary and seasonal area to semi-permanent or wetter wetland area ______.

Indicator(s):

The density of breeding pairs indicated by the map ______.

Definition and Measurement of Variable Condition VWAREA

Model Variable / Measurement or Condition / Index
VWETAREA: Wetland Diversity In The Landscape / Ratio 75% to 125% of reference standards based on physiographic region
(e.g., Glaciated Plains -vs.- Missouri Coteau). / 1.0
Definition: The ratio of total area (acres) of temporary and seasonal wetlands to the total area of semi-permanent and / Ratio 50% to 75% of reference standards based on physiographic region
(e.g., Glaciated Plains -vs.- Missouri Coteau). / 0.75
permanent wetlands within a defined radius of the assessment site. / Ratio 25% to 50% or >125% of reference standards based on physiographic region
(e.g., Glaciated Plains -vs.- Missouri Coteau). / 0.5
Logic: / Ratio 10% to 25% of reference standards based on physiographic region
(e.g., Glaciated Plains -vs.- Missouri Coteau). / 0.25
Ratio >0% to 10% of reference standards based on physiographic region (e.g., Glaciated Plains -vs.- Missouri Coteau). / 0.1
No other wetlands within a 1 mile radius / 0.0


Vproximity

Where to measure: The density of wetland basins in a landscape is captured by this variable. The measurements are made from the boundary edge of the wetland being assessed to the nearest boundary edge of the five nearest wetlands in any direction in the landscape.

When to measure: Distance measurements for this variable can be made while gathering the data for Vwetarea and Vwden. Initial measurements are more easily performed in the office and the wetland boundaries verified in the field.

How and what to measure: Identify the assessed wetland on NWI and/or FSA wetland inventory maps. On a scaled map measure the distance from the edge of the assessed wetland to the closest edge/boundary of the five nearest wetlands. Measure in any direction needed. Record distances in feet and total the five distances and divide by five to determine the average or mean distance. Regard a basin bisected by a road as one wetland.

What to record:

Distance to the five nearest wetlands ______Sum of distances ______

Sum / 5 = ______ft. (mean)

Definition and Measurement of Variable Condition VPROXIMITY

Model Variable / Measurement or Condition / Index
VPROXIMITY: Proximity to Other Wetlands / Distance to adjacent wetlands < or = 125% of reference standard based on physiographic region
(e.g., Glaciated Plains -vs.- Missouri Coteau). / 1.0
Definition: The mean distance to the nearest 5 wetlands in any direction from the WAA as measured edge-to-edge. / Distance to adjacent wetlands > 125% to 150% of reference standard based on physiographic region
(e.g., Glaciated Plains -vs.- Missouri Coteau). / 0.75
Logic: / Distance to adjacent wetlands > 150% to 175% of reference standard based on physiographic region
(e.g., Glaciated Plains -vs.- Missouri Coteau). / 0.5
Distance to adjacent wetlands > 175% to 200% of reference standard based on physiographic region
(e.g., Glaciated Plains -vs.- Missouri Coteau). / 0.25
Distance to adjacent wetlands > 200% of reference standard based on physiographic region
(e.g., Glaciated Plains -vs.- Missouri Coteau). / 0.1
No other wetlands within 1 mile radius. / 0.0


Vsource