I V U;W Qwkj LV Nsgjknwu 248006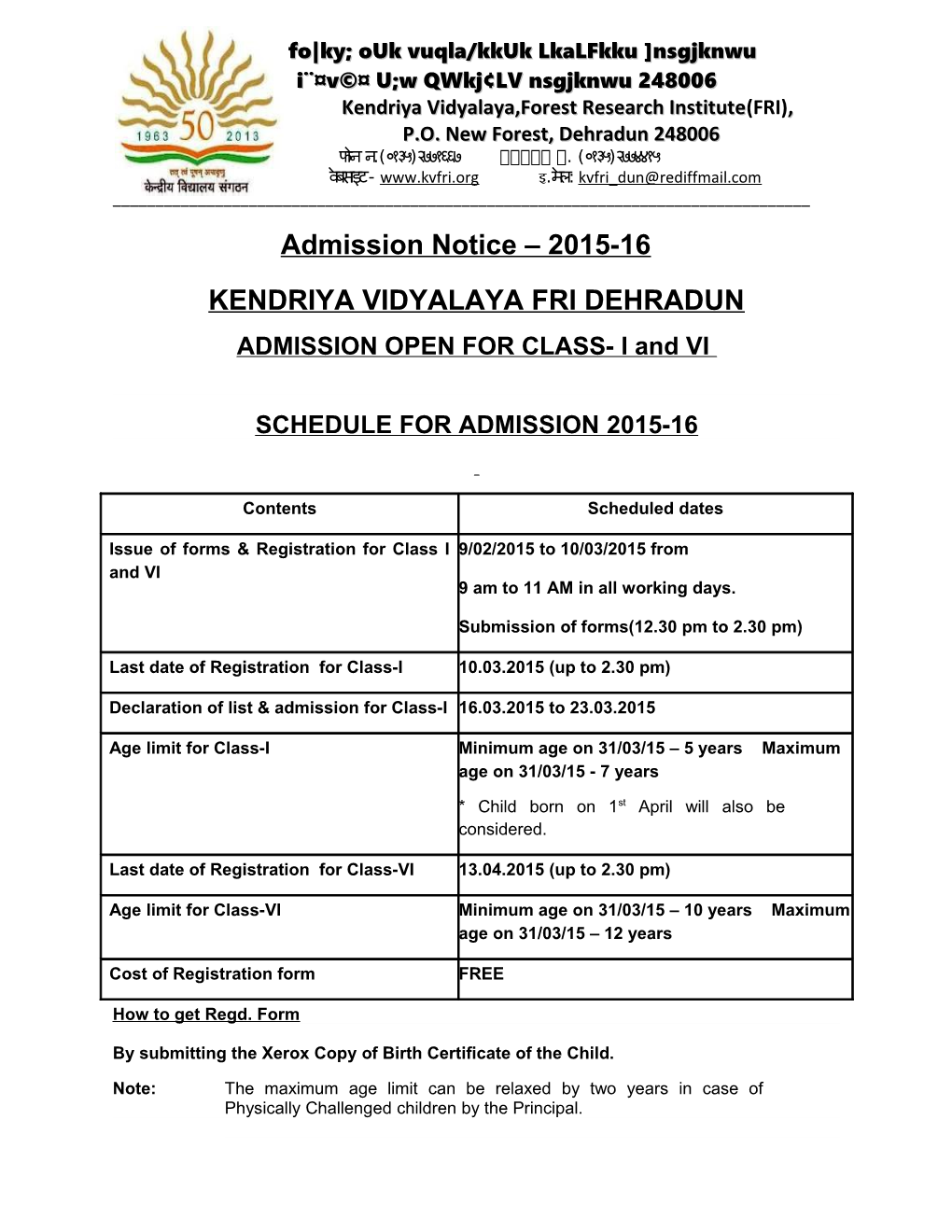 dsUnzh; fo|ky; oUk vuqla/kkUk LkaLFkku ]nsgjknwu

i¨¤v©¤ U;w QWkj¢LV nsgjknwu 248006

Kendriya Vidyalaya,Forest Research Institute(FRI),

P.O. New Forest, Dehradun 248006

फोन न.(०१३५)२७७१६६७ फेक्स न. (०१३५)२७७४४१५

वेबसाइट- इ.मेल:

______

Admission Notice – 2015-16

KENDRIYA VIDYALAYA FRI DEHRADUN

ADMISSION OPEN FOR CLASS- I and VI

SCHEDULE FOR ADMISSION2015-16

Contents / Scheduled dates
Issue of forms & Registration for ClassI and VI / 9/02/2015 to 10/03/2015 from
9 am to 11 AM in all working days.
Submission of forms(12.30 pm to 2.30 pm)
Last date of Registration for Class-I / 10.03.2015 (up to 2.30 pm)
Declaration of list & admission for Class-I / 16.03.2015 to 23.03.2015
Age limit for Class-I / Minimum age on 31/03/15 – 5 years Maximum age on 31/03/15 - 7 years
* Child born on 1st April will also be considered.
Last date of Registration for Class-VI / 13.04.2015 (up to 2.30 pm)
Age limit for Class-VI / Minimum age on 31/03/15 – 10 years Maximum age on 31/03/15 – 12 years
Cost of Registration form / FREE


How to get Regd. Form

By submitting the Xerox Copy of Birth Certificate of the Child.

Note:The maximum age limit can be relaxed by two years in case of Physically Challenged children by the Principal.

KENDRIYA VIDYALAYA FRI, DEHRADUN

ADMISSION BROCHURE –SESSION (2015-16)

KV FRI was established on June 1, 1964. It is housed in an 15 acres open land with a rich variety of trees and well maintained beautiful gardens, which are a treat for the eyes.It has emerged as one of the leading educational institutes of Dehradun and the Country. The Vidyalaya is managed by a local Management Committee with the Director FRI as Chairman. The vidyalaya has well equipped science laboratories with separate innovative Science Labs for Juniors, Computer Labs (With Internet facilities), Resource Room with computer, LCD, projectors etc and well furnished class rooms. The Vidyalaya has Science, Commerce and humanities at +2 level.
KV FRI has given 100%result in class X and XII examination 2014.Our student bought several laurels in various competitionsconducted by sangathan like science Exhibition, social science Exhibition,Science congress, Regional sports meet,SGFI etc.Hence we provide an ambient holistic development of the child.


Admissions are open for class I and VI for the session 2015-16.

Registration forms free of cost are available in the vidyalaya office on all working days from 9:00 am to 11:00 am w.e.f. 9.02.15 to 10.03.15.

Eligible age of Admission

Child must be 5 yrs. old on 31.03.2015 for class I. (Child born on 1stApril will also be considered)

Class / Minimum age as on 31-03-2015 / Maximum age as on 31-03-2015 / Born between
I / 5 years / 7 years / 31/3/2008 to 31/3/2010
VI / 10 years / 12 years / 31/3/2003 to 31/3/2005


Note:The maximum age limit can be relaxed by two years in case of Physically Challenged children.

केन्द्रीय विद्यालय , एफ. आर. आई. देहरादून

प्रवेशविवरणिकासत्र : २०१५-१६

केन्द्रीय विद्यालय, एफ. आर. आई. की स्थापना ०१ जून १९६४ में हुई थी| विद्यालय लगभग १५ एकड क्षेत्र में फैला है|भांति- भांति की वृक्षावली एवं सुन्दर उपवनों का अनूठा सौंदर्य विद्यालय के शैक्षिक वातावरण को एक नई गरिमा प्रदान करता है| के. वि. , एफ. आर. आई. न केवल देहरादून वरन देश का एक अग्रणी विद्यालय है| एफ. आर. आई. के निदेशक विद्यालय प्रबंधन समिति के अध्यक्ष हैं| विद्यालय विभिन्न उपकरणों से सुसज्जित, विज्ञान प्रयोगशालाओं के साथ – साथ नई संचार क्रांति से छात्र छात्राओं को जोड़ती इन्टरनेट युक्त कंप्यूटर प्रयोगशालाओं से भी संपन्न है|

केन्द्रीय विद्यालय एफ. आर. आई. देहरादून का दसवीं एवं बारहवीं कक्षा का सत्र २०१३-१४ का परीक्षा परिणाम शत प्रतिशत रहा है |केंद्रीय विद्यालय संगठन द्वारा आयोजित विज्ञान प्रदर्शनी,सामाजिक विज्ञान प्रदर्शनी,विज्ञान कांग्रेस एवं संभागीय खेल कूद प्रतियोगिताओं तथा एस.जी.एफ.आई. में विद्यालय के छात्र – छात्राओं द्वारा विशिष्ट उपलब्धियाँ हासिल की गयी हैं |विद्यालय विद्यार्थियों के सर्वांगीण विकास हेतु सतत प्रयत्नशील है|

कक्षा १ व् ६ में प्रवेश हेतु इच्छुक अभिभावक कार्यालय दिवस में दिनांक ९/०२/१५ से १०/०३/१५ प्रातः ९.०० बजे से ११.०० बजे तक निःशुल्क पंजीकरण प्रपत्र प्राप्त कर सकते हैं| पंजीकरण की अंतिम तिथि १०/०३/१५ है |

प्रवेश के लिए पात्रता आयु:-

जिस शैक्षणिक वर्ष के दौरान कक्षा-1 में प्रवेश मांगा जा रहा है उस वर्ष की 31 मार्च को बच्चे की आयु पांच वर्ष की होनी आवश्यक है (जिस बच्चे की जन्मतिथि 1 अप्रैल हो उस पर भी विचार किया जाएगा)।

कक्षा / न्यूनतम आयु31/3/15तक / अधिकतम आयु 31/3/15तक / जन्मतिथि
(कब से कब तक)
I / 5 वर्ष / 7 वर्ष / 31/3/2008 से 31/3/2010
VI / 10 वर्ष / 12 वर्ष / 31/3/2003 से 31/3/2005


टिप्पणी: विकलांग बच्चों को अधिकतम आयु में दो वर्ष की छूट दी जा सकती है ।

Details of documents to be submitted:-

The following documents are to be attached with the form while submitting the form:-
Attested copy of Birth Certificate. For class I certificate of proof of age in the form of a birth certificate issued by the authority competent to registered births. This will include certificates from Notified Area council/Municipality/Municipal corporation extract about the date of birth from records of Village Panchayat, MilitaryHospital and service records of defence personnel or Affidavit.
For grandchildren of honorable MP and PSU employees, a proof of relationship of either of the child's parents with the honorable MP and PSU employees would be needed.
For grandchildren of KVS employees a proof of relationship would be required.
4.Attested copy ofRation Card, Electric Bill, Voter I-Card and AadharCard. A certificate that the child belongs to the ST/SC/EWS/OBC (Non-creamy layer)/BPL/Differently abled, wherever applicable issued by the competent authority in concern state government /Union government. Attested copy of Child's Caste Certificate.
5.Attested copy of Residential Proof.Undertaking about distance from home to school.
6.Attested copy of Blood Group ofthe child.
7.Railway people should counter signed their Registration Form from Divisional Personal Officer, S. E. Railway, KGP for open line and medical department /Dy.CPO or A P.O. from work shop / Sr. Div. Security Commissioner for RPF / Principal, Zonal Training Institute for RPF/Sr.DFM for accounts dept. employee. For Bank and LIC employee from Sr. Manager from concerned bank. For Postal employee, counter signed by Post master. For State Govt. employee, counter signed by concerned controlling officer (Gazetted rank).For BSNL employee, countersigned by SDO telephone. Other employees should counter signed from concerned Head of Dept.
8. Physical Handicapped certificate from the civil surgeon/rehabilitation centre or any othercompetent authority.
9.Army man should give the service certificate from their C.O. about
a) not getting married accommodation b) Birth certificate
c) Transfer record within seven years.
10.A certificate of retirement for uniformed Defence employees.
11.The Original affidavit of Single Girl Child from First Class Magistrate,current year (2015)
12.Income Certificate from S.D.O. if the parent is below poverty line.
NOTE:-
Mere registration will not confer a right to admission.Incomplete application form shall normally be rejected.
(Dr. Charu Sharma)
PRINCIPAL