Have You Been in Business Less Than Four (4) Years?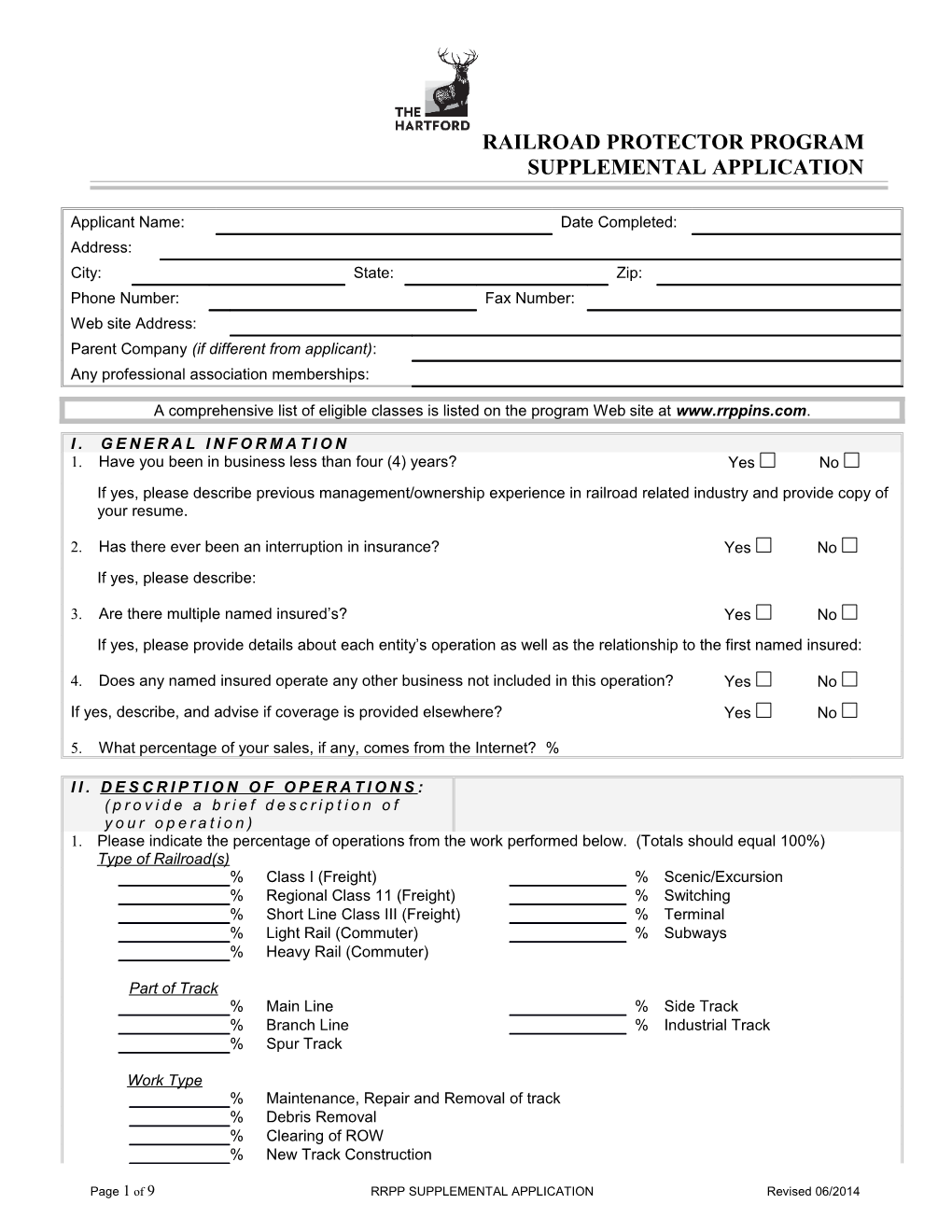 / RAILROAD PROTECTOR PROGRAM
SUPPLEMENTAL APPLICATION
Applicant Name: / Date Completed:
Address:
City: / State: / Zip:
Phone Number: / Fax Number:
Web site Address:
Parent Company (if different from applicant):
Any professional association memberships:
A comprehensive list of eligible classes is listed on the program Web site at .
I. GENERAL INFORMATION

Have you been in business less than four (4) years?
/ Yes / No
If yes, please describe previous management/ownership experience in railroad related industry and provide copy of your resume.

Has there ever been an interruption in insurance?
/ Yes / No
If yes, please describe:

Are there multiple named insured's?
/ Yes / No
If yes, please provide details about each entity's operation as well as the relationship to the first named insured:

Does any named insured operate any other business not included in this operation?
/ Yes / No
If yes, describe, and advise if coverage is provided elsewhere? / Yes / No

What percentage of your sales, if any, comes from the Internet? %

II. DESCRIPTION OF OPERATIONS:
(provide a brief description of your operation)
1.Please indicate the percentage of operations from the work performed below. (Totals should equal 100%)
Type of Railroad(s)
% / Class I (Freight) / % / Scenic/Excursion
% / Regional Class 11 (Freight) / % / Switching
% / Short Line Class III (Freight) / % / Terminal
% / Light Rail (Commuter) / % / Subways
% / Heavy Rail (Commuter)
Part of Track
% / Main Line / % / Side Track
% / Branch Line / % / Industrial Track
% / Spur Track
Work Type
% / Maintenance, Repair and Removal of track
% / Debris Removal
% / Clearing of ROW
% / New Track Construction
% / Emergency response contractor
% / Recovery/Re-railing of wrecked railroad equipment
% / Freight Forwarding/Transfer of materials, etc.
% / All Other, specifically described, including a description of all non-Railroad work:
2.Do any of your operations include the following? If 'Yes', to any of the below, please describe and indicate percentage.
Yes / No / % of Sales / Describe

Any work on railroad bridges/tunnels
/ %

Excavation requiring blasting
/ %

Railroad signalization/ communications, installation, service, or repair
/ %

Vegetation elimination or maintenance, with or without the application of pesticides
/ %

Any work on electrified railroads
/ %

Any work on Wheels/Axels/brakes
/ %

Any work on Locomotive engines
/ %

Any other critical components
/ %

Cleaning, repairing, retrofitting oftank cars
/ %
3.Any work in the following industries?

Chemical or Nuclear
/ %

Aircraft, Automotive, Aerospace or Defense
/ %

Environmental/Pollution Control
/ %
4.Are any of the following operations used in your process? Check those that apply:
Foundry / Metal Treating
Metal Casting / Welding (if yes, answer question #7 below)
Forging / Tool Manufacturing
Grinding / Plastic Injection Molding
Metal Stamping / Heat Treating
Sheet Metal Stamping / Chemical Dipping
Electroplating / Other:
5.Do you manufacture, install, distribute or repair aerial devices or cranes (truck mounted or otherwise)?
If yes, provide annual sales from this exposure for the past five years. $ / Yes / No
6.Please provide details of the last 5 jobs completed:
Description of Work / Location of Job / Contract Cost
1.
2.
3.
4.
5.
III. General Liability
7. Does your operation involve welding? / Yes / No
If yes, what percentage of total operation is welding? / %

What % of welding in "on premises"?
/ %

What % of welding is "off premises"?
/ %
Describe safety procedures used when welding :
8.Do you use leased employees? / Yes / No
If yes, please attach contract and certificate verifying coverage provided for GL & WC.
9.Are there dogs on the premises? / Yes / No
If yes, explain:
10.Do you provide any Design Services for others? (if yes, please complete the following questions) / Yes / No
a. / Percentage of work/end products designed for others by insured: / %
b. / Description of design services/product you design:
c. / Number of Engineers on staff:
d. / Outside Engineering firm used? / Yes / No
e. / Who signs off on the final design?
11.Safety & Training Programs
a. / Do you have a formal written safety program? / Yes / No
b. / Do you have a dedicated full time safety professional? / Yes / No
If yes, who:
c. / Do you conduct periodic safety meetings? / Yes / No
If yes, how often and briefly describe the meetings:
d. / Do you conduct regular worksite inspections? / Yes / No
e. / Which types of drug testing programs areused? / Pre-Employment Post-Accident Random No program
12.Quality Control
a. / Is there a formal written Quality Control Program? / Yes / No
b. / Are Quality Control records produced/and maintained for the life of the product? / Yes / No
c. / Are finished products clearly labeled for load capacity and warning labels placed on all completed products? / Yes / No
d. / Are your products test by: Your employees Independent test lab
Government Agency Your customers prior to acceptance
Other Describe:
e. / Are flawed or rejected products: Sold as seconds? Sold as scrap? Destroyed or Discarded?
f. / If you act as a distributor, do you manufacturers hold you harmless? / Yes / No
g. / Are operating instructions provided for any of your products either by you or the manufacturer? / Yes / No
If yes, please attach a copy of the operating instructions. / Attached:
h. / Please describe your products recall program:
13.Sub- Contracting
Do you Sub Contract any work to others? (if yes, please complete the following questions) / Yes / No
a. / What % of gross revenues is subcontracted / %
b. / Total of subcontracted work (cost): current year estimated
1st prior year
2nd prior year / $
$
$
c. / Do you require an executed written sub-contracting agreement containing a defense, indemnification and hold harmless provision in your favor prior to start of work? / Yes / No
d. / Does the contract require you to be named as an additional insured?
If yes, does such contract require coverage be provided on a primary and non-contributory basis? / Yes
Yes / No
No

Do you require a Waiver of Subrogation on subcontractor's policy?
/ Yes / No

Do you obtain Certs from all subcontractors?
/ Yes / No
14.Please indicate: # full time crews: # field supervisors: # of laborers:
15.Do your employees ever come under the complete supervision of a railroad? / Yes / No
If yes, please describe:
16.Does your company have a controlling interest in an operating railroad? / Yes / No
If yes, pleased explain:
IV. PROPERTY
17.Does building square footage exceed 20,000 square feet? / Yes / No
If yes, please attach a diagram of the building. Please be sure to include all fire divisions as well as indicate where paint booths are and where welding operations take place.
18.Is building over 25 years old? / Yes / No
If yes, please provide details regarding building updates including wiring, plumbing, heating, and roofing:
19.Is there a central station fire or burglar alarm system? / Yes / No
20.Is spray painting done on your premises? / Yes / No
Describe the paint booth including whether it is UL approved:
Describe how and where excess paints and other flammables are stored (i.e. containers, cabinets, non-attached buildings, etc.):
What is the quantity (in gallons) of paints, solvents, chemicals or other flammables kept on premises? Gall.
21.For property in the open, describe your lot and the security (i.e. fences, alarms, guards):
22.Does the building contain overhead cranes? / Yes / No
If yes, please describe type of cranes and number in use:
V. Automobile
23.Is there a formal written fleet safety program in use? / Yes / No
24.Is there a formal vehicle maintenance program in place? / Yes / No
25.Are Motor Vehicle Reports obtained? Pre-hire Annual / Yes / No
26.Are Files maintained for each driver? / Yes / No
27.Is disciplinary action in place for poor drivers? / Yes / No
28.Are employees instructed in accident reporting procedures? / Yes / No
29.Are there criteria in place to determine an acceptable Motor Vehicle Report? / Yes / No
If yes, provide details:
30.Are business vehicles:
Supplied or available for employee personal use? / Yes / No
Driven to and from personal homes to job sites? / Yes / No
Supplied or available for family member use? / Yes / No
If yes, please describe:
31.Do you provide any transportation of goods or equipment for others? / Yes / No
If yes, provide details:
32.Do you ever provide transportation to employees of a railroad? / Yes / No
If yes, provide details:
VI. INLAND MARINE – CONTRACTORS EQUIPMENT
33.Is there a formal written equipment safety program in use? / Yes / No
34.Are operators instructed in accident reporting procedures? / Yes / No
35.Is operator training provided? / Yes / No
36.Is there a formal written equipment maintenance program? / Yes / No
FRAUD AND APPLICANT'S STATEMENT
Countrywide Fraud Statements
For Utah Applicants Only:
ANY MATTER IN DISPUTE BETWEEN YOU AND THE COMPANY MAY BE SUBJECT TO ARBITRATION AS AN ALTERNATIVE TO COURT ACTION PURSUANT TO THE RULES OF (THE AMERICAN ARBITRATION ASSOCIATION OR OTHER RECOGNIZED ARBITRATOR), A COPY OF WHICH IS AVAILABLE ON REQUEST FROM THE COMPANY. ANY DECISION REACHED BY ARBITRATION SHALL BE BINDING UPON BOTH YOU AND THE COMPANY. THE ARBITRATION AWARD MAY INCLUDE ATTORNEY'S FEES IF ALLOWED BY STATE LAW AND MAY BE ENTERED AS A JUDGEMENT IN ANY COURT OF PROPER JURISDICTION.
Fraud Warning Statements
Knowingly presenting false or misleading information in an application for insurance may be a crime and violation of law subjecting the applicant to criminal and civil penalties.
Arkansas, Louisiana, Rhode Island & West Virginia applicants: Any person who knowingly presents a false or fraudulent claim for payment of a loss or benefit or knowingly presents false information in an application for insurance is guilty of a crime and may be subject to fines and confinement in prison.
Alabama applicants: Any person who knowingly presents a false or fraudulent claim for payment of a loss or benefit or who knowingly presents false information in an application for insurance is guilty of a crime and may be subject to restitution, fines or confinement in prison, or any combination thereof.
Colorado applicants: It is unlawful to knowingly provide false, incomplete, or misleading facts or information to an insurance company for the purpose of defrauding or attempting to defraud the company. Penalties may include imprisonment, fines, denial of insurance, and civil damages. Any insurance company or agent of an insurance company who knowingly provides false, incomplete, or misleading facts or information to a policy holder or claimant for the purpose of defrauding or attempting to defraud the policy holder or claimant with regard to a settlement or award payable from insurance proceeds shall be reported to the Colorado division of insurance within the department of regulatory agencies.
District of Columbia applicants: Warning: it is a crime to provide false or misleading information to an insurer for the purpose of defrauding the insurer or any other person. Penalties include imprisonment and/or fines. In addition, an insurer may deny insurance benefits if false information materially related to a claim was provided by the applicant.
Florida applicants: Any person who knowingly and with intent to injure, defraud or deceive any insurer files a statement of claim or an application containing any false, incomplete, or misleading information is guilty of a felony of the third degree.
Hawaii applicants: For your protection, Hawaii law requires you to be informed that presenting a fraudulent claim for payment of a loss or benefit is a crime punishable by fines or imprisonment, or both.
Kentucky applicants: Any person who knowingly and with intent to defraud any insurance company or other person files an application for insurance containing any materially false information or conceals for the purpose of misleading, information concerning any fact material thereto commits a fraudulent insurance act, which is a crime.
Maine applicants: It is a crime to knowingly provide false, incomplete or misleading information to an insurance company for the purpose of defrauding the company. Penalties may include imprisonment, fines or a denial of insurance benefits.
Maryland applicants: Any person who knowingly and willfully presents a false or fraudulent claim for payment of a loss or benefit or who knowingly and willfully presents false information in an application for insurance is guilty of a crime and may be subject to fines and confinement in prison.
New Jersey applicants: Any person who includes any false or misleading information on an application for an insurance policy is subject to criminal and civil penalties.
New Mexico applicants: Any person who knowingly presents a false or fraudulent claim for payment of a loss or benefit or knowingly presents false information in an application for insurance is guilty of a crime and may be subject to civil fines and criminal penalties.
New York applicants: Any person who knowingly and with intent to defraud any insurance company or other person files an application for insurance containing any materially false information or conceals for the purpose of misleading, information concerning any material fact thereto commits a fraudulent insurance act, which is a crime, and shall be also subject to a civil penalty not to exceed five thousand dollars and the stated value of the claim for each such violation.
Ohio applicants: Any person who, with intent to defraud or knowing that he is facilitating a fraud against an insurer, submits an application or files a claim containing a false or deceptive statement is guilty of insurance fraud.
Oklahoma applicants: Warning: Any person who knowingly, and with intent to injure, defraud or deceive any insurer, makes any claim for the proceeds of an insurance policy containing any false, incomplete or misleading information is guilty of a felony.
Oregon applicants: Any person who knowingly and with intent to defraud or solicit another to defraud an insurer: (1) by submitting an application or; (2) filing a claim containing a false statement as to any material fact maybe violating state law.
Pennsylvania applicants: Any person who knowingly and with intent to defraud any insurance company or other person files an application for insurance or statement of claim containing any materially false information or conceals for the purpose of misleading, information concerning any fact material thereto commits a fraudulent insurance act, which is a crime and subjects such person to criminal and civil penalties.
Tennessee, Virginia & Washington applicants: It is a crime to knowingly provide false, incomplete, or misleading information to an insurance company for the purpose of defrauding the company. Penalties include imprisonment, fines, and denial of insurance benefits.
Arbitration statement
Applicable to Utah applicants if the policy will contain an arbitration clause:
Any matter in dispute between you and the company may be subject to arbitration as an alternative to court action pursuant to the rules of (the American Arbitration Association or other recognized arbitrator), a copy of which is available on request from the company. Any decision reached by arbitration shall be binding upon both you and the company. The arbitration award may include attorney's fees if allowed by state law and may be entered as a judgement in any court of proper jurisdiction.
SIGNING THIS FORM DOES NOT BIND THE APPLICANT FIRM OR THE COMPANY TO COMPLETE THE INSURANCE. APPLICATION MUST BE SIGNED AND DATED BY AN OWNER, PARTNER OR OFFICER OF THE APPLICANT FIRM.APPLICANT'S STATEMENT: I, being duly authorized, have read the above application and declare that to the best of my knowledge and belief all of the foregoing statements are true, and that these statements are offered as an inducement to the Company to issue the policy for which I am applying. (Kansas: This does not constitute a warranty).
Authorized Signature: / Title:
Print Name: / Date:
Producer's Signature: / Title:
Print Name: / Date:
License Identification Number or National Producer Number:
(Florida Producers must Provide License Identification Number)
* The Hartford as used above includes of one or more of the property and casualty company subsidiaries of The Hartford Financial Services Group, Inc. The subsidiary companies are Hartford Accident and Indemnity Company, Hartford Casualty Insurance Company, Hartford Fire Insurance Company, Twin City Fire Insurance Company, Hartford Underwriters Insurance Company, Hartford Insurance Company of Illinois, Sentinel Insurance Company Limited, Hartford Insurance Company of the Midwest, Trumbull Insurance Company, Hartford Insurance Company of the Southeast, Property and Casualty Insurance Company of Hartford, Hartford Lloyd's Insurance Company, and Pacific Insurance Company. Please note that not all of the listed insurance companies may be licensed in all states and the District of Columbia.


Page 1 of 7RRPP SUPPLEMENTAL APPLICATIONRevised 06/2014