Guidance for the Physician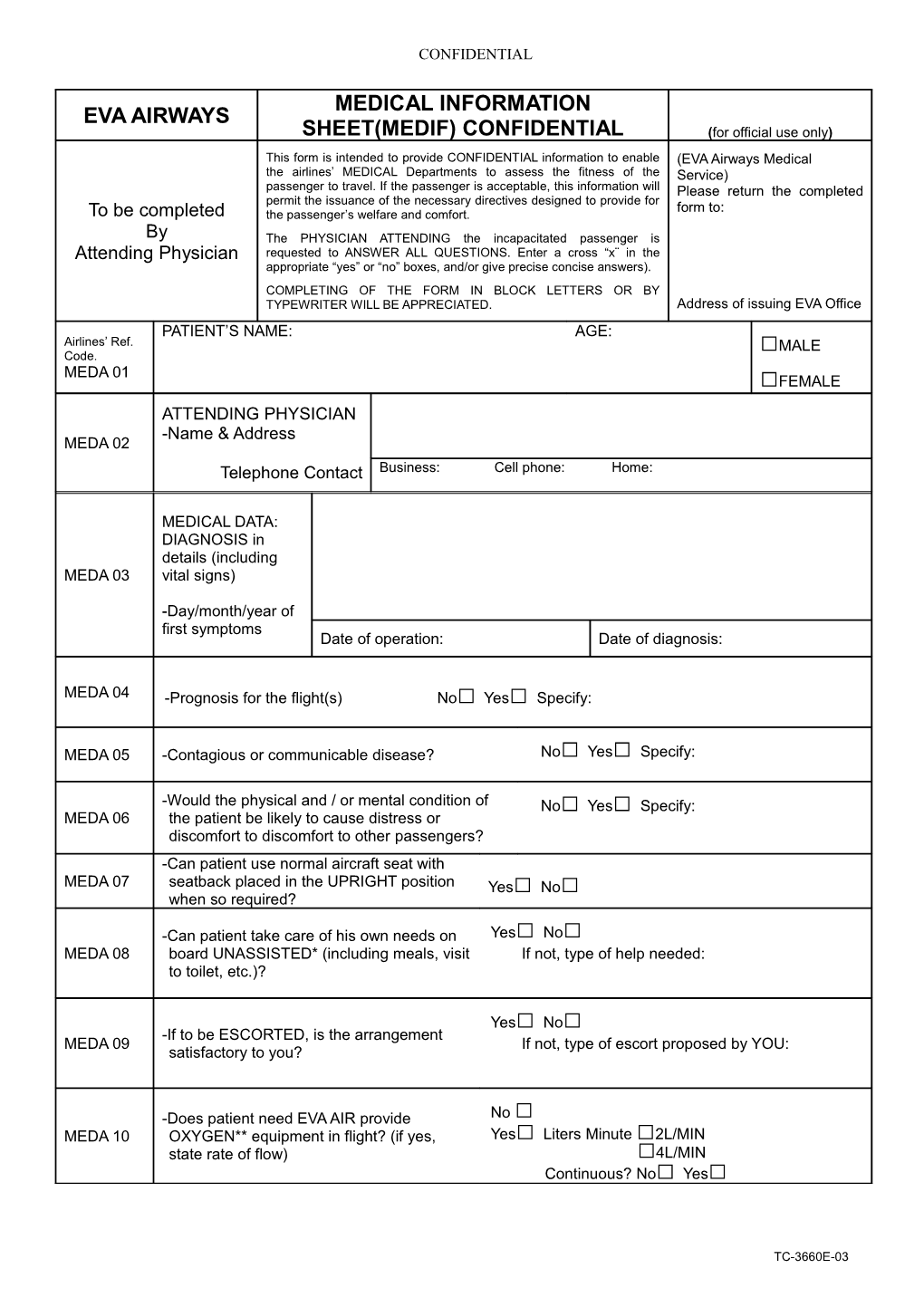 CONFIDENTIAL

EVA AIRWAYS / MEDICAL INFORMATION SHEET(MEDIF) CONFIDENTIAL / (for official use only)
To be completed
By
Attending Physician / This form is intended to provide CONFIDENTIAL information to enable the airlines' MEDICAL Departments to assess the fitness of the passenger to travel. If the passenger is acceptable, this information will permit the issuance of the necessary directives designed to provide for the passenger's welfare and comfort.
The PHYSICIAN ATTENDING the incapacitated passenger is requested to ANSWER ALL QUESTIONS. Enter a cross "x¨ in the appropriate "yes" or "no" boxes, and/or give precise concise answers).
COMPLETING OF THE FORM IN BLOCK LETTERS OR BY TYPEWRITER WILL BE APPRECIATED. / (EVA Airways Medical Service)
Please return the completed form to:
Address of issuing EVA Office
Airlines' Ref. Code.
MEDA 01 / PATIENT'S NAME: / AGE: / □MALE
□FEMALE
MEDA 02 / ATTENDING PHYSICIAN
-Name & Address
Telephone Contact
Business: Cell phone: Home:
MEDA 03 / MEDICAL DATA:
DIAGNOSIS in details (including vital signs)
-Day/month/year of first symptoms
Date of operation: / Date of diagnosis:
MEDA 04 / -Prognosis for the flight(s) No□Yes□Specify:
MEDA 05 / -Contagious or communicable disease? / No□Yes□Specify:
MEDA 06 / -Would the physical and / or mental condition of the patient be likely to cause distress or discomfort to discomfort to other passengers? / No□Yes□Specify:
MEDA 07 / -Can patient use normal aircraft seat with seatback placed in the UPRIGHT position when so required? / Yes□No□
MEDA 08 / -Canpatient take care of his own needs on board UNASSISTED* (including meals, visit to toilet, etc.)? / Yes□No□
If not, type of help needed:
MEDA 09 / -If to be ESCORTED, is the arrangement satisfactory to you? / Yes□No□
If not, type of escort proposed by YOU:
MEDA 10 / -Does patient need EVA AIR provide OXYGEN** equipment in flight? (if yes, state rate of flow) / No □
Yes□Liters Minute □2L/MIN
□4L/MIN
Continuous? No□Yes□
MEDA 11 / -Does patient carry POC (Portable Oxygen Concentrator) in flight?
-Batteryquantity? ______
(if yes, please see note) / Yes□No□
MEDA 12 / -Does patient need any MEDICATION*, other than self-administered, and/or the use of special apparatus such as respirator, incubator, etc.**?
-Battery quantity? ______
(if yes, please see note) / (a) on the GROUND while at the airport(s):
No□Yes□Specify:
MEDA 13 / (b) onboard of the AIRCRAFT:
No□Yes□Specify:
MEDA 14 / -Does patient need HOSPITALISATION? (If yes, indicate arrangements made or, if none were made, indicate "NO ACTION TAKEN") / (a) during long layover or nightstop at CONNECTING POINTS en route:
No□Yes□Action:
MEDA 15 / (b) upon arrival at DESTINATION:
No□Yes□Action:
MEDA 16 / -Other remarks or information in
the interest of your patient's
smooth and comfortable
transportation: / None□ Specify if any**:
MEDA 17 / -Other arrangements made by
the attending physician:
Note(*): 1. Cabin attendants are NOT authorized to give special assistance (e.g. lifting) to particular passengers, to the detriment of their service to other passengers. Additionally, they are trained only in FIRST AID and are NOT PERMITTED to administer any injection, or to give medication.
2. Medical clearance must be dated within 10 days of the scheduled date of departing flight.
IMPORTANT:
FEES, IF ANY, RELEVANT TO THE PROVISION OF THE ABOVEINFORMATION AND FOR CARRIER-PROVIDED SPECIAL EQUIPMENT (**) ARE TO BE PAID BY THE PASSENGER CONCERNED.
Date: / Place: / Attending Physician's Signature:
Passenger Declaration
"I HEREBY AUTHORIZE ………………………………………………………………
(Name of nominated physician)
to provide the airlines with the information required by those airlines' medical departments for the purpose of determining my fitness for carriage by air and in consideration thereof I hereby relieve that physician of his/her professional duty of confidentiality in respect of such information, and agree to meet such physician's fees in connection therewith.
I take note that, if accepted for carriage, my journey will be subject to the general conditions of carriage / tariffs of the carrier concerned and that the carrier does not assume any special liability exceeding those conditions / tariffs.
I agree to reimburse the carrier upon demand for any special expenditures or costs in connection with my carriage.
(Where needed, to be read by/to the passenger, dated and signed by him/her or on his/her behalf,)
Place: / Date: / Passenger's Signature:


Guidance for the Physician
Cabin conditions to be considered when diagnosing the physical and mental fitness for air travel:
(a)Slight decrease of oxygen
(b)Slight barometric depression
(c)Turbulence
(d)Surrounding passenger
Persons under following conditions are generally considered unfit for air travel:
(a)Those suffered from severe and critical heart disease. E.g. severe cardiac failure, cyanotic condition, or myocardial infarction.
(Those who have had an attack within the past 6 weeks are not acceptable.)
(b)Infants within 7 days of birth.
(c)Pregnant women whose confinement may be expected in less than 12 weeks and up to 4 weeks before expected delivery (acceptable if presenting a doctor's certificate signed within 10 days)
(d)Anemic persons. (hemoglobin concentration less than 50%)
(e)Those suffering from severe otitis media with blockage of the Eustachian tube.
(f)Those who have suffered from spontaneous pneumothorax or have had encephalo-pneumography recently.
(g)Those suffering from mediastinal tumors, extremely large hernias, intestinal obstruction, head injuries resulting in cranial hypertension, or fracture of the skull, and those with permanent wiring in the jaws.
(h)Alcoholics and other toxic patients, or those mentally ill, who are hazardous to others and / or to himself.
(i)Those not cured completely from a recent operation and women who are in the condition of afterbirth.
(j)Those suffered poliomyelitis within the past 30 days and those suffering from bulbar poliomyelitis.
(k)Those suffering from following epidemics and suspected patients; cholera; typhoid fever; paratyphoid fever; eruptive typhus; dysentery; smallpox; scarlet fever; diphteria; plague; epidemic meningo encephalitis; Japanese encephalitis; tuberculoulosis (infectious); and other epidemics.
(l)Those with skin lesion which is contagious or unpleasant to others.
(m)Those with severe symptoms of hemoptysis, hematoemesis, melena,vomiting or groan.
Portable Oxygen Concentrator NOTE:
To use onboard the aircraft, the FAA-approved and fit in with RTCA DO-160,Section 21 Category M POCs as above must have a label attached indicating that it has been test and approved by each countries for use in aircraft.
The device size and weight must follow the regulation of cabin carry-on baggage of each country.
At least 48 hours prior to the flight departure contact with reservation department to check how many quantities of batteries are required. Thebatteries quantity must fit in with regulation of each country and thebatteriescharge capacity at least 150% of flight time.
Whether you are able to operate the device and recognized and respond appropriately to its alarms, and if not, that the user is traveling with a companion who is able to perform these functions.
It is not allow use of the device during taxi, takeoff and landing.(emergency evacuation also not allowed carry on thedevice)
TC-3660E-03