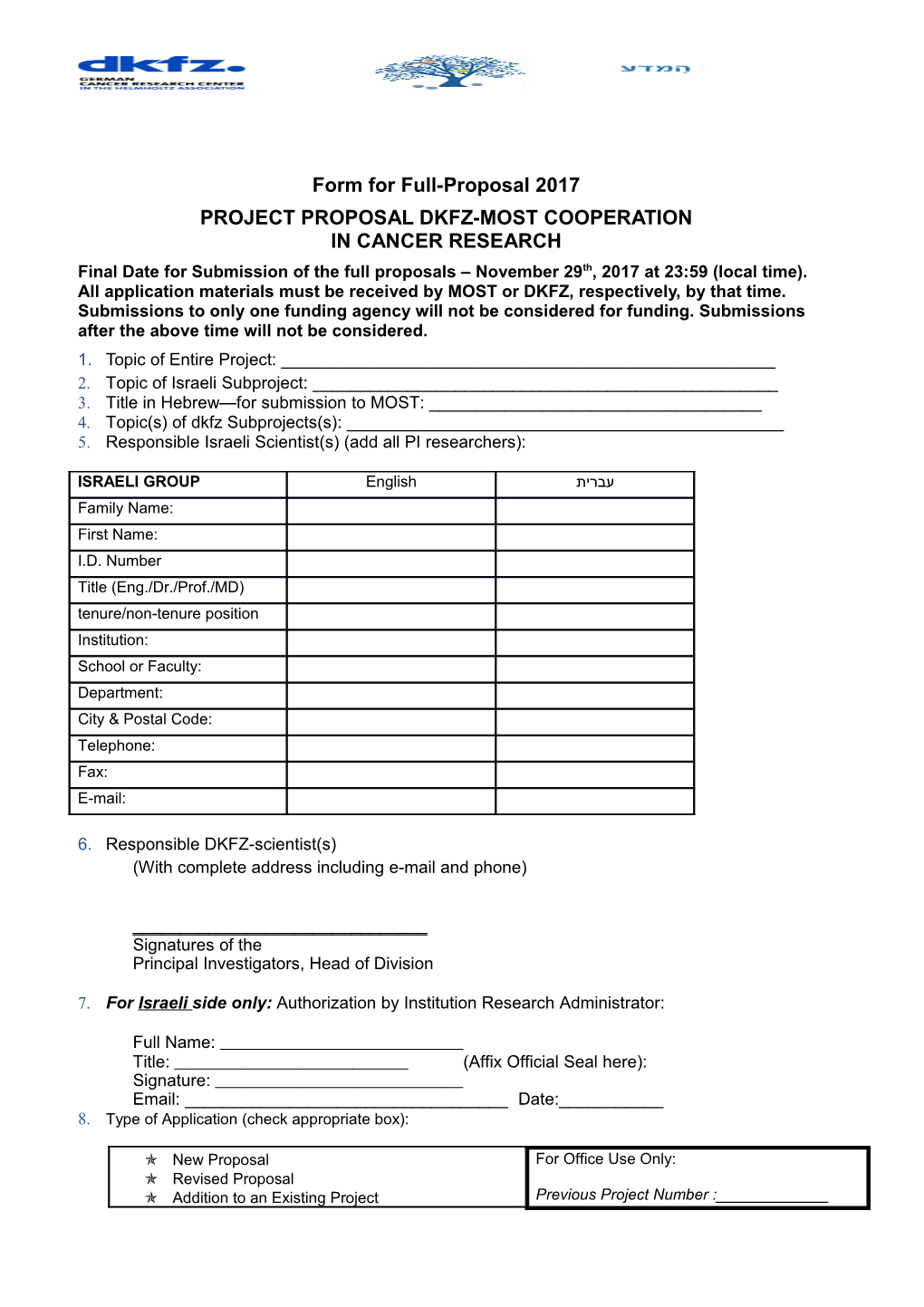 1
Form for Full-Proposal 2017
PROJECT PROPOSAL DKFZ-MOST COOPERATION
IN CANCER RESEARCH
Final Date for Submission of the fullproposals – November29th, 2017at 23:59 (local time).All application materials must be received by MOST or DKFZ, respectively, by that time. Submissions to only one funding agency will not be considered for funding. Submissions after the above time will not be considered.
1.Topic of Entire Project: ______
Topic of Israeli Subproject: ______
Title in Hebrew—for submission to MOST:______
Topic(s) of dkfz Subprojects(s): ______
Responsible Israeli Scientist(s) (add all PI researchers):

ISRAELI GROUP / English / עברית
Family Name:
First Name:
I.D. Number
Title (Eng./Dr./Prof./MD)
tenure/non-tenure position
Institution:
School or Faculty:
Department:
City & Postal Code:
Telephone:
Fax:
E-mail:

6.Responsible DKFZ-scientist(s)
(With complete address including e-mail and phone)
______
Signatures of the
Principal Investigators, Head of Division
For Israeli side only: Authorization by Institution Research Administrator:
Full Name:
Title: (Affix Official Seal here):
Signature:
Email: ______Date:______
Type of Application (check appropriate box):

New Proposal
Revised Proposal
Addition to an Existing Project
 Other / For Office Use Only:
Previous Project Number :______
Existing Project Number: ______

Other Sources of Support Related to Proposed Research by Israeli Principal Investigator(s):
9.1Is this, or related research, presently being supported by other sources? YES  NO
If yes, indicate other sources, amounts, and dates of performing of theresearch under this support.
9.2Has this or a similar proposal been submitted to other agencies? YES  NO
If yes, indicate which agency, when, and with what results.
9.3Has researcher previously received other sources of support for this research? YES  NO
If yes, list rights and obligations of grantor still in effect, including sources and dates.
9.4Is this a continuation of any German-Israeli cooperative research? YES  NO
If yes, please indicate the supporting agency, duration, and budget.
9.5Have the P.I.s submitted (or beeen granted) patents in this area? YES  NO
If yes, please give full information on pre-existing patentableinventions related to the present proposal.
Detailed Description of the Proposed Project
Instructions:
Abstract (limited to 300 words)
Secions 1-3 are limited to five pages.
Description of Entire Project
Scientific goal, relevance to cancer, particular methods used, special advantages sought by cooperation.
Description of DKFZ Subproject
Scientific goal of subproject within entire project, methods to be used and to be complemented by Israeli subproject.
Description of MOST Subproject
Scientific goal of subproject within entire project, methods to be used and to be complemented by German subproject.
Preliminary (unpublished) results relevant to the proposal. (up to four pages only)
Relevant bibliography on the research area.
NOTE: (1) List full titles of the cited articles. (2) If the bibliography includes papers that are "in press" (accepted for publication), please attach copies or preprints of such papers with each copy of the proposal.
Curriculum vitae of principal investigators – please indicate: tenure/non-tenure position (one page each)
List of publications of the last five years.
Part V - Budget Details (Israeli Institution)
Total Budget: 129,000 €:
1st year: 43.000 €; 2nd year: 43.000 €; 3rd year: 43.000 €
Duration of Subproject (dates):01.07.2017-30.06.2020
INSTRUCTIONS:
Budget should be calculated in EURO.
Include all personnel participating in the project.
Investigators from the permanent staff of the grantee institution(s) are not entitled to receive salaries from the project. Nevertheless, their time on the project should be listed.
Indicate role and salary of personnel not yet appointed.
Include social benefits in salary calculations.
Multiply the yearly salary and social benefit by the percentage of research time (time on project)
Give detailed budget breakdown for first, second, and third years.
SALLARIES

NAME
(LAST, FIRST) / ROLE / GRADE / SCALE / %
TIME
1st year
1.7.16-30.6.17 / 2nd year
1.7.17-30.6.18 / 3rd year
1.7.18-30.6.19
(1) Last
First
(2) Last
First
(3) Last
First
(4) Last
First
(5) Last
First
(6) Last
First
TOTALS:


Part V - Budget Details (Contd.)

B. EQUIPMENT
Please give full details (i.e., model number, manufacturer)
ITEM / 1st year / 2nd year / 3rd year
(1)
(2)
(3)
(4)
(5)
(6)
TOTALS:
C. EXPENDABLE MATERIALS, LABORATORY , SUPPLIES, MAINTENANCE SERVICES AND COMPUTER TIME
ITEM / 1st year / 2nd year / 3rd year
(1)
(2)
(3)
(4)
(5)
(6)
(7)
(8)
TOTALS:


Part V - Budget Details (Contd.)

D. TRAVELL

Traveller's name and role

ITEM / 1st year / 2nd year / 3rd year
Domestic
Foreign
to Germany
TOTALS:
E. OTHER EXPENSES
ITEM / 1st year / 2nd year / 3rd year
(1)
(2)
(3)
TOTALS:
COST (in EURO)
F. TOTALS / 1st year / 2nd year / 3rd year / 4th year
GRAND TOTAL:


G. BUDGET JUSTIFICATION

Explain any irregular items of the budget.

Budget Details for DKFZ Subproject (refers to German applicants, only)

Duration of Subproject (dates): 01.07.2017-30.06.2020

Personnel p/a: 1 Phd-stipend

Material Costs p/a:9.000,- Euro

Travel Costs p/a:770,- Euro

(the following sums will be included by our project administration):

Total Year 1:

Total Year 2:

Total Year 3: