Foam Mattings (India) Limited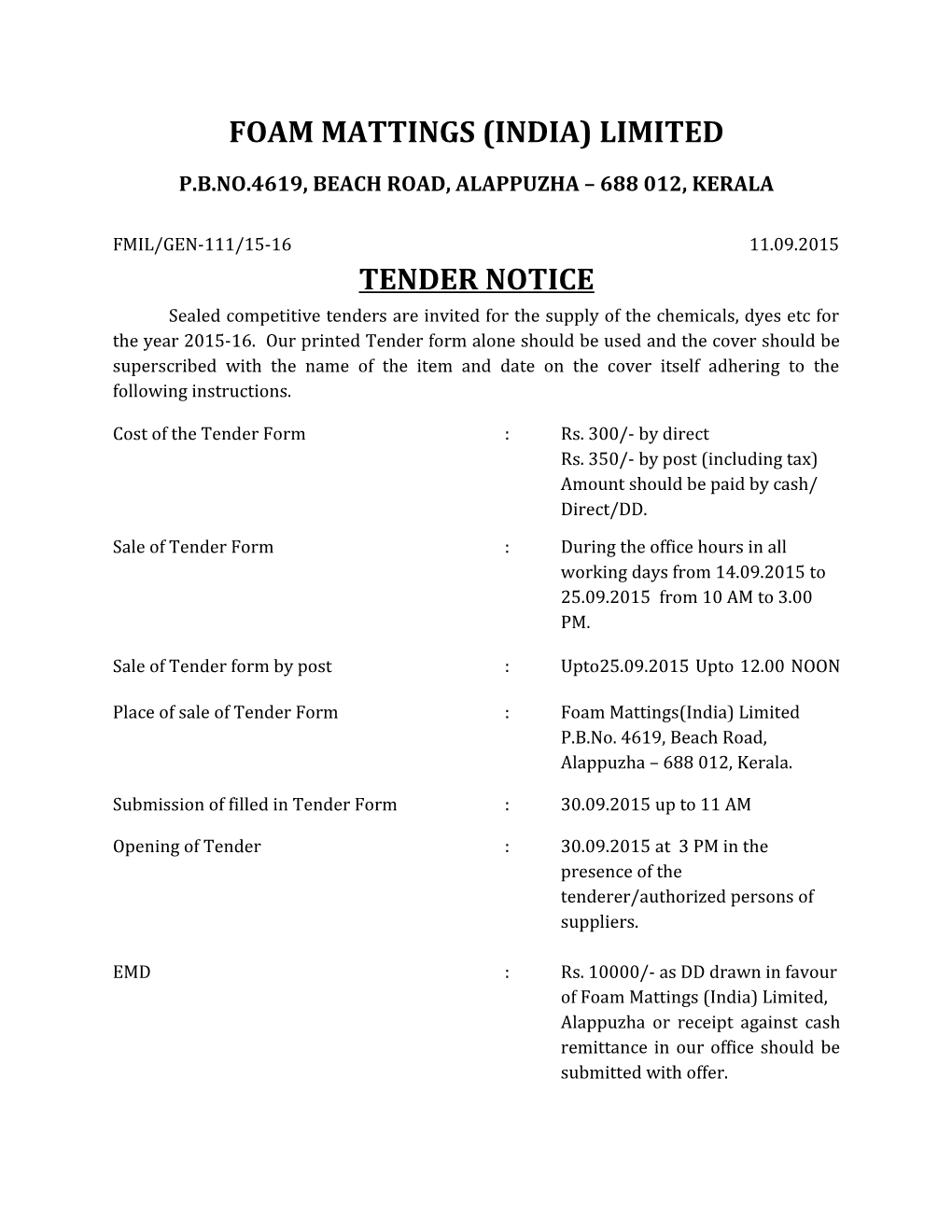 FOAM MATTINGS (INDIA) LIMITED

P.B.NO.4619, BEACH ROAD, ALAPPUZHA – 688 012, KERALA

FMIL/GEN-111/15-16 11.09.2015

TENDER NOTICE

Sealed competitive tenders are invited for the supply of the chemicals, dyes etc for the year 2015-16. Our printed Tender form alone should be used and the cover should be superscribed with the name of the item and date on the cover itself adhering to the following instructions.

Cost of the Tender Form:Rs. 300/- by direct

Rs. 350/- by post (including tax)

Amount should be paid by cash/

Direct/DD.

Sale of Tender Form:During the office hours in all

working days from 14.09.2015 to

25.09.2015 from 10 AM to 3.00

PM.

Sale of Tender form by post:Upto25.09.2015 Upto 12.00 NOON

Place of sale of Tender Form:Foam Mattings(India) Limited

P.B.No. 4619, Beach Road,

Alappuzha – 688 012, Kerala.

Submission of filled in Tender Form:30.09.2015 up to 11 AM

Opening of Tender :30.09.2015 at 3 PM in the

presence of the

tenderer/authorized persons of

suppliers.

EMD:Rs. 10000/- as DD drawn in favour

of Foam Mattings (India) Limited,

Alappuzha or receipt against cash remittance in our office should be submitted with offer.

SL.NO / NAME OF THE CHEMICALS / Approx: qtty in kg for one year
1 / ACETIC ACID / 1000
2 / ACID BRILL BLUE NEW / 500
3 / ACID ORANGE / 500
4 / ACID PATENT BLUE AS / 500
5 / ACID VIOLET 4BN / 500
6 / AMMONIUM SULPHATE / 2000
7 / ATUL BLACK BF / 500
8 / ATUL BLACK ER / 500
9 / ATUL BLUE SF / 500
10 / ATUL RED SF / 500
11 / ATUL TURQUISE SF / 500
12 / ATUL YELLOW SF / 750
13 / AURAMINE / 300
14 / B.RODES / 600
15 / BISMARK BROWN / 500
16 / CAUSTIC SODA / 1000
17 / CHLORINE / 2000
18 / COIR BLUE / 500
19 / COLOUR / 750
20 / COMMON SALT / 18000
21 / CORAFAST BLUE / 300
22 / CRYSODINE / 500
23 / CRYSOPHINE CH / 300
24 / DF VIOLET BL / 300
25 / DIRECT BLACK ER / 1000
26 / DIRECT BLACK GS / 500
27 / DIRECT BROWN GLL / 500
28 / DIRECT BROWN MR(NB) / 300
29 / DIRECT FAST BLUE GLL / 500
30 / DIRECT GREEN B / 300
31 / DIRECT OLIVE RSNB / 300
32 / DIRECT TURQUOISE BLUE / 500
33 / DIRECT YELLOW 5GLL / 300
34 / DISPERSOL F / 500
36 / DT.BLACK EG / 300
37 / DT.CATTACHINE NEW / 300
38 / ENVIROFLOC / 2000
39 / HYDROGEN PEROXIDE / 20000
40 / HYDROSULPHATE / 5000
41 / INCOMIN BLUE IF / 500
42 / INCOMIN RED IF / 500
43 / INCOMIN YELLOW IF / 500
44 / INCOMINE BLUE GLL / 300
45 / INCOMINE BROWN BRLL / 300
46 / INCOMINE BROWN GLL / 300
47 / INCOMINE BROWN MB / 500
48 / INCOMINE CRYSOPHINE CH / 300
49 / INCOMINE GREY 2RL / 500
50 / INCOMINE LF VIOLET BB / 300
51 / INCOMINE ORANGE SE / 300
52 / INCOMINE ORANGE TGLL / 300
53 / INCOMINE RED 5 BL / 500
54 / INCOMINE YELLOW 5 GLL / 500
55 / INDOZOL BLACK NF / 300
56 / KERAWHITE 7R / 12000
57 / KOH / 1000
58 / LEVOJEL J / 6000
59 / LF BLUE GLL / 300
60 / LF GREY BLS / 300
61 / LF NAVY BLUE NBL / 300
62 / LF RED 5 B / 300
63 / LIME POWDER / 15000
64 / MAJENTHA / 300
65 / MALACHITE GREEN / 300
66 / MEGHA WET / 300
67 / METHYL VIOLET / 300
68 / OLIEC ACID / 500
69 / RHODAMINE / 200
70 / SAFEUX NEUTRACLEAR AE CON / 6000
71 / SF CHEMICA PENETRENT EW / 6000
72 / SODA ASH / 1000
73 / STABILIZER AB / 6000
74 / SULPHUR / 2000
75 / SULPHURIC ACID / 500
76 / TALC / 18000
77 / TITANIUM DIOXIDE / 500
78 / V.D.PASTE / 1000
79 / ZDC / 1000
80 / ZINC OXIDE / 1000


Specifications: All dye stuffs are from Branded Company's only. viz: Atul , Indokem, Clarient, Huntsman, Karsandas Manji e.t.c. Other relevant particulars are shown in the tender annexure.

The Managing Director, Foam Mattings (India) Limited reserves the full right to accept/reject/postpone/split/cancel the tenders as a whole or part without assigning any reasons thereof.

The company will not take any responsibility for delay in receipt of the Tenders beyond the specified time and date.

The tender forms along with specification etc. can also be downloaded from the website Those who download tender form should enclose a DD for Rs. 300 along with tender towards the cost of tender form.

For FOAM MATTINGS (INDIA) LIMITED

MANAGING DIRECTOR

ANNEXURE- 1

TENDER FOR

TENDER ITEM:

NO.

TO

THE MANAGING DIRECTOR

FOAM MATTINGS (INDIA) LTD

ALAPPUZHA

Sir,
Please find enclosed the tender with all the columns properly filled in.
We have also added……………………………..pages to the tender documents.
We hereby offer to supply the stores as specified in the schedule hereof such quantity as and specified by you in the acceptance of Tender subject to any maximum limit, we may have specified herein.
We hereby offer to supply the stores as specified in the schedule hereto at the price quoted herein and will hold it invariant throughout the tender period. We agree, and hereby certify that we shall not vary the same on any condition.
Our offer is open at least till………………………………………….It shall be further open for acceptance till………………………………………………………………….
We shall be bound by a communication of acceptance dispatched by you before…………………………………………………………immediately on receipt of this communication, and within 15 days thereafter. We shall complete all the necessary formalities like, executing the agreement form in stamp paper etc. do confirm supplies. We hereby expressly agree to indemnify FOMIL of all losses on our failure to do so including cost of retender if any, and additional cost of purchase of store in such retender.
We hereby certify that we have thoroughly studied and understood the tender conditions tender specifications and details of the goods required and fully understand the nature of the stores required and the quality/specifications of the same, and that our offer to supply store is strictly in accordance with these requirements.
We hereby expressly accept our liability and indemnity the FOMIL Ltd or its authorized agents for any losses, damages or inconvenience including loss of sales Goodwill etc. caused by any, deviation or non compliance on our part with the specifications and or supply of goods, due to any variations in quality of the goods deviations from specifications, departure from schedule of supply non supply or late supply or any other breach of the contract.
We agree that the decision of the Managing Director, FOMIL shall be final in any dispute regarding the terms and conditions of this tender.
We agree to sole arbitration by the Managing Director, FOMIL, Alappuzha.
We have expressly stated all other conditions of our supply in the sheets/attached hereto which number………………………………………………….
PLACE: SIGNATURE OF TENDERER
DATE: (OR AUTHORISED SIGNATORY OF THE FIRM)
CAUTION:Tenderer should fill all columns and not leave any empty, least the Tender should be summarily rejected.
ANNEXURE – II
Price per Unit
Basic Price:Rs.
(i) Central Excise duty if any:Rs.
(ii) VAT @ 5%-14.5%:Rs.
(iii) CST:Rs.
Packing and forwarding charges if any:Rs.
Freight charges if any:Rs.
Total:Rs.
Less : Price Discount/Rebate if any:Rs.
Price/Unit:Rs.
Note: If space is inadequate for quoting price, a separate sheet may be annexed.
Signature of the tenderer with date
TENDER- GENERAL CONDITIONS
Sealed tenders are invited by Managing Director, Foam Mattings(India) Limited ,for the supply of Chemicals & Dyes etc for the year 2015-2016(From 01.11.2015 to 31.10.2016) from the manufacturers or their authorized agents and stockists only. Sub letting and assigning of contracts are strictly prohibited.
The tender should be sent in a sealed envelope, super scribed as "TENDER FOR SUPPLY OF……………………………………………"(Mention the name of the material) to the FOMIL due on 30.09.2015. The tender should reach this office on or before 30.09.201511 AM.
Tenders will be opened by the Committee members authorized by the Managing Director at 3 PM on 30.09.2015 the Registered office at Alappuzha.
PRICES
The price should be quoted in rupees for free delivery at destination. The customs and excise duties if any should be indicated separately. The rate as Sales Tax if any should also be specified. The prices ruling at the time of delivery will not be accepted.
PAYMENT
100% Company within a reasonable time (within 30 days) after the receipt of the materials in good condition and in accordance with the specifications.
VALIDITY
The tender offers should be kept open for acceptance for a period of 60 days from the date of opening of the tenders.
DELIVERY
The supplier will liable for penal deductions of the firms are not supplied as per schedules given. Repeated isolation without valid reason may lead to termination of Tender.
The total approximate quantity indicated in the schedule will not be placed at a stretch and will be supplied only as per our schedule strictly.
LOSS OR DAMAGE
External damages or shortages that are prima-facie results of rough handling in transit or due to defective packing will be intimated within a fortnight from the date of receipt of the material. In any case damaged or defective materials will have to be taken at your cost and replaced within a reasonable time allowed by the company.
Quotations without complete particulars will not be considered.
Each tender should be accompanied with EMD of Rs. 10,000/- as DD in favour of Foam Mattings (India) Ltd, Alappuzha or receipt against cash remittance in our office failing which the tender will be rejected summarily. Cheques will not be accepted.
Required samples must be sent as prescribed in the form along with the tender. Tender will be rejected outright if samples are not submitted along with the tender. The company is not liable to pay for the samples submitted by the tenderer against the tender call or return for any reasons.
The successful tenderer should execute an agreement in stamp paper accepting the terms and conditions of the company.
The period of the contract for the supply of material will be one year from the date of acceptance of rate by this company.
The Managing Director of FOMIL reserves right to accept/reject/postpone/split the tender without assigning any reasons thereof.
All the disputes are subject to Alappuzha Jurisdiction only.
The supplier should have valid VAT/CST and the Sales Tax Registration number should be mentioned in the Tender.
During opening of the tenders, the participants should bring the authorization letter duly attested and to be produced before the Tender Committee.